Abstract
Meniscal extrusion (ME) is defined as extension of the meniscal margin by at least 3 mm beyond the tibial margin. The main purpose of meniscal root repair is to restore the anatomy and function of the meniscus. Therefore, the reduction in the ME is one of the important objective outcomes. Nevertheless, the reduced meniscal extrusion was obtained in limited patients after meniscal root repair. This technical note described the arthroscopic direct meniscal extrusion reduction as surgical tips to reduce persistent meniscal extrusion in posterior meniscal root repair.
This is a preview of subscription content, log in to check access.
Access options
Buy single article
Instant unlimited access to the full article PDF.
US$ 39.95
Price includes VAT for USA
Subscribe to journal
Immediate online access to all issues from 2019. Subscription will auto renew annually.
US$ 99
This is the net price. Taxes to be calculated in checkout.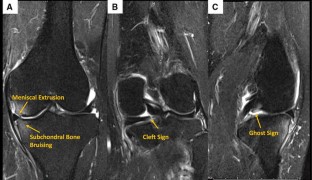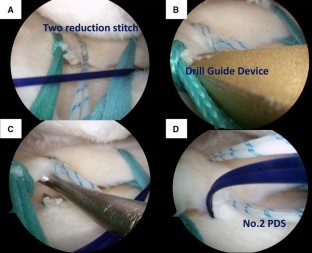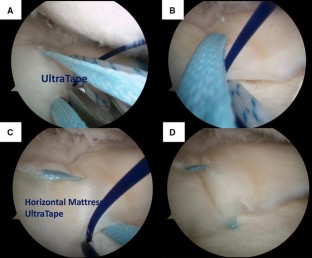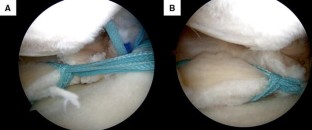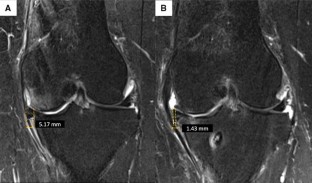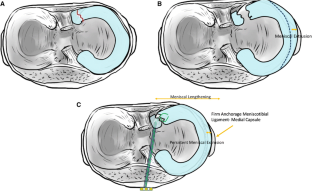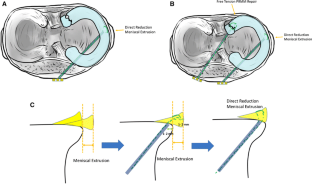 References
1.

Dujardin D, Siboni R, Kanagaratnam L, Boisrenoult P, Beaufils P, Pujol N (2017) Long-term assessment of meniscal extrusion after meniscal repair. Orthop Traumatol Surg Res 103(3):373–376

2.

Englund M, Roos EM, Lohmander LS (2003) Impact of type of meniscal tear on radiographic and symptomatic knee osteoarthritis: a sixteen-year follow-up of meniscectomy with matched controls. Arthritis Rheum 48(8):2178–2187

3.

Moatshe G, Chahla J, Slette E, Engebretsen L, Laprade R (2016) Posterior meniscus root injuries: a comprehensive review from anatomy to surgical treatment. Acta Orthop 87(5):452–458

4.

Laprade R, Matheny LM, Moulton SG, James EW, Dean CS (2016) Posterior meniscal root repairs: outcome of an anatomic transtibial pullout technique. Am J Sport Med 20(10):1–8

5.

Feucht MJ, Kuhle J, Bode G, Mehl J, Schmal H, Sudkamp NP, Niemeyer P (2015) Arthroscopic transtibial pullout repair for posterior medial meniscus root tears: a systematic review of clinical, radiographic, and second- look arthroscopic results. Arthroscopy 31(9):1808–1816

6.

Kaplan DJ, Alaia EF, Dold AP, Meislin RJ, Strauss EJ, Jazrawi LM, Alaia MJ (2017) Increased extrusion and ICRS grades at 2-year follow-up following transtibial medial meniscus root repair evaluated by MRI. Knee Surg Sports Traumatol Arthrosc. https://doi.org/10.1007/s00167-017-4755-8

7.

Chung KS, Ha JK, Ra HJ, Nam GW, Kim JG (2016) Pullout fixation of posterior medial meniscus root tears: correlation between meniscus extrusion and midterm clinical results. Am J Sport Med 45(1):42–49

8.

Moatshe G, Chahla J, Slette E, Engebretsen L, Laprade R (2016) Posterior meniscus root injuries: a comprehensive review from anatomy to surgical treatment. Acta Orthop 87:452–458

9.

Chernchujit B, Prasetia R (2017) Both posterior root lateral-medial meniscus tears with anterior cruciate ligament rupture: the step-by-step systematic arthroscopic repair technique. Arthrosc Tech. https://doi.org/10.1016/j.eats.2017.07.018

10.

Moon HK, Koh YG, Kim YC, Park YS, Jo SB, Kwon SK (2012) Prognostic factors of arthroscopic pull-out repair for a posterior root tear of the medial meniscus. Am J Sports Med 40:1138–1143

11.

Ozeki N, Muneta T, Kawabata K, Koga H, Nakagawa Y (2017) Centralization of extruded medial meniscus delays cartilage degeneration in rats. J Orthop Sci 22:542–548
Acknowledgements
The authors thank Siti Chaerani Djen Amar, M.A., Ph.D. for evaluating and correcting the possible English grammatical or spelling error.
Ethics declarations
Conflict of interest
All authors declare that they have no conflict of interest.
Informed consent
The patient received an explanation of the procedures and possible risks of the surgery, and gave written informed consent.
Electronic supplementary material
Below is the link to the electronic supplementary material.
Supplementary material 1 (MP4 91888 kb)
About this article
Cite this article
Chernchujit, B., Prasetia, R. Arthroscopic direct meniscal extrusion reduction: surgical tips to reduce persistent meniscal extrusion in meniscal root repair. Eur J Orthop Surg Traumatol 28, 727–734 (2018). https://doi.org/10.1007/s00590-018-2138-6
Received:

Accepted:

Published:

Issue Date:
Keywords
Chronic meniscus tears

Meniscal extrusion

Direct reduction

Meniscal root repair