Abstract
Treatment of tibial pilon fractures is complicated and often very invasive. Partial fractures with a depressed component raise the question of the choice of surgical technique. Minimally invasive surgical reduction under arthroscopic guidance appears to be a promising alternative in this type of fracture. We describe a technique for arthroscopically assisted treatment of a split depression tibial pilon fracture.
This is a preview of subscription content, log in to check access.
Access options
Buy single article
Instant unlimited access to the full article PDF.
US$ 39.95
Price includes VAT for USA
Subscribe to journal
Immediate online access to all issues from 2019. Subscription will auto renew annually.
US$ 99
This is the net price. Taxes to be calculated in checkout.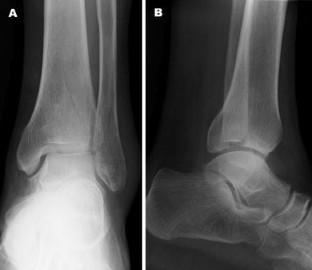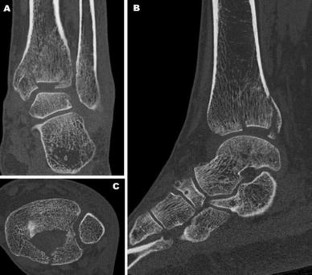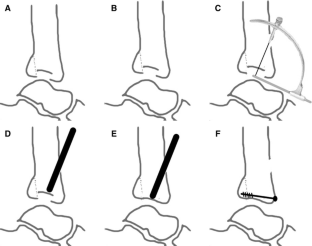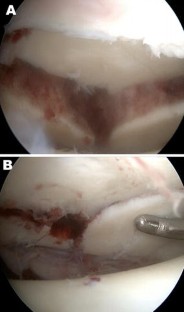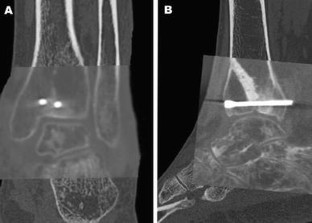 References
1.

Tarkin IS, Clare MP, Marcantonio A, Pape HC (2008) An update on the management of high-energy pilon fractures. Injury 39:142–154. doi:10.1016/j.injury.2007.07.024

2.

Teeny SM, Wiss DA (1993) Open reduction and internal fixation of tibial plafond fractures. Variables contributing to poor results and complications. Clin Orthop 292:108–117

3.

Atesok K, Doral MN, Whipple T, Mann G, Mei-Dan O, Atay OA, Beer Y, Lowe J, Soudry M, Schemitsch EH (2011) Arthroscopy-assisted fracture fixation. Knee Surg Sports Traumatol Arthrosc 19:320–329. doi:10.1007/s00167-010-1298-7

4.

Chan Y-S (2011) Arthroscopy- assisted surgery for tibial plateau fractures. Chang Gung Med J 34:239–247

5.

Kim HS, Jahng JS, Kim SS, Chun CH, Han HJ (1997) Treatment of tibial pilon fractures using ring fixators and arthroscopy. Clin Orthop 334:244–250

6.

Cetik O, Cift H, Ari M, Comert B (2007) Arthroscopy-assisted combined external and internal fixation of a pilon fracture of the tibia. Hong Kong Med J 13:403–405

7.

Kralinger F, Lutz M, Wambacher M, Smekal V, Golser K (2003) Arthroscopically assisted reconstruction and percutaneous screw fixation of a pilon tibial fracture. Arthrosc J Arthrosc Relat Surg 19:E45. doi:10.1053/jars.2003.50165

8.

Poyanli O, Esenkaya İ, Ozkut AT, Akcal MA, Akan K, Unay K (2012) Minimally invasive reduction technique in split depression type tibial pilon fractures. J Foot Ankle Surg 51:254–257. doi:10.1053/j.jfas.2011.10.034

9.

Rüedi TP, Allgöwer M (1979) The operative treatment of intra-articular fractures of the lower end of the tibia. Clin Orthop 138:105–110

10.

Marmor L (1970) An unusual fracture of the tibial epiphysis. Clin Orthop 73:132–135

11.

Bauer T, Abadie O, Hardy P (2006) Arthroscopic treatment of glenoid fractures. Arthrosc J Arthrosc Relat Surg 22(569):e1–e6. doi:10.1016/j.arthro.2006.01.003

12.

Bonasia DE, Rossi R, Saltzman CL, Amendola A (2011) The role of arthroscopy in the management of fractures about the ankle. J Am Acad Orthop Surg 19:226–235

13.

Thaunat M, Billot N, Bauer T, Hardy P (2007) Arthroscopic treatment of a juvenile tillaux fracture. Knee Surg Sports Traumatol Arthrosc 15:286–288. doi:10.1007/s00167-006-0234-3

14.

Joveniaux P, Ohl X, Harisboure A, Berrichi A, Labatut L, Simon P, Mainard D, Vix N, Dehoux E (2010) Distal tibia fractures: management and complications of 101 cases. Int Orthop 34:583–588. doi:10.1007/s00264-009-0832-z

15.

Lobenhoffer P, Schulze M, Gerich T, Lattermann C, Tscherne H (1999) Closed reduction/percutaneous fixation of tibial plateau fractures: arthroscopic versus fluoroscopic control of reduction. J Orthop Trauma 13:426–431

16.

Barber FA, Britt BT, Ratliff HW, Sutker AN (1988) Arthroscopic surgery of the ankle. Orthop Rev 17:446–451

17.

Ruch DS, Vallee J, Poehling GG, Smith BP, Kuzma GR (2004) Arthroscopic reduction versus fluoroscopic reduction in the management of intra-articular distal radius fractures. Arthrosc J Arthrosc Relat Surg 20:225–230. doi:10.1016/j.arthro.2004.01.010

18.

De Leeuw PAJ, Golanó P, Clavero JA, van Dijk CN (2010) Anterior ankle arthroscopy, distraction or dorsiflexion? Knee Surg Sports Traumatol Arthrosc 18:594–600. doi:10.1007/s00167-010-1089-1

19.

Kim DH, Rhim R, Li L, Martha J, Swaim BH, Banco RJ, Jenis LG, Tromanhauser SG (2009) Prospective study of iliac crest bone graft harvest site pain and morbidity. Spine J 9:886–892. doi:10.1016/j.spinee.2009.05.006

20.

Lui TH, Chan WK, Chan KB (2006) The arthroscopic management of frozen ankle. Arthrosc J Arthrosc Relat Surg 22:283–286. doi:10.1016/j.arthro.2005.12.012

21.

Bauer T, Breda R, Hardy P (2010) Anterior ankle bony impingement with joint motion loss: the arthroscopic resection option. Orthop Traumatol Surg Res 96:462–468. doi:10.1016/j.otsr.2010.01.008

22.

Herzberg G (2010) Intra-articular fracture of the distal radius: arthroscopic-assisted reduction. J Hand Surg 35:1517–1519. doi:10.1016/j.jhsa.2010.06.009
Conflict of interest
The authors declare that they have no conflict of interests.
Electronic supplementary material
Below is the link to the electronic supplementary material.
Supplementary material 1 (MPG 7532 kb)
About this article
Cite this article
Lonjon, G., Delgrande, D., Solignac, N. et al. Arthroscopic treatment in split depression-type tibial pilon fracture. Eur J Orthop Surg Traumatol 25, 399–403 (2015). https://doi.org/10.1007/s00590-014-1492-2
Received:

Accepted:

Published:

Issue Date:
Keywords
Ankle

Arthroscopy

Tibial pilon

Trauma

Fracture