Abstract
As adult spinal deformity surgery is performed more and more, the spine surgeon is faced with the challenge to treat pseudoarthrosis. The presentation may vary, from asymptomatic patients, who should be observed in most of the cases, to patients with acute episode of broken rods, and or chronic pain with often trunk imbalance. In some instances, patients will present with neurologic symptoms. The evaluation of such patients must start with a good understanding of why the surgery failed first place. Poor host, smoking, lack of anterior column support, poor sagittal balance, lack of fusion, poor construct. Often a combination of all of the above is encountered. The workup for such cases consists of imaging studies (with often a CT myelogram as the excessive metal artifact will render the MRI imaging useless), nutrition labs, DEXA scan, EOS films and internal medicine or cardiology consult for risk stratification as this may represent major surgery. Indication of surgery is mostly based on pain and imbalance and/or poor function. The surgeon planning a revision adult deformity surgery has many tasks to perform: Identify and avoid the reasons that lead to failure of the previous surgeries. Plan the anterior column reconstruction either through posterior or anterior interbody fusion. Restore the global alignment through anterior or posterior osteotomies to achieve sagittal and coronal balance. Obtain a solid fixation with sufficient levels above and below the osteotomies sites with in some cases the use of pelvic screws and four rods (Quad-Rod) techniques. The use of bone graft (either autologous, allograft, bone graft enhancers and inducer) agents. The requirement of decompression either through a virgin spine or a previous laminectomy bed. Despite the extent of these surgeries and the potential for immediate postoperative complications, the outcome is in most cases satisfactory if these goals are achieved. In this review, the authors explore different scenarios for pseudoarthrosis in the adult spine deformity patient and the preferred treatment method to obtain the best outcome for every individual patient.
Graphic abstract
These slides can be retrieved under Electronic Supplementary Material.

This is a preview of subscription content, log in to check access.
Access options
Buy single article
Instant access to the full article PDF.
US$ 39.95
Price includes VAT for USA
Subscribe to journal
Immediate online access to all issues from 2019. Subscription will auto renew annually.
US$ 199
This is the net price. Taxes to be calculated in checkout.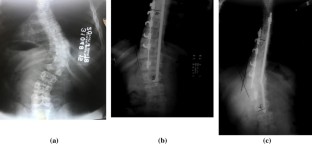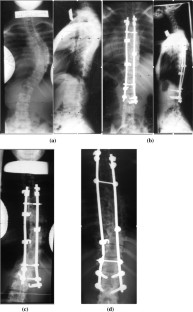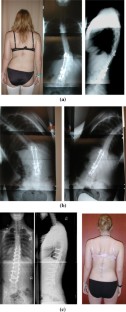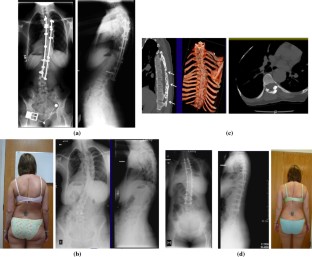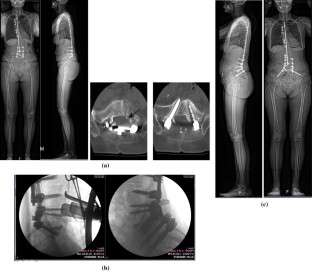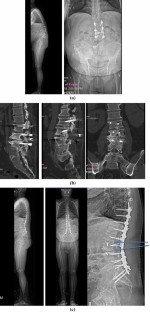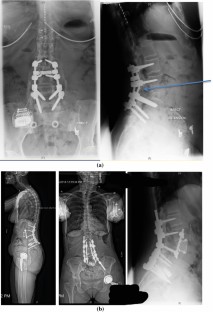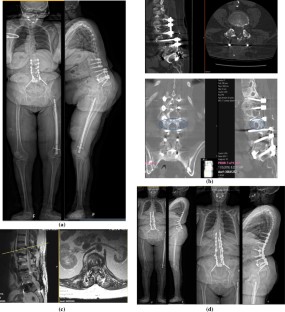 References
1.

Schwab F, Dubey A, Gamez L (2005) Adult scoliosis: prevalence, SF-36, and nutritional parameters in and elderly volunteer population. Spine (Phila Pa 1976) 30(9):1082–1085

2.

Zanirato A, Damilano M (2018) Complications in adult spine deformity surgery: a systematic review of the recent literature with reporting of aggregated incidences. Eur Spine J 27(9):2272–2284. https://doi.org/10.1007/s00586-018-5535-y

3.

Buell TJ, Nguyen JH, Mazur MD et al (2018) Radiographic outcome and complications after single-level lumbar extended pedicle subtraction osteotomy for fixed sagittal malalignment: a retrospective analysis of 55 adult spinal deformity patients with a minimum 2-year follow-up. J Neurosurg Spine 30(2):242–252. https://doi.org/10.3171/2018.7.SPINE171367

4.

How NE, Street JT, Dvorak MF et al (2019) Pseudarthrosis in adult and pediatric spinal deformity surgery: a systematic review of the literature and meta-analysis of incidence, characteristics, and risk factors. Neurosurg Rev 42(2):319–336. https://doi.org/10.1007/s10143-018-0951-3

5.

Smith JS, Shaffrey CI, Kelly MP et al (2019) Effect of serious adverse events on health-related quality of life measures following surgery for adult symptomatic lumbar scoliosis. Spine (Phila Pa 1976) 44(17):1211–1219. https://doi.org/10.1097/BRS.0000000000003036

6.

Daniels AH, DePasse JM, Durand W et al (2018) Rod fracture after apparently solid radiographic fusion in adult spinal deformity patients. World Neurosurg 117:e530–e537. https://doi.org/10.1016/j.wneu.2018.06.071

7.

Cho W, Mason JR, Smith JS et al (2013) Failure of lumbopelvic fixation after long construct fusions in patients with adult spinal deformity: clinical and radiographic risk factors: clinical article. J Neurosurg Spine 19(4):445–453. https://doi.org/10.3171/2013.6.SPINE121129

8.

Janjua MB, Ackshota N, Arlet V (2019) Technical consideration for TLIF cage retrieval and deformity correction with anterior interbody fusion in lumbar revision surgeries. Spine Deform 7(4):633–640. https://doi.org/10.1016/j.jspd.2018.10.004

9.

Wigner N, Kadam A, Arlet V (2017) Can posterior lumbar instrumentation and fusion be overpowered by anterior lumbar fusion with hyperlordotic cages? A cadaveric study. Global Spine J 7(7):689–695. https://doi.org/10.1177/2192568217701111

10.

Kadam A, Wigner N, Arlet V (2017) Overpowering posterior lumbar instrumentation and fusion with hyperlordotic anterior lumbar interbody cages followed by posterior revision: a preliminary feasibility study. J Neurosurg Spine 27(6):650–660. https://doi.org/10.3171/2017.5.SPINE16926

11.

Shen FH, Harper M, Arlet V et al (2006) A novel "four-rod technique" for lumbo-pelvic reconstruction: theory and technical considerations. Spine (Phila Pa 1976) 31(12):1395–1401

12.

Shen FH, Mason JR, Arlet V et al (2013) Pelvic fixation for adult scoliosis. Eur Spine J 22(Suppl 2):S265–S275. https://doi.org/10.1007/s00586-012-2525-3

13.

Seyed Vosoughi A, Joukar A, Kiapour A et al (2019) Optimal satellite rod constructs to mitigate rod failure following pedicle subtraction osteotomy (PSO): a finite element study. Spine J 19(5):931–941. https://doi.org/10.1016/j.spinee.2018.11.003

14.

Arlet V (2015) Spinal osteotomy in the presence of massive lumbar epidural scarring. Eur Spine J 24(Suppl 1):S93–S106. https://doi.org/10.1007/s00586-014-3652-9

15.

Hu SS, Berven S (2006) Preparing the adult deformity patient for spinal surgery. Spine 31(suppl 19):S126–S131

16.

Gilad R et al (2008) Uncorrected sagittal plane imbalance predisposes to symptomatic instrumentation failure. Spine J 8:911–917
Ethics declarations
Conflict of interest
Both authors indicate that there is no conflict of interest.
Additional information
Publisher's Note
Springer Nature remains neutral with regard to jurisdictional claims in published maps and institutional affiliations.
Electronic supplementary material
Below is the link to the electronic supplementary material.
About this article
Cite this article
Sherif, S., Arlet, V. Revision surgery for non-union in adult spinal deformity. Eur Spine J 29, 103–115 (2020). https://doi.org/10.1007/s00586-020-06331-9
Received:

Revised:

Accepted:

Published:

Issue Date:
Keywords
Adult spinal deformity

Pseudoarthrosis

Revision spinal surgery

Non-union in adult spinal deformity

Overpowering posterior instrumentation

ALIF with hyperlordotic cage