Abstract
Purpose
To explore the correlations between postoperative hip pain and spino-pelvic/hip parameters in adult scoliosis patients after long-segment spinal fusion.
Methods
We retrospectively identified adult scoliosis patients who underwent long-segment spinal fusions between December 2009 and August 2015. The patients were divided into a pain group (PG) and a control group (CG) based on whether hip pain was reported at the end of follow-up. There were 34 cases in the PG and 42 in the CG. The visual analogue scale was employed to assess the postoperative hip pain in PG patients. Two sets of parameters were recorded: one before and one after the surgery.
Results
There were statistically significant differences in the variations in acetabular coverage and centre-edge (CE) angle between the two groups (p < 0.05), but there was no significant difference in the Tönnis angle, acetabular angle of Sharp, neck-shaft angle, lumbar lordosis (LL), sacral slope, pelvic incidence, pelvic tilt, coronal vertical axis, sagittal vertical axis or Cobb angle. The variation in acetabular coverage before and after operation in the PG was significantly correlated with that of LL (p < 0.05), while the changes in the CE angle and Tönnis angle were not significantly correlated with those in spino-pelvic parameters (p > 0.05).
Conclusion
Postoperative hip pain among adult scoliosis patients after long-segment spinal fusion is significantly associated with the variation in acetabular coverage and CE angle, and the change in acetabular coverage is correlated with that in LL for those who develop hip pain after the surgery.
Graphic abstract
These slides can be retrieved under Electronic Supplementary Material.

This is a preview of subscription content, log in to check access.
Access options
Buy single article
Instant access to the full article PDF.
US$ 39.95
Price includes VAT for USA
Subscribe to journal
Immediate online access to all issues from 2019. Subscription will auto renew annually.
US$ 199
This is the net price. Taxes to be calculated in checkout.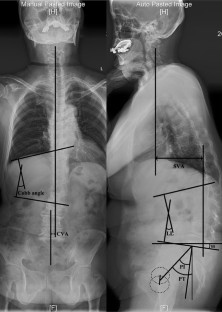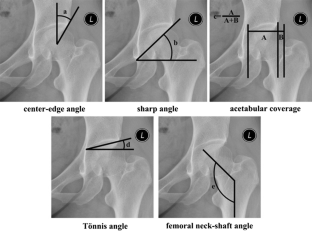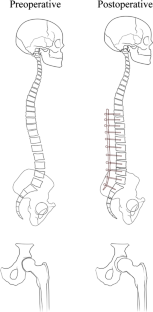 References
1.

Jimbo S, Kobayashi T, Aono K, Atsuta Y, Matsuno T (2012) Epidemiology of degenerative lumbar scoliosis: a community-based cohort study. Spine (Phila Pa 1976) 37(20):1763–1770. https://doi.org/10.1097/BRS.0b013e3182575eaa

2.

Watanuki A, Yamada H, Tsutsui S, En-yo Y, Yoshida M, Yoshimura N (2012) Radiographic features and risk of curve progression of de-novo degenerative lumbar scoliosis in the elderly: a 15-year follow-up study in a community-based cohort. J Orthop Sci 17(5):526–531. https://doi.org/10.1007/s00776-012-0253-5

3.

Schwab F, Dubey A, Pagala M, Gamez L, Farcy JP (2003) Adult scoliosis: a health assessment analysis by SF-36. Spine (Phila Pa 1976) 28(6):602–606. https://doi.org/10.1097/01.BRS.0000049924.94414.BB

4.

Swank S, Lonstein JE, Moe JH, Winter RB, Bradford DS (1981) Surgical treatment of adult scoliosis. A review of two hundred and twenty-two cases. J Bone Joint Surg Am 63(2):268–287

5.

Dickson JH, Mirkovic S, Noble PC, Nalty T, Erwin WD (1995) Results of operative treatment of idiopathic scoliosis in adults. J Bone Joint Surg Am 77(4):513–523. https://doi.org/10.2106/00004623-199504000-00003

6.

Schlegel JD, Smith JA, Schleusener RL (1996) Lumbar motion segment pathology adjacent to thoracolumbar, lumbar, and lumbosacral fusions. Spine (Phila Pa 1976) 21(8):970–981. https://doi.org/10.1097/00007632-199604150-00013

7.

Yang X, Kong Q, Song Y, Liu L, Zeng J, Xing R (2014) The characteristics of spinopelvic sagittal alignment in patients with lumbar disc degenerative diseases. Eur Spine J 23(3):569–575. https://doi.org/10.1007/s00586-013-3067-z

8.

Wiltse LL, Winter RB (1983) Terminology and measurement of spondylolisthesis. J Bone Joint Surg Am 65(6):768–772

9.

Legaye J, Duval-Beaupere G, Hecquet J, Marty C (1998) Pelvic incidence: a fundamental pelvic parameter for three-dimensional regulation of spinal sagittal curves. Eur Spine J 7(2):99–103. https://doi.org/10.1007/s005860050038

10.

Yan C, Gao X, Sun Y, Dong Z, Shen Y (2018) The preoperative predictors for subsequent degeneration in L5-S1 disc after long fusion arthrodesis terminating at L5 in patients with adult scoliosis: focus on spinopelvic parameters. J Orthop Surg Res 13(1):285. https://doi.org/10.1186/s13018-018-0987-7

11.

Cho KJ, Suk SI, Park SR, Kim JH, Kang SB, Kim HS, Oh SJ (2010) Risk factors of sagittal decompensation after long posterior instrumentation and fusion for degenerative lumbar scoliosis. Spine (Phila Pa 1976) 35(17):1595–1601. https://doi.org/10.1097/BRS.0b013e3181bdad89

12.

Tannast M, Hanke MS, Zheng GY, Steppacher SD, Siebenrock KA (2015) What are the radiographic reference values for acetabular under- and overcoverage? Clin Orthop Relat Res 473(4):1234–1246. https://doi.org/10.1007/s11999-014-4038-3

13.

Pytiak A, Bomar JD, Peterson JB, Schmitz MR, Pennock AT, Wenger DR, Upasani VV (2016) Analysis of spinal alignment and pelvic parameters on upright radiographs: implications for acetabular development. J Hip Preserv Surg 3(3):208–214. https://doi.org/10.1093/jhps/hnw008

14.

Saji MJ, Upadhyay SS, Leong JC (1995) Increased femoral neck-shaft angles in adolescent idiopathic scoliosis. Spine (Phila Pa 1976) 20(3):303–311. https://doi.org/10.1097/00007632-199502000-00008

15.

Vaz G, Roussouly P, Berthonnaud E, Dimnet J (2002) Sagittal morphology and equilibrium of pelvis and spine. Eur Spine J 11(1):80–87. https://doi.org/10.1007/s005860000224

16.

Offierski CM, MacNab I (1983) Hip-spine syndrome. Spine (Phila Pa 1976) 8(3):316–321. https://doi.org/10.1097/00007632-198304000-00014

17.

Cecchinato R, Redaelli A, Martini C, Morselli C, Villafane JH, Lamartina C, Berjano P (2017) Long fusions to S1 with or without pelvic fixation can induce relevant acute variations in pelvic incidence: a retrospective cohort study of adult spine deformity surgery. Eur Spine J 26(suppl 4):S436–S441. https://doi.org/10.1007/s00586-017-5154-z

18.

Kinon MD, Nasser R, Nakhla JP, Adogwa O, Moreno JR, Harowicz M, Verla T, Yassari R, Bagley CA (2016) Predictive parameters for the antecedent development of hip pathology associated with long segment fusions to the pelvis for the treatment of adult spinal deformity. Surg Neurol Int 7:93. https://doi.org/10.4103/2152-7806.192724

19.

Ekman P, Moller H, Shalabi A, Yu YX, Hedlund R (2009) A prospective randomised study on the long-term effect of lumbar fusion on adjacent disc degeneration. Eur Spine J 18(8):1175–1186. https://doi.org/10.1007/s00586-009-0947-3

20.

Hilibrand AS, Robbins M (2004) Adjacent segment degeneration and adjacent segment disease: the consequences of spinal fusion? Spine J 4(6 Suppl):190S–194S. https://doi.org/10.1016/j.spinee.2004.07.007

21.

Park P, Garton HJ, Gala VC, Hoff JT, McGillicuddy JE (2004) Adjacent segment disease after lumbar or lumbosacral fusion: review of the literature. Spine (Phila Pa 1976) 29(17):1938–1944. https://doi.org/10.1097/01.brs.0000137069.88904.03

22.

Edwards CC 2nd, Bridwell KH, Patel A, Rinella AS, Jung Kim Y, Berra AB, Della Rocca GJ, Lenke LG (2003) Thoracolumbar deformity arthrodesis to L5 in adults: the fate of the L5-S1 disc. Spine (Phila Pa 1976) 28(18):2122–2131. https://doi.org/10.1097/01.BRS.0000084266.37210.85

23.

Quan GM, Wilde P (2013) Fractured neck of femur below long spinopelvic fixation for Charcot spine: a case report. J Med Case Rep 7:277. https://doi.org/10.1186/1752-1947-7-277

24.

Schroeder JE, Cunningham ME, Ross T, Boachie-Adjei O (2014) Early results of sacro-iliac joint fixation following long fusion to the sacrum in adult spine deformity. HSS J 10(1):30–35. https://doi.org/10.1007/s11420-013-9374-4
Ethics declarations
Conflict of interest
The authors declare that they have no conflict of interest.
Additional information
Publisher's Note
Springer Nature remains neutral with regard to jurisdictional claims in published maps and institutional affiliations.
Electronic supplementary material
Below is the link to the electronic supplementary material.
About this article
Cite this article
Si, G., Li, T., Liu, X. et al. Correlation analysis between postoperative hip pain and spino-pelvic/hip parameters in adult scoliosis patients after long-segment spinal fusion. Eur Spine J (2020). https://doi.org/10.1007/s00586-020-06316-8
Received:

Revised:

Accepted:

Published:
Keywords
Adult scoliosis

Long-segment spinal fusion

Hip joint

Spino-pelvic/hip parameters

Acetabular coverage