Abstract
Purpose
To evaluate the sensitivity patterns of anti-tubercular drugs in Xpert MTB-positive spinal tuberculosis (TB) patients and to formulate the guidelines for early start of empiric anti-tubercular treatment (ATT) in MDR-TB spine based on resistance pattern in this large series.
Methods
It was a cross-sectional observational study of 252 consecutive patients who were Xpert MTB-proven spinal TB cases with retrospective analysis of prospective data. The Xpert MTB/RIF (Mycobacterium tuberculosis/rifampicin) assay was used to diagnose spinal TB and RIF resistance. All patients underwent drug sensitivity testing (DST) to 13 commonly used anti-tubercular drugs using BACTEC MGIT-960 system. The drug sensitivity pattern of primary and secondary anti-tubercular drugs was recorded and compared.
Results
The DST study revealed 110 (43.6%) cases of multi-drug resistant (MDR—resistance to both isoniazid and rifampicin) and 24 (9.5%) cases of non-MDR-TB spine. The widespread resistance was found for both isoniazid (91%) and rifampicin (85%), followed by streptomycin (61.9%). The least resistance was found for kanamycin, amikacin and capreomycin and no resistance found for clofazimine.
Conclusion
The Xpert MTB/RIF assay is an efficient technique for the rapid diagnosis of spinal TB and suspected MDR-TB; however, it is recommended to do culture and DST in all patients with spinal TB to guide the selection of appropriate second-line drugs when required. In cases of non-availability of culture and DST, it is suggested to use data from large series such as this to plan the best empirical ATT regimen.
Graphic abstract
These slides can be retrieved under Electronic Supplementary Material.

This is a preview of subscription content, log in to check access.
Access options
Buy single article
Instant access to the full article PDF.
US$ 39.95
Price includes VAT for USA
Subscribe to journal
Immediate online access to all issues from 2019. Subscription will auto renew annually.
US$ 199
This is the net price. Taxes to be calculated in checkout.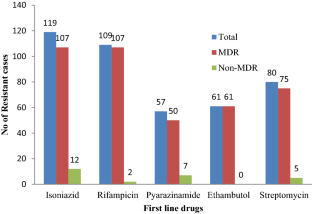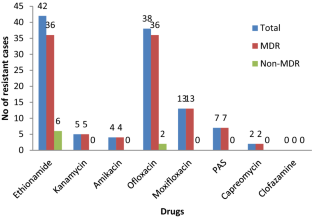 References
1.

WHO (2010) Multidrug and extensively drug-resistant TB (M/XDR-TB): global report on surveillance and response Geneva. who/htm/tb/2010.3

2.

Polley P, Dunn R (2009) Noncontiguous spinal tuberculosis: incidence and management. Eur Spine J 18:1096–1101

3.

Arora S, Kumar R (2011) Tubercular spinal epidural abscess involving the dorsal lumbar- sacral region without osseous involvement. J Infect Dev Ctries 5:544–549

4.

Stop Tuberculosis Department (2008) Guidelines for the programmatic management of drug-resistant tuberculosis: emergency update. WHO, Geneva. who/htm/tb/2008.402

5.

Pawar UM, Kundnani V, Agashe V et al (2009) Multi drug resistant tuberculosis of spine: is it the beginning of the end? Spine 34(22):E806–E810

6.

WHO (2011) The global plan to stop TB 2011–2015: transforming the fight towards elimination of tuberculosis. http://www.stoptb.org/assets/documents/global/plan/TB_GlobalPlanToStopTB20112015.pdf

7.

WHO (2009) Treatment of tuberculosis: guidelines, 4th edn. Geneva. who/htm/tb/2009.420

8.

WHO (2008) Anti-tuberculosis drug resistance: report no. 4, The WHO/IUALTD Global Project on Anti-Tuberculosis Drug Resistance Surveillance. Geneva. who/htm/tb/2008.394:1-142

9.

WHO (2006) Guidelines for the programmatic management of drug resistant tuberculosis. Geneva. who/htm/tb/2006.361

10.

Mohan K, Rawall S, Pawar UM et al (2012) Drug resistance patterns in 111 cases of drug-resistant tuberculosis spine. Eur Spine J 22:647–652

11.

World Health Organization (2017) WHO endorses new rapid tuberculosis test. http://www.who.int/tb/features_archive/new_rapid_test/en. Accessed 18 Sept 2017

12.

World Health Organization (2009) Automated real-time nucleic acid amplification technology for rapid and simultaneous detection of tuberculosis and rifampicin resistance: Xpert MTB/RIF assay for the diagnosis of pulmonary and extra pulmonary. WHO (2009) Treatment of tuberculosis: guidelines, 4th edn. Geneva. who/htm/tb/2009.420

13.

Held M, Laubscher M, Zar HJ (2014) Dunn RN (2014) GeneXpert polymerase chain reaction for spinal tuberculosis: an accurate and rapid diagnostic test. Bone Joint J 96-B(10):1366–1369

14.

Gu Y, Wang G, Dong W et al (2015) Xpert MTB/RIF and GenoType MTBDR plus assays for the rapid diagnosis of bone and joint tuberculosis. Int J Infect Dis 36:27–30

15.

Xpert MTB RIF kit insert (2015). http://www.cepheid.com/manageddownloads/xpert-mtb-rif-english-package-insert-301-1404-rev-b-february-2015.pdf

16.

Udwadia ZF (2001) India's multi-drug resistant tuberculosis crisis. Ann NY Acad Sci 953:98–105

17.

Schaaf HS, Shean K, Donald PR (2003) Culture confirmed multidrug resistant tuberculosis: diagnostic delay, clinical features and outcome. Arch Dis Child 88(12):1106–1111

18.

Singh A (2007) XDR-TB: Indian perspective. Eur Respir J 30:178–179

19.

Suarez-Garcia I, Rodriguez-Blanco A, Vidal-Perez JL, Garcia-Viejo MA, Jaras-Hernandez MJ et al (2009) Risk factors for multidrug-resistant tuberculosis in a tuberculosis unit in Madrid, Spain. Eur J Clin Microbiol Infect Dis 28(4):325–330

20.

Caminero JA (2006) Treatment of multidrug resistant tuberculosis: evidence and controversies. Int J Tuberc Lung Dis 10(8):829–837

21.

Crofton J, Chaulet P, Maher D (1997) Guidelines for the management of drug resistant tuberculosis. Geneva 1997. WHO/TB/96:210
Ethics declarations
Conflict of interest
No conflict of interest.
Ethical approval
The approval of Institutional review board was taken.
Additional information
Publisher's Note
Springer Nature remains neutral with regard to jurisdictional claims in published maps and institutional affiliations.
Electronic supplementary material
Below is the link to the electronic supplementary material.
About this article
Cite this article
Upadhyay, M., Patel, J., Kundnani, V. et al. Drug sensitivity patterns in Xpert-positive spinal tuberculosis: an observational study of 252 patients. Eur Spine J (2020). https://doi.org/10.1007/s00586-020-06305-x
Received:

Revised:

Accepted:

Published:
Keywords
Spinal tuberculosis

MDR-TB

Xpert MTB/RIF

Drug sensitivity testing

Anti-tubercular drugs

Second-line drugs