Abstract
Purpose
To compare the clinical and economic outcomes of facet versus pedicle screw instrumentation for single-level circumferential lumbar spinal fusion.
Methods
Outcomes included self-assessment of back and leg pain, pain drawing, ODI, pain medication usage, and procedure success. The CEA was based on the 10-year data collected, and the base-case was from a US payer perspective. Costs included the index surgery, additional surgeries, outpatient/ED visits, and medications. To determine quality-adjusted life years (QALYs), ODI scores were used to predict SF-6D utilities. Sensitivity analyses were performed from a modified payer perspective including device costs and from a societal perspective including productivity loss. Discounted and undiscounted incremental costs and QALYs were calculated. Bootstrapping was performed to estimate the distribution of incremental costs and effects.
Results
Clinical improvement was significant from pre-op to 10-year follow-up for both groups (p < 0.01 for all outcomes scales). Outcomes were significantly better for back pain and ODI for the facet versus pedicle group at all follow-up periods > 1 year (p < 0.05). In the CEA base-case, facets had more QALYs (0.68) and lower costs (− $8650) per person compared with pedicle screws. Therefore, facets were dominant (i.e., provided cost savings and greater QALYs) compared with pedicle screws. Facets had a 97% probability of being below a willingness-to-pay threshold of $20,000 per QALY gained and were estimated to be dominant over pedicle screws in 84% of the simulations.
Conclusion
One-level circumferential spinal fusion using facet screws was clinically superior and provided cost savings compared with pedicle screw instrumentation in the USA.
Graphic abstract

This is a preview of subscription content, log in to check access.
Access options
Buy single article
Instant access to the full article PDF.
US$ 39.95
Price includes VAT for USA
Subscribe to journal
Immediate online access to all issues from 2019. Subscription will auto renew annually.
US$ 199
This is the net price. Taxes to be calculated in checkout.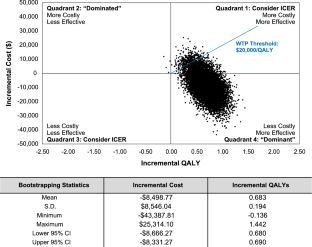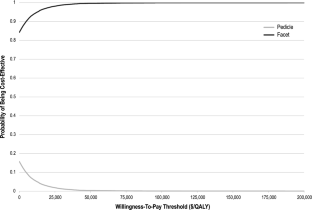 References
1.

Hsieh PC, Koski TR, O'Shaughnessy BA, Sugrue P, Salehi S, Ondra S, Liu JC (2007) Anterior lumbar interbody fusion in comparison with transforaminal lumbar interbody fusion: implications for the restoration of foraminal height, local disc angle, lumbar lordosis, and sagittal balance. J Neurosurg Spine 7(4):379–386. https://doi.org/10.3171/SPI-07/10/379

2.

Ahlquist S, Park HY, Gatto J, Shamie AN, Park DY (2018) Does approach matter? A comparative radiographic analysis of spinopelvic parameters in single-level lumbar fusion. Spine J 18(11):1999–2008. https://doi.org/10.1016/j.spinee.2018.03.014

3.

Verma K, Boniello A, Rihn J (2016) Emerging techniques for posterior fixation of the lumbar spine. J Am Acad Orthop Surg 24(6):357–364. https://doi.org/10.5435/JAAOS-D-14-00378

4.

Agarwala A, Bucklen B, Muzumdar A, Moldavsky M, Khalil S (2012) Do facet screws provide the required stability in lumbar fixation? A biomechanical comparison of the Boucher technique and pedicular fixation in primary and circumferential fusions. Clin Biomech (Bristol, Avon) 27(1):64–70. https://doi.org/10.1016/j.clinbiomech.2011.07.007

5.

Beaubien BP, Mehbod AA, Kallemeier PM, Lew WD, Buttermann GR, Transfeldt EE, Wood KB (2004) Posterior augmentation of an anterior lumbar interbody fusion: minimally invasive fixation versus pedicle screws in vitro. Spine (Phila Pa 1976) 29(19):E406–E412

6.

Burton D, McIff T, Fox T, Lark R, Asher MA, Glattes RC (2005) Biomechanical analysis of posterior fixation techniques in a 360 degrees arthrodesis model. Spine (Phila Pa 1976) 30(24):2765–2771

7.

Chin KR, Reis MT, Reyes PM, Newcomb AG, Neagoe A, Gabriel JP, Sung RD, Crawford NR (2015) Stability of transforaminal lumbar interbody fusion in the setting of retained facets and posterior fixation using transfacet or standard pedicle screws. Spine J 15(5):1077–1082. https://doi.org/10.1016/j.spinee.2013.06.103

8.

Hou Y, Shen Y, Liu Z, Nie Z (2013) Which posterior instrumentation is better for two-level anterior lumbar interbody fusion: Translaminar facet screw or pedicle screw? Arch Orthop Trauma Surg 133(1):37–42. https://doi.org/10.1007/s00402-012-1636-y

9.

Kretzer RM, Molina C, Hu N, Umekoji H, Baaj AA, Serhan H, Cunningham BW (2016) A comparative biomechanical analysis of stand alone versus facet screw and pedicle screw augmented lateral interbody arthrodesis: an in vitro human cadaveric model. Clin Spine Surg 29(7):E336–E343. https://doi.org/10.1097/BSD.0b013e3182868ef9

10.

Mahar A, Kim C, Oka R, Odell T, Perry A, Mirkovic S, Garfin S (2006) Biomechanical comparison of a novel percutaneous transfacet device and a traditional posterior system for single level fusion. J Spinal Disord Tech 19(8):591–594. https://doi.org/10.1097/01.bsd.0000211238.21835.e4

11.

Razi AE, Spivak JM, Kummer FJ, Hersh DS, Goldstein JA (2011) Biomechanical comparison of translaminar screw versus pedicle screw supplementation of anterior femoral ring allografts in one-level lumbar spine fusion. Bull NYU Hosp Jt Dis 69(4):298–302

12.

Zhan Y, Tian D (2012) Do translaminar facet screws have the same stability as pedicle screws in two-level anterior lumbar interbody fusion? A biomechanical study. Turk Neurosurg 22(5):630–633. https://doi.org/10.5137/1019-5149.JTN.5825-12.0

13.

Chin KR, Newcomb AG, Reis MT, Reyes PM, Hickam GA, Gabriel J, Pencle FJ, Sung RD, Crawford NR (2016) Biomechanics of posterior instrumentation in L1–L3 lateral interbody fusion: pedicle screw rod construct versus transfacet pedicle screws. Clin Biomech (Bristol, Avon) 31:59–64. https://doi.org/10.1016/j.clinbiomech.2015.10.001

14.

Ferrara LA, Secor JL, Jin BH, Wakefield A, Inceoglu S, Benzel EC (2003) A biomechanical comparison of facet screw fixation and pedicle screw fixation: effects of short-term and long-term repetitive cycling. Spine (Phila Pa 1976) 28(12):1226–1234. https://doi.org/10.1097/01.brs.0000065485.46539.17

15.

Rihn JA, Berven S, Allen T, Phillips FM, Currier BL, Glassman SD, Nash DB, Mick C, Crockard A, Albert TJ (2009) Defining value in spine care. Am J Med Qual 24(6 Suppl):4S–14S. https://doi.org/10.1177/1062860609349214

16.

Congress of the United States Congressional Budget Office. Research on the comparative effectiveness of medical treatments: issues and options for an expanded federal role. https://www.cbo.gov/sites/default/files/110th-congress-2007-2008/reports/12-18-comparativeeffectiveness.pdf. Accessed 13 Aug 2019

17.

Buttermann GR, Thorson TM, Mullin WJ (2014) Outcomes of posterior facet versus pedicle screw fixation of circumferential fusion: a cohort study. Eur Spine J 23(2):347–355. https://doi.org/10.1007/s00586-013-2999-7

18.

Kuntz KM, Snider RK, Weinstein JN, Pope MH, Katz JN (2000) Cost-effectiveness of fusion with and without instrumentation for patients with degenerative spondylolisthesis and spinal stenosis. Spine (Phila Pa 1976) 25(9):1132–1139

19.

Mirza SK, Deyo RA (2007) Systematic review of randomized trials comparing lumbar fusion surgery to nonoperative care for treatment of chronic back pain. Spine (Phila Pa 1976) 32(7):816–823. https://doi.org/10.1097/01.brs.0000259225.37454.38

20.

Zaina F, Tomkins-Lane C, Carragee E, Negrini S (2016) Surgical versus non-surgical treatment for lumbar spinal stenosis. Cochrane Database Syst Rev 1:CD010264. https://doi.org/10.1002/14651858.cd010264.pub2

21.

Glassman SD, Polly DW, Dimar JR, Carreon LY (2012) The cost effectiveness of single-level instrumented posterolateral lumbar fusion at 5 years after surgery. Spine (Phila Pa 1976) 37(9):769–774. https://doi.org/10.1097/brs.0b013e3181e03099

22.

Adogwa O, Parker SL, Davis BJ, Aaronson O, Devin C, Cheng JS, McGirt MJ (2011) Cost-effectiveness of transforaminal lumbar interbody fusion for Grade I degenerative spondylolisthesis. J Neurosurg Spine 15(2):138–143. https://doi.org/10.3171/2011.3.SPINE10562

23.

Tye EY, Tanenbaum JE, Alonso AS, Xiao R, Steinmetz MP, Mroz TE, Savage JW (2018) Circumferential fusion: a comparative analysis between anterior lumbar interbody fusion with posterior pedicle screw fixation and transforaminal lumbar interbody fusion for L5-S1 isthmic spondylolisthesis. Spine J 18(3):464–471. https://doi.org/10.1016/j.spinee.2017.08.227

24.

Woo EJ (2012) Recombinant human bone morphogenetic protein-2: adverse events reported to the manufacturer and user facility device experience database. Spine J 12(10):894–899. https://doi.org/10.1016/j.spinee.2012.09.052

25.

Pradhan BB, Bae HW, Dawson EG, Patel VV, Delamarter RB (2006) Graft resorption with the use of bone morphogenetic protein: lessons from anterior lumbar interbody fusion using femoral ring allografts and recombinant human bone morphogenetic protein-2. Spine (Phila Pa 1976) 31(10):E277–E284. https://doi.org/10.1097/01.brs.0000216442.12092.01

26.

Gold M (1996) Panel on cost-effectiveness in health and medicine. Med Care 34(12):DS197–DS199

27.

Carreon LY, Glassman SD, McDonough CM, Rampersaud R, Berven S, Shainline M (2009) Predicting SF-6D utility scores from the Oswestry Disability Index and numeric rating scales for back and leg pain. Spine (Phila Pa 1976) 34(19):2085–2089. https://doi.org/10.1097/brs.0b013e3181a93ea6

28.

IBM Micromedex® RED BOOK® (2018) Wholesale Acquisition Costs

29.

Kim JS, Kim DH, Lee SH, Park CK, Hwang JH, Cheh G, Choi YG, Kang BU, Lee HY (2010) Comparison study of the instrumented circumferential fusion with instrumented anterior lumbar interbody fusion as a surgical procedure for adult low-grade isthmic spondylolisthesis. World Neurosurg 73(5):565–571. https://doi.org/10.1016/j.wneu.2010.02.057

30.

Drummond MF (1980) Principles of economic appraisal in health care. Oxford University Press, Oxford

31.

Campbell MK, Torgerson DJ (1999) Bootstrapping: estimating confidence intervals for cost-effectiveness ratios. QJM 92(3):177–182

32.

Polly DW Jr, Ackerman SJ, Shaffrey CI, Ogilvie JW, Wang JC, Stralka SW, Mafilios MS, Heim SE, Sandhu HS (2003) A cost analysis of bone morphogenetic protein versus autogenous iliac crest bone graft in single-level anterior lumbar fusion. Orthopedics 26(10):1027–1037

33.

Copay AG, Glassman SD, Subach BR, Berven S, Schuler TC, Carreon LY (2008) Minimum clinically important difference in lumbar spine surgery patients: a choice of methods using the Oswestry Disability Index, Medical Outcomes Study questionnaire Short Form 36, and pain scales. Spine J 8(6):968–974. https://doi.org/10.1016/j.spinee.2007.11.006

34.

Videbaek TS, Christensen FB, Soegaard R, Hansen ES, Hoy K, Helmig P, Niedermann B, Eiskjoer SP, Bunger CE (2006) Circumferential fusion improves outcome in comparison with instrumented posterolateral fusion: long-term results of a randomized clinical trial. Spine (Phila Pa 1976) 31(25):2875–2880. https://doi.org/10.1097/01.brs.0000247793.99827.b7

35.

Glassman S, Gornet MF, Branch C, Polly D Jr, Peloza J, Schwender JD, Carreon L (2006) MOS short form 36 and Oswestry Disability Index outcomes in lumbar fusion: a multicenter experience. Spine J 6(1):21–26. https://doi.org/10.1016/j.spinee.2005.09.004

36.

Carragee EJ, Cheng I (2010) Minimum acceptable outcomes after lumbar spinal fusion. Spine J 10(4):313–320. https://doi.org/10.1016/j.spinee.2010.02.001

37.

Ostelo RW, Deyo RA, Stratford P, Waddell G, Croft P, Von Korff M, Bouter LM, de Vet HC (2008) Interpreting change scores for pain and functional status in low back pain: towards international consensus regarding minimal important change. Spine (Phila Pa 1976) 33(1):90–94. https://doi.org/10.1097/brs.0b013e31815e3a10

38.

McCabe C, Claxton K, Culyer AJ (2008) The NICE cost-effectiveness threshold: what it is and what that means. Pharmacoeconomics 26(9):733–744. https://doi.org/10.2165/00019053-200826090-00004

39.

van den Hout WB, Peul WC, Koes BW, Brand R, Kievit J, Thomeer RT, Leiden-The Hague Spine Intervention Prognostic Study G (2008) Prolonged conservative care versus early surgery in patients with sciatica from lumbar disc herniation: cost utility analysis alongside a randomised controlled trial. BMJ 336(7657):1351–1354. https://doi.org/10.1136/bmj.39583.709074.be

40.

Carreon LY, Bratcher KR, Das N, Nienhuis JB, Glassman SD (2014) Estimating EQ-5D values from the Oswestry Disability Index and numeric rating scales for back and leg pain. Spine (Phila Pa 1976) 39(8):678–682. https://doi.org/10.1097/brs.0000000000000220
Acknowledgment
This study was funded by Midwest Spine & Brain Institute Research Division.
Ethics declarations
Conflict of interest
The authors declare that they have no confict of interest.
Additional information
Publisher's Note
Springer Nature remains neutral with regard to jurisdictional claims in published maps and institutional affiliations.
Electronic supplementary material
Below is the link to the electronic supplementary material.
About this article
Cite this article
Buttermann, G., Hollmann, S., Arpino, J. et al. Value of single-level circumferential fusion: a 10-year prospective outcomes and cost-effectiveness analysis comparing posterior facet versus pedicle screw fixation. Eur Spine J (2019). https://doi.org/10.1007/s00586-019-06165-0
Received:

Revised:

Accepted:

Published:
Keywords
Cost

Economic

Facet screws

Fusion

QALY

Lumbar spine