Abstract
Purpose
To develop a model to predict 30-day readmission rates in elective 1–2 level posterior lumbar spine fusion (PSF) patients.
Methods
In this retrospective case control study, patients were identified in the State Inpatient Database using ICD-9 codes. Data were queried for 30-day readmission, as well as demographic and surgical data. Patients were randomly assigned to either the derivation or the validation cohort. Stepwise multivariate analysis was conducted on the derivation cohort to predict 30-day readmission. Readmission after posterior spinal fusion (RAPSF) score was created by including variables with odds ratio (OR) > 1.1 and p < 0.01; value assigned to each variable was based on the OR and calibrated to 100. Linear regression was performed between readmission rate and RAPSF score to test correlation in both cohorts.
Results
There were 92,262 and 90,257 patients in the derivation and validation cohorts. Thirty-day readmission rates were 10.9% and 11.1%, respectively. Variables in RAPSF included: age, female gender, race, insurance, anterior approach, cerebrovascular disease, chronic pulmonary disease, congestive heart failure, diabetes, hemiplegia/paraplegia, rheumatic disease, drug abuse, electrolyte disorder, osteoporosis, depression, obesity, and morbid obesity. Linear regression between readmission rate and RAPSF fits the derivation cohort and validation cohort with an adjusted r2 of 0.92 and 0.94, respectively, and a coefficient of 0.011 (p < 0.001) in both cohorts.
Conclusion
The RAPSF can accurately predict readmission rates in PSF patients and may be used to guide an evidence-based approach to preoperative optimization and risk adjustment within alternative payment models for elective spine surgery.
Level of evidence
3.
Graphical abstract
These slides can be retrieved under Electronic Supplementary Material.

This is a preview of subscription content, log in to check access.
Access options
Buy single article
Instant access to the full article PDF.
US$ 39.95
Price includes VAT for USA
Subscribe to journal
Immediate online access to all issues from 2019. Subscription will auto renew annually.
US$ 199
This is the net price. Taxes to be calculated in checkout.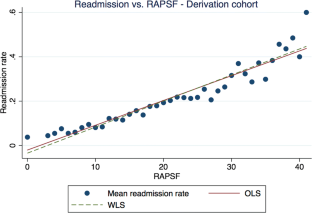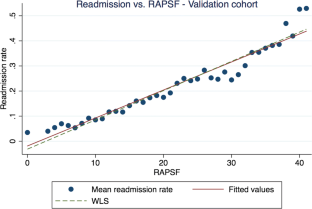 References
1.

Rajaee SS, Bae HW, Kanim LE, Delamarter RB (2012) Spinal fusion in the United States: analysis of trends from 1998 to 2008. Spine 37:67–76

2.

Boozary AS, Manchin J, Wicker RF (2015) The Medicare hospital readmissions reduction program: time for reform. JAMA 314:347–348

3.

Jencks SF, Williams MV, Coleman EA (2009) Rehospitalizations among patients in the Medicare fee-for-service program. N Engl J Med 360:1418–1428

4.

Lee NJ, Kothari P, Phan K, Shin JI, Cutler HS, Lakomkin N, Leven DM, Guzman JZ, Cho SK (2016) The incidence and risk factors for 30-day unplanned readmissions after elective posterior lumbar fusion. Spine 43(1):41–48

5.

Baaj AA, Lang G, Hsu W-C, Avila MJ, Mao J, Sedrakyan A (2017) 90-day readmission after lumbar spinal fusion surgery in New York state between 2005 and 2014-A 10-year analysis of a statewide cohort. Spine 42:1706

6.

Quan H, Sundararajan V, Halfon P, Fong A, Burnand B, Luthi J-C, Saunders LD, Beck CA, Feasby TE, Ghali WA (2005) Coding algorithms for defining comorbidities in ICD-9-CM and ICD-10 administrative data. Med Care 43:1130–1139

7.

Piper K, DeAndrea-Lazarus I, Algattas H, Kimmell KT, Towner J, Li YM, Walter K, Vates GE (2017) Risk factors associated with readmission and reoperation in patients undergoing spine surgery. World Neurosurg 110:e627

8.

Su AW, Habermann EB, Thomsen KM, Milbrandt TA, Nassr A, Larson AN (2016) Risk factors for 30-day unplanned readmission and major perioperative complications after spine fusion surgery in adults: a review of the national surgical quality improvement program database. Spine 41:1523–1534

9.

Siracuse BL, Chamberlain RS (2016) A preoperative scale for determining surgical readmission risk after total hip replacement. JAMA Surg 151:701–709

10.

Siracuse BL, Ippolito JA, Gibson PD, Ohman-Strickland PA, Beebe KS (2017) A preoperative scale for determining surgical readmission risk after total knee arthroplasty. JBJS 99:e112

11.

Lee NJ, Kothari P, Phan K, Shin JI, Cutler HS, Lakomkin N, Leven DM, Guzman JZ, Cho SK (2018) Incidence and risk factors for 30-day unplanned readmissions after elective posterior lumbar fusion. Spine 43:41–48

12.

Adogwa O, Elsamadicy AA, Mehta AI, Cheng J, Bagley CA, Karikari IO (2016) Racial disparities in 30-day readmission rates after elective spine surgery: a single institutional experience. Spine 41:1677–1682

13.

Joynt KE, Orav EJ, Jha AK (2011) Thirty-day readmission rates for Medicare beneficiaries by race and site of care. JAMA 305:675–681

14.

Martin JR, Wang TY, Loriaux D, Desai R, Kuchibhatla M, Karikari IO, Bagley CA, Gottfried ON (2017) Race as a predictor of postoperative hospital readmission after spine surgery. J Clin Neurosci 46:21–25

15.

Jha AK, Orav EJ, Li Z, Epstein AM (2007) Concentration and quality of hospitals that care for elderly black patients. Arch Intern Med 167:1177–1182

16.

McGirt MJ, Parker SL, Chotai S, Pfortmiller D, Sorenson JM, Foley K, Asher AL (2017) Predictors of extended length of stay, discharge to inpatient rehab, and hospital readmission following elective lumbar spine surgery: introduction of the Carolina-Semmes grading scale. J Neurosurg Spine 27:382–390

17.

Jain DS, Carter J, Deviren V, Zhang A, Berven S (2018) Risk factors for readmission in obese and severely obese patients undergoing elective posterior lumbar spine fusion. In: AAOS Annual Meeting 2018. New Orleans, LA

18.

Oronce CIA, Shao H, Shi L (2015) Disparities in 30-day readmissions after total hip arthroplasty. Med Care 53:924–930

19.

Chen JC, Shaw JD, Ma Y, Rhoads KF (2016) The role of the hospital and health care system characteristics in readmissions after major surgery in California. Surgery 159:381–388

20.

Williams MV (2013) A requirement to reduce readmissions: take care of the patient, not just the disease. JAMA 309:394–396

21.

Hoyer EH, Brotman DJ, Apfel A, Leung C, Boonyasai RT, Richardson M, Lepley D, Deutschendorf A (2017) Improving outcomes after hospitalization: a prospective observational multicenter evaluation of care coordination strategies for reducing 30-day readmissions to Maryland Hospitals. J Gen Intern Med 33:1–7

22.

Poulose BK, Harris DA, Phillips S, Janczyk RJ, Yunis J, Voeller GR, Carbonell A, Warren J, Stoikes N, Webb D (2018) Reducing early readmissions after ventral hernia repair with the Americas Hernia Society Quality Collaborative. J Am Coll Surg 226:814

23.

Pak LM, Fogel HA, Kwon N, Barton L, Koehlmoos T, Haider A, Schoenfeld A, Chaudhary M (2017) Outpatient spine clinic utilization is associated with reduced emergency department visits following spine surgery. Spine 43:E836
Ethics declarations
Conflict of interest
Drs. Jain, Singh, and Karile have no conflicts of interest. Dr. Berven has financial relationships with Medtronic, Stryker, Globus, Medicrea, Providence Medical, and GreenSun.
Additional information
Publisher's Note
Springer Nature remains neutral with regard to jurisdictional claims in published maps and institutional affiliations.
Electronic supplementary material
Below is the link to the electronic supplementary material.
About this article
Cite this article
Jain, D., Singh, P., Kardile, M. et al. A validated preoperative score for predicting 30-day readmission after 1–2 level elective posterior lumbar fusion. Eur Spine J 28, 1690–1696 (2019). https://doi.org/10.1007/s00586-019-05937-y
Received:

Revised:

Accepted:

Published:

Issue Date:
Keywords
Predictive modeling

Predictive analytics

Readmission

Lumbar spine fusion

Posterior spine surgery

Single-level fusion

Multivariate regression

Bundled payment

Obesity

Socioeconomic factors