Abstract
Purpose
Dropped head syndrome (DHS) is a rare clinical entity which is defined as a chin-on-chest deformity in the standing or sitting position, resulting from sagittal imbalance of the cervical region. The purpose of the present study was to clarify the radiologic features of DHS in the overall sagittal alignment of the spine. We also investigated the changes in sagittal alignment after correction surgery for DHS.
Methods
Twenty DHS patients [1 male and 19 female, with an average age of 78.9 years (range 59–88)] with a main complaint of horizontal gaze disorder were enrolled in this study. Spino-pelvic lateral radiographs in the free-standing clavicle position were taken of all patients. Parameters such as sagittal vertical axis (SVA), C2-7 angle, clivo-axial angle (CAA), C2-7 SVA, T1 slope, thoracic kyphosis (TK), lumbar lordosis (LL), pelvic incidence (PI), sacral slope (SS), and pelvic tilt (PT) were measured, and the radiologic features of DHS in the overall sagittal alignment of the spino-pelvis were investigated. Eight patients underwent correction surgery, and the parameter changes between pre- and post-operative radiographs were also examined.
Results
DHS appeared to have two distinct types: SVA+ and SVA−. Seven of 20 cases were SVA+, and 13 were SVA−. The radiologic parameters in which we found statistically significant differences between the groups were: 80.2 ± 68 and −44.5 ± 40 (SVA), 42.1 ± 16.8 and 18.4 ± 11.4 (T1 slope), and 21.1 ± 19.2 and 44.2 ± 19.8 (LL) in SVA+ and SVA−, respectively. After surgical intervention, T1 slope and LL appeared to approach normal in the SVA− group, because compensation at downward spine was no longer necessary. In SVA+ group, although the patients gained horizontal gaze after surgery, abnormality of the sagittal alignment in the whole spine remained, because compensation in the thoracic and lumbar spine was still insufficient.
Conclusions
The present study has indicated that radiologic feature of DHS in the sagittal alignment of the overall spino-pelvis can be categorized into two types: SVA+ and SVA−.
This is a preview of subscription content, log in to check access.
Access options
Buy single article
Instant unlimited access to the full article PDF.
US$ 39.95
Price includes VAT for USA
Subscribe to journal
Immediate online access to all issues from 2019. Subscription will auto renew annually.
US$ 199
This is the net price. Taxes to be calculated in checkout.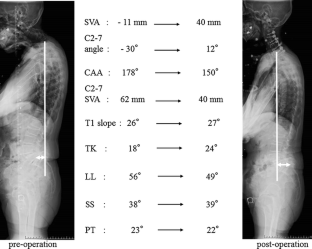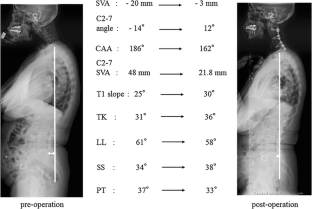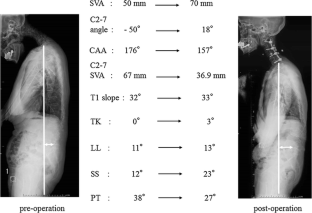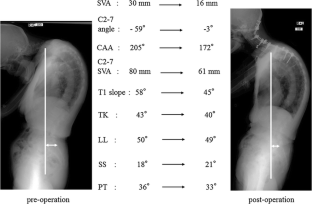 References
1.

Suarez GA, Kelly JJ Jr (1992) The dropped head syndrome. Neurology 42:1625–1627

2.

Hoffman D, Gutmann L (1994) The dropped head syndrome with chronic inflammatory demyelinating polyneuropathy. Muscle Nerve 17:808–810

3.

Katz JS, Wolfe GI, Burns DK, Bryan WW, Fleckenstein JL, Barohn RJ (1996) Isolated neck extensor myopathy: a common cause of dropped head syndrome. Neurology 46:917–921

4.

Miura K (1897) Ueber Kubisagari, eine in den nordlichen Provinzen Japans endemische Krankheit. Mittheil Med Fac Kaiserl Japan Univ Tokyo 3:259–319

5.

Katz AL, Pate D (1980) Floppy head syndrome. Arthritis Rheum 23:131–132

6.

Kuncl RW, Cornblath DR, Griffin JW (1988) Assessment of thoracic paraspinal muscles in the diagnosis of ALS. Muscle Nerve 11:484–492

7.

Jaster JH, Bertorini TE, Swims MP, Dohan FC Jr, Menke PG, Becske T et al (1996) Cervical kyphosis after resolution of myopathic head drop. A case report. Spine 21:2023–2025

8.

Rose MR, Levin KH, Griggs RC (1999) The dropped head plus syndrome: quantitation of response to corticosteroids. Muscle Nerve 22:115–118

9.

Kashihara K, Ohno M, Tomita S (2006) Dropped head syndrome in Parkinson's disease. Mov Disord 21:1213–1216

10.

Ochi N, Yamane H, Honda Y, Takigawa N (2016) Dropped head syndrome following mantle radiation therapy. Intern Med 55(4):421–422. doi:10.2169/internalmedicine.55.5579

11.

Tanaka K, Wada I, Okunomiya T, Shima A, Kambe D, Shinde A, Kageyama T, Suenaga T (2014) Dropped head syndrome preceding the onset of dementia with Lewy bodies. Intern Med 53(8):883–886

12.

Funabe S, Tanaka R, Hayashi A, Yamashiro K, Shimura H, Hattori N (2014) Reversible dropped head syndrome after hemispheric striatal infarction. J Stroke Cerebrovasc Dis 23(4):785–787. doi:10.1016/j.jstrokecerebrovasdis.2013.05.017

13.

Kawaguchi A, Miyamoto K, Sakaguchi Y, Nishimoto H, Kodama H, Ohara A et al (2004) Dropped head syndrome associated with cervical spondylotic myelopathy. J Spinal Disord Tech 17:531–534

14.

Nakanishi K, Taneda M, Sumii T, Yabuuchi T, Iwakura N (2007) Cervical myelopathy caused by dropped head syndrome. Case report and review of the literature. J Neurosurg Spine 6:165–168

15.

Martin AR, Reddy R, Fehlings MG (2011) Dropped head syndrome: diagnosis and management. Evid Based Spine Care J 2(2):41–47. doi:10.1055/s-0030-1267104

16.

Petheram TG, Hourigan PG, Emran IM, Weatherley CR (2008) Dropped head syndrome: a case series and literature review. Spine 33:47–51. doi:10.1097/BRS.0b013e31815e38ec

17.

Stoker GE, Buchowski JM, Kelly MP (2013) Dropped head syndrome after multilevel cervical radiofrequency ablation a case report: a case report. J Spine Disord Tech 26:444–448. doi:10.1097/BSD.0b013e31825c36c0

18.

Zenmyo M, Abematsu M, Yamamoto T, Ishidou Y, Komiya S, Ijiri K (2011) Dropped head syndrome due to myogenic atrophy—a case report of surgical treatment. Diagn Pathol 6:9. doi:10.1186/1746-1596-6-9

19.

Schwab F, Ungar B, Blondel B, Buchowski J, Coe J, Deinlein D et al (2012) Scoliosis research society-Schwab adult spinal deformity classification: a validation study. Spine 37:1077–1082. doi:10.1097/BRS.0b013e31823e15e2

20.

Horton WC, Brown CW, Bridwell KH, Glassman SD, Suk SI, Cha CW (2005) Is there an optimal patient stance for obtaining a lateral 36" radiograph? A critical comparison of three techniques. Spine 30:427–433

21.

Janusz P, Tyrakowski M, Yu H, Siemionow K (2016) Reliability of cervical lordosis measurement techniques on long-cassette radiographs. Eur Spine J 25(11):3596–3601

22.

Corbett JJ, Butler AB, Kaufman B (1976) 'Sneeze syncope', basilar invagination and Arnold-Chiari type I malformation. J Neurol Neurosurg Psychiatry 39(4):381–384

23.

Takahashi K, Miyazaki T, Takino T et al (1995) Epidural pressure measurements. Relationship between epidural pressure and posture in patients with lumbar spinal stenosis. Spine 20:650–653

24.

Smith JS, Shaffrey CI, Lafage R, Lafage V, Schwab FJ, Kim HJ, Scheer JK, Protopsaltis T, Passias P, Mundis G, Hart R, Neuman B, Klineberg E, Hostin R, Bess S, Deviren V, Ames CP, ISSG (2017) Three-column osteotomy for correction of cervical and cervicothoracic deformities: alignment changes and early complications in a multicenter prospective series of 23 patients. Eur Spine J. doi:10.1007/s00586-017-5071-1 (Epub ahead of print)

25.

Koda M, Furuya T, Inada T, Kamiya K, Ota M, Maki S, Ikeda O, Aramomi M, Takahashi K, Yamazaki M, Mannoji C (2015) Resolution of low back symptoms after corrective surgery for dropped-head syndrome: a report of two cases. BMC Res Notes 8:545. doi:10.1186/s13104-015-1430-3

26.

Caruso L, Barone G, Farneti A, Caraffa A (2014) Pedicle subtraction osteotomy for the treatment of chin-on-chest deformity in a post-radiotherapy dropped head syndrome: a case report and review of literature. Eur Spine J 23:S634–S643. doi:10.1007/s00586-014-3544-z

27.

Gerling MC, Bohlman HH (2008) Dropped head deformity due to cervical myopathy: surgical treatment outcomes and complications spanning twenty years. Spine 33(20):E739–E745. doi:10.1097/BRS.0b013e31817f1f8b

28.

Hogan KA, Manning EL, Glaser JA (2006) Progressive cervical kyphosis associated with botulinum toxin injection. South Med J 99(8):888–891

29.

Sharan AD, Kaye D, Charles Malveaux WM, Riew KD et al (2012) Dropped head syndrome: etiology and management. J Am Acad Orthop Surg 20:766–774. doi:10.5435/JAAOS-20-12-766

30.

Ogihara S, Kunogi J (2015) Single-stage anterior and posterior fusion surgery for correction of cervical kyphotic deformity using intervertebral cages and cervical lateral mass screws: postoperative changes in total spine sagittal alignment in three cases with a minimum follow-up of five years. Neurol Med Chir (Tokyo) 55:599–604. doi:10.2176/nmc.cr.2014-0263

31.

Lee DH, Ha JK, Chung JH, Hwang CJ, Lee CS, Cho JH (2016) A retrospective study to reveal the effect of surgical correction of cervical kyphosis on thoraco-lumbo-pelvic sagittal alignment. Eur Spine J 25(7):2286–2293. doi:10.1007/s00586-016-4392-9

32.

Miyamoto H, Hashimoto K, Ikeda T, Akagi M (2017) Effect of correction surgery for cervical kyphosis on compensatory mechanisms in overall spinopelvic sagittal alignment. Eur Spine J. doi:10.1007/s00586-017-5106-7

33.

Le Huec JC, Demezon H, Aunoble S (2015) Sagittal parameters of global cervical balance using EOS imaging: normative values from a prospective cohort of asymptomatic volunteers. Eur Spine J 24:63–71. doi:10.1007/s00586-014-3632-0
Ethics declarations
Conflict of interest
The authors report no conflict of interest concerning the materials or methods used in this study or the findings specified in this paper.
Additional information
Kazuki Hashimoto: First contributing author.
Electronic supplementary material
Below is the link to the electronic supplementary material.
Supplementary material 1 (WMV 3497 kb)
Supplementary material 2 (WMV 5677 kb)
About this article
Cite this article
Hashimoto, K., Miyamoto, H., Ikeda, T. et al. Radiologic features of dropped head syndrome in the overall sagittal alignment of the spine. Eur Spine J 27, 467–474 (2018). https://doi.org/10.1007/s00586-017-5186-4
Received:

Revised:

Accepted:

Published:

Issue Date:
Keywords
Dropped head syndrome

Sagittal alignment

Overall spino-pelvis

Sagittal vertical axis