Abstract
Purpose
Axial fractures in patients with a previous C2-pelvis posterior instrumented fusion are rare and may be challenging to manage. Motion preservation in the axial spine for these patients is important, as the C1–2 and Occipit-C1 joints are their only remaining mobile spinal segments. In this unique report, we present for the first time the use of a fusionless occipitocervical operation for the treatment of a type II odontoid fracture and unilateral C2 pars fracture adjacent to a previous C2-pelvis posterior instrumented fusion.
Methods
Case report.
Results
Three years after proximal extension of a T3-pelvis posterior instrumented fusion to C2, the patient sustained a displaced odontoid fracture and unilateral C2 pars fracture after a mechanical fall. She underwent fracture stabilization with extension of instrumentation to the occiput. No attempt at fusion was performed. Post-operatively, she was distraught by severely limited neck range of motion, which was reflected in worsening of health-related quality of life (HRQoL) scores. The fracture healed uneventfully after which the instrumentation from the occiput and C1 were removed, which resulted in improvement of neck range of motion. Two years post-operatively, HRQoL scores showed minimal neck disability (NDI 12), no neck or arm pain (VAS 0), and outstanding general health (EQ-5D 85 out of 100, SF-36 PCS 35.3, SF-36 MCS 41.1).
Conclusion
In this one patient, instrumentation without fusion allowed for successful and timely union of a displaced odontoid fracture in a patient with a previous C2-pelvis fusion. Axial range of motion was preserved after instrumentation removal.
This is a preview of subscription content, log in to check access.
Access options
Buy single article
Instant unlimited access to the full article PDF.
US$ 39.95
Price includes VAT for USA
Subscribe to journal
Immediate online access to all issues from 2019. Subscription will auto renew annually.
US$ 199
This is the net price. Taxes to be calculated in checkout.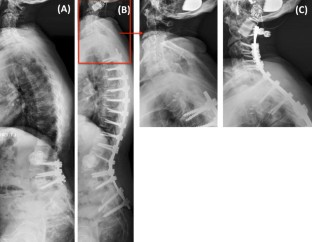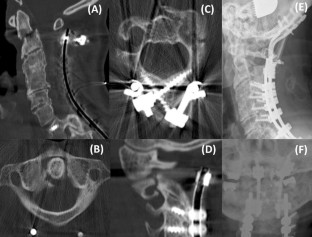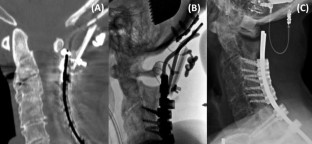 References
1.

DeWald CJ, Stanley T (2006) Instrumentation-related complications of multilevel fusions for adult spinal deformity patients over age 65: surgical considerations and treatment options in patients with poor bone quality. Spine (Phila Pa 1976) 31:S144–S151

2.

Hart RA, McCarthy I, Ames CP et al (2013) Proximal junctional kyphosis and proximal junctional failure. Neurosurg Clin N Am 24:213–218

3.

Watanabe K, Lenke LG, Bridwell KH et al (2010) Proximal junctional vertebral fracture in adults after spinal deformity surgery using pedicle screw constructs: analysis of morphological features. Spine (Phila Pa 1976) 35:138–145

4.

Hostin R, McCarthy I, O'Brien M et al (2013) Incidence, mode, and location of acute proximal junctional failures following surgical treatment for adult spinal deformity. Spine (Phila Pa 1976) 38:1008–1015

5.

Kim YJ, Bridwell KH, Lenke LG et al (2006) Sagittal thoracic decompensation following long adult lumbar spinal instrumentation and fusion to L5 or S1: causes, prevalence, and risk factor analysis. Spine (Phila Pa 1976) 31:2359–2366

6.

Lewis SJ, Abbas H, Chua S et al (2012) Upper instrumented vertebral fractures in long lumbar fusions. Spine (Phila Pa 1976) 37:1407–1414

7.

O'Leary PT, Bridwell KH, Lenke LG et al (2009) Risk factors and outcomes for catastrophic failures at the top of long pedicle screw constructs: a matched cohort analysis performed at a single center. Spine (Phila Pa 1976) 34:2134–2139

8.

Yasuhara T, Takahashi Y, Kumamoto S et al (2013) Proximal vertebral body fracture after 4-level fusion using l1 as the upper instrumented vertebra for lumbar degenerative disease: report of 2 cases with literature review. Acta Med Okayama 67:197–202

9.

Theologis A, Burch S (2015) Prevention of acute proximal junctional fractures after long thoracolumbar posterior fusions for adult spinal deformity using 2-level cement augmentation at the upper instrumented vertebra and the vertebra 1 level proximal to the upper instrumented vertebra. Spine (Phila Pa 1976) 40:1516–1526

10.

Han B, Li F, Chen G et al (2015) Motion preservation in type II odontoid fractures using temporary pedicle screw fixation: a preliminary study. Eur Spine J 24:686–693

11.

Koller H, Resch H, Acosta F et al (2010) Assessment of two measurement techniques of cervical spine and C1–C2 rotation in the outcome research of axis fractures: a morphometrical analysis using dynamic computed tomography scanning. Spine (Phila Pa 1976) 35:286–290

12.

Guo Q, Deng Y, Wang J et al (2016) Comparison of clinical outcomes of posterior C1–C2 temporary fixation without fusion and C1–C2 fusion for fresh odontoid fractures. Neurosurgery 78:77–83
Acknowledgements
The manuscript submitted does not contain information about medical devices or drugs.
Ethics declarations
Conflict of interest
No funds were received in support of this work. Financial activities outside of the submitted work included: consultancy, grants for fellowship, and royalties.
Electronic supplementary material
Below is the link to the electronic supplementary material.
Supplementary material 1 (MP4 32743 kb)
Supplementary material 2 (MP4 20271 kb)
About this article
Cite this article
Theologis, A.A., Deviren, V. & Tay, B. Temporary fusionless posterior occipitocervical fixation for a proximal junctional type II odontoid fracture after previous C2-pelvis fusion: case report, description of a new surgical technique, and review of the literature. Eur Spine J 26, 243–248 (2017). https://doi.org/10.1007/s00586-017-5093-8
Received:

Accepted:

Published:

Issue Date:
Keywords
Odontoid fracture

Atlantoaxial motion

Occipitocervical fixation

Motion preservation

Cervical trauma