Abstract
Purpose
While image guidance and neuronavigation have enabled a more accurate placement of pedicle implants, they can inconvenience the surgeon. Robot-assisted placement of pedicle screws appears to overcome these disadvantages. However, recent data concerning the superiority of currently available robots in assisting spinal surgeons are conflicting. The aim of our study was to evaluate the percentage of accurately placed pedicle screws, inserted using a new robotic-guidance system.
Method
20 Patients were operated on successively by the same surgeon using robotic assistance (ROSA™, Medtech) (Rosa group 10 patients, n = 40 screws) or by the freehand conventional technique (Freehand group 10 patients, n = 50 screws). Patient characteristics as well as the duration of the operation and of exposure to X rays were recorded.
Results
The mean age of patients in each group (RG and FHG) was 63 years. Mean BMI and operating time among the RG and FHG were, respectively, 26 and 27 kg/m2, and 187 and 119 min. Accurate placement of the implant (score A and B of the Gertzbein Robbins classification) was achieved in 97.3 % of patients in the RG (n = 36) and in 92 % of those in the FHG (n = 50). Four implants in the RG were placed manually following failed robotic assistance.
Conclusion
We report a higher rate of precision with robotic as compared to the FH technique. Providing assistance by permanently monitoring the patient's movements, this image-guided tool helps more accurately pinpoint the pedicle entry point and control the trajectory. Limitations of the study include its small sized and non-randomized sample. Nevertheless, these preliminary results are encouraging for the development of new robotic techniques for spinal surgery.
This is a preview of subscription content, log in to check access.
Access options
Buy single article
Instant unlimited access to the full article PDF.
US$ 39.95
Price includes VAT for USA
Subscribe to journal
Immediate online access to all issues from 2019. Subscription will auto renew annually.
US$ 199
This is the net price. Taxes to be calculated in checkout.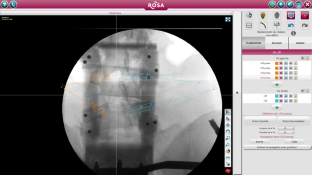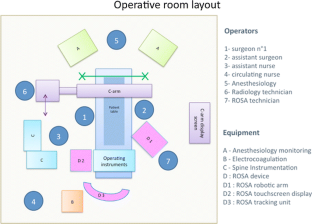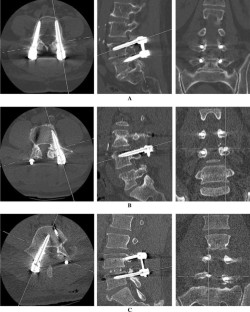 References
1.

Kosmopoulos V, Theumann N, Binaghi S, Schizas C (2007) Observer reliability in evaluating pedicle screw placement using computed tomography. Int Orthop 31:531–536

2.

Merloz P, Tonetti J, Cinquin P, Lavallée S, Troccaz J, Pittet L (1998) Computer-assisted surgery: automated screw placement in the vertebral pedicle. Chir Mém Académie Chir 123:482–490

3.

Tian N-F, Huang Q-S, Zhou P, Zhou Y, Wu R-K, Lou Y, Xu H-Z (2011) Pedicle screw insertion accuracy with different assisted methods: a systematic review and meta-analysis of comparative studies. Eur Spine J 20:846–859

4.

Van de Kelft E, Costa F, Van der Planken D, Schils F (2012) A prospective multicenter registry on the accuracy of pedicle screw placement in the thoracic, lumbar, and sacral levels with the use of the O-arm imaging system and StealthStation Navigation. Spine 37:E1580–E1587

5.

Verma R, Krishan S, Haendlmayer K, Mohsen A (2010) Functional outcome of computer-assisted spinal pedicle screw placement: a systematic review and meta-analysis of 23 studies including 5,992 pedicle screws. Eur Spine J 19:370–375

6.

Kosmopoulos V, Schizas C (2007) Pedicle screw placement accuracy: a meta-analysis. Spine 32:E111–E120

7.

Gertzbein SD, Robbins SE (1990) Accuracy of pedicular screw placement in vivo. Spine 15:11–14

8.

Youkilis AS, Quint DJ, McGillicuddy JE, Papadopoulos SM (2001) Stereotactic navigation for placement of pedicle screws in the thoracic spine. Neurosurgery 48:771–778 (Discussion 778–779)

9.

Castro WH, Halm H, Jerosch J, Malms J, Steinbeck J, Blasius S (1996) Accuracy of pedicle screw placement in lumbar vertebrae. Spine 21:1320–1324

10.

Houten JK, Nasser R, Baxi N (2012) Clinical assessment of percutaneous lumbar pedicle screw placement using the O-arm multidimensional surgical imaging system. Neurosurgery 70:990–995

11.

Nakashima H, Sato K, Ando T, Inoh H, Nakamura H (2009) Comparison of the percutaneous screw placement precision of isocentric C-arm 3-dimensional fluoroscopy-navigated pedicle screw implantation and conventional fluoroscopy method with minimally invasive surgery. J Spinal Disord Tech 22:468–472

12.

Von Jako R, Finn MA, Yonemura KS, Araghi A, Khoo LT, Carrino JA, Perez-Cruet M (2011) Minimally invasive percutaneous transpedicular screw fixation: increased accuracy and reduced radiation exposure by means of a novel electromagnetic navigation system. Acta Neurochir (Wien) 153:589–596

13.

Devito DP, Kaplan L, Dietl R, Pfeiffer M, Horne D, Silberstein B, Hardenbrook M, Kiriyanthan G, Barzilay Y, Bruskin A, Sackerer D, Alexandrovsky V, Stüer C, Burger R, Maeurer J, Donald GD, Gordon DG, Schoenmayr R, Friedlander A, Knoller N, Schmieder K, Pechlivanis I, Kim I-S, Meyer B, Shoham M (2010) Clinical acceptance and accuracy assessment of spinal implants guided with Spine assist surgical robot: retrospective study. Spine 35:2109–2115

14.

Roser F, Tatagiba M, Maier G (2013) Spinal robotics: current applications and future perspectives. Neurosurgery 72(Suppl 1):12–18

15.

Ringel F, Stüer C, Reinke A, Preuss A, Behr M, Auer F, Stoffel M, Meyer B (2012) Accuracy of robot-assisted placement of lumbar and sacral pedicle screws: a prospective randomized comparison to conventional freehand screw implantation. Spine 37:E496–E501

16.

Jones DP, Robertson PA, Lunt B, Jackson SA (2000) Radiation exposure during fluoroscopically assisted pedicle screw insertion in the lumbar spine. Spine 25:1538–1541

17.

Kantelhardt SR, Martinez R, Baerwinkel S, Burger R, Giese A, Rohde V (2011) Perioperative course and accuracy of screw positioning in conventional, open robotic-guided and percutaneous robotic-guided, pedicle screw placement. Eur Spine J 20:860–868
Conflict of interest
We declare a consulting agreement between Medtech and the first author Nicolas Lonjon.
About this article
Cite this article
Lonjon, N., Chan-Seng, E., Costalat, V. et al. Robot-assisted spine surgery: feasibility study through a prospective case-matched analysis. Eur Spine J 25, 947–955 (2016) doi:10.1007/s00586-015-3758-8
Received:

Revised:

Accepted:

Published:

Issue Date:
Keywords
Robot-assisted

Spine surgery

Lumbar

Degenerative disease