Abstract
Brucellosis has been regarded as the most widespread zoonotic disease. Infected animals have always been the source of human infection. Studies on the influence of stress on the pathological dynamics of this zoonotic disease are uncommon. This study aimed at evaluating serological responses, oxidative status, and pathological derangements associated with Brucella melitensis infection in does treated with dexamethasone. Twelve does were divided into 4 groups designated A, B, C, and D with 3 animals each. Groups A and B were ocularly inoculated with 107 CFU of B. melitensis. From day 21 postinoculation (pi), dexamethasone was administered for 7 days at 2 mg/kg intramuscularly. Group A was further treated with resveratrol for 5 days from day 31 post-B. melitensis inoculation. Group C was inoculated with similar dose of B. melitensis ocularly while group D was inoculated normal saline. Blood samples were collected at regular intervals for PCR, serology, and oxidative stress analysis. The does were sacrificed at day 42 pi. Selected tissues were collected for immunohistochemistry and histopathological examination. Dexamethasone administration induced increase in molondialdehyde level, intensity of immunostaining, and pathological alterations while decreasing superoxide dismutase, and glutathione levels in group A compared to group B. Five-day treatment with resveratrol following dexamethasone administration was observed to significantly ameliorate pathological derangements compared to group A. While stress could exacerbate pathological alterations associated with B. melitensis infection, antioxidants are capable of mitigating the impact of stress associated diseases.
This is a preview of subscription content, log in to check access.
Access options
Buy single article
Instant unlimited access to the full article PDF.
US$ 39.95
Price includes VAT for USA
Subscribe to journal
Immediate online access to all issues from 2019. Subscription will auto renew annually.
US$ 99
This is the net price. Taxes to be calculated in checkout.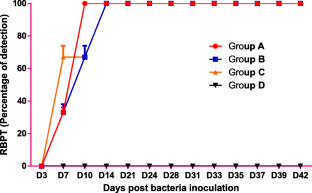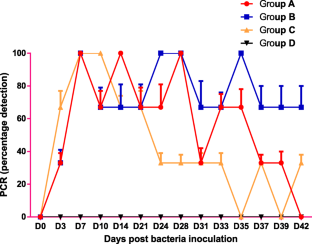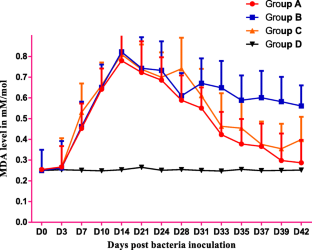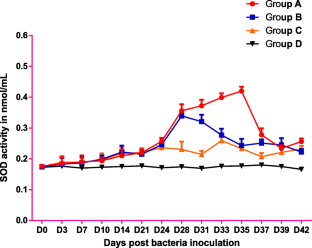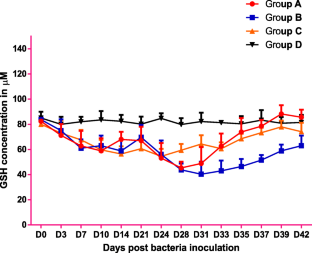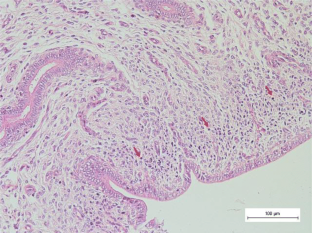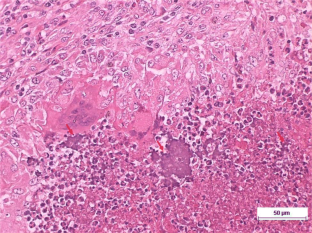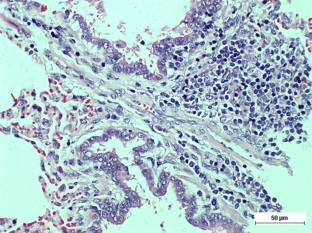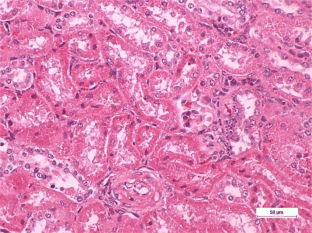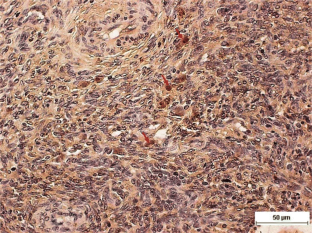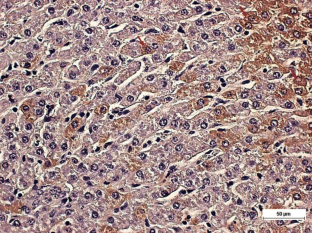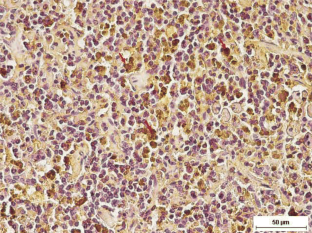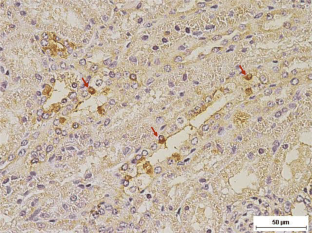 References
Al-Garadi MA, Khairani-Bejo S, Zunita Z, Omar AR (2011) Detection of Brucella melitensis in blood samples collected from goats. J Anim Vet Adv 10(11):1437–1444

Ames BN, Shigenaga MK, Hagen TM (1993) Oxidants, antioxidants, and the degenerative diseases of aging. Proc Natl Acad Sci 90(17):7915–7922

Annas S, Zamri-Saad M, Abubakar MS, Jesse FFA, Zunita Z (2014) Distribution of Pasteurella multocida B: 2 in the respiratory, gastrointestinal and urinary tracts of buffaloes following experimental subcutaneous inoculation. J Vet Sci Technol 5:–177

Bamaiyi PH, Hassan L, Khairani-Bejo S, Zainal Abidin M, Ramlan M, Krishnan N, Adzhar A, Abdullah N, Hamidah NHM, Norsuhanna MM, Hashim SN (2012) Isolation and molecular characterization of Brucella melitensis from seropositive goats in peninsula Malaysia. Trop Biomed 29(4):513–518

Berman AY, Motechin RA, Wiesenfeld MY, Holz MK (2017) The therapeutic potential of resveratrol: a review of clinical trials. NPJ Precis Oncol 1(1):35

Blasco JM (1997) A review of the use of B. melitensis Rev 1 vaccine in adult sheep and goats. Prev Vet Med 31(3):275–283

Coombes BK, Valdez Y, Finlay BB (2004) Evasive maneuvers by secreted bacterial proteins to avoid innate immune responses. Curr Biol 14(19):R856–R867

Díaz-Aparicio E, Marin C, Alonso-Urmeneta B, Aragón V, Pérez-Ortiz S, Pardo M, Blasco JM, Diaz R, Moriyon I (1994) Evaluation of serological tests for diagnosis of Brucella melitensis infection of goats. J Clin Microbiol 32(5):1159–1165

Emikpe BO, Tanko PN, Onilude OM, Sabri MY (2013a) The influence of dexamethasone treatment and successive road transport stress on the occurrence of caprine pneumonia in a hot humid tropical environment. Vet World 6(8):497–501

Emikpe BO, Yussouf SM, Ezeasor CK, Tanko PN (2013b) Immunohistochemical detection of Brucella mellitensis and Coxiella burnetii antigens in formalin-fixed tissues of West African Dwarf goats. Arch Clin Microbiol 4:2

Ghorbani A, Khorasgani MR, Zarkesh-Esfahani H, Sharifiyazdi H, Kashani AD, Emami H (2013) Comparison of serology, culture, and PCR for detection of brucellosis in slaughtered camels in Iran. Comp Clin Pathol 22(5):913–917

Holt HR, Eltholth MM, Hegazy YM, El-Tras WF, Tayel AA, Guitian J (2011) Brucella spp. infection in large ruminants in an endemic area of Egypt: cross-sectional study investigating seroprevalence, risk factors and livestock owner's knowledge, attitudes and practices (KAPs). BMC Public Health 11(1):1

Ilhan F, Yener Z (2008) Immunohistochemical detection of Brucella melitensis antigens in cases of naturally occurring abortions in sheep. J Vet Diagn Investig 20(6):803–806

Karaagac L, Koruk ST, Koruk I, Aksoy N (2011) Decreasing oxidative stress in response to treatment in patients with brucellosis: could it be used to monitor treatment? Int J Infect Dis 15(5):e346–e349

Kataria, N., Kataria, A.K., Joshi, A., Pandey, N. and Khan, S., 2012. Serum antioxidant status to assess oxidative stress in Brucella infected buffaloes. J Stress Physiol Biochem, 8(2)

Kataria N, Kataria AK, Maan R, Gahlot AK (2010) Evaluation of oxidative stress in Brucella infected cows. J Stress Physiol Biochem 6(2):19–25

Kim YJ, Chung SO, Kim JK, Park SU (2017) Recent studies on resveratrol and its biological and pharmacological activity. EXCLI J 16:602

Lopez-Merino AH, Izaba BS, Valdespino JL (1992) Seroepidemiología de la brucelosis en México. Salud Publica Mex 34(2):230–240

Madboly AA, Ghazi YA, Sokkar SM, Desouky HM, Ahmed YF (2014) Serological, bacteriological, molecular and immunohistochemical techniques for diagnosis of brucellosis in buffaloes. Middle East J Appl Sci 4(3):762–770

McFarland J (1907) The nephelometer: an instrument for estimating the number of bacteria in suspensions used for calculating the opsonic index and for vaccines. J Am Med Assoc 49(14):1176–1178

Meister A (1988) Glutathione metabolism and its selective modification. J Biol Chem 263(33):17205–17208

Nazifi S, Saeb M, Baghshani H, Saeb S (2009) Influence of road transportation during hot summer conditions on oxidative status biomarkers in Iranian dromedary camels (Camelus dromedarius). Afr J Biochem Res 3(7):282–287

Nwunuji TP, Mayowa OO, Yusoff SM, Bejo SK, Salisi S, Mohd EA (2014) The ameliorative effect of ascorbic acid on the oxidative status, live weight and recovery rate in road transport stressed goats in a hot humid tropical environment. Anim Sci J 85(5):611–616

Onilude OM, Mohd Yusoff S, Emikpe BO, Tanko P, Shahrom SM, Effendy M (2017) Development and application of dot-enzyme-linked immunosorbent (dot-ELISA) assay for detection of Brucella melitensis and evaluation of the shedding pattern in infected goats. J Immunoass Immunochem 38(1):82–99

Pal M, Gizaw F, Fekadu G, Alemayehu G, Kandi V (2017) Public health and economic importance of bovine brucellosis: an overview. Am J Epidemiol 5(2):27–34

Pena MT, Miller JE, Horohov DW (2004) Effect of dexamethasone treatment on the immune response of Gulf Coast Native lambs to Haemonchus contortus infection. Vet Parasitol 119(2):223–235

Polycarp TN, Obukowho EB, Yusoff SM (2016) Changes in haematological parameters and oxidative stress response of goats subjected to road transport stress in a hot humid tropical environment. Comp Clin Pathol 25(2):285–293

Polycarp TN, Yusoff SM, Benjamin EO, Salisi SM, Bejo SK (2017) Influence of dexamethasone-induced stress on oxidative stress biomarkers in non-pregnant does experimentally infected with Brucella melitensis. Comp Clin Pathol 26(2):423–435

Redkar R, Rose S, Bricker B, DelVecchio V (2001) Real-time detection of Brucella abortus, Brucella melitensis and Brucella suis. Mol Cell Probes 15(1):43–52

Rossetti CA, Arenas-Gamboa AM, Maurizio E (2017) Caprine brucellosis: a historically neglected disease with significant impact on public health. PLoS Negl Trop Dis 11(8):e0005692

Seleem MN, Boyle SM, Sriranganathan N (2010) Brucellosis: a re-emerging zoonosis. Vet Microbiol 140(3):392–398

Tanko PN, Emikpe BO, Sabri MY (2013) Evaluation of the shedding routes and serological patterns in experimentally-induced Brucella melitensis infection in dexamethasone-treated and transport-stressed goats. Vet World 6(9):686–692

Tanko PN, Mohd Yusoff S, Emikpe BO, Bejo SK, Salisi S (2019) Effects of resveratrol on shedding and pathological dynamics in experimental B. melitensis infection in dexamethasone-treated nonpregnant Boer goats. J Immunoass Immunochem:1–20

Xavier NM, A Paixao T, B den Hartigh A, M Tsolis R, L Santos R (2010) Pathogenesis of Brucella spp. Open Vet Sci J 4(1):109–118

Zamri-Saad M (2012) Detection of Brucella melitensis in seropositive goats. Online Journal of Veterinary Research 16(1):1–7

Zamri-Saad M, Effendy AWM, Maswati MA, Salim N, Sheikh-Omar AR (1996) The goat as a model for studies of pneumonic pasteurellosis caused by Pasteurella multocida. Br Vet J 152(4):453–458
Ethics declarations
Conflict of interest
The authors declare that they have no conflict of interest.
Ethical approval
All applicable international, national, and institutional guidelines for the care and use of animals were followed. The experimental design was approved by the Animal Care and Use Committee (ACUC) of the Faculty of Veterinary Medicine, Universiti Putra Malaysia (AUP No. 12R159). All animals were handled humanely, and sources of additional stresses were highly minimized during treatment and sampling. The pens were carefully cleansed and disinfected severally prior to the introduction of the animals.
Additional information
Publisher's note
Springer Nature remains neutral with regard to jurisdictional claims in published maps and institutional affiliations.
About this article
Cite this article
Polycarp, N.T., Mohd Yusoff, S., Emikpe, B.O. et al. Resveratrol ameliorates pathophysiological changes associated with Brucella melitensis infection in dexamethasone-treated does. Comp Clin Pathol 29, 255–266 (2020). https://doi.org/10.1007/s00580-019-03035-5
Received:

Accepted:

Published:

Issue Date:
Keywords
Brucella melitensis

Dexamethasone

Oxidative stress

Resveratrol

Immunohistochemistry