Abstract
Hyperhomocysteinemia in patients with diabetes mellitus (DM) has been proposed as a new risk factor for coronary artery disease (CAD). Due to the prevalence of DM and CAD in the Iranian population and the relatively high economic burden, research on these new risk factors sounds necessary. This study investigated the relationship between hyperhomocysteinemia and coronary heart disease in patients with type 2 diabetes. This study was a hospital-based cross-sectional study performed on 100 diabetic patients with indications of coronary artery angiography. After the measurement of serum HbA1c and homocysteine, the patients went through coronary angiography and, based on the results, were divided into two groups of normal and obstructed coronary arteries. Serum homocysteine and other related risk factors were further compared between the two groups. The mean serum homocysteine of patients was 13.18 ± 3.64 μmol/L in general and 15.02 ± 3.7 μmol/L in those with coronary artery obstruction. With hyperhomocysteinemia defined as serum homocysteine of ≥ 14 μmol/L, 48% of diabetic patients had hyperhomocysteinemia, of which 83% had coronary artery obstruction. The relationship between serum homocysteine and coronary artery obstruction was significant (P < 0.001). The serum homocysteine was the highest in patients with three-vessel involvement (15.39 ± 3.5 μmol/L), which was significantly higher than those with normal coronary arteries (P < 0.001). The mean serum homocysteine of diabetic patients (type II) with coronary artery disease was significantly higher than those with normal coronary arteries. It was also significantly higher in patients with three-vessel involvement than those with no vessel involvement.
This is a preview of subscription content, log in to check access.
We're sorry, something doesn't seem to be working properly.
Please try refreshing the page. If that doesn't work, please contact support so we can address the problem.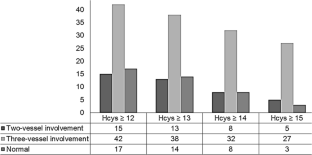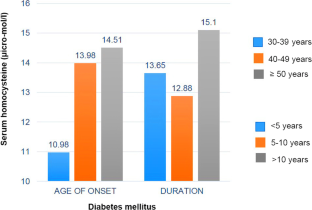 References
Akalin A, Alatas O, Colak O (2008) Relation of plasma homocysteine levels to atherosclerotic vascular disease and inflammation markers in type 2 diabetic patients. Eur J Endocrinol 158(1):47–52

American Diabetes Association (2013) Economic costs of diabetes in the U.S. in 2012. Diabetes Care 36(4):1033–1046

Antoniades C et al (2009) Homocysteine and coronary atherosclerosis: from folate fortification to the recent clinical trials. Eur Heart J 30(1):6–15

Atkinson W, Elmslie J, Lever M, Chambers ST, George PM (2008) Dietary and supplementary betaine: acute effects on plasma betaine and homocysteine concentrations under standard and postmethionine load conditions in healthy male subjects. Am J Clin Nutr 87(3):577–585

Audelin MC, Genest J (2001) Homocysteine and cardiovascular disease in diabetes mellitus. Atherosclerosis 159(2):497–511

Bondar I et al (2006) Hyperhomocysteinemia in coronary artery disease and hemostasis disorders in patients with type 2 diabetes mellitus. Klin Med 85(5):30–33

Dormandy JA, Charbonnel B, Eckland DJA, Erdmann E, Massi-Benedetti M, Moules IK, Skene AM, Tan MH, Lefèbvre PJ, Murray GD, Standl E, Wilcox RG, Wilhelmsen L, Betteridge J, Birkeland K, Golay A, Heine RJ, Korányi L, Laakso M, Mokáň M, Norkus A, Pirags V, Podar T, Scheen A, Scherbaum W, Schernthaner G, Schmitz O, Škrha J, Smith U, Tatoň J (2005) Secondary prevention of macrovascular events in patients with type 2 diabetes in the PROactive Study (PROspective pioglitAzone Clinical Trial in macroVascular Events): a randomised controlled trial. Lancet 366(9493):1279–1289

Esteghamati A, Gouya MM, Abbasi M, Delavari A, Alikhani S, Alaedini F, Safaie A, Forouzanfar M, Gregg EW (2008) Prevalence of diabetes and impaired fasting glucose in the adult population of Iran: National Survey of Risk Factors for Non-Communicable Diseases of Iran. Diabetes Care 31(1):96–98

Gazzaruso C et al (2002) Silent coronary artery disease in type 2 diabetes mellitus: the role of lipoprotein (a), homocysteine and apo (a) polymorphism. Cardiovasc Diabetol 1(1):5

Hadaegh F, Bozorgmanesh MR, Ghasemi A, Harati H, Saadat N, Azizi F (2008) High prevalence of undiagnosed diabetes and abnormal glucose tolerance in the Iranian urban population: Tehran Lipid and Glucose Study. BMC Public Health 8:176

Harrison T, Kasper D, Fauci A (2015) Harrison's Principles of Internal Medicine 19/E 2015: McGraw-Hill Education

Hoogeveen EK, Kostense PJ, Beks PJ, Mackaay AJC, Jakobs C, Bouter LM, Heine RJ, Stehouwer CDA (1998) Hyperhomocysteinemia is associated with an increased risk of cardiovascular disease, especially in non–insulin-dependent diabetes mellitus a population-based study. Arterioscler Thromb Vasc Biol 18(1):133–138

Hosseini ES, Moniri R, Goli YD, Kashani HH (2016) Purification of antibacterial CHAPK protein using a self-cleaving fusion tag and its activity against methicillin-resistant Staphylococcus aureus. Probiotics Antimicrob Proteins 8(4):202–210

Humphrey LL, Fu R, Rogers K, Freeman M, Helfand M (2008) Homocysteine level and coronary heart disease incidence: a systematic review and meta-analysis. Mayo Clin Proc 83(11):1203–1212

Jalali HK, Salamatzadeh A, Jalali AK, Kashani HH, Asbchin SA, Issazadeh K (2016) Antagonistic activity of Nocardia brasiliensis PTCC 1422 against isolated Enterobacteriaceae from urinary tract infections. Probiotics Antimicrob Proteins 8(1):41–45

Kannel W, McGee D (1979) Diabetes and glucose tolerance as risk factors for cardiovascular disease: the Framingham study. Diabetes Care 2(2):120–126

Kashani HH et al (2012) Synergism effect of nisin peptide in reducing chemical preservatives in food industry. Life Scie J Acta Zhengzhou Univ Overseas Edition 9(1):496–501

Kashani HH et al (2013) Expression of galectin-3 as a testis inflammatory marker in vasectomised mice. Cell J (Yakhteh) 15(1):11

Kazemi MS et al (2006) Homocysteine level and coronary artery disease. Angiology 57(1):9–14

Lotfi A et al (2016) Comparing the effects of two feeding methods on metabolic bone disease in newborns with very low birth weights. Global J Health Sci 8(1):249

Mann DL, Zipes DP, Libby P, Bonow RO (2014) Braunwald's heart disease e-book: a textbook of cardiovascular medicine. Elsevier Health Sciences 

Mendis S, Davis S, Norrving B (2015) Organizational update: the world health organization global status report on noncommunicable diseases 2014; one more landmark step in the combat against stroke and vascular disease. Stroke 46(5):e121–e122

Mohammadi M et al (2005) Is there any difference in the plasma homocysteine levels of diabetes mellitus type II patients, impaired glucose tolerance subjects and normal people? J Shahid Sadoughi Univ Med Sci 13(3):26–30

Mojiminiyi O et al (2002) Association of C-reactive protein with coronary heart disease risk factors in patients with type 2 diabetes mellitus. Diabetes Res Clin Pract 58(1):37–44

Nikzad H, Haddad Kashani H, Kabir-Salmani M, Akimoto Y, Iwashita M (2013) Expression of galectin-8 on human endometrium: molecular and cellular aspects. Iran J Reprod Med 11(1):65–70

Okada E, Oida K, Tada H, Asazuma K, Eguchi K, Tohda G, Kosaka S, Takahashi S, Miyamori I (1999) Hyperhomocysteinemia is a risk factor for coronary arteriosclerosis in Japanese patients with type 2 diabetes. Diabetes Care 22(3):484–490

Perry IJ, Morris RW, Ebrahim SB, Shaper AG, Refsum H, Ueland PM (1995) Prospective study of serum total homocysteine concentration and risk of stroke in middle-aged British men. Lancet 346(8987):1395–1398

Piroozmand A, Kashani HH, Zamani B (2017) Correlation between Epstein-Barr virus infection and disease activity of systemic lupus erythematosus: a cross-sectional study. Asian Pac J Cancer Prev 18(2):523–527

Saba M et al (2017) Diagnostic value of neuron-specific enolase (NSE) and cancer antigen 15-3 (CA 15-3) in the diagnosis of pleural effusions. Asian Pac J Cancer Prev 18:257

Sadeghian S et al (2006) Homocysteine, vitamin B12 and folate levels in premature coronary artery disease. BMC Cardiovasc Disord 6(1):38

Sharif MR, Kashani HH, Ardakani AT, Kheirkhah D, Tabatabaei F, Sharif A (2016) The effect of a yeast probiotic on acute diarrhea in children. Probiotics Antimicrob Proteins 8(4):211–214

Sharif A, Kashani HH, Nasri E, Soleimani Z, Sharif MR (2017) The role of probiotics in the treatment of dysentery: a randomized double-blind clinical trial. Probiotics and antimicrobial proteins 9(4):380–385

Shekelle P (2006) Lowering homocysteine with folic acid and B vitamins did not prevent vascular events in vascular disease. Evid Based Med 11(4):104

Soinio M, Marniemi J, Laakso M, Lehto S, Rönnemaa T (2004) Elevated plasma homocysteine level is an independent predictor of coronary heart disease events in patients with type 2 diabetes mellitus. Ann Intern Med 140(2):94–100

Unwin N, Whiting D, Guariguata L (2013) International Diabetes Federation. IDF diabetes atlas. Brussels, Belgium: International Diabetes Federation

Wijekoon E, Brosnan M, Brosnan J (2007) Homocysteine metabolism in diabetes. Biochem Soc Trans 35(5):1175–1179

Zbidi H, Redondo P, López J, Bartegi A, Salido G, Rosado J (2010) Homocysteine induces caspase activation by endoplasmic reticulum stress in platelets from type 2 diabetics and healthy donors. Thromb Haemost 103(5):1022–1032
Acknowledgments
The researcher wishes to express his appreciation to the full cooperation of the patients and personnel who participated in this study and the Clinical Research Center of Shahid Mostafa Khomeini Hospital.
Availability of data and materials
The dataset used in this study is available with the authors and can be made available upon request.
Funding
The financial support for the current research was provided by Research Deputy of Shahed University of Medical Sciences, Tehran, Iran.
Ethics declarations
Conflict of interests
The authors declare that they have no competing interests.
Informed consent
Informed consent or a substitute for it was obtained from all patients included in the study.
Ethics approval and consent to participate
This study was approved be Shahed University of Medical Sciences under the grant number of 16/35/10/3560 in 14 July 2015. The informed consent form was signed by all parents. All procedures involving human participants were in accordance with the ethical standards of the institutional and national research committee and with the 1964 Helsinki declaration and ethical standards of the institutional and national research committee of Shahed University of Medical Sciences and obtained ethics committee permission number of SHUM.REG.1393.136.
Additional information
Publisher's note
Springer Nature remains neutral with regard to jurisdictional claims in published maps and institutional affiliations.
About this article
Cite this article
Rajabi, M.R., Razzaghof, M.R. & Haddad Kashani, H. Hyperhomocysteinemia and increased risk of coronary artery disease in Iranian patients with diabetes mellitus type II: a cross-sectional study. Comp Clin Pathol 29, 223–230 (2020). https://doi.org/10.1007/s00580-019-03027-5
Received:

Accepted:

Published:

Issue Date:
Keywords
Hyperhomocysteinemia

Diabetes mellitus type II

Coronary artery disease

Coronary atherosclerosis