Abstract
There is limited information about intrascrotal hemangioma tumors and their gelatinase activity in the dogs. This study was planned to identify the serum gelatinases in male dogs affected by intrascrotal hemangioma and determine their prognostic value in tumor recurrence. Ten dogs with intrascrotal hemangioma were diagnosed among a total of 65 testicular excision samples. According to the incidence of recurrence, the patients divided into two groups: tumors with recurrence and tumors with no-recurrence. Serum gelatinase activity was assayed by semi-quantitative zymography to determinate their prognostic value in canine intrascrotal hemangioma. Both latent and active MMP-9 and only latent MMP-2 appeared in the gels. Gelatinases showed a significant higher serum activity in dogs with hemangioma than those of the normal dogs. There was a significant association between increased serum activity of gelatinase A and gelatinase B and tumor recurrence. The dogs with hemangioma had a shorter disease-free survival time; however, multivariate analysis showed that serum activity of MMP-2 and MMP-9 was not an independent prognostic factor. According to the findings, MMP-2 and MMP-9 may cause a progressive angiogenesis in canine intrascrotal hemangioma and tumor recurrence subsequently. Our results showed that serum activity of MMP-2 and MMP-9 may be used as a non-invasive prognostic marker for tumor recurrence prediction in dogs affected by intrascrotal hemangioma.
This is a preview of subscription content, log in to check access.
Access options
Buy single article
Instant unlimited access to the full article PDF.
US$ 39.95
Price includes VAT for USA
Subscribe to journal
Immediate online access to all issues from 2019. Subscription will auto renew annually.
US$ 99
This is the net price. Taxes to be calculated in checkout.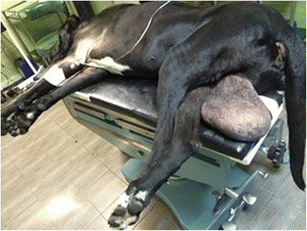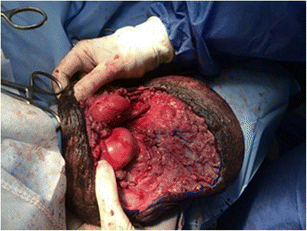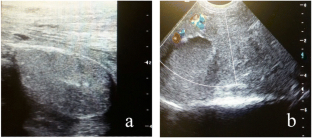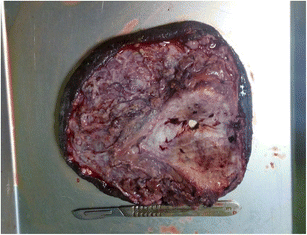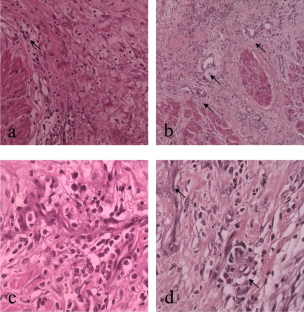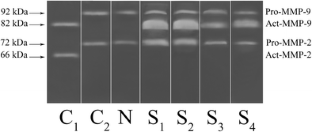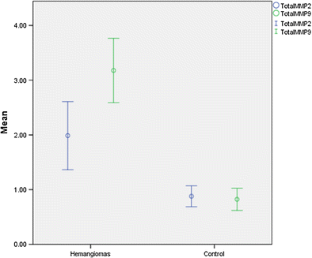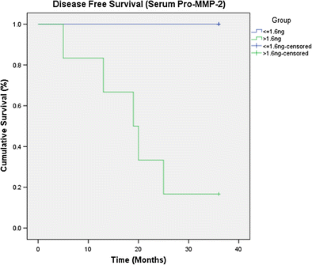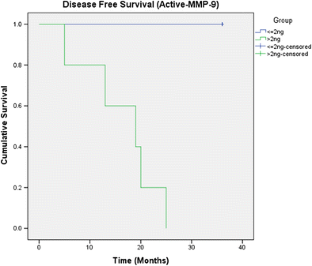 References
Aresu L, Giantin M, Morello M et al (2011) Matrix metalloproteinases and their inhibitors in canine mammary tumors. BMC Vet Res 7(1):33

Coughlan AR, Robertson DHL, Burke et al (1998) Isolation and identification of canine matrixmetalloproteinase-2 (MMP-2). Vet J 155(3):231–237

Gentilini F, Calzolari C, Turba ME, Agnoli C, Fava D, Forni M, Bergamini PF (2005) Prognostic value of serum vascular endothelial growth factor (VEGF) and plasma activity of matrix metalloproteinase (MMP) 2 and 9 in lymphoma-affected dogs. Leukemia Res 29(11):1263–1269

Hazar B, Polat G, Seyrek E, Baǧdatoǧlǧlu Ö, Kanik A, Tiftik N (2004) Prognostic value of matrix metalloproteinases (MMP-2 and MMP-9) in Hodgkin's and non-Hodgkin's lymphoma. Int J Clin Pract 58(2):139–143

Kennedy PC, Palmer N (2013) In: Jubb KV (ed) Pathology of domestic animals, Academic Press, Cambridge

La Rocca G, Pucci-Minafra I, Marrazzo ANTONIO et al (2004) Zymographic detection and clinical correlations of MMP-2 and MMP-9 in breast cancer sera. Brit J Cancer 90(7):1414–1421

Laack E, Köhler A, Kugler et al (2002) Pretreatment serum levels of matrix metalloproteinase-9 and vascular endothelial growth factor in non-small-cell lung cancer. Ann Oncol 13(10):1550–1557

Lee JM, Wang JH, Kim HS (2008) Multiple cavernous hemangiomas of the glans penis, penis and scrotum. Korean J Urol 49:92–94

Loukopoulos P, Mungall BA, Straw RC, Thornton JR, Robinson WF (2003) Matrix metalloproteinase-2 and -9 involvement in canine tumors. Vet Pathol Online 40(4):382–394

Meuten DJ (ed) (2008) Tumors in domestic animals. John Wiley and Sons, Hoboken

Miya K, Misumi K, Miyoshi et al (2005) Interpreting gelatinase activity in tumor tissue and serum as a prognostic marker of naturally developing canine tumors. J Vet Med Sci 67(8):769–775

Morris J, Dobson J (2008) Small animal oncology. John Wiley and Sons, Hoboken

Nagase H, Woessner JF (1999) Matrix metalloproteinases. J Biol Chem 274(31):21491–21494

Pepper MS (2001) Role of the matrix metalloproteinase and plasminogen activator–plasmin systems in angiogenesis. Arterioscler Thromb Vasc Biol 21(7):1104–1117

Pirie CG, Knollinger AM, Thomas CB, Dubielzig RR (2006) Canine conjunctival hemangioma and hemangiosarcoma: a retrospective evaluation of 108 cases (1989–2004). Vet Ophthalmol 9(4):215–226

Ray JM, Stetler-Stevenson WG (1994) The role of matrix metalloproteases and their inhibitors in tumor invasion, metastasis and angiogenesis. Eur Respir J 7(11):2062–2072

Reichler IM (2009) Gonadectomy in cats and dogs: a review of risks and benefits. Reprod Domest Anim 44(s2):29–35

Sang QXA (1998) Complex role of matrix metalloproteinases in angiogenesis. Cell Res 8(3):171–177

Sapierzyński R, Malicka E, Bielecki W et al (2007) Tumors of the urogenital system in dogs and cats. Retrospective review of 138 cases. Pol J Vet Sci 10:97–103

Schnaper HW, Grant DS, Stetler-Stevenson JP et al (1993) Type IV collagenase (s) and TIMPs modulate endothelial cell morphogenesis in vitro. J Cell Physiol 156(2):235–246

Withrow SJ, Page R, Vail DM (2013) Withrow and MacEwen's small animal clinical oncology. Elsevier Health Sciences, Amsterdam

Wu ZS, Wu Q, Yang JH, Wang HQ, Ding XD, Yang F, Xu XC (2008) Prognostic significance of MMP-9 and TIMP-1 serum and tissue expression in breast cancer. Int J Cancer 122(9):2050–2056

Yaman E, Yalcin B, Utkan et al (2008) Prognostic significance of serum matrix metalloproteinase 9 (MMP-9) levels in patients with sarcomas. UHOD 18(2):79
Acknowledgments
We thank the staffs of the Dr. Rastegar's laboratory and Paytakht Pet Hospital.
Funding
This study was funded by Research Deputy of University of Tehran (approximately 900 $).
Ethics declarations
Conflict of interest
The authors declare that they have no conflict of interest.
Ethical approval
All applicable international, national, and/or institutional guidelines for the care and use of animals were followed. This article does not contain any studies with animals performed by any of the authors.
Informed consent
Informed consent was obtained from all individual participants included in the study. Additional informed consent was obtained from all individual participants for whom identifying information is included in this article.
About this article
Cite this article
Fathipour, V., Khaki, Z., Nassiri, S.M. et al. Prognostic value of zymographic gelatinase activity of MMP-2 and MMP-9 in tumor recurrence of canine intrascrotal hemangiomas. Comp Clin Pathol 29, 25–31 (2020) doi:10.1007/s00580-018-2677-6
Received:

Accepted:

Published:

Issue Date:
Keywords
Zymography

Serum gelatinase

Canine intrascrotal hemangioma

Recurrence