Abstract
Background
Ketamine is traditionally avoided in sedation management of patients with risk of intracranial hypertension. However, results from many clinical trials contradict this concern. We critically analyzed the published data of the effects of ketamine on intracranial pressure (ICP) and other cerebral hemodynamics to determine whether ketamine was safe for patients with hemodynamic instability and brain injuries.
Methods
We systematically searched the online databases of PubMed, Medline, Embase, Current Controlled Trials, and Cochrane Central (last search performed on January 15, 2014). Trial characteristics and outcomes were independently extracted by two assessors (Xin Wang, Xibing Ding). For continuous data, mean differences (MD) were formulated. If the P value of the chi-square test was >0.10 or I 2 <50 %, a fixed-effects model was used; otherwise, the random effects model was adopted.
Results
Five trials (n = 198) met the inclusion criteria. Using ICP levels within the first 24 h of ketamine administration as the main outcome, the use of ketamine leads to the same ICP levels as opioids [MD = 1.94; 95 % confidence interval (95 % CI), −2.35, 6.23; P = 0.38]. There were no significant differences in mean arterial pressure values between the two groups (MD = 0.99; 95 % CI, −2.24, 4.22; P = 0.55). Ketamine administration was also comparable with opioids in the maintenance of cerebral perfusion pressure (MD = −1.07; 95 % CI, −7.95, 5.8; P = 0.76).
Conclusions
The results of this study suggest that ketamine does not increase ICP compared with opioids. Ketamine provides good maintenance of hemodynamic status. Clinical application of ketamine should not be discouraged on the basis of ICP-related concerns.
This is a preview of subscription content, log in to check access.
Access options
Buy single article
Instant access to the full article PDF.
US$ 39.95
Price includes VAT for USA
Subscribe to journal
Immediate online access to all issues from 2019. Subscription will auto renew annually.
US$ 99
This is the net price. Taxes to be calculated in checkout.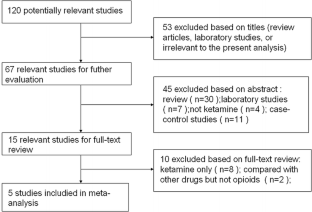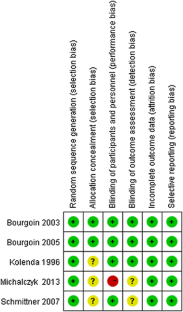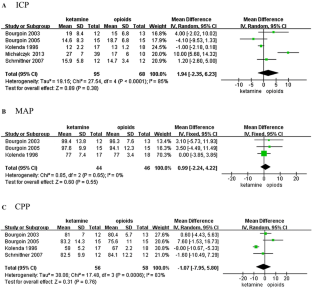 References
1.

Chang LC, Raty SR, Ortiz J, Bailard NS, Mathew SJ. The emerging use of ketamine for anesthesia and sedation in traumatic brain injuries. CNS Neurosci Ther. 2013;19:390–5.

2.

Jeevaratnam DR, Menon DK. Survey of intensive care of severely head injured patients in the United Kingdom. BMJ. 1996;312:944–7.

3.

Matta B, Menon D. Severe head injury in the United Kingdom and Ireland: a survey of practice and implications for management. Crit Care Med. 1996;24:1743–8.

4.

Mirski MA, Muffelman B, Ulatowski JA, Hanley DF. Sedation for the critically ill neurologic patient. Crit Care Med. 1995;23:2038–53.

5.

Urwin SC, Menon DK. Comparative tolerability of sedative agents in head-injured adults. Drug Saf. 2004;27:107–33.

6.

Rangel-Castilla L, Gopinath S, Robertson CS. Management of intracranial hypertension. Neurol Clin. 2008;26:521–41.

7.

Flower O, Hellings S. Sedation in traumatic brain injury. Emerg Med Int. 2012;10:1155–66.

8.

Roberts DJ, Hall RI, Kramer AH, Robertson HL, Gallagher CN, Zygun DA. Sedation for critically ill adults with severe traumatic brain injury: a systematic review of randomized controlled trials. Crit Care Med. 2011;39:2743–51.

9.

Bowies ED, Gold ME. Rethinking the paradigm: evaluation of ketamine as a neurosurgical anesthetic. AANA J. 2012;80:445–52.

10.

Caricato A, Tersali A, Pitoni S, De Waure C, Sandroni C, Bocci MG, Annetta MG, Pennisi MA, Antonelli M. Racemic ketamine in adult head injury patients: use in endotracheal suctioning. Crit Care. 2013;17(6):R267.

11.

Filanovsky Y, Miller P, Kao J. Myth: Ketamine should not be used as an induction agent for intubation in patients with head injury. Can J Emerg Med. 2010;12:154–201.

12.

Gibbs JM. The effect of intravenous ketamine on cerebrospinal fluid pressure. Br J Anaesth. 1972;44:1298–302.

13.

Evans J, Rosen M, Weeks RD, Wise C. Ketamine in neurosurgical procedures. Lancet. 1971;1:40–1.

14.

Shaprio HM, Wyte SR, Harris AB. Ketamine anaesthesia in patients with intracranial pathology. Br J Anaesth. 1972;44:1200–4.

15.

Michalczyk K, Sullivan JE, Berkenbosch JW. Pretreatment with midazolam blunts the rise in intracranial pressure associated with ketamine sedation for lumbar puncture in children. Pediatr Crit Care Med. 2013;10:149–55.

16.

Bar-Joseph G, Guilburd Y, Tamir A, Guilburd JN. Effectiveness of ketamine in decreasing intracranial pressure in children with intracranial hypertension. J Neurosurg Pediatr. 2009;4:40–6.

17.

Mayberg TS, Lam AM, Matta BF, Domino KB, Winn HR. Ketamine does not increase cerebral blood flow velocity or intracranial pressure during isoflurane/nitrous oxide anesthesia in patients undergoing craniotomy. Anesth Analg. 1995;81:84–9.

18.

Albanèse J, Arnaud S, Rey M, Thomachot L, Alliez B, Martin C. Ketamine decreases intracranial pressure and electroencephalographic activity in traumatic brain injury patients during propofol sedation. Anesthesiology. 1997;87:1328–34.

19.

Bourgoin A, Albanèse J, Wereszczynski N, Charbit M, Vialet R, Martin C. Safety of sedation with ketamine in severe head injury patients: comparison with sufentanil. Crit Care Med. 2003;31:711–7.

20.

Bourgoin A, Albanèse J, Léone M, Sampol-Manos E, Viviand X, Martin C. Effects of sufentanil or ketamine administered in target-controlled infusion on the cerebral hemodynamics of severely brain-injured patients. Crit Care Med. 2005;33:1109–13.

21.

Sehdev RS, Symmons DA, Kindl K. Ketamine for rapid sequence induction in patients with head injury in the emergency department. Emerg Med Australas. 2006;18:37–44.

22.

Himmelseher S, Durieux ME. Revising a dogma: ketamine for patients with neurological injury? Anesth Analg. 2005;101:524–34.

23.

Higgins JPT. The Cochrane collaboration's tool for assessing risk of bias in randomised trials. Br Med J. 2011;343:d5928.

24.

Schmittner MD, Vajkoczy SL, Horn P, Bertsch T, Quintel M, Vajkoczy P, Muench E. Effects of fentanyl and S(+)-ketamine on cerebral hemodynamics, gastrointestinal motility, and need of vasopressors in patients with intracranial pathologies. J Neurosurg Anesthesiol. 2007;19:257–62.

25.

Kolenda H, Gremmelt A, Rading S, Braun U, Markakis E. Ketamine for analgosedative therapy in intensive care treatment of head injured patients. Acta Neurochir (Wien). 1996;138:1193–9.

26.

Schulte am Esch J, Pfeifer G, Thiemig I, Entzian W. The influence of intravenous anaesthetic agents on primarily increased intracranial pressure. Acta Neurochir. 1978;45:15–25.

27.

Belopavlovic M, Buchthal A. Modification of ketamine-induced intracranial hypertension in neurosurgical patients by pretreatment with midazolam. Acta Anaesth Scand. 1982;26:458–62.

28.

Mennella F, Bracali AM, Schiavello R. Effects of ketamine on cerebrospinal fluid pressure in cases with normotensive hydrocephalus. Minerva Anestesiol. 1976;42(6):418–20.

29.

Kaul HL, Jayalaxmi T, Gode GR, Mitra DK. Effect of ketamine on intracranial pressure in hydrocephalic children. Anaesthesia. 1976;31(5):698–701.

30.

Polocki B, Czerwińska-Ciechan K, Berger H, Slizewska I, Szwaykowski W, Niewińska J. Ketamine used for anaesthesia in children for pneumoencephalography. Anaesth Resusc Intensive Ther. 1976;4(2):121–9.

31.

Wilson E, Marx M, Montaldo AM, Arana-Iñiguez R. Effects of ketamine on the pressure of the cerebrospinal fluid. Variations of its effects. Acta Neurol Latinoam. 1976;22(1-4):10–6.

32.

Crumrine RS, Nulsen FE, Weiss MH. Alterations in ventricular fluid pressure during ketamine anesthesia in hydrocephalic children. Anesthesiology. 1975;42(6):758–61.

33.

Craven R. Ketamine. Anaesthesia. 2007;62:48–53.

34.

Gardner AE, Dannemiller FJ, Dean D. Intracranial cerebrospinal fluid pressure in man during ketamine anesthesia. Anesth Analg. 1972;51:741–5.

35.

List WF, Crumrine RS, Cascorbi HF, Weiss MH. Increased cerebrospinal fluid pressure after ketamine. Anesthesiology. 1972;36:98–9.

36.

Wyte SR, Shapiro HM, Turner P, Harris AB. Ketamine-induced intracranial hypertension. Anesthesiology. 1972;36:174–6.

37.

McDonald JW, Roeser NF, Silverstein FS, Johnston MV. Quantitative assessment of neuroprotection against NMDA-induced brain injury. Exp Neurol. 1989;106:289–96.

38.

Bhutta AT, Schmitz ML, Swearingen C, James LP, Wardbegnoche WL, Lindquist DM. Ketamine as a neuroprotective and anti-inflammatory agent in children undergoing surgery on cardiopulmonary bypass: a pilot randomized, double-blind, placebo-controlled trial. Pediatr Crit Care Med. 2012;13:328–37.

39.

Takeshita H, Okuda Y, Sari A. The effects of ketamine on cerebral circulation and metabolism in man. Anesthesiology. 1972;36:69–75.

40.

Chi OZ, Wei HM, Klein SL, Weiss HR. Effect of ketamine on heterogeneity of cerebral microregional venous O2 saturation in the rat. Anesth Analg. 1994;79:860–6.

41.

Miyamoto E, Nakao S, Tomimoto H, Wakita H, Yamada M, Masuzawa M, Takahira K, Sakamoto S, Shingu K. Ketamine attenuates hypocapnia-induced neuronal damage in the caudoputamen in a rat model of chronic cerebral hypoperfusion. Neurosci Lett. 2004;354:26–9.

42.

Långsjö JW, Kaisti KK, Aalto S, Hinkka S, Aantaa R, Oikonen V, Sipilä H, Kurki T, Silvanto M, Scheinin H. Effects of subanesthetic doses of ketamine on regional cerebral blood flow, oxygen consumption, and blood volume in humans. Anesthesiology. 2003;99:614–23.

43.

Pfenninger E, Reith A, Domino EF. Status of ketamine in anaesthesiology. Ann Arbor: NPP Books; 1990. p. 109–81.

44.

Strebel S, Kaufmann M, Maître L, Schaefer HG. Effects of ketamine on cerebral blood flow velocity in humans: influence of pre-treatment with midazolam or esmolol. Anaesthesia. 1995;50:223–8.

45.

Nimkoff L, Quinn C, Silver P, Sagy M. The effects of intravenous anesthetics on intracranial pressure and cerebral perfusion pressure in two feline models of brain edema. J Crit Care. 1997;12:132–6.

46.

Ohata H, Iida H, Nagase K, Dohi S. The effects of topical and intravenous ketamine on cerebral arterioles in dogs receiving pentobarbital or isoflurane anesthesia. Anesth Analg. 2001;93:697–702.

47.

Nagase K, Ida H, Dohi S. Effects of ketamine on isoflurane- and sevoflurane-induced cerebral vasodilation in rabbits. J Neurosurg Anesthesiol. 2003;15:98–103.
Acknowledgments
We are grateful for the support from the National Natural Science Foundation. We also thank all authors of the publications included in this study for contributing information as requested.
Additional information
X. Wang and X. Ding contributed equally to this work.
About this article
Cite this article
Wang, X., Ding, X., Tong, Y. et al. Ketamine does not increase intracranial pressure compared with opioids: meta-analysis of randomized controlled trials. J Anesth 28, 821–827 (2014). https://doi.org/10.1007/s00540-014-1845-3
Received:

Accepted:

Published:

Issue Date:
Keywords
Ketamine

Opioids

Intracranial pressure

Hemodynamic instability

Brain injuries