Abstract
We present a patient with atrial fibrillation (AF) in whom a left atrial (LA) thrombus might have formed during laparotomy despite bridging anticoagulation therapy. No evidence of thrombus was detected by transesophageal echocardiography (TEE) at the start of surgery; however, a thrombus measuring 13 × 10 mm was found in the LA appendage by the end of the procedure, suggesting that thrombus might develop intraoperatively in patients with AF even when bridging anticoagulation is properly established. Intraoperative TEE can assist in detecting intracardiac thrombus in patients with AF regardless of their anticoagulation status and provides a tool for intervention to prevent systemic embolization.
This is a preview of subscription content, log in to check access.
Access options
Buy single article
Instant unlimited access to the full article PDF.
US$ 39.95
Price includes VAT for USA
Subscribe to journal
Immediate online access to all issues from 2019. Subscription will auto renew annually.
US$ 99
This is the net price. Taxes to be calculated in checkout.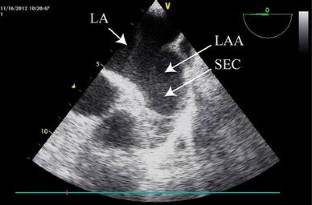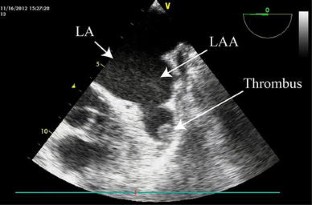 References
1.

Heeringa J, van der Kuip DA, Hofman A, Kors JA, van Herpen G, Stricker BH, Stijnen T, Lip GY, Witteman JC. Prevalence, incidence and lifetime risk of atrial fibrillation: the Rotterdam study. Eur Heart J. 2006;27:949–53.

2.

Goldman L. Supraventricular tachyarrhythmias in hospitalized adults after surgery. Clinical correlates in patients over 40 years of age after major noncardiac surgery. Chest. 1978;73:450–4.

3.

Vaporciyan AA, Correa AM, Rice DC, Roth JA, Smythe WR, Swisher SG, Walsh GL, Putnam JB Jr. Risk factors associated with atrial fibrillation after noncardiac thoracic surgery: analysis of 2,588 patients. J Thorac Cardiovasc Surg. 2004;127:779–86.

4.

Omae T, Kanmura Y. Management of postoperative atrial fibrillation. J Anesth. 2012;26:429–37.

5.

Hart R, Hindman B. Mechanisms of perioperative cerebral infarction. Stroke. 1982;13:766–73.

6.

Holbrook A, Schulman S, Witt DM, Vandvik PO, Fish J, Kovacs MJ, Svensson PJ, Veenstra DL, Crowther M, Guyatt GH. Evidence-based management of anticoagulant therapy: antithrombotic therapy and prevention of thrombosis, 9th ed: American College of Chest Physicians Evidence-Based Clinical Practice Guidelines. Chest. 2012;141:e152S–84S.

7.

The BRIDGE Study Investigators. Bridging anticoagulation: is it needed when warfarin is interrupted around the time of a surgery or procedure? Circulation. 2012;125:e496–8.

8.

Ogawa S, Hori M. Urgent statement on antithrombotic therapy of atrial fibrillation. Circ J. 2011;75:2719–21.

9.

Gage BF, Waterman AD, Shannon W, Boechler M, Rich MW, Radford MJ. Validation of clinical classification schemes for predicting stroke: results from the National Registry of Atrial Fibrillation. JAMA. 2001;285:2864–70.

10.

Gutierrez C, Blanchard DG. Atrial fibrillation: diagnosis and treatment. Am Fam Physician. 2011;83:61–8.

11.

Douketis JD. Perioperative management of patients who are receiving warfarin therapy: an evidence-based and practical approach. Blood. 2011;117:5044–9.

12.

Jaber WA, Prior DL, Thamilarasan M, Grimm RA, Thomas JD, Klein AL, Asher CR. Efficacy of anticoagulation in resolving left atrial and left atrial appendage thrombi: a transesophageal echocardiographic study. Am Heart J. 2000;140:150–6.

13.

Manning WJ, Weintraub RM, Waksmonski CA, Haering JM, Rooney PS, Maslow AD, Johnson RG, Douglas PS. Accuracy of transesophageal echocardiography for identifying left atrial thrombi. A prospective, intraoperative study. Ann Intern Med. 1995;123:817–22.

14.

Black IW, Chesterman CN, Hopkins AP, Lee LC, Chong BH, Walsh WF. Hematologic correlates of left atrial spontaneous echo contrast and thromboembolism in nonvalvular atrial fibrillation. J Am Coll Cardiol. 1993;21:451–7.

15.

Goldman ME, Pearce LA, Hart RG, Zabalgoitia M, Asinger RW, Safford R, Halperin JL. Pathophysiologic correlates of thromboembolism in nonvalvular atrial fibrillation: I. Reduced flow velocity in the left atrial appendage (The Stroke Prevention in Atrial Fibrillation [SPAF-III] study). J Am Soc Echocardiogr. 1999;12:1080–7.

16.

Porte JM, Cormier B, Iung B, Dadez E, Starkman C, Nallet O, Michel PL, Acar J, Vahanian A. Early assessment by transesophageal echocardiography of left atrial appendage function after percutaneous mitral commissurotomy. Am J Cardiol. 1996;77:72–6.

17.

Culliford AT, Gitel SN, Starr N, Thomas ST, Baumann FG, Wessler S, Spencer FC. Lack of correlation between activated clotting time and plasma heparin during cardiopulmonary bypass. Ann Surg. 1981;193:105–11.

18.

[No authors listed]. Acquired abnormalities of platelet function. N Engl J Med. 1991;324:1670–2.

19.

Selim M. Perioperative stroke. N Engl J Med. 2007;356:706–13.

20.

Lee CH, Chen CC, Chern MS. Thrombolytic therapy for acute left atrial thrombus formation in one patient with heart failure and atrial fibrillation. Circ J. 2007;71:604–7.

21.

Ren JF, Marchlinski FE, Callans DJ. Left atrial thrombus associated with ablation for atrial fibrillation: identification with intracardiac echocardiography. J Am Coll Cardiol. 2004;43:1861–7.
Electronic supplementary material
Below is the link to the electronic supplementary material.
Supplementary material 1 Spontaneous echo contrast in the left atrium and left atrial appendage without evidence of thrombus (MPG 572 kb)
Supplementary material 2 Thrombus observed in the left atrial appendage (MPG 574 kb)
About this article
Cite this article
Godai, K., Hasegawa-Moriyama, M., Unoki, K. et al. Suspected intraoperative formation of left atrial thrombus in a patient with atrial fibrillation receiving bridging anticoagulation therapy. J Anesth 28, 112–115 (2014) doi:10.1007/s00540-013-1664-y
Received:

Accepted:

Published:

Issue Date:
Keywords
Atrial fibrillation

Thrombus

Bridging anticoagulation therapy