Abstract
Background
Prostasin (PRSS8) is a stimulator of epithelial sodium transport. In this study, we evaluated alteration of prostasin expression in the inflamed mucosa of patients with inflammatory bowel disease (IBD) and investigated the role of prostasin in the gut inflammation.
Methods
Prostasin expression was evaluated by immunohistochemical staining. Dextran sodium sulfate (DSS)-colitis was induced in mice lacking prostasin specifically in intestinal epithelial cells (PRSS8ΔIEC mice).
Results
In colonic mucosa of healthy individuals, prostasin was strongly expressed at the apical surfaces of epithelial cells, and this was markedly decreased in active mucosa of both ulcerative colitis and Crohn's disease. DSS-colitis was exacerbated in PRSS8ΔIEC mice compared to control PRSS8lox/lox mice. Toll-like receptor4 (TLR4) expression in colonic epithelial cells was stronger in DSS-treated PRSS8ΔIEC mice than in DSS-treated PRSS8 lox/lox mice. NF-κB activation in colonic epithelial cells was more pronounced in DSS-treated PRSS8ΔIEC mice than in DSS-treated PRSS8lox/lox mice, and the mRNA expression of inflammatory cytokines was significantly higher in DSS-treated PRSS8ΔIEC mice. Broad-spectrum antibiotic treatment completely suppressed the exacerbation of DSS-colitis in PRSS8ΔIEC mice. The mRNA expression of tight junction proteins and mucosal permeability assessed using FITC-dextran were comparable between DSS-treated PRSS8lox/lox and DSS-treated PRSS8ΔIEC mice.
Conclusion
Prostasin has an anti-inflammatory effect via downregulation of TLR4 expression in colonic epithelial cells. Reduced prostasin expression in IBD mucosa is linked to the deterioration of local anti-inflammatory activity and may contribute to the persistence of mucosal inflammation.
This is a preview of subscription content, log in to check access.
Access options
Buy single article
Instant access to the full article PDF.
US$ 39.95
Price includes VAT for USA
Subscribe to journal
Immediate online access to all issues from 2019. Subscription will auto renew annually.
US$ 99
This is the net price. Taxes to be calculated in checkout.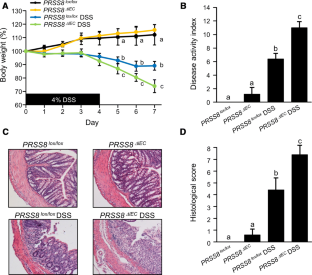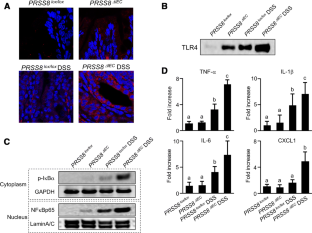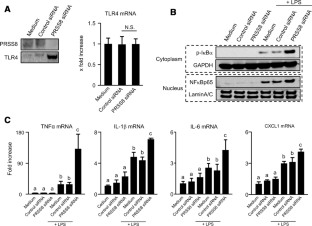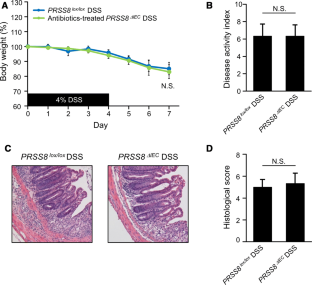 References
1.

Verstockt B, Ferrante M, Vermeire S, et al. New treatment options for inflammatory bowel diseases. J Gastroenterol. 2018;53:585–90.

2.

Kaser A, Zeissig S, Blumberg RS. Inflammatory bowel disease. Annu Rev Immunol. 2010;28:573–621.

3.

Podolsky DK. Inflammatory bowel disease. N Engl J Med. 2002;347:417–29.

4.

Aggarwal S, Dabla PK, Arora S. Prostasin: an epithelial sodium channel regulator. J Biomark. 2013;2013:179864.

5.

Vallet V, Chraibi A, Gaeggeler HP, et al. An epithelial serine protease activates the amiloride-sensitive sodium channel. Nature. 1997;389:607–10.

6.

Caughey GH, Raymond WW, Blount JL, et al. Characterization of human gamma-tryptases, novel members of the chromosome 16p mast cell tryptase and prostasin gene families. J Immunol. 2000;164:6566–75.

7.

Malsure S, Wang Q, Charles RP, et al. Colon-specific deletion of epithelial sodium channel causes sodium loss and aldosterone resistance. J Am Soc Nephrol. 2014;25:1453–64.

8.

Leyvraz C, Charles RP, Rubera I, et al. The epidermal barrier function is dependent on the serine protease CAP1/Prss8. J Cell Biol. 2005;170:487–96.

9.

Frateschi S, Keppner A, Malsure S, et al. Mutations of the serine protease CAP1/Prss8 lead to reduced embryonic viability, skin defects, and decreased ENaC activity. Am J Pathol. 2012;181:605–15.

10.

Renard S, Voilley N, Bassilana F, et al. Localization and regulation by steroids of the alpha, beta and gamma subunits of the amiloride-sensitive Na+ channel in colon, lung and kidney. Pflugers Arch. 1995;430:299–307.

11.

Amasheh S, Barmeyer C, Koch CS, et al. Cytokine-dependent transcriptional down-regulation of epithelial sodium channel in ulcerative colitis. Gastroenterology. 2004;126:1711–20.

12.

Zeissig S, Bergann T, Fromm A, et al. Altered ENaC expression leads to impaired sodium absorption in the noninflamed intestine in Crohn's disease. Gastroenterology. 2008;134:1436–47.

13.

Akira S, Takeda K. Toll-like receptor signalling. Nat Rev Immunol. 2004;4:499–511.

14.

Akira S. Toll receptor families: structure and function. Semin Immunol. 2004;16:1–2.

15.

Nell S, Suerbaum S, Josenhans C. The impact of the microbiota on the pathogenesis of IBD: lessons from mouse infection models. Nat Rev Microbiol. 2010;8:564–77.

16.

Rachmilewitz D. Coated mesalazine (5-aminosalicylic acid) versus sulphasalazine in the treatment of active ulcerative colitis: a randomised trial. BMJ. 1989;298:82–6.

17.

Best WR, Becktel JM, Singleton JW. Rederived values of the eight coefficients of the Crohn's Disease Activity Index (CDAI). Gastroenterology. 1979;77:843–6.

18.

Uchimura K, Hayata M, Mizumoto T, et al. The serine protease prostasin regulates hepatic insulin sensitivity by modulating TLR4 signalling. Nat Commun. 2014;5:3428.

19.

Kim JJ, Shajib MS, Manocha MM, et al. Investigating intestinal inflammation in DSS-induced model of IBD. J Vis Exp. 2012. https://doi.org/10.3791/3678.

20.

Obermeier F, Kojouharoff G, Hans W, et al. Interferon-gamma (IFN-gamma)- and tumour necrosis factor (TNF)-induced nitric oxide as toxic effector molecule in chronic dextran sulphate sodium (DSS)-induced colitis in mice. Clin Exp Immunol. 1999;116:238–45.

21.

Singh N, Gurav A, Sivaprakasam S, et al. Activation of Gpr109a, receptor for niacin and the commensal metabolite butyrate, suppresses colonic inflammation and carcinogenesis. Immunity. 2014;40:128–39.

22.

Kusaka S, Nishida A, Takahashi K, et al. Expression of human cathelicidin peptide LL-37 in inflammatory bowel disease. Clin Exp Immunol. 2018;191:96–106.

23.

Nishida A, Hidaka K, Kanda T, et al. Increased expression of Interleukin-36, a member of the Interleukin-1 cytokine family, in inflammatory bowel disease. Inflamm Bowel Dis. 2016;22:303–14.

24.

Gupta J, del Barco BI, Igea A, et al. Dual function of p38alpha MAPK in colon cancer: suppression of colitis-associated tumor initiation but requirement for cancer cell survival. Cancer Cell. 2014;25:484–500.

25.

Nishida A, Lau CW, Zhang M, et al. The membrane-bound mucin Muc1 regulates T helper 17-cell responses and colitis in mice. Gastroenterology. 2012;142(865–874):e862.

26.

Rakoff-Nahoum S, Paglino J, Eslami-Varzaneh F, et al. Recognition of commensal microflora by toll-like receptors is required for intestinal homeostasis. Cell. 2004;118:229–41.

27.

Hoffmann A, Levchenko A, Scott ML, et al. The IκB-NF-κB signaling module: temporal control and selective gene activation. Science. 2002;298:1241–5.

28.

Poritz LS, Garver KI, Green C, et al. Loss of the tight junction protein ZO-1 in dextran sulfate sodium induced colitis. J Surg Res. 2007;140:12–9.

29.

Eichele DD, Kharbanda KK. Dextran sodium sulfate colitis murine model: an indispensable tool for advancing our understanding of inflammatory bowel diseases pathogenesis. World J Gastroenterol. 2017;23:6016–29.

30.

Keppner A, Malsure S, Nobile A, et al. Altered prostasin (CAP1/Prss8) expression favors inflammation and tissue remodeling in DSS-induced colitis. Inflamm Bowel Dis. 2016;22:2824–39.
Acknowledgements
This study was supported in part by a Grant-in-Aid for Scientific Research from the Ministry of Education, Culture, Sports, Science and Technology of Japan [18K08002 (A.A.), 16K09308 (O.I.), 16K9846 (M.K.) and 18K07909 (A.N.)], a grant for the Intractable Diseases from the Ministry of Health, Labor and Welfare of Japan [067 (A.A.)], a grant from the Practical Research Project for Rare/Intractable Diseases from the Japan Agency for Medical Research and Development, AMED [15AeK0109047h0002 (A.A.)].
Additional information
Publisher's Note
Springer Nature remains neutral with regard to jurisdictional claims in published maps and institutional affiliations.
Electronic supplementary material
Below is the link to the electronic supplementary material.
About this article
Cite this article
Sugitani, Y., Nishida, A., Inatomi, O. et al. Sodium absorption stimulator prostasin (PRSS8) has an anti-inflammatory effect via downregulation of TLR4 signaling in inflammatory bowel disease. J Gastroenterol (2020). https://doi.org/10.1007/s00535-019-01660-z
Received:

Accepted:

Published:
Keywords
Prostasin

TLR4

NF-κB

Mucosal permeability