Human hepatic stellate cell isolation and characterization
Abstract
The hepatic stellate cells (HSCs) localize at the space of Disse in the liver and have multiple functions. They are identified as the major contributor to hepatic fibrosis. Significant understanding of HSCs has been achieved using rodent models and isolated murine HSCs; as well as investigating human liver tissues and human HSCs. There is growing interest and need of translating rodent study findings to human HSCs and human liver diseases. However, species-related differences impose challenges on the translational research. In this review, we focus on the current information on human HSCs isolation methods, human HSCs markers, and established human HSC cell lines.
Keywords
Human hepatic stellate cells 
Human HSC isolation 
Human HSC markers 
Human hepatic stellate cell lines 
Introduction
The hepatic stellate cells (also referred to as Ito cell, fat-storing cell, lipocyte, perisinusoidal cell, parasinusoidal cell) are one of the key nonparenchymal components in the sinusoid compartment with multiple functions in the liver. HSCs were first described and named "Sternzellen" in 1876 by Kupffer [1] using a gold-chloride impregnation technique. Later Toshio Ito [2] and Bronfenmajer [3] observed perisinusoidal cells containing lipid droplets in human livers. Wake [4] identified that "Sternzellen" were the same cells as the vitamin A-storing cells in the liver. In 1995, the international community of investigators recommended the nomenclature of hepatic stellate cell (HSC) [5]. The embryologic origin of HSCs remains unresolved. Based on expression markers, potential origins of HSCs include endoderm (cytokeratins) [6], or the septum transversum mesenchyme (Foxf1, vimentin) [7], or neural crest (GFAP, synaptophysin, N-CAM) [8] and P75 [9]). However, the neural crest origin has been challenged [10]. Recent studies utilizing cell-fate mapping in mice have suggested that HSCs may originate from septum transversum [11].
Under physiological conditions, HSCs reside in the space of Disse exhibiting a quiescent phenotype (qHSCs), and their main function is storing vitamin A in lipid droplets [12, 13]. In response to injury, qHSCs decrease vitamin A storage and peroxisome proliferator-activated receptor gamma (PPARϒ) expression, and activate into myofibroblasts (aHSCs), which are characterized by increased proliferation and high contractility with expression of pericellular matrix proteins (α-smooth muscle actin (α-SMA), vimentin), and secretion of abundant extracellular matrix proteins (fibronectin, collagen type I and III) [14, 15, 16, 17]. HSCs release inflammatory, proliferative, and fibrogenic cytokines such as IL-6, PDGF, and TGFβ, through direct contact with their neighboring cells [18]. It is reported that HSCs can also function as regulatory bystander and contribute to liver-induced tolerance [19]. HSCs also contribute to liver regeneration [20], and potentially mediate sinusoidal blood flow via contraction and regulate microvascular structure and function in liver [21].
The development of methodologies and techniques for isolating and culturing primary HSCs has provided a platform for great achievements in understanding this cell's unique and pleiotropic functions in liver pathophysiology. Knook et al., using density centrifugation and centrifugal elutriation, first established the isolation of HSCs from rat liver [22]. Subsequently, the first human HSC isolation and characterization was reported by Friedman from normal liver [23]. With the development of techniques for HSC isolation, cultivation and characterization, dramatic achievement has been made in exploring the physiological and pathological functions of HSCs. Mouse models have been a very valuable tool in characterizing cellular gene activation and protein-expression profiles as well as elucidating the signaling pathways involved. Especially, mouse models utilizing HSC specific markers has greatly advanced our understanding of the function of HSCs [24, 25, 26, 27]. Meanwhile, significant advancement has been made in human liver pathology studies as well as in vitro studies using isolated primary human HSCs, for example, to study their reverting capacity and function in retinoid metabolism [28, 29, 30, 31, 32, 33]. There is increasing interest in translating research from mouse models and mouse HSCs to human HSCs and human disease. In this review we will examine the current information on human HSCs, including the methodologies for HSC isolation, primary cultures of human HSCs, human liver tissues, as well as established human HSC cell lines.
Human HSC isolation methods
An efficient method of HSC isolation and clear characterization of human HSCs is undoubtedly critical for a deep understanding of its role in human liver physiology and liver diseases. Two main methods for isolating HSCs from human liver have been described so far, one is to grow smooth muscle-like cells from liver tissue explants, and the other is using density gradient centrifugation similar to the isolation of HSCs in rodents [22, 34].
Human HSC markers (Table 1, Fig. 1)
Rodent studies have identified specific markers for HSCs. The most prominent proteins identified in rodent HSCs include desmin, GFAP, and α-SMA (when activated) [
58
,
59
]. However, rodents and human HSCs not only show dramatic morphological discrepancy, but also the protein expression profile of human HSCs is quite different from mouse HSCs. In particular, immunostaining does not identify desmin or GFAP-positive cells in quiescent human HSCs [
60
,
61
]. Therefore, it is important to identify specific markers for human HSCs.
Table 1
Mouse HSC and human HSC markers
Marker

Rodents

Human liver tissue

Isolated human HSCs

Isolated human HSCs

Density gradient centrifugation

Quiescent

Activated

Normal

Diseased

Explants

Initial

Later passage

Desmin

+

+

+ or −

+ or −

+

−

+ or weak or −

GFAP

+

+

− or +

+

−

+

+

P75

+

+

+

+

 

−

+ or −

Trk-C

+

+

+

+

 
 

−

N-CAM

−

+

+

+

 
 

+ or −

PDGFRβ

+

+

−

+

+

 

+

CRBP-1

+

+

+

+

 
 
 

CYGB

+

+

+

+

 
 
 

LRAT

+

–

+

+

 
 
 

α-SMA

−

+

+ or −

+

+

−

+

Vimentin

+

+

+

+

 
 

+

FAP

 
 

−

+

+

 
 

NT-3

+

+

+

+

 
 

+

SYN

+

+

+

+

 
 

−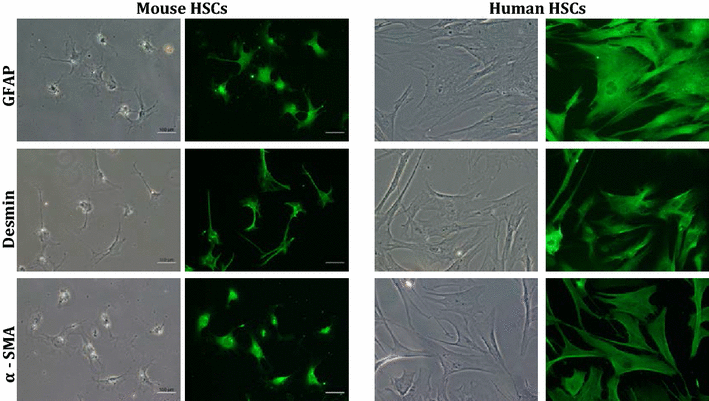 Human hepatic stellate cell lines (Table 2)
There are obvious disadvantages in obtaining and usage of primary HSCs, particularly primary human HSCs, such as the heterogeneity of isolated cell populations and cellular characteristics, limited supply, considerable variations of cell preparation in different laboratories, as well as the isolation equipment and techniques requirements. Immortalized HSC lines were established and have been used in a wide range of research. These immortalized cell lines provide unlimited resource supply, homogeneity, and are suitable for genetic manipulation studies. They recapitulate many activated HSC features, and can serve as a useful tool for mechanistic investigation of HSC function in hepatic fibrosis and liver pathophysiological processes. The immortalized HSC lines currently in use have been generated from primary HSC through spontaneous immortalization during long-term culture, or by transformation with the simian virus 40 large T-antigen (SV40T), or ectopic expression of human telomerase reverse transcriptase (TERT). Notably, none of the published cell lines are reported to be tumorigenic. Considering these cells are 'genetically modified', careful evaluation of the reported studies is always warranted [
18
,
99
].
Table 2
Characteristics of human hepatic stellate cell lines
Human HSC line name

Derivation resource

Derivation method

Expression markers

Transition to quiescent phenotype

LI90

Human hepatic epithelioid hemangioendothelioma

Outgrowth from the diseased tissue

α-SMA, vimentin, collagen types I, III, IV, V, and VI, fibronectin, laminin and MMPs

Yes

TWNT-1

TWNT-4

LI90 cell line

Retrovirally induced human telomerase reverse transcriptase

Col1α1, HGF; PDGFRβ, α-SMA, Col1α1

Yes

hTERT

Normal human liver

Retroviral expression of the human telomerase reverse transcriptase

PDGFRα and β, GFAP, Col1α1 and α-SMA, etc.

Yes

LX-1

Normal human liver

SV40 T antigen

α-SMA, vimentin, GFAP, PDGFR-β, Ob-RL, DDR2, MMP-2, TIMP-1, MT1-MMP, neuronal genes

Yes

LX-2

Normal human liver

Spontaneous immortalization in low serum condition

Same as LX-1

Yes

GREF-X

Cirrhotic human liver

Polyoma virus large T antigen

α-SMA, vimentin, collagen I, IV, V and VI, fibronectin, laminin, MMP-2

Yes

HSC-Li

Normal human liver

Retrovirus SV40LT

HGF, VEGF receptor 1, Col1α1, Col1α2, α-SMA, PDGFR-β, vimentin, TGF-β1

Yes
Conclusions
In the normal liver, HSCs comprise 5–8% of total rat liver cells [113]. In mouse liver, HSCs comprise a population of 8–10% of total liver cells, but rapidly expand in response to chronic fibrogenic injury corresponding to ~ 15% of total liver cells [114]. Pathogenic mechanisms responsible for development of hepatic fibrosis and liver failure are poorly understood. Newer studies are showing that there might be differences in pathways that are involved in hepatic fibrosis that are etiology dependent. For example, HSCs are identified as a major source of myofibroblasts in hepatotoxic-induced liver fibrosis, such as alcohol or CCl4. Following chronic injury, HSCs activate into myofibroblast-like cells, acquiring contractile, pro-inflammatory, and fibrogenic properties. They have also been shown to inactivate and acquire a quiescent-like phenotype, which might help with regression of liver fibrosis [114, 115]. As well, blockage of certain proteins in HSC activation pathways might prove to have therapeutic implication in human diseases [98, 116, 117, 118]. Mouse model studies and advanced HSC isolation techniques have contributed to the elucidation of this cell's functions. However, species-differences are critical to translational research. Protein expression patterns of normal and activated HSCs are not identical among species, which imposes challenges on the translational research, and therefore it is imperative to develop tools and techniques for investigating human HSCs to confirm and extend studies in rodent models.
Notes
Compliance with ethical standards
Conflict of interest
The authors declare that they have no conflicts of interest.
Copyright information
© The Author(s) 2017
Open AccessThis article is distributed under the terms of the Creative Commons Attribution 4.0 International License (http://creativecommons.org/licenses/by/4.0/), which permits unrestricted use, distribution, and reproduction in any medium, provided you give appropriate credit to the original author(s) and the source, provide a link to the Creative Commons license, and indicate if changes were made.