Abstract
Background
Peritoneal lavage with distilled water has been performed during colorectal cancer surgery. This study investigated the cytocidal effects of hypotonic shock in vitro and in vivo in colorectal cancer cells.
Methods
Three human colorectal cancer cell lines, DLD1, HT29, and CACO2, were exposed to distilled water, and morphological changes were observed under a differential interference contrast microscope connected to a high-speed digital video camera. Cell volume changes were assessed using a high-resolution flow cytometer. Re-incubation experiments were performed to investigate the cytocidal effects of distilled water. In the in vivo experiment, cancer cells after hypotonic shock were injected intraperitoneally into mice and the degree of established peritoneal metastasis was subsequently evaluated. The effects of the blockade of Cl− channels on these cells during hypotonic shock were also analyzed.
Results
Morphological observations revealed a rapid cell swelling followed by cell rupture. Measurements of cell volume changes showed that mild hypotonic shock induced regulatory volume decrease (RVD) while severe hypotonic shock broke cells into fragments. Re-incubation experiments demonstrated the cytocidal effects of hypotonicity. In vivo experiments revealed the absence of peritoneal dissemination in mice in the distilled water group, and its presence in all mice in the control group. The blockade of Cl− channels increased cell volume by inhibiting RVD and enhanced cytocidal effects during mild hypotonic shock.
Conclusions
These results clearly support the efficacy of peritoneal lavage with distilled water during colorectal cancer surgery and suggest that regulating of Cl− transport may enhance the cytocidal effects of hypotonic shock.
This is a preview of subscription content, log in to check access.
Access options
Buy single article
Instant unlimited access to the full article PDF.
US$ 39.95
Price includes VAT for USA
Subscribe to journal
Immediate online access to all issues from 2019. Subscription will auto renew annually.
US$ 99
This is the net price. Taxes to be calculated in checkout.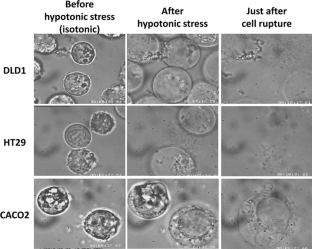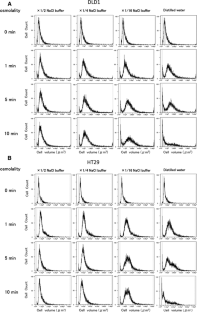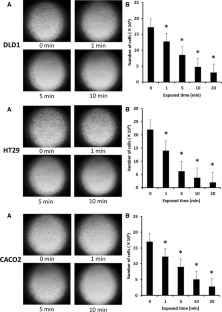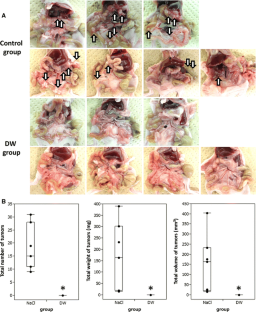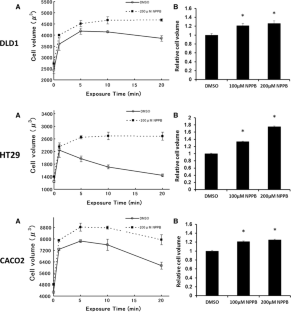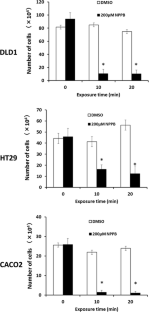 References
1.

Brenner H, Kloor M, Pox CP. Colorectal cancer. Lancet. 2013;383:1490–1502

2.

Bosanquet DC, Harris DA, Evans MD, Beynon J. Systematic review and meta-analysis of intraoperative peritoneal lavage for colorectal cancer staging. Br J Surg. 2013;100:853–62.

3.

Homma Y, Hamano T, Akazawa Y et al. Positive peritoneal washing cytology is a potential risk factor for the recurrence of curatively resected colorectal cancer. Surg Today. 2013;44:1084–9

4.

Rossi Del Monte S, Ranieri D, Mazzetta F, et al. Free peritoneal tumor cells detection in gastric and colorectal cancer patients. J Surg Oncol. 2012;106:17–23.

5.

Koppe MJ, Boerman OC, Oyen WJ, Bleichrodt RP. Peritoneal carcinomatosis of colorectal origin: incidence and current treatment strategies. Ann Surg. 2006;243:212–22.

6.

Chua TC, Esquivel J, Pelz JO, Morris DL. Summary of current therapeutic options for peritoneal metastases from colorectal cancer. J Surg Oncol. 2013;107:566–73.

7.

Whiteside OJ, Tytherleigh MG, Thrush S, et al. Intra-operative peritoneal lavage—who does it and why? Ann R Coll Surg Engl. 2005;87:255–8.

8.

Huguet EL, Keeling NJ. Distilled water peritoneal lavage after colorectal cancer surgery. Dis Colon Rectum. 2004;47:2114–9.

9.

Waldegger S, Steuer S, Risler T, et al. Mechanisms and clinical significance of cell volume regulation. Nephrol Dial Transpl. 1998;13:867–74.

10.

Miyazaki H, Shiozaki A, Niisato N, et al. Chloride ions control the G1/S cell-cycle checkpoint by regulating the expression of p21 through a p53-independent pathway in human gastric cancer cells. Biochem Biophys Res Commun. 2008;366:506–12.

11.

Shiozaki A, Miyazaki H, Niisato N, et al. Furosemide, a blocker of Na+/K+/2Cl− cotransporter, diminishes proliferation of poorly differentiated human gastric cancer cells by affecting G0/G1 state. J Physiol Sci. 2006;56:401–6.

12.

Kosuga T, Shiozaki A, Ichikawa D, et al. Pleural lavage with distilled water during surgery for esophageal squamous cell carcinoma. Oncol Rep. 2011;26:577–86.

13.

Iitaka D, Shiozaki A, Ichikawa D, et al. Blockade of chloride ion transport enhances the cytocidal effect of hypotonic solution in gastric cancer cells. J Surg Res. 2012;176:524–34.

14.

Nako Y, Shiozaki A, Ichikawa D, et al. Enhancement of the cytocidal effects of hypotonic solution using a chloride channel blocker in pancreatic cancer cells. Pancreatology. 2012;12:440–8.

15.

Shiozaki A, Lodyga M, Bai XH, et al. XB130, a novel adaptor protein, promotes thyroid tumor growth. Am J Pathol. 2011;178:391–401.

16.

Ozawa H, Kotake K, Kobayashi H, Sugihara K. Prognostic factors for peritoneal carcinomatosis originating from colorectal cancer: an analysis of 921 patients from a multi-institutional database. Surg Today. 2013 (Epub ahead of print).

17.

Lemmens VE, Klaver YL, Verwaal VJ, et al. Predictors and survival of synchronous peritoneal carcinomatosis of colorectal origin: a population-based study. Int J Cancer. 2011;128:2717–25.

18.

Ito F, Camoriano M, Seshadri M, et al. Water: a simple solution for tumor spillage. Ann Surg Oncol. 2011;18:2357–63.

19.

Brundell SM, Tucker K, Chatterton B, Hewett PJ. The effect of lavage on intraabdominal cell burden. Surg Endosc. 2002;16:1064–7.

20.

Antico S, Lionetto MG, Giordano ME, et al. Cell volume regulation and apoptotic volume decrease in rat distal colon superficial enterocytes. Cell Physiol Biochem. 2013;32:1551–65.

21.

Hoffmann EK, Dunham PB. Membrane mechanisms and intracellular signalling in cell volume regulation. Int Rev Cytol. 1995;161:173–262.

22.

Wang L, Chen L, Zhu L, et al. Regulatory volume decrease is actively modulated during the cell cycle. J Cell Physiol. 2002;193:110–9.

23.

Ernest NJ, Weaver AK, Van Duyn LB, Sontheimer HW. Relative contribution of chloride channels and transporters to regulatory volume decrease in human glioma cells. Am J Physiol Cell Physiol. 2005;288:C1451–60.

24.

Watkins S, Sontheimer H. Hydrodynamic cellular volume changes enable glioma cell invasion. J Neurosci. 2011;31:17250–9.

25.

Verkman AS, Galietta LJ. Chloride channels as drug targets. Nat Rev Drug Discov. 2009;8:153–71.

26.

Prevarskaya N, Skryma R, Shuba Y. Ion channels and the hallmarks of cancer. Trends Mol Med. 2010;16:107–21.

27.

Schonherr R. Clinical relevance of ion channels for diagnosis and therapy of cancer. J Membr Biol. 2005;205:175–84.

28.

Wang P, Zhang C, Yu P, et al. Regulation of colon cancer cell migration and invasion by CLIC1-mediated RVD. Mol Cell Biochem. 2012;365:313–21.

29.

Yang B, Cao L, Liu B, et al. The transition from proliferation to differentiation in colorectal cancer is regulated by the calcium activated chloride channel A1. PLoS ONE. 2013;8:e60861.

30.

House CD, Vaske CJ, Schwartz AM, et al. Voltage-gated Na + channel SCN5A is a key regulator of a gene transcriptional network that controls colon cancer invasion. Cancer Res. 2010;70:6957–67.
Acknowledgments
This work was supported by Grants-in-Aid for Young Scientists (B) (22791295, 23791557), a Grant-in-Aid for Scientific Research (C) (22591464) from the Japan Society for the Promotion of Science, and Research Grant Awards from Kyoto Preventive Medical Center to Dr. Atsushi Shiozaki.
Conflict of interest
The authors declare that no conflict of interest.
Additional information
K. Takemoto and A. Shiozaki contributed equally to this work.
Electronic supplementary material
Below is the link to the electronic supplementary material.
Changes in individual CRC cells subjected to hypotonic stress with distilled water. Quarter speed dynamic images of DLD1 cells subjected to hypotonic stress with distilled water are shown. The cells continued to swell before cell rupture after being subjected to hypotonic stress with distilled water. Similar changes were also observed in HT29 and CACO2 cells (data not shown) (MPEG 6578 kb)
About this article
Cite this article
Takemoto, K., Shiozaki, A., Ichikawa, D. et al. Evaluation of the efficacy of peritoneal lavage with distilled water in colorectal cancer surgery: in vitro and in vivo study. J Gastroenterol 50, 287–297 (2015) doi:10.1007/s00535-014-0971-x
Received:

Accepted:

Published:

Issue Date:
Keywords
Colorectal cancer

Distilled water

Peritoneal lavage

Regulatory volume decrease

Chloride ion transport