Abstract
Background/purpose
Using a standardized technique for pancreaticojejunostomy that we term "pair-watch suturing technique", we prospectively analyzed the effects of a pancreatic stent tube for preventing pancreatic fistula and furthermore evaluated which perioperative factors had an influence on the development of pancreatic fistula.
Operative procedure
Before anastomosis, we imagine the faces of a pair of wristwatches on the jejunal hole and pancreatic duct. The first stitch was put between 9 o'clock on the pancreatic side and 3 o'clock on the jejunal side, and a total of 7 stitches were put in the posterior wall, followed by 5 stitches in the anterior wall. Using this technique, twelve stitches can be sutured in the first layer anastomosis regardless of the caliber of the pancreatic duct.
Patients and methods
From March 2007 to April 2009, 55 consecutive patients who underwent the pair-watch suturing technique were divided into two groups: stent (n = 28) and no-stent (n = 27). The incidence rate of pancreatic fistula was statistically analyzed. From March 2007 to March 2011, 102 consecutive patients were retrospectively divided into two groups according to the International Study Group on Pancreatic Fistula criteria: postoperative pancreatic fistula (POPF) and non-POPF.
Results
Perioperative factors were almost the same between the stent and no-stent groups, and the incidence of pancreatic fistula was very similar: 10.7% in the stent group and 14.8% in the no-stent group. Additionally, all patients who developed pancreatic fistula belonged to grade A. Among 102 patients, 15 (14.7%) were identified as having pancreatic fistula: 9 (8.8%) in grade A, 5 (4.9%) in grade B, and 1 (0.9%) in grade C. Comparing the POPF and non-POPF groups, we could not detect any significant risk factors for the development of pancreatic fistula.
Conclusion
We consider that the pair-watch suturing technique is less susceptible to any factors, providing reliable anastomosis for any size of pancreatic duct and any texture of remnant pancreas.
This is a preview of subscription content, log in to check access.
Access options
Buy single article
Instant unlimited access to the full article PDF.
US$ 39.95
Price includes VAT for USA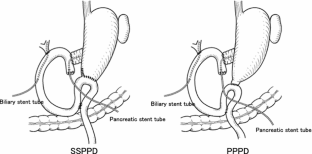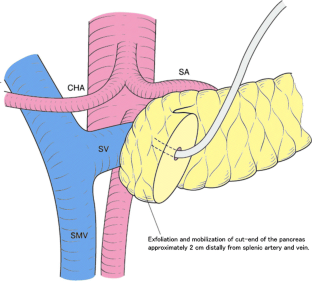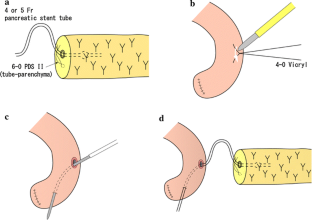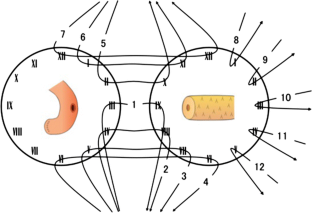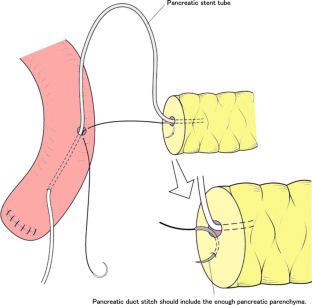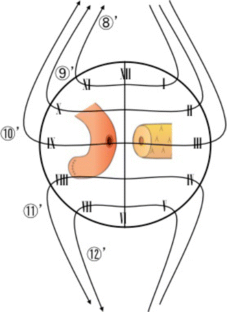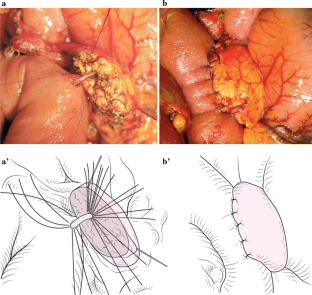 References
1.

Kleespies A, Albertsmeier M, Obeidat F, Seeliger H, Jauch KW, Bruns CJ. The challenge of pancreatic anastomosis. Langenbecks Arch Surg. 2008;393:459–71.

2.

Bassi C, Falconi M, Molinari E, Mantovani W, Butturini G, Gumbs AA, et al. Duct-to-mucosa versus end-to-side pancreaticojejunostomy reconstruction after pancreaticoduodenectomy: results of a prospective randomized trial. Surgery. 2003;134:766–71.

3.

Poon RT, Lo SH, Fong D, Fan ST, Wong J. Prevention of pancreatic anastomotic leakage after pancreaticoduodenectomy. Am J Surg. 2002;183:42–52.

4.

Akamatsu N, Sugawara Y, Komagome M, Shin N, Cho N, Ishida T, et al. Risk factors for postoperative pancreatic fistula after pancreaticoduodenectomy: the significance of the ratio of the main pancreatic duct to the pancreas body as a predictor of leakage. J Hepatobiliary Pancreat Sci. 2010;17(3):322–8.

5.

Hosotani R, Doi R, Imamura M. Duct-to-mucosa pancreaticojejunostomy reduces the risk of pancreatic leakage after pancreatoduodenectomy. World J Surg. 2002;26:99–104.

6.

Tani M, Onishi H, Kinoshita H, Kawai M, Ueno M, Hama T, et al. The evaluation of duct-to-mucosal pancreaticojejunostomy in pancreaticoduodenectomy. World J Surg. 2005;29:76–9.

7.

Grobmyer SR, Pieracci FM, Allen PJ, Brennan MF, Jaques DP. Defining morbidity after pancreaticoduodenectomy: use of a prospective complication grading system. J Am Coll Surg. 2007;204:356–64.

8.

Shrikhande SV, Barreto G, Shukla PJ. Pancreatic fistula after pancreaticoduodenectomy: the impact of a standardized technique of pancreaticojejunostomy. Langenbecks Arch Surg. 2008;393:87–91.

9.

Lane CE, Sawyers JL, Riddle DH, Scott HW Jr. Long-term results of Roux-en-Y hepatocholangiojejunostomy. Ann Surg. 1973;177(6):714–22.

10.

Azumi Y, Isaji S, Kato H, Nobuoka Y, Kuriyama N, Kishiwada M, et al. A standardized technique for safe pancreaticojejunostomy: pair-watch suturing technique. World J Gastrointest Surg. 2010;27:260–4.

11.

Bassi C, Dervenis C, Butturini G, Fingerhut A, Yeo C, Izbicki J, et al. International Study Group on Pancreatic Fistula Definition. Postoperative pancreatic fistula: an international study group (ISGPF) definition. Surgery. 2005;138:8–13.

12.

Yamaguchi K, Tanaka M, Chijiiwa K, Nagakawa T, Imamura M, Takada T. Early and late complication of pylorus-preserving pancreatoduodenectomy in Japan 1998. J Hepatobiliary Pancreat Surg. 1999;6:303–11.

13.

van Berge Henegouwen MI, De Wit LT, Van Gulik TM, Overtop H, Gouma DJ. Incidence, risk factors, and treatment of pancreatic leakage after pancreaticoduodenectomy: drainage versus resection of the pancreatic remnant. J Am Coll Surg. 1997;185:18–24.

14.

Abete M, Ronchetti V, Casano A, Pestio G. Pancreatic fistula after pancreaticoduodenectomy: risk factors and treatment. Minerva Chir. 2005;60:99–110.

15.

Z'graggen K, Uhl W, Friess H, Büchler MW. How to do a safe pancreatic anastomosis. J Hepatobiliary Pancreat Surg. 2002;9:733–7.
Conflict of interest
The authors declare that they have no conflict of interest.
Additional information
This article is based on the studies first reported in Highly Advanced Surgery for Hapato-Biliary-Pancreatic Field (in Japanese). Tokyo: Igaku-Shoin, 2010
Electronic supplementary material
Below is the link to the electronic supplementary material.
Supplementary material (MPG 39054 kb)
About this article
Cite this article
Azumi, Y., Isaji, S. Stented pancreaticojejunostomy (with video). J Hepatobiliary Pancreat Sci 19, 116–124 (2012) doi:10.1007/s00534-011-0472-8
Keywords
Pancreaticoduodenectomy

Pancreaticojejunostomy

Pancreatic fistula

Perioperative factors

Suturing technique