Abstract
Distal pancreatectomy is indicated for lesions in the pancreatic body and tail. Understanding of the anatomical structure of the pancreas and its surroundings is required in various situations in left upper abdominal surgery including the laparoscopic approach. Spleen-preserving distal pancreatectomy is indicated for lesions confined to the pancreas. Two major spleen-preserving procedures reported are the Warshaw procedure that conserves the spleen by blood flow from the short gastric vessels and the Kimura procedure that preserves the spleen with splenic vessels. Considering the laparoscopic approach, the surgeon may preserve splenic vessels from the median toward the splenic hilum without mobilization of the spleen. A standard distal pancreatectomy using the medial approach is presented on video. The intraoperative complications of distal pancreatectomy can be minimized by avoiding splenic capsule injury, by careful differentiation of the splenic artery from the common hepatic artery, and by secure closure of the splenic vein stump. The incidence of postoperative pancreatic fistula following distal pancreatectomy is reported to be 13% in a nationwide pancreatic cancer registry. Based on the results of an international randomized trial of hand-sewn and staple closure of the pancreatic stump, the closure method of the pancreatic stump can be the surgeon's choice.
This is a preview of subscription content, log in to check access.
Access options
Buy single article
Instant unlimited access to the full article PDF.
US$ 39.95
Price includes VAT for USA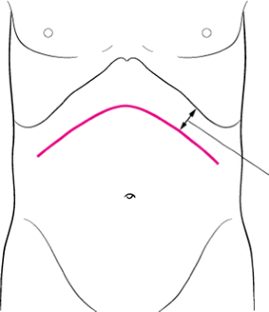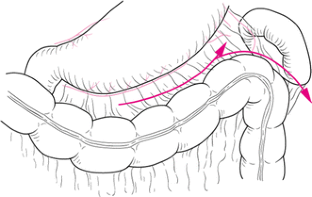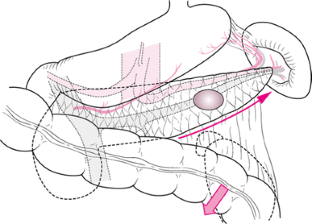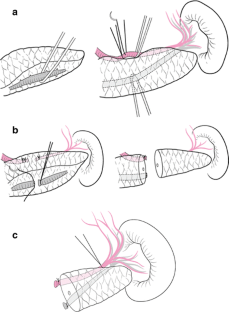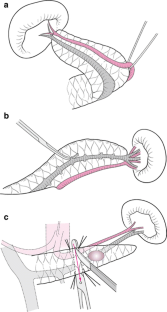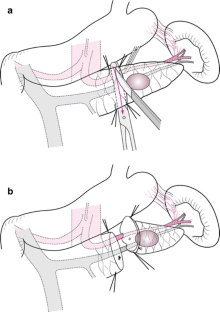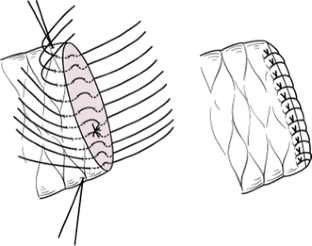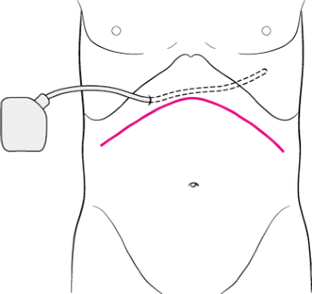 References
1.

Warshaw AL. Conservation of the spleen with distal pancreatectomy. Arch Surg. 1988;123:550–3.

2.

Kimura W, Inoue T, Futakawa N, et al. Spleen-preserving distal pancreatectomy with conservation of the splenic artery and vein. Surgery. 1996;120(5):885–90.

3.

Bruns H, Rahbari NN, Loffler T, Diener MK, Seiler CM, Glanemann M, Buttturini G, Schuhmacher C, Rossion I, Buchler MW, Junghans T; DISPACT Trial group. Perioperative management in distal pancreatectomy: results of a survey in 23 European participating centres of the DISPACT trial and a review of literature. Trials 2009;10:58.

4.

Japan Pancreas Society. Classification of pancreatic cancer. 6th ed. Tokyo: Kanehara; 2009 (in Japanese).

5.

Japan Pancreas Society. Pancreatic cancer registry report 2007. Suizo 2007;22(1):e1–427 (in Japanese with English subtitles).

6.

Diener M, Knaebel H, Witte S, Rossion I, Kieser M, Buchler M, Seiler C. DISPACT trial: a randomized controlled trial to compare two different surgical techniques of distal pancreatectomy—study rationale and design. Clin Trials. 2008;5:534–45.

7.

Diener M, Seiler C, Rossion I, Kleef J, Glanemann M, Butturini G, Tomazic A, Bruns CJ, Busch ORC, Farkus S, Belyaef O, Neoptolemos JP, Halloran C, Keck T, Niedergethmann M, Gellert K, Witzigmann H, Kollmar O, Langer P, Steger U, Neudecker J, Berrevoet F, Ganzera S, Heiss MM, Luntz SP, Bruckner T, Kieser M, Büchler M. Efficacy of stapler versus hand-sewn closure after distal pancreatectomy (DISPACT): a randomized, controlled multicentre trial. Lancet. 2011;377:1514–22.
Conflict of interest
The authors declare that they have no conflict of interest.
Additional information
This article is based on studies first reported in Highly Advanced Surgery for Hepato-Biliary-Pancreatic Field (in Japanese). Tokyo: Igaku-Shoin, 2010.
Electronic supplementary material
Below is the link to the electronic supplementary material.
Supplementary material 1 (MPEG 19684 kb)
About this article
Cite this article
Egawa, S., Okada, T., Motoi, F. et al. Distal pancreatectomy (with video). J Hepatobiliary Pancreat Sci 19, 135–140 (2012). https://doi.org/10.1007/s00534-011-0471-9
Keywords
Distal pancreatectomy

Spleen preserving

Medial approach

Pancreatic stump

Pancreatic fistula