Abstract
There is a high risk of anastomotic leakage following pancreaticojejunostomy after pancreaticoduodenectomy or middle pancreatectomy in patients with a normal soft pancreas because of the abundant exocrine function. Therefore, pancreaticojejunostomy is generally performed using a stent tube (stented method). However, pancreaticojejunostomy with a certain duct-to-mucosa anastomosis does not always require a stent tube even in patients with a normal soft pancreas. We have performed pancreaticojejunostomy with duct-to-mucosa anastomosis without a stent tube (nonstented method) and obtained good results. The objective of this technique is to maintain adequate patency of the anastomosis using a fine atraumatic needle and monofilament suture. The pancreas, including the pancreatic duct, is sharply transected with a scalpel. Any arterial bleeding points on the pancreatic cut end are repaired with fine nonabsorbable sutures. The end-to-side anastomosis between the pancreas and jejunum consists of two layers of sutures. The outer layer is composed of the capsular parenchyma of the pancreas and the jejunal seromuscularis, and the inner layer is composed of the pancreatic duct with an adequate pancreatic parenchyma and the whole jejunal wall. Complete pancreaticojejunostomy using duct-to-mucosa anastomosis does not require a stent tube. This nonstented method can be considered one of the basic procedures for pancreaticojejunostomy because of its safety and reliability.
This is a preview of subscription content, log in to check access.
Access options
Buy single article
Instant unlimited access to the full article PDF.
US$ 39.95
Price includes VAT for USA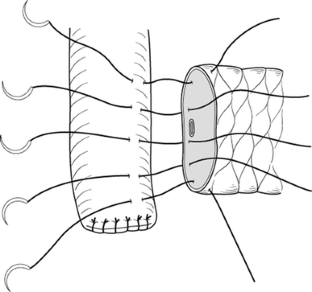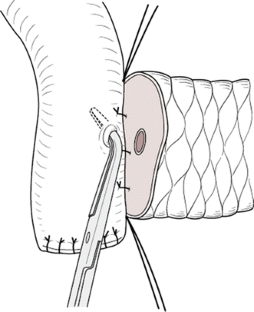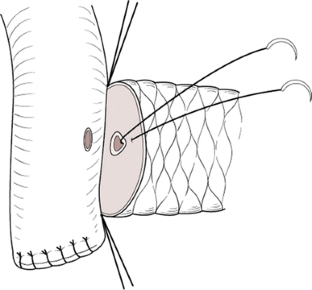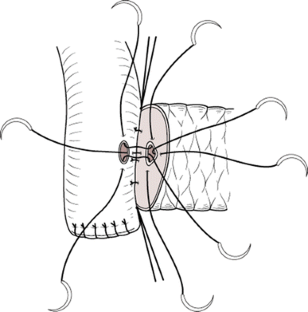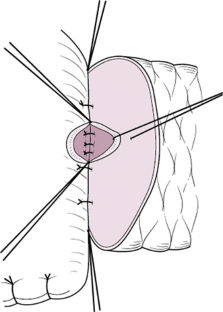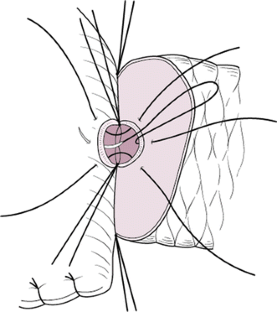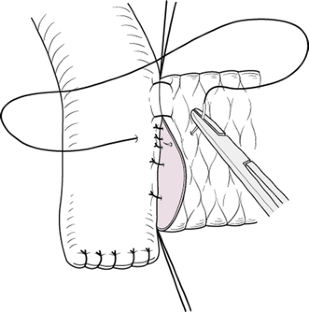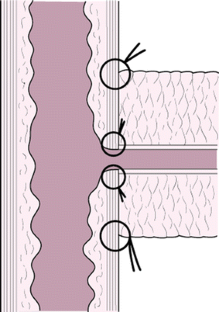 References
1.

Imaizumi T, Oida Y, Ishii M, Tobita K, Dowaki S, Yazawa N, Matsuyama M, Makuuchi H. A proposal concerning pancreatic reconstruction. J Jpn Panc Soc. 2007;22:609–19 (in Japanese).

2.

Bassi C, Dervenis C, Butturini G, Fingerhut A, Yeo C, Izbicki J, Neoptolemos J, Sarr M, Traverso W, Buchler M, International Study Group on Pancreatic Fistula Definition. Postoperative pancreatic fistula: an international study group (ISGPF) definition. Surgery. 2005;138:8–13.

3.

Yeo CJ, Cameron JL, Sohn TA, Lillemoe KD, Pitt HA, Talamini MA, Hruban RH, Ord SE, Sauter PK, Coleman J, Zahurak ML, Grochow LB, Abrams RA. Six hundred fifty consecutive pancreaticoduodenectomies in the 1990s: pathology, complications, and outcomes. Ann Surg. 1997;226:248–60.

4.

Okamoto A, Tsuruta K. Fistulation method: simple and safe pancreaticojejunostomy after pancreaticoduodenectomy. Surgery. 2000;127:433–8.

5.

Yoshimi T, Ono H, Asato Y, Ohta T, Koizumi S, Amemita R, Hasegawa H. Internal stenting of the hepaticojejunostomy and pancreaticojejunostomy in patients undergoing pancreatoduodenectomy to promote earlier discharge from hospital. Surg Today Jpn J Surg. 1996;26:665–7.

6.

Roder JD, Stein HJ, Bottcher K, Busch R, Heidecke CD, Siewert JR. Stented versus nonstented pancreaticojejunostomy after pancreatoduodenectomy: a prospective study. Ann Surg. 1999;229:41–8.

7.

Bartoli FG, Amone GB, Ravera G, Bachi V. Pancreatic fistula and relative mortality in malignant disease after pancreaticoduodenectomy: review and statistical meta-analysis regarding 15 years of literature. Anticancer Res. 1991;11:1831–48.

8.

Cameron JL, Riall TS, Coleman J, Belcher KA. One thousand consecutive pancreaticoduodenectomies. Ann Surg. 2006;244:10–5.

9.

Imaizumi T, Hatori T, Tobita T, Fukuda A, Takasaki K, Makuuchi H. Pancreaticojejunostomy using duct-to-mucosa anastomosis without a stenting tube. J Hepatobiliary Pancreat Surg. 2006;13:194–201.

10.

Winter JM, Cameron JL, Campbell KA, Chang DC, Riall TS, Schulick RD. Does pancreatic duct stenting decrease the rate of pancreatic fistula following pancreaticoduodenectomy? Results of a prospective randomized trial. J Gastrointest Surg. 2006;10:1280–90.

11.

Satoi S, Toyokawa H, Yanagimoto H, Yamamoto T, Hirooka S, Yui R, Yamaki S, Takahashi K, Matsui Y, Mergental H, Kwon AH. Is a nonstented duct-to-mucosa anastomosis using the modified Kakita method a safe procedure? Pancreas. 2010;39:165–70.

12.

Lee SE, Ahn YJ, Jang JY, Kim SW. Prospective randomized pilot trial comparing closed suction drainage and gravity drainage of the pancreatic duct in pancreaticojejunostomy. J Hepatobiliary Pancreat Surg. 2009;16:837–43.

13.

Kimura W. Pancreaticojejunal anastomosis, using a stent tube, in pancreaticoduodenectomy. J Hepatobiliary Pancreat Surg. 2009;16:305–9.

14.

Kakita A, Yoshida M, Takahashi T. History of pancreaticojejunostomy in pancreaticoduodenectomy: development of a more reliable anastomosis technique. J Hepatobiliary Pancreat Surg. 2001;8:230–7.

15.

Kausch W. Das Carcinoma der Papilla duodeni and seine radikale Entfernung. Betrag Z Klin Chir. 1912;78:439–86.

16.

Whipple AO, Parsons WB, Mullins CR. Treatment of carcinoma of the ampulla of Vater. Ann Surg. 1935;102:763–79.
Conflict of interest
I have no conflict of interest.
Additional information
This article is based on the studies first reported in Highly Advanced Surgery for Hepato-Biliary-Pancreatic Field (in Japanese). Tokyo: Igaku-Shoin, 2010.
Electronic supplementary material
Below is the link to the electronic supplementary material.
Supplementary material 1 (MPG 16346 kb)
About this article
Cite this article
Hatori, T. Pancreaticojejunostomy without stent (with video). J Hepatobiliary Pancreat Sci 19, 125–130 (2012) doi:10.1007/s00534-011-0470-x
Keywords
Pancreatic reconstruction

Pancreaticojejunostomy without stent

Duct-to-mucosa anastomosis

Pancreaticoduodenectomy

Middle pancreatectomy