Abstract
The procedure used to isolate the hepatic artery, the portal vein and the bile duct separately at the hepatic hilum was first reported in the 1940s, and remains significant as an essential technique for liver surgery in the era of more complicated liver surgery and liver transplantation. The anatomy of the vessels at the hepatic hilum is highly variable; therefore, preoperative imaging studies are indispensable for understanding the anatomy in each individual patient. The minimal extent of the transection should be defined according to the operative procedure, as excessive disruption of the blood flow and lymphatic vessels can induce postoperative complications. When isolating the vessels, gentle handling and appropriate ligation/division of the vessels are required to avoid bleeding and injuries to the vessels to be preserved. The bile duct is wrapped with perivascular connective tissue and is difficult to isolate separately. Therefore, the hilar plate should be divided together with the bile duct, under the guidance of intraoperative cholangiography.
This is a preview of subscription content, log in to check access.
Access options
Buy single article
Instant unlimited access to the full article PDF.
US$ 39.95
Price includes VAT for USA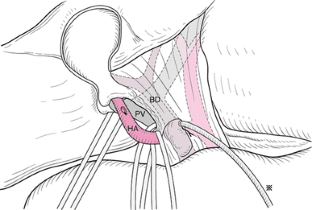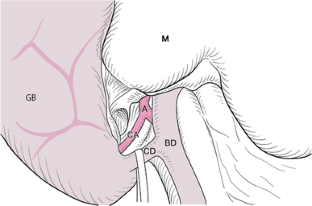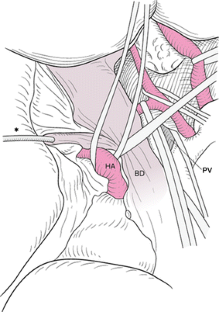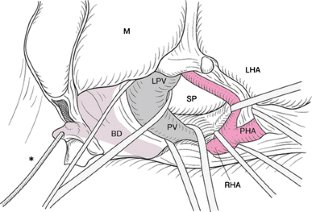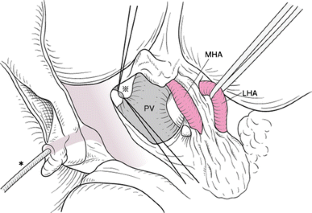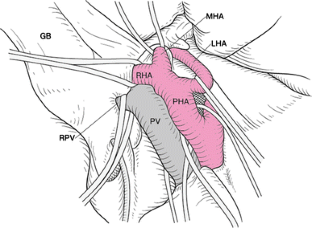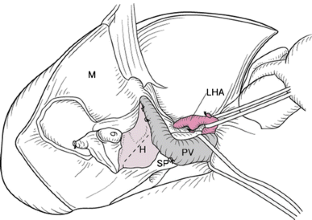 References
1.

Donovan EJ, Santulli TV. Resection of the left lobe of the liver for mesenchyoma: report of case. Ann Surg. 1946;124:90–3.

2.

Honjo I. Total resection of the right lobe of the liver. Syujyutu. 1950;4:345–9. (in Japanese).

3.

Lortat-Jacob JL, Robert HG. Well defined technic for right hepatectomy. Presse Med. 1952;60:549–51.

4.

Quattlebaum JK. Massive resection of the liver. Ann Surg. 1953;137:787–95.

5.

Pack GT, Baker HW. Total right hepatic lobectomy. Ann Surg. 1953;138:253–8.

6.

Makuuchi M, Hasegawa H, Yamazaki S. Ultrasonically guided subsegmentectomy. Surg Gynecol Obstet. 1985;161:346–50.

7.

Kanematsu T, Takenaka K, Matsumata T, Furuta T, Sugimachi K, Inokuchi K. Limited hepatic resection effective for selected cirrhotic patients with primary liver cancer. Ann Surg. 1984;199:51–6.

8.

Suzuki H. Correlation and anomalies of the vascular structure in Glisson's area around the hepatic hilum, from the standpoint of hepatobiliary surgery. Nippon Geka Hokan. 1982;51:713–31. (in Japanese).
Conflict of interest
The authors declare that they have no conflict of interest.
Additional information
This article is based on studies first reported in Highly Advanced Surgery for Hepato-Biliary-Pancreatic Field (in Japanese). Tokyo: Igaku-shoin; 2010.
Electronic supplementary material
Below is the link to the electronic supplementary material.
Supplementary material 1 (MPG 54478 kb)
About this article
Cite this article
Kokudo, N., Aoki, T. Hepatic hilar transection method for liver surgery (with video). J Hepatobiliary Pancreat Sci 19, 9–14 (2012) doi:10.1007/s00534-011-0444-z
Keywords
Hepatic hilar transection

Caudate branch of the portal vein

Hilar plate

Intraoperative cholangiography