Abstract
Background
Hepatic venous outflow reconstruction after major hepatectomy for advanced hepatic malignancies is often difficult even for experienced surgeons because of difficulties in application of anastomotic techniques and selection of the appropriate graft. We present our approach to hepatic venous reconstruction using an external iliac vein (EIV) graft for patients with hepatic malignancies.
Methods
The EIV graft was preoperatively assessed using three-dimensional abdominal multidetector computed tomography (MDCT). The EIV graft (3.5–4.5 cm) was harvested extraperitoneally through an upper groin incision. First, the inferior vena cava and the EIV graft were sutured at two separate sites by using 6/0 propolypropylene as a traction suture with an operating loupe (×2.5) under hemi-hepatic portal inflow occlusion. The distal end of the right hepatic vein (HV) was then reconstructed using the same technique. Graft patency was confirmed by intraoperative color Doppler ultrasonography (Aloca SSD2000, Japan).
Results
The mean reconstruction time was 34 ± 6 min. There were no complications related to the HV reconstruction and no mortality. Follow-up MDCT showed patency of the graft in all cases without noticeable caliber change.
Conclusions
The EIV graft for hepatic venous outflow reconstruction during hepatic resection is a simple technique with long-term graft patency for major HV reconstruction.
This is a preview of subscription content, log in to check access.
Access options
Buy single article
Instant unlimited access to the full article PDF.
US$ 39.95
Price includes VAT for USA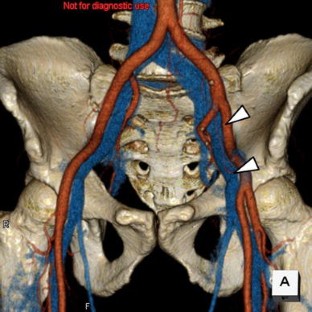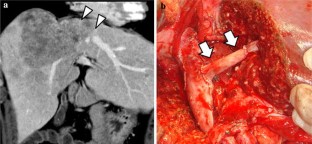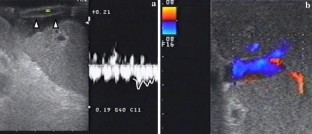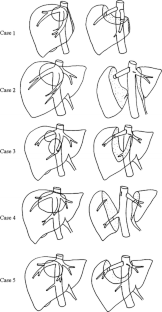 References
1.

Sano K, Makuuchi M, Miki K, Maema A, Sugawara Y, Imamura H, et al. Evaluation of hepatic venous congestion: proposed indication criteria for hepatic vein reconstruction. Ann Surg. 2002;236:241–7.

2.

Huguet C, Addario-Chieco P, Gavelli A, Arrigo E, Harb J, Clement RR. Technique of hepatic vascular exclusion for extensive liver resection. Am J Surg. 1992;163:602–5.

3.

Shaw BW Jr, Martin DJ, Marquez JM, Kang YG, Bugbee AC Jr, Iwatsuki S, et al. Venous bypass in clinical liver transplantation. Ann Surg. 1984;200:524–34.

4.

Kneuertz PJ, Maithel SK, Staley CA, Kooby DA. Chemotherapy-associated liver injury: impact on surgical management of colorectal cancer liver metastases. Ann Surg Oncol 2011; 18:181-190

5.

Nakano H, Oussoultzoglou E, Rosso E, Casnedi S, Chenard-Neu MP, Dufour P, et al. Sinusoidal injury increases morbidity after major hepatectomy in patients with colorectal liver metastases receiving preoperative chemotherapy. Ann Surg. 2008;247:118–24.

6.

Makuuchi M, Hasegawa H, Yamazaki S, Takayasu K. Four new hepatectomy procedures for resection of the right hepatic vein and preservation of the inferior right hepatic vein. Surg Gynecol Obstet. 1987;164:68–72.

7.

Del Campo C. Reconstruction of the hepatic and portal veins using a patch from the right ovarian vein. Am J Surg. 2000;179:77–8.

8.

Hemming AW, Reed AI. Left trisegmentectomy with reconstruction of segment 6 hepatic venous outflow using cryopreserved vein graft. J Gastrointest Surg. 2005;9:353–6.

9.

Hemming AW, Reed AI, Langham MR, Fujita S, van der Werf WJ, Howard RJ. Hepatic vein reconstruction for resection of hepatic tumors. Ann Surg. 2002;235:850–8.

10.

Kaneoka Y, Yamaguchi A, Isogai M, Hori A. Hepatic vein reconstruction by external iliac vein graft using vascular clips. World J Surg. 2000;24:377–82.

11.

Miyazaki M, Ito H, Kimura F, Shimizu H, Togawa A, Ohtsuka M, et al. Hepatic vein reconstruction using autologous vein graft for resection of advanced hepatobiliary malignancy. Hepatogastroenterology. 2004;51:1581–5.

12.

Miyazaki M, Itoh H, Kaiho T, Ambiru S, Togawa A, Sasada K, et al. Portal vein reconstruction at the hepatic hilus using a left renal vein graft. J Am Coll Surg. 1995;180:497–8.

13.

Nakamura S, Sakaguchi S, Kitazawa T, Suzuki S, Koyano K, Muro H. Hepatic vein reconstruction for preserving remnant liver function. Arch Surg. 1990;125:1455–9.

14.

Ohwada S, Ogawa T, Ohya T, Kawashima Y, Nakamura S, Satoh Y, et al. Gonadal vein graft for hepatic artery reconstruction. Hepatogastroenterology. 1999;46:1823–6.

15.

Ohwada S, Takeyoshi I, Ogawa T, Ohya T, Saitoh A, Kawashima K, et al. Hepatic vein reconstruction at inferior vena cava confluence using left renal vein graft. Hepatogastroenterology. 1998;45:1833–6.

16.

Sakamoto Y, Yamamoto J, Saiura A, Koga R, Kokudo N, Kosuge T, et al. Reconstruction of hepatic or portal veins by use of newly customized great saphenous vein grafts. Langenbecks Arch Surg. 2004;389:110–3.

17.

Sano T, Shimada K, Nara S, Sakamoto Y, Kosuge T. Reconstruction of hepatic venous tributaries using a Y-shaped left portal vein graft harvested from a resected left liver. Hepatogastroenterology. 2008;55:228–30.

18.

Wakabayashi H, Maeba T, Okano K, Arioka I, Okada S, Maeta H. Treatment of recurrent hepatocellular carcinoma by hepatectomy with right and middle hepatic vein reconstruction using total vascular exclusion with extracorporeal bypass and hypothermic hepatic perfusion: report of a case. Surg Today. 1998;28:547–50.

19.

Wakabayashi H, Ishimura K, Izuishi K, Karasawa Y, Maeta H. Evaluation of liver function for hepatic resection for hepatocellular carcinoma in the liver with damaged parenchyma. J Surg Res. 2004;116:248–52.

20.

Awai K, Hiraishi K, Hori S. Effect of contrast material injection duration and rate on aortic peak time and peak enhancement at dynamic CT involving injection protocol with dose tailored to patient weight. Radiology. 2004;230:142–50.

21.

Nakamura S, Suzuki S, Hachiya T, Ochiai H, Konno H, Baba S. Direct hepatic vein anastomosis during hepatectomy for colorectal liver metastases. Am J Surg. 1997;174:331–3.

22.

Nakamura S, Sakaguchi S, Hachiya T, Suzuki S, Nishiyama R, Konno H, et al. Significance of hepatic vein reconstruction in hepatectomy. Surgery. 1993;114:59–64.

23.

Nagino M, Nimura Y, Kamiya J, Kondo S, Uesaka K, Kin Y, et al. Right or left trisegment portal vein embolization before hepatic trisegmentectomy for hilar bile duct carcinoma. Surgery. 1995;117:677–81.

24.

McCullough DL, Gittes RF. Ligation of the renal vein in the solitary kidney: effects on renal function. J Urol. 1975;113:295–8.

25.

Yamamoto J, Kosuge T, Takayama T, Shimada K, Yamasaki S, Ozaki H, et al. Perioperative blood transfusion promotes recurrence of hepatocellular carcinoma after hepatectomy. Surgery. 1994;115:303–9.
Acknowledgments
We are grateful to Dr. Yoichi Yamashita and Dr. Taiko Horii (Department of Cardiovascular Surgery, Kagawa University, Japan) for their technical advice.
Conflict of interest
The authors declare no conflicts of interest.
Electronic supplementary material
Below is the link to the electronic supplementary material.
Supplementary Video Clip. This video shows our approach to hepatic venous reconstruction using an external iliac vein (EIV) graft for patients with hepatic malignancies (MPG 6852 kb)
About this article
Cite this article
Okano, K., Oshima, M. & Suzuki, Y. Hepatic venous outflow reconstruction using an external iliac vein graft for hepatic malignancies (with video). J Hepatobiliary Pancreat Sci 19, 85–90 (2012) doi:10.1007/s00534-011-0434-1
Keywords
Hepatic vein

Reconstruction

External iliac vein

Graft

Hepatic malignancies