Abstract
Aim
To assess the impact of a pilot nurse-led paediatric oncology fast-track clinic (OFTC) for complications and side effects following chemotherapy within a paediatric tertiary hospital.
Methods
Prospective clinical data from the first 100 patients seen in the OFTC were compared with retrospective data of oncology patient presentations to the emergency department (ED) (over a 1-year period, n = 196) who would have been eligible for review in the OFTC. Parent and patient satisfaction of clinical care were also assessed via surveys pre- and post-OFTC implementation.
Results
Analysis which achieved statistical difference was a reduction in the number of blood tubes taken in OFTC (average 1.9 for those discharged from clinic, 2.9 for those admitted from clinic) in comparison to those seen in the ED (average 3.2) (p = 0.0027). The average number of interventions per patient seen in the ED were 2.1 (standard deviation 1.64) compared with 1.7 (standard deviation 1.55) interventions per patient seen in the OFTC, and who were not admitted following review. This result approached statistical significance with p = 0.0963. Other results which did not meet statistical significance included a reduction in treatment times, hospital admissions and medical oncology reviews.
Conclusion
Our pilot study implementing an OFTC for the triage and assessment of chemotherapy-related complications has proven successful from an operational and consumer perspective. The clinic improved care by ensuring expedited review, more streamlined interventions, and less overall hospital admissions. The improvements in efficiency were also mirrored by increased parent and patient satisfaction.
This is a preview of subscription content, log in to check access.
Access options
Buy single article
Instant unlimited access to the full article PDF.
US$ 39.95
Price includes VAT for USA
Subscribe to journal
Immediate online access to all issues from 2019. Subscription will auto renew annually.
US$ 199
This is the net price. Taxes to be calculated in checkout.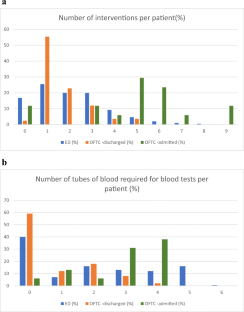 References
1.

Moore S, Corner J, Haviland J, Wells M, Salmon E, Normand C, Brada M, O'Brien M, Smith I (2002) Nurse led follow up and conventional medical follow up in management of patients with lung cancer: randomised trial. BMJ 325(7377)

2.

Anderson B (2010) The benefits to nurse led telephone follow-up for prostate cancer. Br J Nursing 19(17):5

3.

Toruner E, Altay N (2018) New trends and recent care approaches in pediatric oncology nursing. Asia Pac J Oncol Nurs 5(2):9

4.

Group CaYPsCNGotRCoNatCsCaL (2016) Oncology/Haematology Telephone Triage Tool Kit for Children and Young People The Tool Kit Manual. Accessed 16 October 2019

5.

Jones P (2016) Oncology/ haematology telephone triage tool kit for children and young people- evaluation report United Kingdom Oncology Nursing Society, Childrens Cancer and Leukaemia Group

6.

Cheng X, Wei S, Zhang H, Xue S, Wang W, Zhang K (2018) Nurse led interventions on quality of life for patients with cancer: a meta-analysis. Medicine (Baltimore) 97(34)

7.

Charalambous A, Wells M, Campbell P, Torrens C, Ostlund U, Oldenmenger W, Patiraki E, Sharp L, Nohavova I, Domenech-Climent N, Eicher M, Farrell C, Larsson M, Olsson C, Simpson M, Wiseman T, Kelly D (2018) A scoping review of trials of interventions led or delivered by cancer nurses. Int J Nurs Stud 86:8

8.

Mace A, McLeod C, Yeoh D, Vine J, Chen Y, Martin A, Blyth C, Bowen A (2018) Dedicated paediatric outpatient parenteral antimicrobial therapy medical support: a pre–post observational study. Arch Dis Child 103(2):5

9.

Nguyen V, Sarik DA, Dejos M, Hilmas E (2018) Development of an Interprofessional pharmacist-nurse navigation pediatric discharge program. J Pediatr Pharmacol Ther 23(4):9

10.

Eade D, Telfer M, Tollit M (2018) Implementing a single-session nurse led assessment clinic into a gender service. Transgender Health 3(1)

11.

Mackie A, Rempel G, Kovacs A, Kaufman M, Rankin K, Jelen A, Yaskina M, Sananes R, Oechslin E, Dragieva D, Mustafa S, Williams E, Schuh M, Manlhiot C, Anthony S, Magill-Evans J, Nicholas D, McCrindle B (2018) Transition intervention for adolescents with congenital heart disease. J Am Coll Cardiol 71(16):10

12.

Ramelet A-S, Fonjallaz B, Rio L, Zoni S, Ballabeni P, Rapin J, Gueniat C, Hofer M (2017) Impact of a nurse led telephone intervention on satisfaction and health outcomes of children with inflammatory rheumatic diseases and their families: a crossover randomized clinical trial. BMC Pediatr 17(1):168–110. https://doi.org/10.1186/s12887-017-0926-5

13.

Lin H, Zhou S, Zhang D, Huang L (2016) Evaluation of a nurse led management program to complement the treatment of adolescent acute lymphoblastic leukemia patients. Appl Nurs Res 32:5

14.

O'Grady N, Alexander M, Dellinger M, Gerberding J, Heard S, Maki D, Masur H, McCormick R, Mermel L, Pearson M, Raad I, Randolph A, Weinstein R (2002) Guidelines for the prevention of intravascular catheter-related infections. The hospital infection control practices advisory committee, Center for Disease Control and Prevention, U.S. pediatrics 110 (5)

15.

Berglund C, Gustafsson E, Johansson H, Bergenmar M (2015) Nurse led outpatient clinics in oncology care - patient satisfaction, information and continuity of care. Eur J Oncol Nurs 19(6):7

16.

Ying F, Ping M, Tong M, Yan E, Yee T, Ting L, Sim A, Yu L, Shiu B, Kin A (2018) A cohort study on protocol-based nurse led out-patient management of post-chemotherapy low-risk febrile neutropenia. Support Care Cancer 26(9):7
Acknowledgement
Access to the Oncology/Haematology Telephone Triage Tool Kit for Children and Young People was enabled by the Children and Young Peoples Cancer Nurses Group of the Royal College of Nursing and the Children's Cancer and Leukaemia Group (CCLG).
Funding information
Department of Health and Human Services for provision of the grant for the pilot study. The Paediatric Integrated Cancer Services for providing funding and support for the mail out, patient magnet and support of the pilot project.
Ethics declarations
Conflict of interest
The authors do not have a financial relationship with the organization that sponsored the research or regarding authorship of the manuscript. None of the contributing authors have any conflict of interest to declare. The authors have full control of all the primary data and agree to allow the journal to access this data if requested. The authors confirm that there are no known conflicts of interest associated with this publication.
Additional information
Publisher's note
Springer Nature remains neutral with regard to jurisdictional claims in published maps and institutional affiliations.
About this article
Cite this article
Wong, A., Glogolia, M., Lange, P.W. et al. A nurse-led paediatric oncology fast-track clinic proves a successful ambulatory intervention for patients. Support Care Cancer (2020) doi:10.1007/s00520-019-05250-w
Received:

Accepted:

Published:
Keywords
Paediatric nurse led clinic

Paediatric oncology

Chemotherapy side effects

Peadiatric specialist nurse