Abstract
Purpose
The use of central venous catheters with peripheral insertion (PICC) has increased rapidly in recent years, particularly in cancer patients. The benefits provided may occasionally be affected by relevant complications, such as infections and thrombotic events, especially in neuro-oncological patients. To date, the risk of PICC-related complications in this subset of patients is unknown, as is tolerability. As a primary objective, this study aimed to collect complications related to PICCs in primary neuro-oncological patients. As a secondary objective, the study aimed to evaluate PICC tolerability.
Methods
Neuro-oncological patients with PICCs that were placed as part of normal clinical practice at IRCCS Neurologico C. Besta were consecutively enrolled in the study. PICC-related complications were recorded immediately (during the procedure), early (within 1 week after PICC insertion), and late (1–3-5 months after PICC placement). At the same time points, all patients were also evaluated for tolerability through interviews with semi-structured, open-ended questions.
Results
Sixty patients were enrolled (41 males and 19 females, with a median age of 56.2 years). Excluding loss to follow-up, 33/49 patients developed at least one complication related to the PICC. Immediate complications mainly included hematoma (8), accidental arterial puncture (4), and primary malpositioning (3). Regarding early and late complications, 3 device-related infections, 8 thrombotic events, and 20 mechanical complications were registered. Semi-structured interviews revealed an overall positive experience with the device. The most negative impact was on hygiene habits, with 34 patients becoming caregiver-dependent. Over time, almost all patients became used to the device and perceived greater security during chemotherapy. A strongly negative issue was the difficulty of relying on competently trained healthcare personnel in outpatient setting.
Conclusion
The results showed a nonnegligible increased thromboembolic risk in neuro-oncological patients with PICCs, almost double that in historical oncological populations. It is essential to extend the study to a greater number of patients to achieve reliable results and to identify patients at high risk. The device seems to be positively accepted by the majority of patients, without affecting activities of daily living.
This is a preview of subscription content, log in to check access.
Access options
Buy single article
Instant unlimited access to the full article PDF.
US$ 39.95
Price includes VAT for USA
Subscribe to journal
Immediate online access to all issues from 2019. Subscription will auto renew annually.
US$ 199
This is the net price. Taxes to be calculated in checkout.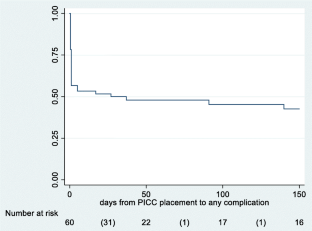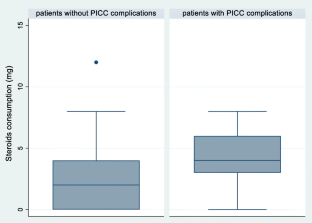 References
1.

Sousa B, Furlanetto J, Hutka M et al (2015) Central venous access in oncology: ESMO clinical practice guidelines. Ann Oncol 26(Suppl 5):v152–v168

2.

Cotogni P, Pittiruti M (2014) Focus on peripherally inserted central catheters in critically ill patients. World J Crit Care Med 3(4):80–94

3.

O'Grady NP, Alexander M, Burns LA (2011) Guidelines for the prevention of intravascular catheter-related infections. Clin Infect Dis 52(9):e162–e193

4.

Agnelli G, Piovella F, Buoncristiani P, Severi P, Pini M, D'Angelo A, Beltrametti C, Damiani M, Andrioli GC, Pugliese R, Iorio A, Brambilla G (1998) Enoxaparin plus compression stockings compared with compression stockings alone in the prevention of venous thromboembolism after elective neurosurgery. N Engl J Med 339:80–85

5.

Constantini S, Kanner A, Friedman A, Shoshan Y, Israel Z, Ashkenazi E, Gertel M, Even A, Shevach Y, Shalit M, Umansky F, Rappaport ZH (2001) Safety of perioperative minidose heparin in patients undergoing brain tumor surgery: a prospective, randomized, double-blind study. J Neurosurg 94:918–921

6.

Macdonald RL, Amidei C, Baron J et al (2003) Randomized, pilot study of intermittent pneumatic compression devices plus dalteparin versus intermittent pneumatic compression devices plus heparin for prevention of venous thromboembolism in patients undergoing craniotomy. Surg Neurol 59:363–372

7.

Perry JR (2012) Thromboembolic disease in patients with high-grade glioma. Neuro-Oncology 14(Suppl 4):iv73–iv80

8.

Hohaus S, Tisi MC, Bartolomei F et al (2018) Risk factors for venous thromboembolism in patients with lymphoma requiring hospitalization. Blood Cancer J 8(6):54

9.

Mahajan A, Brunson AM, Keegan THM et al (2017) Incidence of venous thromboembolism and impact on mortality in patients with primary CNS lymphoma: a population based study. Blood 130:754

10.

Chopra V, O'Horo JC, Rogers MA (2013) The risk of bloodstream infection associated with peripherally inserted central catheters compared with central venous catheters in adults: a systematic review and meta-analysis. Infect Control Hosp Epidemiol 34(9):908–918

11.

Kramer RD, Rogers MA, Conte M (2017) Are antimicrobial peripherally inserted central catheters associated with reduction in central line-associated bloodstream infection? A systematic review and meta-analysis. Am J Infect Control 45(2):108–114

12.

Cameron AC, Touyz RM, Lang NN (2016) Vascular complications of cancer chemotherapy. Can J Cardiol 32(7):852–862

13.

Cotogni P, Barbero C, Garrino C (2015) Peripherally inserted central catheters in non-hospitalized cancer patients: 5-year results of a prospective study. Support Care Cancer 23(2):403–409

14.

Tian G, Zhu Y, Qi L, Guo F, Xu H (2010) Efficacy of multifaceted interventions in reducing complications of peripherally inserted central catheter in adult oncology patients. Support Care Cancer 18:1293–1298

15.

Marmel LA (2000) Prevention of intravascular catheter-related infections. Ann Intern Med 132:391–402

16.

Kang J, Chen W, Sun W, Ge R, Li H, Ma E, Su Q, Cheng F, Hong J, Zhang Y, Lei C, Wang X, Jin A, Liu W (2017) Peripherally inserted central catheter-related complications in cancer patients: a prospective study of over 50,000 catheter days. J Vasc Access 18(2):153–157

17.

Lin RJ, Green DL, Shah GL (2018) Therapeutic anticoagulation in patients with primary brain tumors or secondary brain metastasis. Oncologist 23(4):468–473

18.

King MM, Rasnake MS, Rodriguez RG, Riley NJ, Stamm JA (2006) Peripherally inserted central venous catheter–associated thrombosis: retrospective analysis of clinical risk factors in adult patients. South Med J 99(10):1073–1077

19.

Marnejon T, Angelo D, Abu Abdou A, Gemmel D (2012) Risk factors for upper extremity venous thrombosis associated with peripherally inserted central venous catheters. J Vasc Access 13(2):231–238

20.

Kahale LA, Tsolakian IG, Hakoum MB et al (2018) Anticoagulation for people with cancer and central venous catheters. Cochrane Database Syst Rev (6)

21.

Park K, Jun HJ, Oh SY (2016) Safety, efficacy, and patient-perceived satisfaction of peripherally inserted central catheters in terminally ill cancer patients: a prospective multicenter observational study. Support Care Cancer 24(12):4987–4992

22.

Parás-Bravo P, Paz-Zulueta M, Santibañez M (2018) Living with a peripherally inserted central catheter: the perspective of cancer outpatients-a qualitative study. Support Care Cancer 26(2):441–449
Ethics declarations
All human studies have been approved by the appropriate ethics committee and have therefore been performed in accordance with the ethical standards laid down in the 1964 Declaration of Helsinki. All participants gave their informed consent prior to their inclusion in the study.
Conflict of interest
The authors declare that they have no conflict of interest.
Additional information
Publisher's note
Springer Nature remains neutral with regard to jurisdictional claims in published maps and institutional affiliations.
About this article
Cite this article
Simonetti, G., Sommariva, A., Lusignani, M. et al. Prospective observational study on the complications and tolerability of a peripherally inserted central catheter (PICC) in neuro-oncological patients. Support Care Cancer (2019) doi:10.1007/s00520-019-05128-x
Received:

Accepted:

Published:
Keywords
Peripherally inserted central catheter (PICC)

High-grade glioma

Catheter-related bloodstream infection (CRBSI)

Catheter-related thromboembolism