Abstract
Objectives
To provide an overview of costs associated with the treatment of breast cancer-related lymphoedema (BCRL) and its possible sequelae, borne by patients or by society.
Data sources
According to the PRISMA guideline, a systematic literature search was carried out in four electronic databases: PubMed, Web of Science, Cochrane Clinical Trials and EMBASE. Searches were performed on October 1, 2018.
Study selection
Eligibility criteria: (1) expenses of adults (age > 18 years), (2) concerning patients with BCRL, (3) overview of (in)direct costs associated with BCRL, (4) expenses in which at least one type of conservative treatment modality for lymphoedema is included and/or costs for hospital admissions due to infections. Reviews and meta-analyses were excluded.
Data extraction
After assessing the risk of bias and level of evidence, quantitative data on (in)direct costs for BCRL treatment during a well-mentioned timeframe were extracted.
Data synthesis
Eight studies were included. Three studies reported on patient-borne costs related to BCRL. Mean direct costs per year borne by patients ranged between USD$2306 and USD$2574. Indirect costs borne by patients ranged between USD$3325 and USD$5545 per year. Five studies estimated society-borne costs related to BCRL from claims data, billing prices and providers' services during 12 to 24 months of follow-up. Mean direct treatment costs after 1 year of decongestive lymphatic therapy (DLT) ranged between €799 (= USD$1126.60) and USD$3165.
Conclusion
This systematic review revealed that BCRL imposes a substantial economic burden on patients and society. However, more standardized high-quality health economic analyses among this field are required. Recent economic analyses related to BCRL treatment in Europe, Asia, Africa and South America are lacking. Worldwide, further scrutiny of the economic impact of DLT for BCRL in clinical settings is needed.
Clinical trial registration number
The review makes part of a double-blind, multi-center, randomized controlled trial (EFforT-BCRL trial), which is registered in clinicaltrials.gov (NCT02609724). CME reference S58689, EudraCT Number 2015-004822-33.
This is a preview of subscription content, log in to check access.
Access options
Buy single article
Instant unlimited access to the full article PDF.
US$ 39.95
Price includes VAT for USA
Subscribe to journal
Immediate online access to all issues from 2019. Subscription will auto renew annually.
US$ 199
This is the net price. Taxes to be calculated in checkout.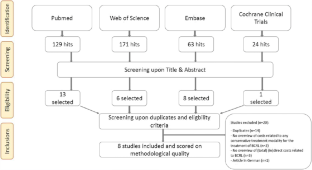 References
1.

Ferlay J, Soerjomataram I, Dikshit R, Eser S, Mathers C, Rebelo M, Parkin DM, Forman D, Bray F (2015) Cancer incidence and mortality worldwide: sources, methods and major patterns in GLOBOCAN 2012. Int J Cancer 136(5):E359–E386

2.

Devoogdt N, Van Kampen M, Christiaens MR et al (2011) Short- and long-term recovery of upper limb function after axillary lymph node dissection. Eur J Cancer Care 20(1):77–86

3.

Kast K, Schoffer O, Link T, Forberger A, Petzold A, Niedostatek A, Werner C, Klug SJ, Werner A, Gatzweiler A, Richter B, Baretton G, Wimberger P (2017) Trastuzumab and survival of patients with metastatic breast cancer. Arch Gynecol Obstet 296(2):303–312

4.

Eggemann H, Altmann U, Costa SD, Ignatov A (2018) Survival benefit of tamoxifen and aromatase inhibitor in male and female breast cancer. J Cancer Res Clin Oncol 144(2):337–341

5.

Christiansen P, Carstensen SL, Ejlertsen B et al (2018) Breast conserving surgery versus mastectomy: overall and relative survival-a population based study by the Danish Breast Cancer Cooperative Group (DBCG). Acta Oncol 57(1):19–25

6.

Yoon TI, Hwang UK, Kim ET, Lee S, Sohn G, Ko BS, Lee JW, Son BH, Kim S, Ahn SH, Kim HJ (2017) Survival improvement in hormone-responsive young breast cancer patients with endocrine therapy. Breast Cancer Res Treat 165(2):311–320

7.

Beckjord EB, Reynolds KA, van Londen GJ, Burns R, Singh R, Arvey SR, Nutt SA, Rechis R (2014) Population-level trends in posttreatment cancer survivors' concerns and associated receipt of care: results from the 2006 and 2010 LIVESTRONG surveys. J Psychosoc Oncol 32(2):125–151

8.

Lasinski BB, McKillip Thrift K, Squire D, Austin MK, Smith KM, Wanchai A, Green JM, Stewart BR, Cormier JN, Armer JM (2012) A systematic review of the evidence for complete decongestive therapy in the treatment of lymphedema from 2004 to 2011. PM R 4(8):580–601

9.

DiSipio T, Rye S, Newman B et al (2013) Incidence of unilateral arm lymphoedema after breast cancer: a systematic review and meta-analysis. Lancet Oncol 14(6):500–515

10.

Fu MR, Ridner SH, Hu SH, Stewart BR, Cormier JN, Armer JM (2013) Psychosocial impact of lymphedema: a systematic review of literature from 2004 to 2011. Psycho-oncology 22(7):1466–1484

11.

Morgan CL, Lee BB (2008) Classification and staging of lymphedema. In Lymphedema. Springer, USA, pp 21–30

12.

Boyages J, Xu Y, Kalfa S, Koelmeyer L, Parkinson B, Mackie H, Viveros H, Gollan P, Taksa L (2017) Financial cost of lymphedema borne by women with breast cancer. Psycho-oncology. 26(6):849–855

13.

Armer JM, Radina ME, Porock D, Culbertson SD (2003) Predicting breast cancer-related lymphedema using self-reported symptoms. Nurs Res 52(6):370–379

14.

Shih YC, Xu Y, Cormier JN, Giordano S, Ridner SH, Buchholz TA, Perkins GH, Elting LS (2009) Incidence, treatment costs, and complications of lymphedema after breast cancer among women of working age: a 2-year follow-up study. J Clin Oncol 27(12):2007–2014

15.

(2013) The diagnosis and treatment of peripheral lymphedema: 2013 Consensus Document of the International Society of Lymphology. Lymphology 46(1):1–11

16.

Gebruers N, Verbelen H, De Vrieze T et al (2017) Current and future perspectives on the evaluation, prevention and conservative management of breast cancer related lymphoedema: a best practice guideline. Eur J Obstet Gynecol Reprod Biol 216:245–253

17.

(2006) International Lymphoedema Framework I. Best Practice for the Management of Lymphoedema: International Consensus

18.

Liberati A, Altman DG, Tetzlaff J et al (2009) The PRISMA statement for reporting systematic reviews and meta-analyses of studies that evaluate health care interventions: explanation and elaboration. J Clin Epidemiol 62(10):e1–e34

19.

Wijnen B, Van Mastrigt G, Redekop WK et al (2016) How to prepare a systematic review of economic evaluations for informing evidence-based healthcare decisions: data extraction, risk of bias, and transferability (part 3/3). Expert Rev Pharmacoecon Outcomes Res 16(6):723–732

20.

Karki A, Anttila H, Tasmuth T et al (2009) Lymphoedema therapy in breast cancer patients: a systematic review on effectiveness and a survey of current practices and costs in Finland. Acta Oncol 48(6):850–859

21.

Gutknecht M, Herberger K, Klose K et al (2017) Cost-of-illness of patients with lymphoedema. J Eur Acad Dermatol Venereol 31(11):1930–1935

22.

Schmitz KH, DiSipio T, Gordon LG et al (2015) Adverse breast cancer treatment effects: the economic case for making rehabilitative programs standard of care. Support Care Cancer 23(6):1807–1817

23.

Moffatt CJ, Doherty DC, Franks PJ, Mortimer PS (2018) Community-based treatment for chronic edema: an effective service model. Lymphat Res Biol 16(1):92–99

24.

Basta MN, Fox JP, Kanchwala SK, Wu LC, Serletti JM, Kovach SJ, Fosnot J, Fischer JP (2016) Complicated breast cancer-related lymphedema: evaluating health care resource utilization and associated costs of management. Am J Surg 211(1):133–141

25.

Dean LT, Moss SL, Ransome Y et al (2018) "It still affects our economic situation": long-term economic burden of breast cancer and lymphedema. Support Care Cancer

26.

Stout NL, Pfalzer LA, Springer B, Levy E, McGarvey C, Danoff JV, Gerber LH, Soballe PW (2012) Breast cancer-related lymphedema: comparing direct costs of a prospective surveillance model and a traditional model of care. Phys Ther 92(1):152–163

27.

Bilir SP, DeKoven MP, Munakata J (2012) Economic benefits of BIS-aided assessment of post-BC lymphedema in the United States. Am J Manag Care 18(5):234–241

28.

Stout NL, Weiss R, Feldman JL, Stewart BR, Armer JM, Cormier JN, Shih YC (2013) A systematic review of care delivery models and economic analyses in lymphedema: health policy impact (2004-2011). Lymphology 46(1):27–41

29.

Brayton KM, Hirsch AT, Brien OPJ et al (2014) Lymphedema prevalence and treatment benefits in cancer: impact of a therapeutic intervention on health outcomes and costs. PLoS One 9(12):e114597

30.

Knies S, Ament AJ, Evers SM, Severens JL (2009) The transferability of economic evaluations:testing the model of Welte. Value Health 12(5):730–738

31.

Evers SM, Hiligsmann M, Adarkwah CC (2015) Risk of bias in trial-based economic evaluations: identification of sources and bias-reducing strategies. Psychol Health 30(1):52–71

32.

Alton V, Eckerlund I, Norlund A (2006) Health economic evaluations: how to find them. Int J Technol Assess Health Care 22(4):512–517
Acknowledgements
All authors critically revised the manuscript for important intellectual content and approved the final manuscript.
Funding information
This review is financed by the Agency for Innovation by Science and Technology, applied Biomedical Research (IWT 150178). In order to arrange such financing, a separate collaboration agreement has been signed by the KU Leuven and the beneficiaries.
Ethics declarations
Conflict of interest
The authors declare that they have no conflicts of interest.
Additional information
Publisher's note
Springer Nature remains neutral with regard to jurisdictional claims in published maps and institutional affiliations.
Support statement: ADG is a post-doctoral research fellow of the FWO-Flanders.
Appendix. Overview of the Boolean search strategies used in the different databases
Appendix. Overview of the Boolean search strategies used in the different databases
PubMed 1-10-2018
('Health Care Costs'[Mesh] OR 'Health Care Costs'[All Fields] OR 'Costs and Cost Analysis'[Mesh] OR 'health care economics'[All Fields] OR 'Costs and Cost Analysis'[All Fields] OR 'Cost-Benefit Analysis'[Mesh] OR 'Cost-Benefit Analysis'[All Fields] OR 'Cost of Illness'[Mesh] OR 'Cost of Illness'[All Fields] OR 'Cost-of-illness'[All Fields] OR 'Hospital Costs'[Mesh] OR 'Hospital Costs'[All Fields] OR 'Health Expenditures'[Mesh] OR 'Health Expenditures'[All Fields] OR 'Cost'[All Fields] OR 'cost evaluation'[All Fields] OR 'economic evaluation'[All Fields] OR 'cost analysis'[All Fields] OR 'economic analysis'[All Fields] OR 'cost effectiveness'[All Fields]) AND ('lymphedema'[MeSH Terms] OR 'lymphoedema'[All Fields] OR 'lymphedema'[All Fields]) AND ('breast neoplasms'[All Fields] OR 'breast neoplasms'[MeSH] OR 'breast cancer'[All Fields] OR 'costs'[All Fields] OR 'breast cancer treatment'[All Fields] OR 'direct costs'[All Fields] OR 'health outcomes'[All Fields] OR 'upper limb'[All Fields])
Web of Science 1-10-2018
(TS=(('Health Care Costs' OR ('Health' AND 'Care' AND 'Costs') OR 'Cost Analysis' OR ('costs' AND 'analysis') OR 'health care economics' OR ('health' AND 'care' AND 'economics') OR 'Cost-Benefit Analysis' OR ('cost-benefit' AND 'analysis') OR 'Cost of Illness' OR ('cost' AND 'illness') OR 'Hospital Costs' OR ('Hospital' AND 'Costs') OR 'Health Expenditures' OR ('Health' AND 'Expenditures') OR 'Cost' OR 'cost evaluation' OR ('cost' AND 'evaluation') OR 'economic evaluation' OR ('economic' AND 'evaluation') OR 'direct costs' OR ('direct' AND 'costs') OR 'health outcomes' OR ('health' AND 'outcomes') OR 'economic analysis' OR ('economic' AND 'analysis') OR 'cost effectiveness' OR ('cost' AND 'effectiveness')) AND ('lymphedema' OR 'lymphoedema') AND ('breast neoplasms' OR ('breast' AND 'neoplasms') OR 'breast cancer' OR ('breast' AND 'cancer') OR 'lymphedema treatment' OR ('lymphedema' AND 'treatment') OR 'upper limb' OR ('upper' AND 'limb')))) AND DOCUMENT TYPES: (Article)
Cochrane Clinical Trials 1-10-2018
(('Health Care Costs' OR 'Costs and Cost Analysis' OR 'health care economics' OR 'Cost-Benefit Analysis' OR 'Cost of Illness' OR 'Cost-of-illness' OR 'Hospital Costs' OR 'Health Expenditures' OR 'Cost' OR 'cost evaluation' OR 'economic evaluation' OR 'cost analysis' OR 'economic analysis' OR 'cost effectiveness' OR 'direct costs' OR 'health outcomes') AND ('lymphedema' OR 'lymphoedema') AND ('breast neoplasms' OR 'breast cancer' OR 'lymphedema treatment' OR 'upper limb')) in Title Abstract Keyword
EMBASE 1-10-2018
('health care cost'/exp OR 'health care cost' OR 'cost analysis'/exp OR 'cost analysis' OR 'costs' OR 'health care economics'/exp OR 'health care economics' OR 'cost-benefit analysis'/exp OR 'cost-benefit analysis' OR 'cost of illness'/exp OR 'cost of illness' OR 'hospital costs'/exp OR 'hospital costs' OR 'health expenditures'/exp OR 'health expenditures' OR 'cost evaluation' OR 'economic evaluation'/exp OR 'economic evaluation' OR 'direct costs' OR 'health outcomes'/exp OR 'health outcomes' OR 'economic analysis' OR 'cost effectiveness'/exp OR 'cost effectiveness') AND ('lymphedema'/exp OR 'lymphedema' OR 'lymphoedema'/exp OR 'lymphoedema') AND ('breast neoplasms'/exp OR 'breast neoplasms' OR 'breast cancer'/exp OR 'breast cancer' OR 'lymphedema treatment' OR 'upper limb'/exp OR 'upper limb') AND ([article]/lim OR [article in press]/lim) AND [humans]/lim
About this article
Cite this article
De Vrieze, T., Nevelsteen, I., Thomis, S. et al. What are the economic burden and costs associated with the treatment of breast cancer-related lymphoedema? A systematic review. Support Care Cancer 28, 439–449 (2020). https://doi.org/10.1007/s00520-019-05101-8
Received:

Accepted:

Published:

Issue Date:
Keywords
Breast cancer

Breast neoplasms

Lymphedema

Healthcare costs

Costs and cost analysis