Abstract
Purpose
Taste changes due to chemotherapy may contribute to the high prevalence of malnutrition in cancer patients. It is believed that 50–70% of patients with cancer suffer from taste disorders. The aim of the present study was to analyze the taste alterations in patient population compared with that in controls, also in relation to gender. In this way, it could open to a new approach for a personalized diet to prevent and/or reduce taste alterations and malnutrition in cancer patients.
Methods
Forty-five cancer patients undergoing chemotherapy were compared with healthy controls (n = 32). Taste function test was used to determine taste sensitivity. Different concentrations for each of the four basic tastes (salty, sweet, sour, bitter) and also fat and water tastes were evaluated.
Results
A significant difference in taste sensitivity between patients and control group was found, in line with previous similar studies. As in the control group, taste perception in patients was better in females than in males, suggesting interaction effect between group and gender.
Conclusions
Coping strategies regarding subjective taste impairment should be provided since alterations in taste sensitivity influence food preferences and appetite. Clinicians could thus have the potential to underpin changes in dietary intake and consequently in nutritional status; understanding the extent of the contribution of each taste would help in the development of effective interventions in future. Consequently, patients can adopt appropriate appetizing strategies and, based on that, change their feeding habits.
This is a preview of subscription content, log in to check access.
Access options
Buy single article
Instant unlimited access to the full article PDF.
US$ 39.95
Price includes VAT for USA
Subscribe to journal
Immediate online access to all issues from 2019. Subscription will auto renew annually.
US$ 199
This is the net price. Taxes to be calculated in checkout.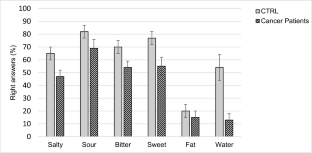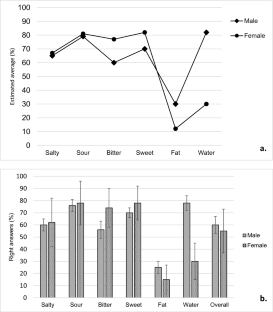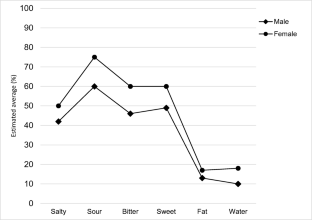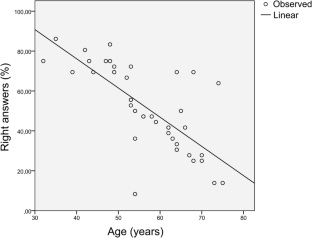 References
1.

Besnard P, Passilly-Degrace P, Khan NA (2016) Taste of fat: a sixth taste modality? Physiol Rev 96(1):151–176. https://doi.org/10.1152/physrev.00002.2015

2.

Breslin PA, Spector AC (2008) Mammalian taste perception. Curr Biol 18(4):R148–R155. https://doi.org/10.1016/j.cub.2007.12.017

3.

Zocchi D, Wennemuth G, Oka Y (2017) The cellular mechanism for water detection in the mammalian taste system. Nat Neurosci 20(7):927–933. https://doi.org/10.1038/nn.4575

4.

Knight KR, Kraemer DF, Neuwelt EA (2005) Ototoxicity in children receiving platinum chemotherapy: underestimating a commonly occurring toxicity that may influence academic and social development. J Clin Oncol 23(34):8588–8596. https://doi.org/10.1200/JCO.2004.00.5355

5.

Quasthoff S, Hartung HP (2002) Chemotherapy-induced peripheral neuropathy. J Neurol 249(1):9–17

6.

Ruiz-Esquide G, Nervi B, Vargas A, Maiz A (2011) Treatment and prevention of cancer treatment related oral mucositis. Rev Med Chil 139(3):373–381

7.

DeWys WD, Walters K (1975) Abnormalities of taste sensation in cancer patients. Cancer 36(5):1888–1896

8.

Zabernigg A, Gamper EM, Giesinger JM, Rumpold G, Kemmler G, Gattringer K, Sperner-Unterweger B, Holzner B (2010) Taste alterations in cancer patients receiving chemotherapy: a neglected side effect? Oncologist 15(8):913–920. https://doi.org/10.1634/theoncologist.2009-0333

9.

Sherry VW (2002) Taste alterations among patients with cancer. Clin J Oncol Nurs 6(2):73–77. https://doi.org/10.1188/02.CJON

10.

Bartoshuk LM (1990) Chemosensory alterations and cancer therapies. NCI Monogr (9):179–184

11.

Welge-Lussen A, Gudziol H (2004) Etiology, diagnostic and therapeutic management of taste disorders. Ther Umsch 61(5):302–307

12.

Halyard MY (2009) Taste and smell alterations in cancer patients-real problems with few solutions. J Support Oncol 7(2):68–69

13.

Comeau TB, Epstein JB, Migas C (2001) Taste and smell dysfunction in patients receiving chemotherapy: a review of current knowledge. Support Care Cancer 9(8):575–580

14.

Huhmann MB, Cunningham RS (2005) Importance of nutritional screening in treatment of cancer-related weight loss. Lancet Oncol 6(5):334–343. https://doi.org/10.1016/S1470-2045(05)70170-4

15.

Muscaritoli M, Lucia S, Farcomeni A, Lorusso V, Saracino V, Barone C, Plastino F, Gori S, Magarotto R, Carteni G, Chiurazzi B, Pavese I, Marchetti L, Zagonel V, Bergo E, Tonini G, Imperatori M, Iacono C, Maiorana L, Pinto C, Rubino D, Cavanna L, di Cicilia R, Gamucci T, Quadrini S, Palazzo S, Minardi S, Merlano M, Colucci G, Marchetti P, PreMiO Study Group (2017) Prevalence of malnutrition in patients at first medical oncology visit: the PreMiO study. Oncotarget 8(45):79884–79896. https://doi.org/10.18632/oncotarget.20168

16.

Wickham RS, Rehwaldt M, Kefer C, Shott S, Abbas K, Glynn-Tucker E, Potter C, Blendowski C (1999) Taste changes experienced by patients receiving chemotherapy. Oncol Nurs Forum 26(4):697–706

17.

Bernhardson BM, Tishelman C, Rutqvist LE (2009) Taste and smell changes in patients receiving cancer chemotherapy: distress, impact on daily life, and self-care strategies. Cancer Nurs 32(1):45–54

18.

Brisbois TD, Hutton JL, Baracos VE, Wismer WV (2006) Taste and smell abnormalities as an independent cause of failure of food intake in patients with advanced cancer—an argument for the application of sensory science. J Palliat Care 22(2):111–114

19.

Martin L, Senesse P, Gioulbasanis I, Antoun S, Bozzetti F, Deans C, Strasser F, Thoresen L, Jagoe RT, Chasen M, Lundholm K, Bosaeus I, Fearon KH, Baracos VE (2015) Diagnostic criteria for the classification of cancer-associated weight loss. J Clin Oncol 33(1):90–99

20.

Muscaritoli M, Molfino A, Lucia S, Rossi Fanelli F (2015) Cachexia: a preventable comorbidity of cancer. A T.A.R.G.E.T. approach. Crit Rev Oncol Hematol 94(2):251–259

21.

Dhanapal R, Saraswathi T, Govind RN (2011) Cancer cachexia. J Oral Maxillofac Pathol 15(3):257–260

22.

Imai H, Soeda H, Komine K, Otsuka K, Shibata H (2013) Preliminary estimation of the prevalence of chemotherapy-induced dysgeusia in Japanese patients with cancer. BMC Palliat Care 12(1):38

23.

Landis BN, Welge-Luessen A, Bramerson A, Bende M, Mueller CA, Nordin S (2009) Taste strips - a rapid, lateralized, gustatory bedside identification test based on impregnated filter papers. J Neurol 256(2):242–248

24.

Vignini A, Borroni F, Sabbatinelli J, Pugnaloni S, Alia S, Taus M, Ferrante L, Mazzanti L, Fabri M (2019) General decrease of taste sensitivity is related to increase of BMI: a simple method to monitor eating behavior. Dis Markers 2019:8. https://doi.org/10.1155/2019/2978026

25.

Mattes RD, Popkin BM (2009) Nonnutritive sweetener consumption in humans: effects on appetite and food intake and their putative mechanisms. Am J Clin Nutr 89(1):1–14

26.

Nakazato Y, Imai K, Abe T, Tamura N, Shimazu K (2006) Unpleasant sweet taste: a symptom of SIADH caused by lung cancer. J Neurol Neurosurg Psychiatry 77(3):405–406

27.

Schiffman SS (1983) Taste and smell in disease (first of two parts). N Engl J Med 308(21):1275–1279

28.

IJpma I, Timmermans ER, Renken RJ, Ter Horst GJ, Reyners AK (2017) Metallic taste in cancer patients treated with systemic therapy: a questionnaire-based study. Nutr Cancer 69(1):140–145

29.

Ackerman BH, Kasbekar N (1997) Disturbances of taste and smell induced by drugs. Pharmacotherapy 17(3):482–496

30.

Bernhardson BM, Tishelman C, Rutqvist LE (2008) Self-reported taste and smell changes during cancer chemotherapy. Support Care Cancer 16(3):275–283

31.

Brisbois TD, de Kock IH, Watanabe SM, Baracos VE, Wismer WV (2011) Characterization of chemosensory alterations in advanced cancer reveals specific chemosensory phenotypes impacting dietary intake and quality of life. J Pain Symptom Manag 41(4):673–683

32.

IJpma I, Renken RJ, Gietema JA, Slart RH, Mensink MG, Lefrandt JD (2017) Changes in taste and smell function, dietary intake, food preference, and body composition in testicular cancer patients treated with cisplatin-based chemotherapy. Clin Nutr 36(6):1642–1648

33.

McGreevy J, Orrevall Y, Belqaid K, Wismer W, Tishelman C, Bernhardson BM (2014) Characteristics of taste and smell alterations reported by patients after starting treatment for lung cancer. Support Care Cancer 22(10):2635–2644

34.

Doty RL, Cameron EL (2009) Sex differences and reproductive hormone influences on human odor perception. Physiol Behav 97(2):213–228

35.

Soter A, Kim J, Jackman A, Tourbier I, Kaul A, Doty RL (2008) Accuracy of self-report in detecting taste dysfunction. Laryngoscope 118(4):611–617

36.

de Ruiter MB, Reneman L, Boogerd W, Veltman DJ, van Dam FS, Nederveen AJ (2011) Cerebral hyporesponsiveness and cognitive impairment 10 years after chemotherapy for breast cancer. Hum Brain Mapp 32(8):1206–1219

37.

Price KA (2010) Hydration in cancer patients. Curr Opin Support Palliat Care 4(4):276–280

38.

Cohen J, Wakefield CE, Laing DG (2016) Smell and taste disorders resulting from cancer and chemotherapy. Curr Pharm Des 22(15):2253–2263
Acknowledgements
The present work was supported by RSA to Prof. Laura Mazzanti, Università Politecnica delle Marche. We thank all patients for their time to participate in the study. Furthermore, we thank the staff of the following clinics that helped recruiting the participants: Dietology and Clinical Nutrition and Medical Oncology Clinic; Azienda Ospedaliero-Universitaria Ospedali Riuniti di Ancona Umberto I Lancisi Salesi, Ancona, Italy. Also, we would like to thank Vito Santoro, Margherita Mancini, and Laura Santinelli for their help during data collection.
Ethics declarations
Conflict of interest
The authors declare that there are no conflicts of interest.
Additional information
Publisher's note
Springer Nature remains neutral with regard to jurisdictional claims in published maps and institutional affiliations.
About this article
Cite this article
Pugnaloni, S., Vignini, A., Borroni, F. et al. Modifications of taste sensitivity in cancer patients: a method for the evaluations of dysgeusia. Support Care Cancer (2019) doi:10.1007/s00520-019-04930-x
Received:

Accepted:

Published:
Keywords
Chemosensory

Chemotherapy

Malnutrition

Quality of life

Gender