Abstract
Purpose
Exercise is a powerful adjunct therapy for patients diagnosed with cancer which can alleviate treatment side-effects and improve a range of outcomes including fatigue and health-related quality of life. Recently, preclinical evidence has suggested that if exercise is performed during chemotherapy infusion, there is enhanced perfusion that may improve drug delivery and attenuate the hypoxic microenvironment. This study aimed to determine the safety and feasibility of delivering an aerobic exercise intervention to cancer patients during chemotherapy infusion.
Methods
A randomised crossover trial was conducted for adults (18–60) undergoing chemotherapy treatment with non-vesicant agents for cancer. In randomised order, during two consecutive chemotherapy infusions, participants either received usual care or performed 20 min of supervised low-intensity cycling.
Results
Sixty-five percent of patients approached agreed to participate, and exercise was safely delivered with neither adverse events nor interference to treatment reported for all participants with a mixed cancer diagnosis (N = 10, 90% female, 51.2 ± 7.4 years). There were no significant differences between exercise and usual care in participant-reported difficulty or comfort levels, but exercise significantly reduced boredom (p = 0.01). No significant differences were detected in the symptoms experienced following either intervention.
Conclusions
Exercise during chemotherapy infusion appears to be safe and feasible. Further research is required with a larger sample size to evaluate the impact on tumour perfusion, symptom experience, and opportunity for physical activity increase.
This is a preview of subscription content, log in to check access.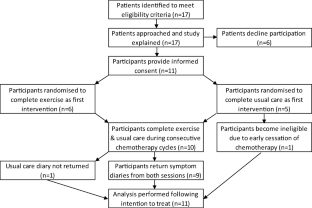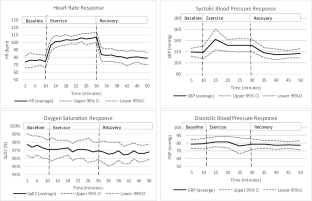 References
1.

Global Burden of Disease Cancer Collaboration (2017) Global, regional, and national cancer incidence, mortality, years of life lost, years lived with disability, and disability-adjusted life-years for 32 cancer groups, 1990 to 2015: a systematic analysis for the global burden of disease study. JAMA Oncology 3(4):524–548. https://doi.org/10.1001/jamaoncol.2016.5688

2.

Schmitz KH, Courneya KS, Matthews C, Demark-Wahnefried W, Galvao DA, Pinto BM, Irwin ML, Wolin KY, Segal RJ, Lucia A, Schneider CM, von Gruenigen VE, Schwartz AL, American College of Sports Medicine (2010) American College of Sports Medicine roundtable on exercise guidelines for cancer survivors. Med Sci Sports Exerc 42(7):1409–1426. https://doi.org/10.1249/MSS.0b013e3181e0c112

3.

DeVita VT, Lawrence TS, & Rosenberg SA. (2015). Cancer: Principles & practice of oncology: Primer of the molecular biology of cancer:Second edition. Wolters Kluwer Health

4.

Meneses-Echavez JF, Gonzalez-Jimenez E, Ramirez-Velez R (2015) Effects of supervised multimodal exercise interventions on cancer-related fatigue: systematic review and meta-analysis of randomized controlled trials. Biomed Res Int 2015:328636–328613. https://doi.org/10.1155/2015/328636

5.

Cormie P, Zopf EM, Zhang X, Schmitz KH (2017) The impact of exercise on cancer mortality, recurrence, and treatment-related adverse effects. Epidemiol Rev 39(1):71–92. https://doi.org/10.1093/epirev/mxx007

6.

Gerritsen JK, Vincent AJ (2016) Exercise improves quality of life in patients with cancer: a systematic review and meta-analysis of randomised controlled trials. BJSM online 50(13):796–803. https://doi.org/10.1136/bjsports-2015-094787

7.

Buffart LM, Kalter J, Sweegers MG, Courneya KS, Newton RU, Aaronson NK, Jacobsen PB, May AM, Galvao DA, Chinapaw MJ, Steindorf K, Irwin ML, Stuiver MM, Hayes S, Griffith KA, Lucia A, Mesters I, van Weert E, Knoop H, Goedendorp MM, Mutrie N, Daley AJ, McConnachie A, Bohus M, Thorsen L, Schulz KH, Short CE, James EL, Plotnikoff RC, Arbane G, Schmidt ME, Potthoff K, van Beurden M, Oldenburg HS, Sonke GS, van Harten WH, Garrod R, Schmitz KH, Winters-Stone KM, Velthuis MJ, Taaffe DR, van Mechelen W, Kersten MJ, Nollet F, Wenzel J, Wiskemann J, Verdonck-de Leeuw IM, Brug J (2017) Effects and moderators of exercise on quality of life and physical function in patients with cancer: an individual patient data meta-analysis of 34 RCTs. Cancer Treat Rev 52:91–104. https://doi.org/10.1016/j.ctrv.2016.11.010

8.

Mishra SI, Scherer RW, Snyder C, Geigle PM, Berlanstein DR, Topaloglu O. (2012) Exercise interventions on health‐related quality of life forpeople with cancer during active treatment. Cochrane Database Syst Rev, (8). Art. No.: CD008465. DOI:https://doi.org/10.1002/14651858.CD008465.pub2.

9.

McCullough DJ, Stabley JN, Siemann DW, Behnke BJ (2014) Modulation of blood flow, hypoxia, and vascular function in orthotopic prostate tumors during exercise. Exerc Sport Sci Rev 106(4):dju036. https://doi.org/10.1093/jnci/dju036

10.

Wiggins JM, Opoku-Acheampong AB, Baumfalk DR, Siemann DW, Behnke BJ (2018) Exercise and the tumor microenvironment: potential therapeutic implications. Exerc Sport Sci Rev 46(1):56–64. https://doi.org/10.1249/jes.0000000000000137

11.

Garcia E, Becker VG, McCullough DJ, Stabley JN, Gittemeier EM, Opoku-Acheampong AB, Sieman DW, Behnke BJ (2016) Blood flow responses to mild-intensity exercise in ectopic vs. orthotopic prostate tumors; dependence upon host tissue hemodynamics and vascular reactivity. J Appl Physiol (1985) 121(1):15–24. https://doi.org/10.1152/japplphysiol.00266.2016

12.

Vaupel P, Mayer A (2007) Hypoxia in cancer: significance and impact on clinical outcome. Cancer Metastasis Rev 26(2):225–239. https://doi.org/10.1007/s10555-007-9055-1

13.

Cormie P, Atkinson M, Bucci L, Cust A, Eakin E, Hayes S, McCarthy S, Murnane A, Patchell S, Adams D (2018) Clinical Oncology Society of Australia position statement on exercise in cancer care. J Nat Cacer Inst 209:184–187

14.

Ottenbacher A, Yu M, Moser RP, Phillips SM, Alfano C, Perna FM (2015) Population estimates of meeting strength training and aerobic guidelines, by gender and cancer survivorship status: findings from the Health Information National Trends Survey (HINTS). J Phys Act Health 12(5):675–679

15.

Henriksson A, Arving C, Johansson B, Igelstrom H, Nordin K (2016) Perceived barriers to and facilitators of being physically active during adjuvant cancer treatment. Patient Educ Couns 99(7):1220–1226. https://doi.org/10.1016/j.pec.2016.01.019

16.

Ottenbacher AJ, Day RS, Taylor WC, Sharma SV, Sloane R, Snyder DC, Kraus WE, Demark-Wahnefried W (2011) Exercise among breast and prostate cancer survivors—what are their barriers? J Cancer Surviv 5(4):413–419. https://doi.org/10.1007/s11764-011-0184-8

17.

Husebo AM, Karlsen B, Allan H, Soreide JA, Bru E (2015) Factors perceived to influence exercise adherence in women with breast cancer participating in an exercise programme during adjuvant chemotherapy: a focus group study. J Clin Nurs 24(3–4):500–510

18.

Rogers LQ, Courneya KS, Shah P, Dunnington G, Hopkins-Price P (2007) Exercise stage of change, barriers, expectations, values and preferences among breast cancer patients during treatment: a pilot study. European Journal of Cancer care 16(1):55–66. https://doi.org/10.1111/j.1365-2354.2006.00705.x

19.

Lenz HJ (2007) Management and preparedness for infusion and hypersensitivity reactions. Oncologist 12(5):601–609. https://doi.org/10.1634/theoncologist.12-5-601

20.

Borg GA (1982) Psychophysical bases of perceived exertion. Med Sci Sports Exerc 14(5):377–381

21.

Kerrigan D, Keteyian S, Ehrman JK, Brown S, Filipiak R, Martinez N, Ihlenfeldt D, Varga J, Walker EM (2010) A pilot study of aerobic exercise performed in breast cancer patients during chemotherapy infusion. Journal of Clinical Oncology 28(15_suppl):e19527. https://doi.org/10.1200/jco.2010.28.15_suppl.e19527

22.

Garber CE, Blissmer B, Deschenes MR, Franklin BA, Lamonte MJ, Lee IM, Nieman DC, Swain DP (2011) American College of Sports Medicine position stand. Quantity and quality of exercise for developing and maintaining cardiorespiratory, musculoskeletal, and neuromotor fitness in apparently healthy adults: guidance for prescribing exercise. Med Sci Sports Exerc 43(7):1334–1359. https://doi.org/10.1249/MSS.0b013e318213fefb

23.

Aaronson NK, Ahmedzai S, Bergman B, Bullinger M, Cull A, Duez NJ, Filiberti A, Flechtner H, Fleishman SB, Haes JCJM, Kaasa S, Klee M, Osoba D, Razavi D, Rofe PB, Schraub S, Sneeuw K, Sullivan M, Takeda F (1993) The European Organization for Research and Treatment of Cancer QLQ-C30: a quality-of-life instrument for use in international clinical trials in oncology. JNCI: Journal of the National Cancer Institute 85(5):365–376. https://doi.org/10.1093/jnci/85.5.365

24.

Hui D, Bruera E (2017) The Edmonton symptom assessment system 25 years later: past, present, and future developments. J Nat Cacer Inst 53(3):630–643. https://doi.org/10.1016/j.jpainsymman.2016.10.370

25.

Selby D, Cascella A, Gardiner K, Do R, Moravan V, Myers J, Chow E (2010) A single set of numerical cutpoints to define moderate and severe symptoms for the Edmonton symptom assessment system. J Pain Symptom Manag 39(2):241–249. https://doi.org/10.1016/j.jpainsymman.2009.06.010

26.

Hui D, Park M, Shamieh O, Paiva CE, Perez-Cruz PE, Muckaden MA, Bruera E (2016) Personalized symptom goals and response in patients with advanced cancer. Cancer 122(11):1774–1781

27.

Fairman CM, Focht BC, Lucas AR, Lustberg MB (2016) Effects of exercise interventions during different treatments in breast cancer. The journal of community and supportive oncology 14(5):200–209. https://doi.org/10.12788/jcso.0225

28.

Maddocks M, Mockett S, Wilcock A (2009) Is exercise an acceptable and practical therapy for people with or cured of cancer? A systematic review. Cancer Treat Rev 35(4):383–390. https://doi.org/10.1016/j.ctrv.2008.11.008

29.

Hudlicka O, Brown M, Egginton S (1992) Angiogenesis in skeletal and cardiac muscle. Physiol Rev 72(2):369–417. https://doi.org/10.1152/physrev.1992.72.2.369

30.

Betof AS, Lascola CD, Weitzel D, Landon C, Scarbrough PM, Devi GR, Palmer G, Jones LW, Dewhirst MW. (2015) Modulation of murine breast tumor vascularity, hypoxia and chemotherapeutic response by exercise. J Natl Cancer Inst. 107(5):djv040. doi: https://doi.org/10.1093/jnci/djv040.

31.

Jones LW, Viglianti BL, Tashjian JA, Kothadia SM, Keir ST, Freedland SJ, Potter MQ, Jung Moon E, Schroeder T, Herndon JE, Dewhirst MW (2010) Effect of aerobic exercise on tumor physiology in an animal model of human breast cancer. J Appl Physiol 108(2):343–348. https://doi.org/10.1152/japplphysiol.00424.2009

32.

Duncker DJ, Bache RJ (2008) Regulation of coronary blood flow during exercise. Physiol Rev 88(3):1009–1086. https://doi.org/10.1152/physrev.00045.2006

33.

Smith LA, Cornelius VR, Plummer CJ, Levitt G, Verrill M, Canney P, Jones A (2010) Cardiotoxicity of anthracycline agents for the treatment of cancer: systematic review and meta-analysis of randomised controlled trials. BMC Cancer 10(1):337. https://doi.org/10.1186/1471-2407-10-337

34.

Sorensen JC, Cheregi BD, Timpani CA, Nurgali K, Hayes A, Rybalka E (2016) Mitochondria: Inadvertent targets in chemotherapy-induced skeletal muscle toxicity and wasting?. Cancer Chemother Pharmacol 78:673–683
Ethics declarations
Conflict of interest
The authors declare that they have no conflict of interest.
Additional information
Publisher's note
Springer Nature remains neutral with regard to jurisdictional claims in published maps and institutional affiliations.
About this article
Cite this article
Thomas, V.J., Seet-Lee, C., Marthick, M. et al. Aerobic exercise during chemotherapy infusion for cancer treatment: a novel randomised crossover safety and feasibility trial. Support Care Cancer 28, 625–632 (2020). https://doi.org/10.1007/s00520-019-04871-5
Received:

Accepted:

Published:

Issue Date:
Keywords
Exercise

Physical activity

Chemotherapy

Treatment-related side effects

Feasibility