Abstract
Purpose
Little is known about return to work (RTW) of cancer survivors (CSs) in Central and Southern Europe. This study investigates the RTW rate of Italian CSs, describes their sick leave (SL) pattern, and explores factors affecting their RTW process.
Methods
A population-based cross-sectional survey involving CSs registered at the Cancer Registry of Reggio Emilia Province (Italy) was launched in July 2016. Eligibility was restricted to individuals with first diagnosis of cancer in 2012 (stages I–III), aged 20–59, and employed at the time of diagnosis.
Results
Of the 266 individuals interviewed, 140 (52.6%) were reintegrated without difficulty, 113 (42.5%) returned to work with some difficulty, and 13 did not RTW (4.9%). The majority of CSs (56%) took SL for some periods during treatment. Age > 50 years and higher income seemed to facilitate RTW (RR = 0.65, 95% CI 0.49–0.88 and RR = 0.72, 95% CI 0.54–0.97, respectively), while being divorced acted as a barrier compared to being married (RR = 1.45, 95% CI 1.04–2.01). Individuals uncertain about the type of company they were working for reported greater difficulty in RTW (RR = 1.68, 95% CI 1.03–2.72). Individuals who had undergone chemotherapy and those perceiving physical limitations had a higher risk of difficulty in the RTW process (RR = 1.79, 95% CI 1.42–2.24 and RR = 1.59, 95% CI 1.25–2.02, respectively).
Conclusions
Most CSs did RTW, with 2/3 combining work and treatment. However, almost half reported difficulty in RTW process. Factors affecting this process should be addressed throughout context-specific social and healthcare pathways aimed at preventing difficulties and potential job loss in this population.
This is a preview of subscription content, log in to check access.
Access options
Buy single article
Instant unlimited access to the full article PDF.
US$ 39.95
Price includes VAT for USA
Subscribe to journal
Immediate online access to all issues from 2019. Subscription will auto renew annually.
US$ 199
This is the net price. Taxes to be calculated in checkout.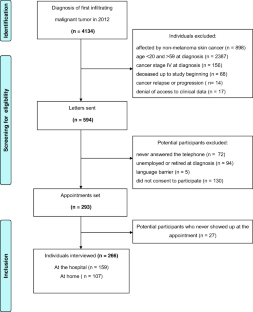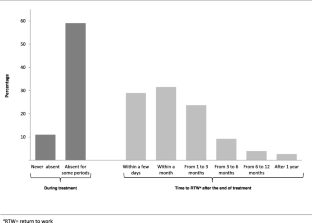 Abbreviations
RTW:

return to work

CSs:

cancer survivors

SL:

sick leave

OT:

occupational therapist

RR:

relative risks

CI:

confidence interval
Acknowledgments
We thank Jacqueline M. Costa for the English language editing.
Funding
This work was supported by the Chamber of Commerce of Reggio Emilia, the Foundation GRADE Onlus of Reggio Emilia, and the Local Health Authority-IRCCS of Reggio Emilia, Italy.
Ethics declarations
Ethics approval and consent to participate
The study was approved by the Ethics Committee of the Province of Reggio Emilia (2016/0014896). In accordance with the Italian law, the OT collected the informed consent to participate in this study, together with the consent to personal data processing.
Conflict of interest
The authors declare that they have no conflict of interest.
Additional information
Publisher's note
Springer Nature remains neutral with regard to jurisdictional claims in published maps and institutional affiliations.
Electronic supplementary material
– Questionnaire. The complete questionnaire used to collect data. (DOCX 110 kb)
– The STROBE Checklist. The STROBE checklist of the report. (DOC 88 kb)
About this article
Cite this article
Paltrinieri, S., Vicentini, M., Mazzini, E. et al. Factors influencing return to work of cancer survivors: a population-based study in Italy. Support Care Cancer 28, 701–712 (2020). https://doi.org/10.1007/s00520-019-04868-0
Received:

Accepted:

Published:

Issue Date:
Keywords
Europe

Cancer survivors

Return to work

Epidemiology

Sick leave

Rehabilitation