Abstract
Purpose
To develop a Cancer Symptom Management System: Symptom Management Improves your LifE (SMILE) and evaluate the effect and feasibility of the system in cancer symptom management.
Methods
The Cancer Symptom Management System: SMILE was developed, and a nonblinded, randomized controlled trial was conducted. Cancer patients starting adjuvant or palliative chemotherapy (CTx) were enrolled and randomized to control (symptom monitoring), experimental 1 (Exp 1; symptom monitoring + report), or experimental 2 (Exp 2; symptom monitoring + report + Oncology Nursing Society putting evidence into practice (ONS PEP)–guided evidence-based symptom management education) groups in a 1:2:2 ratio (N = 249). To evaluate whether symptom management education provided additional benefit to continuous symptom monitoring, the Exp 1 and Exp 2 groups were compared utilizing Mann-Whitney U test and generalized estimating equations (n = 199).
Results
Symptom severity (symptom total score) at each measurement point was not different among the three groups (p > .05). Fatigue and sleep disturbance changes were different between Exp 1 and Exp 2 among patients receiving adjuvant CTx (p = .042 and p = .008). Fatigue gradually decreased after a peak at the 1st CTx cycle in Exp 2, whereas Exp 1 experienced increasing fatigue until the 3rd CTx cycle. A gradual decrease in sleep disturbance was observed in Exp 2 after the 2nd CTx cycle, whereas Exp 1 experienced a steady increase in the symptom. Participants were willing to participate in symptom monitoring using the cancer symptom management system. Symptom management education was easy to follow and helpful.
Conclusion
The application of the Cancer Symptom Management System: SMILE incorporating ONS PEP–guided evidence-based symptom management education effectively managed fatigue and sleep disturbance after adjuvant CTx. The feasibility of the system has been demonstrated. Incorporating the system into electronic medical systems and integrating provider input will be necessary.
This is a preview of subscription content, log in to check access.
Access options
Buy single article
Instant unlimited access to the full article PDF.
US$ 39.95
Price includes VAT for USA
Subscribe to journal
Immediate online access to all issues from 2019. Subscription will auto renew annually.
US$ 199
This is the net price. Taxes to be calculated in checkout.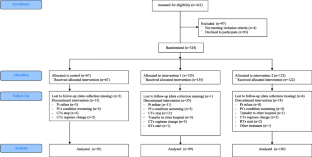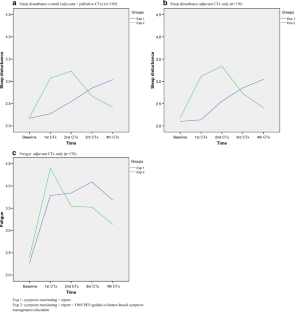 References
1.

Akin S, Can G, Aydiner A, Ozdilli K, Durna Z (2010) Quality of life, symptom experience and distress of lung cancer patients undergoing chemotherapy. Eur J Oncol Nurs 14:400–409

2.

Deshields TL, Potter P, Olsen S, Liu J (2014) The persistence of symptom burden: symptom experience and quality of life of cancer patients across one year. Support Care Cancer 22:1089–1096

3.

Berry DL, Hong F, Halpenny B, Partridge A, Fox E, Fann JR, Wolpin S, Lober WB, Bush N, Parvathaneni U, Amtmann D, Ford R (2014) The electronic self report assessment and intervention for cancer: promoting patient verbal reporting of symptom and quality of life issues in a randomized controlled trial. BMC Cancer 14:513

4.

Berry DL, Blumenstein BA, Halpenny B, Wolpin S, Fann JR, Austin-Seymour M, Bush N, Karras BT, Lober WB, McCorkle R (2011) Enhancing patient-provider communication with the electronic self-report assessment for cancer: a randomized trial. J Clin Oncol 29:1029–1035

5.

Berry DL, Hong F, Halpenny B, Partridge AH, Fann JR, Wolpin S, Lober WB, Bush NE, Parvathaneni U, Back AL, Amtmann D, Ford R (2014) Electronic self-report assessment for cancer and self-care support: results of a multicenter randomized trial. J Clin Oncol 32:199–205

6.

McCann L, Maguire R, Miller M, Kearney N (2009) Patients' perceptions and experiences of using a mobile phone-based advanced symptom management system (ASyMS) to monitor and manage chemotherapy related toxicity. Eur J Cancer Care (Engl) 18:156–164

7.

Kearney N, McCann L, Norrie J, Taylor L, Gray P, McGee-Lennon M, Sage M, Miller M, Maguire R (2009) Evaluation of a mobile phone-based, advanced symptom management system (ASyMS) in the management of chemotherapy-related toxicity. Support Care Cancer 17:437–444

8.

Snyder CF, Jensen R, Courtin SO, Wu AW, Website for outpatient QOLARN (2009) PatientViewpoint: a website for patient-reported outcomes assessment. Qual Life Res 18:793–800

9.

Abernethy AP, Herndon JE 2nd, Wheeler JL, Day JM, Hood L, Patwardhan M, Shaw H, Lyerly HK (2009) Feasibility and acceptability to patients of a longitudinal system for evaluating cancer-related symptoms and quality of life: pilot study of an e/Tablet data-collection system in academic oncology. J Pain Symptom Manag 37:1027–1038

10.

Abernethy AP, Zafar SY, Uronis H, Wheeler JL, Coan A, Rowe K, Shelby RA, Fowler R, Herndon JE 2nd (2010) Validation of the patient care monitor (version 2.0): a review of system assessment instrument for cancer patients. J Pain Symptom Manag 40:545–558

11.

Basch E, Artz D, Dulko D, Scher K, Sabbatini P, Hensley M, Mitra N, Speakman J, McCabe M, Schrag D (2005) Patient online self-reporting of toxicity symptoms during chemotherapy. J Clin Oncol 23:3552–3561

12.

Basch E, Artz D, Iasonos A, Speakman J, Shannon K, Lin K, Pun C, Yong H, Fearn P, Barz A, Scher HI, McCabe M, Schrag D (2007) Evaluation of an online platform for cancer patient self-reporting of chemotherapy toxicities. J Am Med Inform Assoc 14:264–268

13.

Beck SL, Eaton LH, Echeverria C, Mooney KH (2017) SymptomCare@Home: developing an integrated symptom monitoring and management system for outpatients receiving chemotherapy. Comput Inform Nurs 35:520–529

14.

Mooney KH, Beck SL, Wong B, Dunson W, Wujcik D, Whisenant M, Donaldson G (2017) Automated home monitoring and management of patient-reported symptoms during chemotherapy: results of the symptom care at home RCT. Cancer Med 6:537–546

15.

Ruland CM, Holte HH, Roislien J, Heaven C, Hamilton GA, Kristiansen J, Sandbaek H, Kvaloy SO, Hasund L, Ellison MC (2010) Effects of a computer-supported interactive tailored patient assessment tool on patient care, symptom distress, and patients' need for symptom management support: a randomized clinical trial. J Am Med Inform Assoc 17:403–410

16.

Ruland CM, White T, Stevens M, Fanciullo G, Khilani SM (2003) Effects of a computerized system to support shared decision making in symptom management of cancer patients: preliminary results. J Am Med Inform Assoc 10:573–579

17.

Chan MF, Ang E, Duong MC, Chow YL (2013) An online symptom care and management system to monitor and support patients receiving chemotherapy: a pilot study. Int J Nurs Pract 19(Suppl 1):14–18

18.

Wheelock AE, Bock MA, Martin EL, Hwang J, Ernest ML, Rugo HS, Esserman LJ, Melisko ME (2015) SIS.NET: a randomized controlled trial evaluating a web-based system for symptom management after treatment of breast cancer. Cancer 121:893–899

19.

Basch E, Deal AM, Kris MG, Scher HI, Hudis CA, Sabbatini P, Rogak L, Bennett AV, Dueck AC, Atkinson TM, Chou JF, Dulko D, Sit L, Barz A, Novotny P, Fruscione M, Sloan JA, Schrag D (2016) Symptom monitoring with patient-reported outcomes during routine cancer treatment: a randomized controlled trial. J Clin Oncol 34:557–565

20.

Maguire R, Ream E, Richardson A, Connaghan J, Johnston B, Kotronoulas G, Pedersen V, McPhelim J, Pattison N, Smith A, Webster L, Taylor A, Kearney N (2015) Development of a novel remote patient monitoring system: the advanced symptom management system for radiotherapy to improve the symptom experience of patients with lung cancer receiving radiotherapy. Cancer Nurs 38:E37–E47

21.

Yap KY, Low HX, Koh KS, Un M, Shih V, Chan A (2013) Feasibility and acceptance of a pharmacist-run tele-oncology service for chemotherapy-induced nausea and vomiting in ambulatory cancer patients. Telemed J E Health 19:387–395

22.

Oncology Nursing Society (2018) Putting evidence into practice (PEP). Oncology Nursing Society. https://www.ons.org/practice-resources/pep. Assessed 7 Oct 2016

23.

Reeve BB, Mitchell SA, Dueck AC, Basch E, Cella D, Reilly CM, Minasian LM, Denicoff AM, O'Mara AM, Fisch MJ, Chauhan C, Aaronson NK, Coens C, Bruner DW (2014) Recommended patient-reported core set of symptoms to measure in adult cancer treatment trials. J Natl Cancer Inst 106:dju129

24.

Rha SY, Lee J (2017) Symptom clusters during palliative chemotherapy and their influence on functioning and quality of life. Support Care Cancer 25:1519–1527

25.

Cleeland CS, Mendoza TR, Wang XS, Chou C, Harle MT, Morrissey M, Engstrom MC (2000) Assessing symptom distress in cancer patients: the M.D. Anderson Symptom Inventory Cancer, vol 89, pp 1634–1646

26.

Yun YH, Mendoza TR, Kang IO, You CH, Roh JW, Lee CG, Lee WS, Lee KS, Bang SM, Park SM, Cleeland CS, Wang XS (2006) Validation study of the Korean version of the M. D. Anderson Symptom Inventory. J Pain Symptom Manag 31:345–352

27.

Aaronson NK, Ahmedzai S, Bergman B, Bullinger M, Cull A, Duez NJ, Filiberti A, Flechtner H, Fleishman SB, de Haes JC et al (1993) The European Organization for Research and Treatment of Cancer QLQ-C30: a quality-of-life instrument for use in international clinical trials in oncology. J Natl Cancer Inst 85:365–376

28.

Yun YH, Park YS, Lee ES, Bang SM, Heo DS, Park SY, You CH, West K (2004) Validation of the Korean version of the EORTC QLQ-C30. Qual Life Res 13:863–868

29.

Yount SE, Rothrock N, Bass M, Beaumont JL, Pach D, Lad T, Patel J, Corona M, Weiland R, Del Ciello K, Cella D (2014) A randomized trial of weekly symptom telemonitoring in advanced lung cancer. J Pain Symptom Manag 47:973–989

30.

Yamaguchi T, Morita T, Nitto A, Takahashi N, Miyamoto S, Nishie H, Matsuoka J, Sakurai H, Ishihara T, Tarumi Y, Ogawa A (2016) Establishing cutoff points for defining symptom severity using the Edmonton symptom assessment system-revised Japanese version. J Pain Symptom Manag 51:292–297

31.

Howell D, Harth T, Brown J, Bennett C, Boyko S (2017) Self-management education interventions for patients with cancer: a systematic review. Support Care Cancer 25:1323–1355

32.

Bennett S, Pigott A, Beller EM, Haines T, Meredith P, Delaney C (2016) Educational interventions for the management of cancer-related fatigue in adults. Cochrane Database Syst Rev 11:CD008144

33.

Tang FWK, Chan CWH, Choy YP, Loong HHF, Chow KM, So WKW (2018) A feasibility study on using tablet personal computers for self-reported symptom assessment in newly diagnosed lung cancer patients. Int J Nurs Pract 24:e12658

34.

Drott J, Vilhelmsson M, Kjellgren K, Bertero C (2016) Experiences with a self-reported ,obile phone-based system among patients with colorectal cancer: a qualitative study. JMIR Mhealth Uhealth 4:e66
Ethics declarations
The study was approved by the institutional review board of the participating hospital (approval number: 4-2015-0610). The study was conducted in accordance with the 1964 Declaration of Helsinki and its later amendments or comparable ethical standards.
Conflict of interest
The authors declare that they have no conflicts of interest.
Additional information
Publisher's note
Springer Nature remains neutral with regard to jurisdictional claims in published maps and institutional affiliations.
About this article
Cite this article
Rha, S.Y., Nam, J.M. & Lee, J. Development and evaluation of the Cancer Symptom Management System: Symptom Management Improves your LifE (SMILE)—a randomized controlled trial. Support Care Cancer 28, 713–723 (2020) doi:10.1007/s00520-019-04865-3
Received:

Accepted:

Published:

Issue Date:
Keywords
Cancer

Chemotherapy

Symptom assessment

Symptom management system

Patient education