Abstract
Purpose
Exercise is generally accepted to be beneficial for colorectal cancer patients; however, very few studies have investigated the effects of exercise on patient care and health outcomes during the immediate post-operative recovery period. Furthermore, very few studies have investigated the safety, feasibility, and efficacy of exercise on post-operative cancer patients. Although intervention programs should be based on solid evidence from clinical trials, the majority of previous studies have not presented the development process of the intervention programs. This paper describes a ten-step development process of an inpatient exercise program for colorectal cancer patients after colectomy.
Methods
The development process is composed of the following ten steps: systematic literature review, understanding patient characteristics via patient survey, first expert group discussion, development of the first draft exercise program, pretest, focus group interview, second expert group discussion, pilot study, randomized controlled trial, and the final exercise program development.
Results
The exercise program developed through the ten-step process was divided into three phases according to the patients' condition. For all three phases, patients performed the exercises two times a day, once under supervision. Any specific exercises that caused pain on a given day were excluded from the exercise program for that day. The exercise program reduced the length of hospital stay and time to flatus in colorectal cancer patients after surgery.
Conclusion
This study reports a safe and effective means to develop an evidence-based exercise program not only for colorectal cancer patients but also for other population groups.
This is a preview of subscription content, log in to check access.
Access options
Buy single article
Instant unlimited access to the full article PDF.
US$ 39.95
Price includes VAT for USA
Subscribe to journal
Immediate online access to all issues from 2019. Subscription will auto renew annually.
US$ 199
This is the net price. Taxes to be calculated in checkout.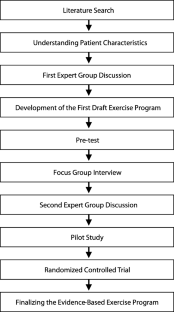 References
1.

Knols R, Aaronson NK, Uebelhart D, Fransen J, Aufdemkampe G (2005) Physical exercise in cancer patients during and after medical treatment: a systematic review of randomized and controlled clinical trials. J Clin Oncol 23(16):3830–3842

2.

Galvão DA, Newton RU (2005) Review of exercise intervention studies in cancer patients. J Clin Oncol 23(4):899–909

3.

Speck RM, Courneya KS, Mâsse LC, Duval S, Schmitz KH (2010) An update of controlled physical activity trials in cancer survivors: a systematic review and meta-analysis. J Cancer Surviv 4(2):87–100

4.

King PM, Blazeby JM, Ewings P, Longman RJ, Kipling RM, Franks PJ, Sheffield JP, Evans LB, Soulsby M, Bulley SH, Kennedy RH (2006) The influence of an enhanced recovery programme on clinical outcomes, costs and quality of life after surgery for colorectal cancer. Colorectal disease : the official journal of the Association of Coloproctology of Great Britain and Ireland 8(6):506–513. https://doi.org/10.1111/j.1463-1318.2006.00963.x

5.

Lloyd GM, Kirby R, Hemingway DM, Keane FB, Miller AS, Neary P (2010) The RAPID protocol enhances patient recovery after both laparoscopic and open colorectal resections. Surg Endosc 24(6):1434–1439. https://doi.org/10.1007/s00464-009-0795-6

6.

Wind J, Hofland J, Preckel B, Hollmann MW, Bossuyt PM, Gouma DJ, van Berge Henegouwen MI, Fuhring JW, Dejong CH, van Dam RM, Cuesta MA, Noordhuis A, de Jong D, van Zalingen E, Engel AF, Goei TH, de Stoppelaar IE, van Tets WF, van Wagensveld BA, Swart A, van den Elsen MJ, Gerhards MF, de Wit LT, Siepel MA, van Geloven AA, Juttmann JW, Clevers W, Bemelman WA (2006) Perioperative strategy in colonic surgery; LAparoscopy and/or FAst track multimodal management versus standard care (LAFA trial). BMC Surg 6:16. https://doi.org/10.1186/1471-2482-6-16

7.

Sackett DL, Rosenberg WM, Gray JA, Haynes RB, Richardson WS (1996) Evidence based medicine: what it is and what it isn't. Bmj 312(7023):71–72

8.

Sackett DL (1997) Evidence-based medicine. Semin Perinatol 21(1):3–5

9.

Teeuwen PH, Bleichrodt RP, Strik C, Groenewoud JJ, Brinkert W, van Laarhoven CJ, van Goor H, Bremers AJ (2010) Enhanced recovery after surgery (ERAS) versus conventional postoperative care in colorectal surgery. Journal of gastrointestinal surgery : official journal of the Society for Surgery of the Alimentary Tract 14(1):88–95. https://doi.org/10.1007/s11605-009-1037-x

10.

Polle SW, Wind J, Fuhring JW, Hofland J, Gouma DJ, Bemelman WA (2007) Implementation of a fast-track perioperative care program: what are the difficulties? Dig Surg 24(6):441–449. https://doi.org/10.1159/000108327

11.

Ahn KY, Hur H, Kim DH, Min J, Jeong DH, Chu SH, Lee JW, Ligibel JA, Meyerhardt JA, Jones LW, Jeon JY, Kim NK (2013) The effects of inpatient exercise therapy on the length of hospital stay in stages I-III colon cancer patients: randomized controlled trial. Int J Color Dis 28(5):643–651. https://doi.org/10.1007/s00384-013-1665-1

12.

Liu Z, Wang XD, Li L (2008) Perioperative fast track programs enhance the postoperative recovery after rectal carcinoma resection. Zhonghua wei chang wai ke za zhi = Chinese journal of gastrointestinal surgery 11(6):551–553

13.

Xu JM, Zhong YS, Zhu DX, Ren L, Wei Y, Xue ZG, Jin L, Niu WX, Qin XY, Wu ZG (2007) Application of the protocol of enhanced recovery after surgery in colorectal surgery. Zhonghua wei chang wai ke za zhi = Chinese journal of gastrointestinal surgery 10(3):238–244

14.

Wall BT, Dirks ML, Snijders T, Senden JM, Dolmans J, van Loon LJ (2014) Substantial skeletal muscle loss occurs during only 5 days of disuse. Acta Physiol (Oxf) 210(3):600–611. https://doi.org/10.1111/apha.12190

15.

Evans WJ (2010) Skeletal muscle loss: cachexia, sarcopenia, and inactivity. Am J Clin Nutr 91(4):1123S–1127S. https://doi.org/10.3945/ajcn.2010.28608A

16.

Petros P, Swash M, Bush M, Fernandez M, Gunnemann A, Zimmer M (2012) Defecation 1: testing a hypothesis for pelvic striated muscle action to open the anorectum. Techniques in coloproctology 16(6):437–443. https://doi.org/10.1007/s10151-012-0861-2

17.

Bartholomew LK, Parcel GS, Kok G (1998) Intervention mapping: a process for developing theory- and evidence-based health education programs. Health education & behavior: the official publication of the Society for Public Health Education 25 (5):545–563
Ethics declarations
Conflict of interest
The authors declare that they have no conflicts of interest.
Ethical approval
All procedures performed in studies involving human participants were in accordance with the ethical standards of the institutional research committee and with the 1964 Helsinki declaration and its later amendments or comparable ethical standards.
Informed consent
Informed consent was obtained from all individual participants included in this study.
Additional information
Publisher's note
Springer Nature remains neutral with regard to jurisdictional claims in published maps and institutional affiliations.
About this article
Cite this article
An, K., In Yang, H., Kang, D. et al. Development process of an evidence-based exercise program for post-operative colorectal cancer patients. Support Care Cancer 28, 755–765 (2020). https://doi.org/10.1007/s00520-019-04864-4
Received:

Accepted:

Published:

Issue Date:
Keywords
Exercise medicine

Evidence-based exercise

Development process

Colorectal cancer

Post-surgery care