Abstract
Purpose
A clinical care pathway for pain management in a palliative care unit was studied with outcomes related to patients, physicians, and health care service. Mandatory use of patient-reported outcome measures (PROMs) and physician-directed decision support (DS) were integrated parts of the pathway.
Methods
Adult cancer patients with pain intensity (PI) ≥ 5 (NRS 0–10) at admission were eligible. The patients reported average and worst PI at admission, day four, and discharge. The physicians completed the DS at admission and day four. The DS presented potential needs for treatment changes based on pain severity and pathophysiology. The physicians reported treatment changes due to input from the DS system. The two primary outcomes were average and worst PI changes from admission to discharge. Hospital length of stay (LOS) was registered.
Results
Of 52 included patients, 41 were discharged alive. For those, the mean average PI at admission and at discharge was 5.8 and 2.4, respectively, a reduction of 3.4 points (CI 95% 2.7–4.1). The corresponding worst pain intensities were 7.9 and 3.8, a reduction of 4.1 points (CI 95% 3.4–4.8). The physicians completed DS forms for all patients. Fifty-five percent (CI 95% 41–69) of the patients had pain intervention changes based on the DS. A significant reduction in LOS (4.4 days, CI 95% 0.5–8.3) was observed during the study period.
Conclusions
The interventions were implemented according to the intentions and PI was reduced as hypothesized. For evaluation of generalizability, the interventions should be studied in other settings and with a controlled design.
This is a preview of subscription content, log in to check access.
Access options
Buy single article
Instant unlimited access to the full article PDF.
US$ 39.95
Price includes VAT for USA
Subscribe to journal
Immediate online access to all issues from 2019. Subscription will auto renew annually.
US$ 199
This is the net price. Taxes to be calculated in checkout.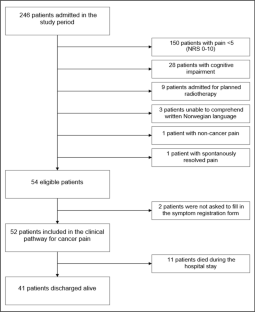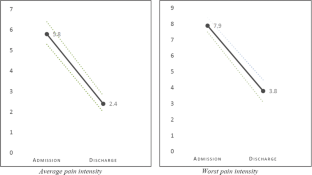 References
1.

Greco MT, Roberto A, Corli O, Deandrea S, Bandieri E, Cavuto S, Apolone G (2014) Quality of cancer pain management: an update of a systematic review of undertreatment of patients with cancer. J Clin Oncol 32(36):4149–4154. https://doi.org/10.1200/JCO.2014.56.0383

2.

Breuer B, Chang VT, Von Roenn JH, von Gunten C, Neugut AI, Kaplan R, Wallenstein S, Portenoy RK (2015) How well do medical oncologists manage chronic cancer pain? A national survey. Oncologist 20(2):202–209. https://doi.org/10.1634/theoncologist.2014-0276

3.

te Boveldt N, Vernooij-Dassen M, Besse K, Vissers K, Engels Y (2015) Adaptation of an evidence-based clinical practice guideline in cancer pain management by medical oncologists: a case vignette study. Support Care Cancer 23(5):1409–1420. https://doi.org/10.1007/s00520-014-2472-0

4.

Kwon JH (2014) Overcoming barriers in cancer pain management. J Clin Oncol 32(16):1727–1733. https://doi.org/10.1200/JCO.2013.52.4827

5.

Lohre ET, Klepstad P, Bennett MI, Brunelli C, Caraceni A, Fainsinger RL, Knudsen AK, Mercadante S, Sjogren P, Kaasa S European Association for Palliative Care Research N (2016) From "Breakthrough" to "Episodic" Cancer Pain? A European Association for Palliative Care Research Network Expert Delphi Survey Toward a Common Terminology and Classification of Transient Cancer Pain Exacerbations. J Pain Symptom Manag 51(6):1013–1019. https://doi.org/10.1016/j.jpainsymman.2015.12.329

6.

Hui D, Bruera E (2017) The Edmonton symptom assessment system 25 years later: past, present, and future developments. J Pain Symptom Manag 53(3):630–643. https://doi.org/10.1016/j.jpainsymman.2016.10.370

7.

Richardson LA, Jones GW (2009) A review of the reliability and validity of the Edmonton Symptom Assessment System. Curr Oncol 16(1):55

8.

Caraceni A, Hanks G, Kaasa S, Bennett MI, Brunelli C, Cherny N, Dale O, De Conno F, Fallon M, Hanna M, Haugen DF, Juhl G, King S, Klepstad P, Laugsand EA, Maltoni M, Mercadante S, Nabal M, Pigni A, Radbruch L, Reid C, Sjogren P, Stone PC, Tassinari D, Zeppetella G, European Palliative Care Research C, European Association for Palliative C (2012) Use of opioid analgesics in the treatment of cancer pain: evidence-based recommendations from the EAPC. Lancet Oncol 13(2):e58–e68. https://doi.org/10.1016/S1470-2045(12)70040-2

9.

Fallon M, Giusti R, Aielli F, Hoskin P, Rolke R, Sharma M, Ripamonti CI, Committee EG (2018) Management of cancer pain in adult patients: ESMO Clinical Practice Guidelines. Ann Oncol 29(Supplement_4):iv166–iv191. https://doi.org/10.1093/annonc/mdy152

10.

Rich SE, Chow R, Raman S, Liang Zeng K, Lutz S, Lam H, Silva MF, Chow E (2018) Update of the systematic review of palliative radiation therapy fractionation for bone metastases. Radiother Oncol 126(3):547–557. https://doi.org/10.1016/j.radonc.2018.01.003

11.

Brunelli C, Bennett MI, Kaasa S, Fainsinger R, Sjogren P, Mercadante S, Lohre ET, Caraceni A, European Association for Palliative Care Research N, International Association for the Study of Pain Cancer Pain Special Interest G (2014) Classification of neuropathic pain in cancer patients: a Delphi expert survey report and EAPC/IASP proposal of an algorithm for diagnostic criteria. Pain 155(12):2707–2713. https://doi.org/10.1016/j.pain.2014.09.038

12.

Ferguson HJ, Ferguson CI, Speakman J, Ismail T (2015) Management of intestinal obstruction in advanced malignancy. Ann Med Surg (Lond) 4(3):264–270. https://doi.org/10.1016/j.amsu.2015.07.018

13.

Strasser F, Blum D, von Moos R, Cathomas R, Ribi K, Aebi S, Betticher D, Hayoz S, Klingbiel D, Brauchli P, Haefner M, Mauri S, Kaasa S, Koeberle D, Swiss Group for Clinical Cancer R (2016) The effect of real-time electronic monitoring of patient-reported symptoms and clinical syndromes in outpatient workflow of medical oncologists: E-MOSAIC, a multicenter cluster-randomized phase III study (SAKK 95/06). Ann Oncol 27(2):324–332. https://doi.org/10.1093/annonc/mdv576

14.

Basch E, Deal AM, Dueck AC, Scher HI, Kris MG, Hudis C, Schrag D (2017) Overall survival results of a trial assessing patient-reported outcomes for symptom monitoring during routine cancer treatment. JAMA 318(2):197–198. https://doi.org/10.1001/jama.2017.7156

15.

Bennett MI, Eisenberg E, Ahmedzai SH, Bhaskar A, O'Brien T, Mercadante S, Krcevski Skvarc N, Vissers K, Wirz S, Wells C, Morlion B (2018) Standards for the management of cancer-related pain across Europe-A position paper from the EFIC Task Force on Cancer Pain. Eur J Pain. https://doi.org/10.1002/ejp.1346

16.

Bennett MI, Kaasa S, Barke A, Korwisi B, Rief W, Treede RD, Pain ITCC (2019) The IASP classification of chronic pain for ICD-11: chronic cancer-related pain. Pain 160(1):38–44. https://doi.org/10.1097/j.pain.0000000000001363

17.

Clay-Williams R, Colligan L (2015) Back to basics: checklists in aviation and healthcare. BMJ Qual Saf 24(7):428–431. https://doi.org/10.1136/bmjqs-2015-003957

18.

Rotter T, Kinsman L, James E, Machotta A, Gothe H, Willis J, Snow P, Kugler J (2010) Clinical pathways: effects on professional practice, patient outcomes, length of stay and hospital costs. Cochrane Database Syst Rev 3:CD006632. https://doi.org/10.1002/14651858.CD006632.pub2

19.

Schrijvers G, van Hoorn A, Huiskes N (2012) The care pathway: concepts and theories: an introduction. Int J Integr Care 12(Spec Ed Integrated Care Pathways):e192

20.

Kaasa S, Loge JH, Aapro M, Albreht T, Anderson R, Bruera E, Brunelli C, Caraceni A, Cervantes A, Currow DC, Deliens L, Fallon M, Gomez-Batiste X, Grotmol KS, Hannon B, Haugen DF, Higginson IJ, Hjermstad MJ, Hui D, Jordan K, Kurita GP, Larkin PJ, Miccinesi G, Nauck F, Pribakovic R, Rodin G, Sjogren P, Stone P, Zimmermann C, Lundeby T (2018) Integration of oncology and palliative care: a Lancet Oncology Commission. Lancet Oncol 19(11):e588–e653. https://doi.org/10.1016/S1470-2045(18)30415-7

21.

Theobald S, Brandes N, Gyapong M, El-Saharty S, Proctor E, Diaz T, Wanji S, Elloker S, Raven J, Elsey H, Bharal S, Pelletier D, Peters DH (2018) Implementation research: new imperatives and opportunities in global health. Lancet 392(10160):2214–2228. https://doi.org/10.1016/S0140-6736(18)32205-0

22.

Ogrinc G, Davies L, Goodman D, Batalden P, Davidoff F, Stevens D (2016) SQUIRE 2.0 (Standards for QUality Improvement Reporting Excellence): revised publication guidelines from a detailed consensus process. BMJ Qual Saf 25(12):986–992. https://doi.org/10.1136/bmjqs-2015-004411

23.

Oldenmenger WH, de Raaf PJ, de Klerk C, van der Rijt CC (2013) Cut points on 0-10 numeric rating scales for symptoms included in the Edmonton Symptom Assessment Scale in cancer patients: a systematic review. J Pain Symptom Manag 45(6):1083–1093. https://doi.org/10.1016/j.jpainsymman.2012.06.007

24.

Chow E, Ding K, Parulekar WR, Wong RK, van der Linden YM, Roos D, Hartsell WF, Hoskin P, Wu JS, Nabid A, Ong F, van Tienhoven G, Babington S, Demas WF, Wilson CF, Brundage M, Zhu L, Meyer RM (2015) Revisiting classification of pain from bone metastases as mild, moderate, or severe based on correlation with function and quality of life. Support Care Cancer. https://doi.org/10.1007/s00520-015-2957-5

25.

Lohre ET, Hjermstad MJ, Brunelli C, Knudsen AK, Kaasa S, Klepstad P (2018) Pain intensity factors changing breakthrough pain prevalence in patients with advanced cancer: a secondary analysis of a cross-sectional observational international study. Pain Ther 7(2):193–203. https://doi.org/10.1007/s40122-018-0107-8

26.

Farrar JT, Portenoy RK, Berlin JA, Kinman JL, Strom BL (2000) Defining the clinically important difference in pain outcome measures. Pain 88(3):287–294

27.

Chow E, Hoskin P, Mitera G, Zeng L, Lutz S, Roos D, Hahn C, van der Linden Y, Hartsell W, Kumar E (2012) Update of the international consensus on palliative radiotherapy endpoints for future clinical trials in bone metastases. Int J Radiat Oncol Biol Phys 82(5):1730–1737. https://doi.org/10.1016/j.ijrobp.2011.02.008

28.

Thronaes M, Raj SX, Brunelli C, Almberg SS, Vagnildhaug OM, Bruheim S, Helgheim B, Kaasa S, Knudsen AK (2016) Is it possible to detect an improvement in cancer pain management? A comparison of two Norwegian cross-sectional studies conducted 5 years apart. Support Care Cancer 24(6):2565–2574. https://doi.org/10.1007/s00520-015-3064-3

29.

Hui D, Glitza I, Chisholm G, Yennu S, Bruera E (2013) Attrition rates, reasons, and predictive factors in supportive care and palliative oncology clinical trials. Cancer 119(5):1098–1105. https://doi.org/10.1002/cncr.27854

30.

Welch VA, Norheim OF, Jull J, Cookson R, Sommerfelt H, Tugwell P, Equity C, Boston Equity S (2017) CONSORT-Equity 2017 extension and elaboration for better reporting of health equity in randomised trials. BMJ 359:j5085. https://doi.org/10.1136/bmj.j5085

31.

Anglemyer A, Horvath HT, Bero L (2014) Healthcare outcomes assessed with observational study designs compared with those assessed in randomized trials. Cochrane Database Syst Rev 4:MR000034. https://doi.org/10.1002/14651858.MR000034.pub2

32.

Kacha AK, Nizamuddin SL, Nizamuddin J, Ramakrishna H, Shahul SS (2018) Clinical study designs and sources of error in medical research. J Cardiothorac Vasc Anesth. https://doi.org/10.1053/j.jvca.2018.02.009

33.

Walker VA, Hoskin PJ, Hanks GW, White ID (1988) Evaluation of WHO analgesic guidelines for cancer pain in a hospital-based palliative care unit. J Pain Symptom Manag 3(3):145–149

34.

Du Pen SL, Du Pen AR, Polissar N, Hansberry J, Kraybill BM, Stillman M, Panke J, Everly R, Syrjala K (1999) Implementing guidelines for cancer pain management: results of a randomized controlled clinical trial. J Clin Oncol 17(1):361–370. https://doi.org/10.1200/JCO.1999.17.1.361

35.

Du Pen AR, Du Pen S, Hansberry J, Miller-Kraybill B, Millen J, Everly R, Hansen N, Syrjala K (2000) An educational implementation of a cancer pain algorithm for ambulatory care. Pain Manag Nurs 1(4):116–128. https://doi.org/10.1053/jpmn.2000.19333

36.

Fallon M, Walker J, Colvin L, Rodriguez A, Murray G, Sharpe M, Edinburgh Pain A, Management Tool Study G (2018) Pain management in cancer center inpatients: a cluster randomized trial to evaluate a systematic integrated approach-the Edinburgh pain assessment and management tool. J Clin Oncol 36(13):1284–1290. https://doi.org/10.1200/JCO.2017.76.1825

37.

Raj SX, Brunelli C, Klepstad P, Kaasa S (2017) COMBAT study - computer based assessment and treatment - a clinical trial evaluating impact of a computerized clinical decision support tool on pain in cancer patients. Scand J Pain 17:99–106. https://doi.org/10.1016/j.sjpain.2017.07.016

38.

Bates DW, Kuperman GJ, Wang S, Gandhi T, Kittler A, Volk L, Spurr C, Khorasani R, Tanasijevic M, Middleton B (2003) Ten commandments for effective clinical decision support: making the practice of evidence-based medicine a reality. J Am Med Inform Assoc 10(6):523–530. https://doi.org/10.1197/jamia.M1370

39.

Blum D, Raj SX, Oberholzer R, Riphagen II, Strasser F, Kaasa S, Euro Impact EIMPCRT (2015) Computer-based clinical decision support systems and patient-reported outcomes: a systematic review. Patient 8(5):397–409. https://doi.org/10.1007/s40271-014-0100-1

40.

Lawal AK, Rotter T, Kinsman L, Machotta A, Ronellenfitsch U, Scott SD, Goodridge D, Plishka C, Groot G (2016) What is a clinical pathway? Refinement of an operational definition to identify clinical pathway studies for a Cochrane systematic review. BMC Med 14:35. https://doi.org/10.1186/s12916-016-0580-z

41.

Furuhata H, Araki K, Ogawa T, Ikeda M (2017) Effect on completion of clinical pathway for improving clinical Indicator: cases of hospital stay, mortality rate, and comprehensive-volume ratio. J Med Syst 41(12):206. https://doi.org/10.1007/s10916-017-0857-6

42.

Hellyer TP, Ewan V, Wilson P, Simpson AJ (2016) The Intensive Care Society recommended bundle of interventions for the prevention of ventilator-associated pneumonia. J Intensive Care Soc 17(3):238–243. https://doi.org/10.1177/1751143716644461

43.

Ospina MB, Mrklas K, Deuchar L, Rowe BH, Leigh R, Bhutani M, Stickland MK (2017) A systematic review of the effectiveness of discharge care bundles for patients with COPD. Thorax 72(1):31–39. https://doi.org/10.1136/thoraxjnl-2016-208820

44.

Bright TJ, Wong A, Dhurjati R, Bristow E, Bastian L, Coeytaux RR, Samsa G, Hasselblad V, Williams JW, Musty MD, Wing L, Kendrick AS, Sanders GD, Lobach D (2012) Effect of clinical decision-support systems: a systematic review. Ann Intern Med 157(1):29–43. https://doi.org/10.7326/0003-4819-157-1-201207030-00450

45.

Carroll AE, Anand V, Downs SM (2012) Understanding why clinicians answer or ignore clinical decision support prompts. Appl Clin Inform 3(3):309–317. https://doi.org/10.4338/ACI-2012-04-RA-0013
Acknowledgments
The Norwegian Cancer Society supported this study. All authors had full access to all of the data in the study and take complete responsibility for the integrity of the data and accuracy of the data analysis. All named authors meet the International Committee of Medical Journal Editors (ICMJE) criteria for authorship for this article, take responsibility for the integrity of the work as a whole, and have given their approval for this version to be published.
Ethics declarations
Conflict of interest
The authors declare that they have no conflict of interest.
Additional information
Publisher's note
Springer Nature remains neutral with regard to jurisdictional claims in published maps and institutional affiliations.
About this article
Cite this article
Løhre, E.T., Thronæs, M., Brunelli, C. et al. An in-hospital clinical care pathway with integrated decision support for cancer pain management reduced pain intensity and needs for hospital stay. Support Care Cancer 28, 671–682 (2020) doi:10.1007/s00520-019-04836-8
Received:

Accepted:

Published:

Issue Date:
Keywords
Clinical care pathway

Decision support

Cancer pain

Palliative care