Abstract
Purpose
Chemotherapy is associated with both somatic and psychological side effects. Music might ease these problems. Several randomized controlled trials have investigated the effect of music, but the results are inconclusive. We aimed to examine whether live or pre-recorded music listening decreases anxiety during chemotherapy in newly diagnosed lymphoma patients.
Methods
A total of 143 patients with non-Hodgkin and Hodgkin lymphomas were randomly assigned into three groups receiving either 30 min of patient-preferred live music (n = 47), 30 min of patient-preferred pre-recorded music (n = 47), or standard care (n = 49) during up to five outpatient chemotherapy sessions. The primary endpoint was anxiety measured by the Spielberger's State Anxiety Inventory. Secondary endpoints included blood pressure, pulse rate, nausea and vomiting, serum catecholamine levels pre- and post-intervention to measure arousal levels, and health-related quality of life. The Musical Ability Test was used to link musical ability to the primary endpoint.
Results
When adjusting for age, sex, diagnosis, number of sessions, and baseline anxiety, the linear mixed model showed a borderline statistically significant reduction in the primary outcome anxiety in the live music group compared to standard care (7% (95% CI, − 14% to 0%, p = 0.05), while the effect of pre-recorded music was non-significant (5% (95% CI, − 12% to + 3%, p = 0.18). No intervention effects were seen in secondary outcomes.
Conclusion
Our findings suggest that patient-preferred live music reduces anxiety among patients with malignant lymphomas undergoing chemotherapy. Musical ability among this group of cancer patients seems not to be a determining factor for effect of music intervention.
This is a preview of subscription content, log in to check access.
Access options
Buy single article
Instant access to the full article PDF.
US$ 39.95
Price includes VAT for USA
Subscribe to journal
Immediate online access to all issues from 2019. Subscription will auto renew annually.
US$ 199
This is the net price. Taxes to be calculated in checkout.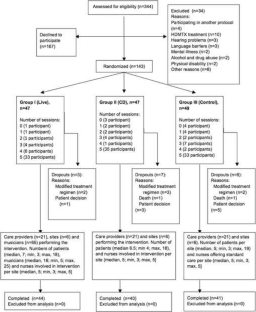 References
1.

Andrade V, Sawada NO, Barichello E (2013) Quality of life in hematologic oncology patients undergoing chemotherapy. Rev Esc Enferm USP 47(2):350–356

2.

Poe JK, Hayslip JW, Studts JL (2012) Decision making and distress among individuals diagnosed with follicular lymphoma. J Psychosoc Oncol 30(4):426–445

3.

Rueda A, Alba E, Ribelles N (1997) Six cycles of ABVD in the treatment of stage I and II Hodgkin's lymphoma: a pilot study. J Clin Oncol 15:1118–1122

4.

Merli F, Bertini M, Mozzana R et al (2004) Quality of life assessment in elderly patients with aggressive non-Hodgkin lymphoma treated with anthracycline-containing regimens. Report of a prospective study by the Intergruppo Italiano Limfomi. Haematologica 89(8):973–978

5.

Breen SJ, Baravelli CM, Schofield PE, Jefford M, Yates PM, Aranda SK (2009) Is symptom burden a predictor of anxiety and depression in patients with cancer about to commence chemotherapy? Med J Aust 190(7 Suppl):S99–S104

6.

Panis C, Herrera AC, Victorino VJ, Campos FC, Freitas LF, De Rossi T, Cecchini R (2012) Oxidative stress and hematological profiles of advanced breast cancer patients subjected to paclitaxel or doxorubicin chemotherapy. Breast Cancer Res Treat 133(1):89–97

7.

Chintamani GA, Khandelwal R, Tandon M, Jain S, Kumar Y, Saxena S (2001) The correlation of anxiety and depression levels with response to neoadjuvant chemotherapy in patients with breast cancer. JRSM Short Rep 2(3):15

8.

Bradt J, Dileo C, Magill L, Teague A (2016) Music interventions for improving psychological and physical outcomes in cancer patients. Cochrane Database Syst Rev 8:CD006911

9.

Archie P, Bruera E, Cohen L (2013) Music-based interventions in palliative cancer care: a review of quantitative studies and neurobiological literature. Supportive Care Cancer 21(9):2609–2624

10.

Boyde C, Linden U, Boehm K, Österman T (2012) The use of music therapy during the treatment of cancer patients: a collection of evidence. Global Advances in Health and Medicine 1(5):24–29

11.

Nightingale CL, Rodriguez C, Carnaby G (2013) The impact of music interventions on anxiety for adult cancer patients: a meta-analysis and systematic review. Integr Cancer Ther 12(5):393–403

12.

Zhang JM, Wang P, Yao JX, Zhao L, Davis MP, Walsh D, Yue GH (2012) Music interventions for psychological and physical outcomes in cancer: a systematic review and meta-analysis. Supportive Care Cancer 20(12):3043–3053

13.

Tsai HF, Chen YR, Chung MH, Liao YM, Chi MJ, Chang CC, Chou KR (2014) Effectiveness of music intervention in ameliorating cancer patient's anxiety, depression, pain, and fatigue: a meta-analysis. Cancer Nurs 37(6):E35–E50

14.

Bro ML, Jespersen KV, Hansen JB, Vuust P, Abildgaard N, Gram J, Johansen C (2018) Kind of Blue – a systematic review and meta-analysis of music interventions in cancer treatment. Psychooncology 27(2):386–400

15.

Burns DS, Azzouz F, Sledge R, Rutledge C, Hincher K, Monahan PO, Cripe LD (2008) Music imagery for adults with acute leukemia in protective environments: a feasibility study. Support Care Cancer 16(5):507–513

16.

Bulfone T, Quattrin R, Zanotti R, Regattin L, Brusaferro S (2009) Effectiveness of music therapy for anxiety reduction in women with breast cancer in chemotherapy treatment. Holist Nurs Pract 23(4):238–242

17.

Burrai F, Micheluzzi V, Bugani V (2014) Effects of live sax music on various physiological parameters, pain level, and mood level in cancer patients: a randomized controlled trial. Holist Nurs Pract 28(5):301–311

18.

Clark M, Isaacks-Downton G, Wells N, Redlin-Frazier S, Eck C, Hepworth JT, Chakravarthy B (2006) Use of preferred music to reduce emotional distress and symptom activity during radiation therapy. J Music Ther Fall 43(3):247–265

19.

Ferrer AJ (2007) The effect of live music on decreasing anxiety in patients undergoing chemotherapy treatment. J Music Ther Fall 44(3):242–255

20.

Hanser SB, Bauer-Wu S, Kubicek L, Healey M, Manola J, Hernandez M, Bunnell C (2006) Effects of a music therapy intervention on quality of life and distress in women with metastatic breast cancer. J Soc Integr Oncol Summer 4(3):116–124

21.

Li XM, Zhou KN, Yan H, Wang DL, Zhang YP (2011) Effects of music therapy on anxiety of patients with breast cancer after radical mastectomy: a randomized controlled trial. J Adv Nurs 68(5):1145–1155

22.

Lin MF, Hsieh YJ, Hsu YY, Fetzer S, Hsu MC (2011) A randomised controlled trial of the effect of music therapy and verbal relaxation on chemotherapy-induced anxiety. J Clin Nurs 20(7–8):988–999

23.

Moradian S, Walshe C, Shahidsales S, Ghavam Nasiri MR, Pilling M, Molassiotis A (2014) Nevasic audio program for the prevention of chemotherapy induced nausea and vomiting: a feasibility study using a randomized controlled trial design. Eur J Oncol Nurs 19(3):282–291

24.

Spielberger CD, Gorsuch RL, Lushene RE (1977) State-trait anxiety inventory for adults (STAI) Palo Alto. Consulting Psychologists Press, CA

25.

Gould D et al (2001) Visual analogue scale (VAS). J Clin Nurs 10:697–706

26.

Bailey LM (1983) The effects of live music versus tape-recorded music on hospitalized cancer patients. Music Ther 3(1):17–28

27.

Vuust P, Kringelbach ML (2010) The pleasure of making sense of music. Interdiscip Sci Rev 35(2):166–182

28.

Gebauer L, Kringelbach ML, Vuust P (2012) Ever-changing cycles of musical pleasure: the role of dopamine and anticipation. Psychomusicology 22(2):152–167

29.

Garza Villarreal EA, Brattico E, Leino S, Østergaard L, Vuust P (2011) Distinct neural responses to chord violations: a multiple source analysis study. Brain Res 1389:103–114

30.

Vuust P, Brattico E, Seppänen M, Näätänen R, Tervaniemi M (2012) The sound of music: differentiating musicians using a fast, musical multi-feature mismatch negativity paradigm. Neuropsychologia 50(7):1432–1443

31.

Särkämö T, Tervaniemi M, Laitinen S, Forsblom A, Mikkonen M, Autti T, Silvennoinen HM, Erkkilä J, Laine M, Peretz I, Hietanen M (2008) Music listening enhances cognitive recovery and mood after middle cerebral artery stroke. Brain 131(Pt 3):866–876

32.

Chow S, Shao J, Wang H (2008) Sample size calculations in clinical research, 2nd edn Chapman & Hall/CRC Biostatistics Series

33.

Danish National Academy of Music. Sdmk.dk

34.

Aaronson NK, Ahmedzai S, Bergman B, Bullinger M, Cull A, Duez NJ, Takeda F (1993) The European Organisation for Research and Treatment of Cancer EORTC-QLQ-C30: a quality-of-life instrument for use in international clinical trials in oncology. J Natl Cancer Inst 85(5):365–376

35.

Müllensiefen D, Gingras B, Stewart L & Musil JJ (2011) The goldsmiths musical sophistication index (Gold-MSI)

36.

2-CAT RIA, LDN® (2018) Germany, www.ldn.de. Immunoassays & Services

37.

Wallentin M, Nielsen AH, Friis-Olivarius M, Vuust C, Vuust P (2010) The musical ear test, a new reliable test for measuring musical competence. Learn Individ Differ 20(3):188–196

38.

Barnason S, Zimmerman L, Nieveen J (1995) The effects of music experimentals on anxiety in the patient after coronary artery bypass grafting. Heart Lung 24(2):124–132

39.

Cohen J (1988) Statistical power analysis for the behavioral sciences, 2nd edn. Lawrence Erlbaum, Hillsdale, N.J

40.

Rossetti A, Chadha M, Lee JK, Loewy JV, Harrison LB (2017) The impact of music therapy on anxiety in cancer patients undergoing simulation for radiation therapy. Int J Radiat Oncol Biol Phys 99(1):103–110

41.

Mauch M, MacCallum RM, Levy M, Leroi AM (2015) The evolution of popular music: USA 1960-2010. R Soc Open Sci 2:150081

42.

Robb SL, Burns DS, Carpenter JS (2011) Reporting guidelines for music-based interventions. Music Med 3(4):271–279
Acknowledgements
The authors wish to thank all the patients who participated in this study as well as project nurses, medical students, and physicians for their valuable contributions to recruitment, planning, data collection, and completion. Further, thanks to all the musicians for offering professional and unique musical moments to the individual cancer patient.
Funding
The Hospital of Southwest Jutland, The Danish National Academy of Music, Region of Southern Denmark, The Danish Cancer Society Research Center, The Danish National Research Foundation (DNRF 117), Familien Hede Nielsens Fond, Karola Joergensens Forskningsfond, Roche.dk, HiFi-Klubben, Juhl-Soerensen A/S, Sønderjyllands Symphony Orchestra, Aarhus Symphony Orchestra, and Copenhagen Phil supported this study.
Ethics declarations
Conflict of interest
The authors have no financial relationships to disclose. The corresponding author has full control of all data of this article and allows Supportive Care of Cancer to review the data, if requested.
Additional information
Publisher's note
Springer Nature remains neutral with regard to jurisdictional claims in published maps and institutional affiliations.
Appendix 1
Appendix 1
1)

What is your favorite musical style(s) for the research project?

a. Classical, b. Jazz, c. Folk, d. Pop, e. Rock, f. Other

2)

List the names of your favorite artists and/or favorite music pieces

3)

Which constellation of musicians do you prefer?
About this article
Cite this article
Bro, M.L., Johansen, C., Vuust, P. et al. Effects of live music during chemotherapy in lymphoma patients: a randomized, controlled, multi-center trial. Support Care Cancer 27, 3887–3896 (2019). https://doi.org/10.1007/s00520-019-04666-8
Received:

Accepted:

Published:

Issue Date:
Keywords
Cancer

Hodgkin lymphoma

Non-Hodgkin lymphoma

Chemotherapy

Anxiety

Music intervention

RCT