Abstract
Purpose
The objective of this study was to examine the associations between aromatase inhibitors (AIs) and side effects less frequently reported in the literature, including difficulty concentrating, forgetfulness, hair loss, and numbness in the extremities.
Methods
Data were analyzed from a cohort of 146 breast cancer patients initiating AI therapy and followed for 1 year and a cohort of 144 postmenopausal women without a history of cancer followed for 6 months. At baseline (prior to AI therapy for breast cancer patients), and at 3 months, 6 months, and 1 year (for breast cancer patients only), a comprehensive questionnaire was administered that ascertained data on symptoms. Odds ratios (ORs) and 95% confidence intervals (95% CIs) were calculated using logistic regression for new onset of symptoms among the breast cancer patients compared to the women without a history of cancer.
Results
Among the breast cancer patients, 34.2% were treated with chemotherapy prior to AI treatment. Over the first 6 months of AI treatment, breast cancer patients had significantly higher odds of reporting new onset of forgetfulness (OR 4.00; 95% CI 1.67, 9.59), difficulty concentrating (OR 2.73; 95% CI 1.29; 5.78), hair loss (OR 4.12; 95% CI 1.86, 9.17), and numbness/tingling in the extremities (OR 2.47; 95% CI 1.09, 5.62) compared to women without a history of cancer. Similar increases in odds were observed for the subgroup of women not treated with chemotherapy versus the comparison group.
Conclusions
AI-related symptoms should be monitored and addressed so that adherence to therapy is maintained.
This is a preview of subscription content, log in to check access.
Access options
Buy single article
Instant unlimited access to the full article PDF.
US$ 39.95
Price includes VAT for USA
Subscribe to journal
Immediate online access to all issues from 2019. Subscription will auto renew annually.
US$ 199
This is the net price. Taxes to be calculated in checkout.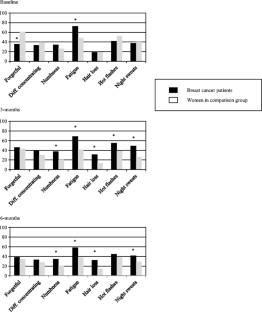 References
1.

Breast International Group 1-98 Collaborative Group, Thurlimann B, Keshaviah A, Coates AS et al (2005) A comparison of letrozole and tamoxifen in postmenopausal women with early breast cancer. N Engl J Med 353:2747–2757

2.

Coates AS, Keshaviah A, Thurlimann B et al (2007) Five years of letrozole compared with tamoxifen as initial adjuvant therapy for postmenopausal women with endocrine-responsive early breast cancer: update of study BIG 1-98. J Clin Oncol 25:486–492

3.

Coombes RC, Kilburn LS, Snowdon CF et al (2007) Survival and safety of exemestane versus tamoxifen after 2-3 years' tamoxifen treatment (Intergroup Exemestane Study): a randomised controlled trial. Lancet 369:559–570

4.

Arimidex Tamoxifen, Alone or in Combination (ATAC) Trialists' Group, Forbes JF, Cuzick J, Buzdar A, Howell A, Tobias JS, Baum M (2008) Effect of anastrozole and tamoxifen as adjuvant treatment for early-stage breast cancer: 100-month analysis of the ATAC trial. Lancet Oncol 9:45–53

5.

Campos SM (2004) Aromatase inhibitors for breast cancer in postmenopausal women. Oncologist 9:126–136

6.

Murphy CC, Bartholomew LK, Carpentier MY, Bluethmann SM, Vernon SW (2012) Adherence to adjuvant hormonal therapy among breast cancer survivors in clinical practice: a systematic review. Breast Cancer Res Treat 134:459–478

7.

Kadakia KC, Snyder CF, Kidwell KM, Seewald NJ, Flockhart DA, Skaar TC, Desta Z, Rae JM, Otte JL, Carpenter JS (2016) Patient-reported outcomes and early discontinuation in aromatase inhibitor-treated postmenopausal women with early stage breast cancer. Oncologist 21:539–546

8.

Henry NL, Azzouz F, Desta Z, Li L, Nguyen AT, Lemler S, Hayden J, Tarpinian K, Yakim E, Flockhart DA et al (2012) Predictors of aromatase inhibitor discontinuation as a result of treatment-emergent symptoms in early-stage breast cancer. J Clin Oncol 30:936–942

9.

Partridge AH, LaFountain A, Mayer E, Taylor BS, Winer E, Asnis-Alibozek A (2008) Adherence to initial adjuvant anastrozole therapy among women with early-stage breast cancer. J Clin Oncol 26:556–562

10.

Helzlsouer KJ, Gallicchio L, MacDonald R, Wood B, Rushovich E (2012) A prospective study of aromatase inhibitor therapy, vitamin D, C-reactive protein and musculoskeletal symptoms. Breast Cancer Res Treat 131:277–285

11.

Niravath P (2013) Aromatase inhibitor-induced arthralgia: a review. Ann Oncol 24:1443–1449

12.

Felson DT, Cummings SR (2005) Aromatase inhibitors and the syndrome of arthralgias with estrogen deprivation. Arthritis Rheum 52:2594–2598

13.

Henry NL, Giles JT, Stearns V (2008) Aromatase inhibitor-associated musculoskeletal symptoms: etiology and strategies for management. Oncology (Williston Park) 22:1401–1408

14.

Lombard JM, Zdenkowski N, Wells K, Beckmore C, Reaby L, Forbes JF, Chirgwin J (2016) Aromatase inhibitor induced musculoskeletal syndrome: a significant problem with limited treatment options. Support Care Cancer 24:2139–2146

15.

Dent SF, Gaspo R, Kissner M, Pritchard KI (2011) Aromatase inhibitor therapy: toxicities and management strategies in the treatment of postmenopausal women with hormone-sensitive early breast cancer. Breast Cancer Res Treat 126:295–310

16.

Ganz PA, Petersen L, Bower JE, Crespi CM (2016) Impact of adjuvant endocrine therapy on quality of life and symptoms: observational data over 12 months from the mind-body study. J Clin Oncol 34:816–824

17.

Gallicchio L, MacDonald R, Wood B, Rushovich E, Helzlsouer KJ (2012) Menopausal-type symptoms among breast cancer patients on aromatase inhibitor therapy. Climacteric 15:339–349

18.

Gallicchio L, Calhoun C, Helzlsouer KJ (2013) Aromatase inhibitor therapy and hair loss among breast cancer survivors. Breast Cancer Res Treat 142:435–443

19.

Ganz PA, Petersen L, Castellon SA, Bower JE, Silverman DH, Cole SW, Irwin MR, Belin TR (2014) Cognitive function after the initiation of adjuvant endocrine therapy in early-stage breast cancer: an observational cohort study. J Clin Oncol 32:3559–3567

20.

Collins B, Mackenzie J, Stewart A, Bielajew C, Verma S (2009) Cognitive effects of hormonal therapy in early stage breast cancer patients: a prospective study. Psychooncology 18:811–821

21.

Inglis H, Boyle FM, Friedlander ML, Watson SL (2015) Dry eyes and AIs: if you don't ask you won't find out. Breast 24:694–698

22.

Gallicchio L, Calhoun C, Riseberg D, Helzlsouer KJ (2017) Cardiovascular health among black and white breast cancer patients initiating aromatase inhibitor therapy. Breast J

23.

Merriman JD, Sereika SM, Brufsky AM, McAuliffe PF, McGuire KP, Myers JS, Phillips ML, Ryan CM, Gentry AL, Jones LD, Bender CM (2017) Trajectories of self-reported cognitive function in postmenopausal women during adjuvant systemic therapy for breast cancer. Psychooncology

24.

Chelune CJ, Heaton RK, Lehman RAW (1986) Neuropsychological and personality correlates of patients' complaints of disability. In: Goldstein G, Tarter RE (eds) Advances in clinical neuropsychology. Volume 3. Plenum Press, New York, pp 95–126

25.

Le Rhun E, Delbeuck X, Lefeuvre-Plesse C, Kramar A, Skrobala E, Pasquier F, Bonneterre J (2015) A phase III randomized multicenter trial evaluating cognition in post-menopausal breast cancer patients receiving adjuvant hormonotherapy. Breast Cancer Res Treat 152:569–580

26.

Hurria A, Patel SK, Mortimer J, Luu T, Somlo G, Katheria V, Ramani R, Hansen K, Feng T, Chuang C, Geist CL, Silverman DH (2014) The effect of aromatase inhibition on the cognitive function of older patients with breast cancer. Clin Breast Cancer 14:132–140

27.

Jenkins VA, Ambroisine LM, Atkins L, Cuzick J, Howell A, Fallowfield LJ (2008) Effects of anastrozole on cognitive performance in postmenopausal women: a randomised, double-blind chemoprevention trial (IBIS II). Lancet Oncol 9:953–961

28.

Shanmugan S, Epperson CN (2014) Estrogen and the prefrontal cortex: towards a new understanding of estrogen's effects on executive functions in the menopause transition. Hum Brain Mapp 35:847–865

29.

Hederstierna C, Hultcrantz M, Collins A, Rosenhall U (2010) The menopause triggers hearing decline in healthy women. Hear Res 259:31–35

30.

Hershman DL, Shao T, Kushi LH, Buono D, Tsai WY, Fehrenbacher L, Kwan M, Gomez SL, Neugut AI (2011) Early discontinuation and non-adherence to adjuvant hormonal therapy are associated with increased mortality in women with breast cancer. Breast Cancer Res Treat 126:529–537

31.

Chirgwin JH, Giobbie-Hurder A, Coates AS et al (2016) Treatment adherence and its impact on disease-free survival in the breast international group 1-98 trial of tamoxifen and Letrozole, alone and in sequence. J Clin Oncol 34:2452–2459

32.

Hsieh KP, Chen LC, Cheung KL, Chang CS, Yang YH (2014) Interruption and non-adherence to long-term adjuvant hormone therapy is associated with adverse survival outcome of breast cancer women—an Asian population-based study. PLoS One 9:e87027
Acknowledgements
This study was funded by Susan G. Komen Foundation (grant number KG 110356). The work described in this manuscript was carried out by the authors as prior employees at Mercy Medical Center, to which the grant was awarded. The views expressed do not necessarily represent the views of the National Institutes of Health or the United States Government.
Ethics declarations
Conflicts of interest
The authors declare that they have no conflicts of interest.
Ethical approval
All procedures performed in studies involving human participants were in accordance with the ethical standards of the institutional research committee and with the 1964 Helsinki Declaration and its later amendments or comparable ethical standards.
Informed consent
Informed consent was obtained from all individual participants included in the study.
About this article
Cite this article
Gallicchio, L., Calhoun, C. & Helzlsouer, K. A prospective study of aromatase inhibitor therapy initiation and self-reported side effects. Support Care Cancer 25, 2697–2705 (2017) doi:10.1007/s00520-017-3678-8
Received:

Accepted:

Published:

Issue Date:
Keywords
Aromatase inhibitors

Breast cancer

Cognitive dysfunction

Hair loss

Neuropathy