Abstract
Purpose
Cancer treatment programs and community-based support organizations are increasingly producing information and support resources geared to adolescent and young adult patients (AYAs); however, systematically-derived knowledge about user preferences for these resources is lacking. The primary purpose of this study was to generate findings from informed AYA cancer patients that resource developers can use to create products consistent with AYAs' expressed preferences for information and support.
Methods
Utilizing a modified Delphi technique, AYA cancer patients identified barriers to optimal AYA cancer care, cancer resources that address their needs, and specific characteristics of cancer resources they find helpful. The Delphi panel consisted of a convenience sample of 21 patients aged 18–39 years, who were diagnosed with cancer between ages 15–39 and were no more than 8 years out from cancer treatment at the time of the study. Survey data were collected in three consecutive and iterative rounds over the course of 6 months in 2015.
Results
Findings indicated that AYA patients prefer resources that reduce feelings of loneliness, create a sense of community or belonging, and provide opportunities to meet other AYA patients. Among the top barriers to optimal cancer care, AYAs identified a lack of cancer care providers specializing in AYA care, a lack of connection to an AYA patient community, and their own lack of ability to navigate the health system. Participants also described aspects of cancer information and supportive care resources that they believe address AYAs' concerns.
Conclusion
Information derived from this study will help developers of cancer information and support resources to better reach their intended audience. From the point of view of AYA cancer patients, optimal cancer care and utilization of information and support resources requires that cancer support programs foster meaningful connections among AYA patients. Results also suggest that patient resources should equip AYAs with practical knowledge and skills necessary to navigate the health system and advocate for themselves. Given patient interest in social media, future research should further investigate optimizing online resources to serve the AYA cancer population.
This is a preview of subscription content, log in to check access.
Access options
Buy single article
Instant access to the full article PDF.
US$ 39.95
Price includes VAT for USA
Subscribe to journal
Immediate online access to all issues from 2019. Subscription will auto renew annually.
US$ 199
This is the net price. Taxes to be calculated in checkout.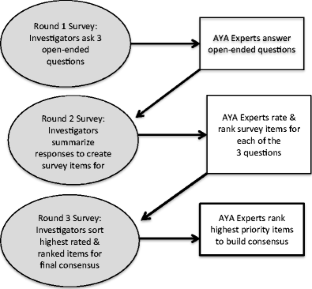 References
1.

Centers for Disease Control and Prevention and National Cancer Institute (2015) United States cancer statistics: 1999–2012 incidence and mortality. U.S. Department of Health and Human Services, Atlanta. http://www.cdc.gov/uscs Accessed 9 October 2015

2.

Bleyer A (2011) Latest estimates of survival rates of the 24 most common cancers in adolescent and young adult Americans. Journal of Adolescent and Young Adult Oncology 1(1):37–42. doi:10.1089/jayao.2010.0005

3.

American Cancer Society (2014) Cancer treatment and survivorship facts and figures 2014–2015. American Cancer Society, Atlanta

4.

Haase JE, Phillips CR (2004) The adolescent/young adult experience. J Pediatr Oncol Nurs 21(3):145–149. doi:10.1177/1043454204264385

5.

Zebrack B, Isaacson S (2012) Psychosocial care of adolescent and young adult patients with cancer and survivors. J Clin Oncol 30(11):1221–1226. doi:10.1200/jco.2011.39.5467

6.

Bleyer AW, Barr RD (2007) Cancer in adolescents and young adults. Springer, Berlin

7.

Palmer S, Patterson P, Thompson K (2014) A national approach to improving adolescent and young adult (AYA) oncology psychosocial care: the development of AYA-specific psychosocial assessment and care tools. Palliative and Supportive Care 12(03):183–188. doi:10.1017/S1478951512001083

8.

Morgan S, Davies S, Palmer S, Plaster M (2010) Sex, drugs, and rock 'n' roll: caring for adolescents and young adults with cancer. J Clin Oncol 28(32):4825–4830. doi:10.1200/JCO.2009.22.5474

9.

Arnett JJ (2000) Emerging adulthood: a theory of development from the late teens through the twenties. Am Psychol 55(5):–469. doi:10.1037/0003-066X.55.5.469

10.

Arnett, JJ (2004) Emerging adulthood: The winding road from the late teens through the twenties. Oxford University Press, pp. 10–11. doi: 10.1177/1473325007077261

11.

Arnett JJ (2007) Emerging adulthood: what is it, and what is it good for? Child Dev Perspect 1(2):68–73. doi:10.1111/j.1750-8606.2007.00016.x

12.

Butow P, Palmer S, Pai A, Goodenough B, Luckett T, King M (2010) Review of adherence-related issues in adolescents and young adults with cancer. J Clin Oncol 28(32):4800–4809. doi:10.1200/JCO.2009.22.2802

13.

Zebrack B (2009) Information and service needs for young adult cancer survivors. Support Care Cancer 17(4):349–357. doi:10.1007/s00520-008-0469-2

14.

Keegan TH, Lichtensztajn DY, et al. (2012) Unmet adolescent and young adult cancer survivors information and service needs: a population-based cancer registry study. J Cancer Surviv 6(3):239–250. doi:10.1007/s11764-0120219-0

15.

Fernández A (2011) Clinical report: the impact of social media on children, adolescents and families. Archivos de Pediatría del Uruguay 82(1):31–32. doi:10.1542/peds.2011-0054

16.

Kim B, Gillham DM (2013) The experience of young adult cancer patients described through online narratives. Cancer Nurs 36(5):377–384. doi:10.1097/NCC.0b013e318291b4e9

17.

Ludwig B (1997) Predicting the future: have you considered using the Delphi methodology. J Ext 35(5):1–4

18.

Buck AJ, Gross M, Hakim S, Weinblatt J (1993) Using the Delphi process to analyze social policy implementation: a post hoc case from vocational rehabilitation. Policy Sci 26(4):271–288. doi:10.1007/BF00999473

19.

Jones J, Hunter D (1995) Consensus methods for medical and health services research. BMJ: British Medical Journal 311(7001):376

20.

Fergie G, Hilton S, Hunt K (2015) Young adults' experiences of seeking online information about diabetes and mental health in the age of social media. Health Expect. doi:10.1111/hex.12430

21.

Yonker LM, Zan S, Scirica CV, Jethwani K, Kinane TB (2014) "Friending" teens: systematic review of social media in adolescent and young adult health care. J Med Internet Res 17(1):e4. doi:10.2196/jmir.3692

22.

Adler, NE, and Page, AE (2008) Cancer care for the whole patient: Meeting psychosocial health needs. National Academies Press, pp. 30–33. doi: 10.17226/11993

23.

National Cancer Institute. (2004). Living beyond cancer: Finding a new balance. President's cancer panel 2003–2004 annual report. Bethesda, MD: Department of Health and Human Services, National Institutes of Health. Retrieved June 28, 2016 from http://deainfo.nci.nih.gov/advisory/pcp/annualReports/pcp03-04rpt/Survivorship.pdf

24.

Hewitt, M, Weiner, SL, and Simone, JV (2003) Childhood cancer survivorship: improving care and quality of life. National Academies Press. doi: 10.17226/10767
Acknowledgments
Project funded by SeventyK and TeenCancerAmerica.
About this article
Cite this article
Cheung, C.K., Zebrack, B. What do adolescents and young adults want from cancer resources? Insights from a Delphi panel of AYA patients. Support Care Cancer 25, 119–126 (2017). https://doi.org/10.1007/s00520-016-3396-7
Received:

Accepted:

Published:

Issue Date:
Keywords
Patient resources

Information needs

Adolescent

Young adult

Cancer

Survivor