Abstract
Purpose
Breast cancer survivors on aromatase inhibitors (AI) often experience side effects of joint pain, stiffness, or achiness (arthralgia). This study presents findings from a qualitative study of survivors on an AI regarding their knowledge of potential joint pain side effects and how both AI side effects and their management through moderate physical activity could be discussed during routine visits with their oncology provider.
Methods
Qualitative data from semi-structured interviews were content analyzed for emergent themes. Descriptive statistics summarize sample characteristics.
Results
Our sample included 36 survivors, mean age of 67 (range 46–87); 86 % Caucasian and 70 % had education beyond high school. AI experience are as follows: 64 % anastrozole/Arimidex, 48 % letrozole/Femara, and 31 % exemestane/Aromasin. Participants expressed interest in having more information about potential joint pain side effects when the AI was prescribed so they could understand their joint symptoms when they appeared or intensified. They were relieved to learn that their joint symptoms were not unusual or "in their head." Participants would have been especially motivated to try walking as a way to manage their joint pain if physical activity had been recommended by their oncologist.
Conclusions
Breast cancer survivors who are prescribed an AI as part of their adjuvant treatment want ongoing communication with their oncology provider about the potential for joint pain side effects and how these symptoms may be managed through regular physical activity. The prescription of an AI presents a "teachable moment" for oncologists to recommend and encourage their patients to engage in regular physical activity.
This is a preview of subscription content, log in to check access.
We're sorry, something doesn't seem to be working properly.
Please try refreshing the page. If that doesn't work, please contact support so we can address the problem.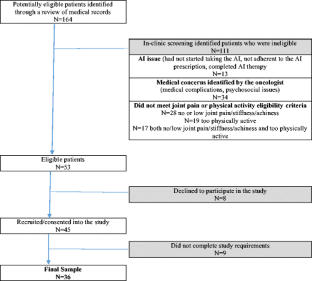 References
1.

Surveillance Epidemiology and End Results (SEER). All sites: cancer: SEER stat fact sheets. National Cancer Institute. 2014. http://seer.cancer.gov/statfacts/html/all.html. Accessed 01/15/14

2.

Anderson WF, Pfeiffer RM, Dores GM, Sherman ME (2006) Comparison of age distribution patterns for different histopathologic types of breast carcinoma. Cancer Epidemiol Biomark Prev 15(10):1899–1905

3.

Benz CC (2008) Impact of aging on the biology of breast cancer. Crit Rev Oncol Hematol 66(1):65–74

4.

Taylor WC, Muss HB (2010) Adjuvant therapy for older women with breast cancer. Cancer J 16:289–293

5.

Burstein HJ, Griggs JJ, Prestrud AA, Temin S (2010) American Society of Clinical Oncology clinical practice guideline: update on adjuvant endocrine therapy for women with hormone receptor-positive breast cancer. J Clin Oncol 6(5):243–246

6.

Boonstra A, van Zadelhoff J, Timmer-Bonte A, Ottevanger PB, Beurskens CHG, van Laarhoven HWM (2013) Arthralgia during aromatase inhibitor treatment in early breast cancer. Cancer Nurs 0(0):1–8

7.

Crew KD, Greenlee H, Capodice J et al (2007) Prevalence of joint symptoms in postmenopausal women taking aromatase inhibitors for early-stage breast cancer. J Clin Oncol 25(25):3877–3883

8.

Dizdar O, Ozcakar L, Malas FU, Harputluoglu H, Bulut N et al (2009) Sonographic and electrodiagnostic evaluations in patients with aromatase inhibitor-related arthralgia. J Clin Oncol 27(30):4955–4960

9.

Oberguggenberger A, Hubalek M, Sztankay M, Meraner V, Beer B et al (2011) Is the toxicity of adjuvant aromatase inhibitor therapy underestimated? Complementary information from patient-reported outcomes (PROs). Breast Cancer Res Treat 128(2):553–561

10.

Presant CA, Bosserman L, Young T et al (2007) Aromatase inhibitor-associated arthralgia and/or bone pain: frequency and characterization in non-clinical trial patients. Clin Breast Cancer 7(10):775–778

11.

Kanematsu M, Morimoto M, Honda J, Nagao T, Nakagawa M et al (2011) The time since last menstrual period is important as a clinical predictor of non-steroidal aromatase inhibitor-related arthralgia. BMC Cancer 10(11):436

12.

Mao JJ, Stricker C, Bruner D et al (2009) Patterns and risk factors associated with aromatase inhibitor-related arthralgia among breast cancer survivors. Cancer 115:3631–3639

13.

Singer O, Cigler T, Moore AB, Levine AB, Hentel K et. al (2012) Defining aromatase inhibitor musculoskeletal symptom: a prospective study. Arth Care Res

14.

Nyrop KA, Muss HB, Hackney B, Cleveland R, Altpeter M, Callahan LF (2015) Feasibility and promise of a 6-week program to encourage physical activity and reduce joint symptoms among elderly breast cancer survivors on aromatase inhibitor therapy. J Geriatr Oncol 5(2):148–155

15.

Nyrop KA, Callahan LF, Rini C et al (2015) Adaptation of an evidence-based arthritis program for breast cancer survivors on aromatase inhibitor therapy who are experiencing joint pain. Prev Chronic Dis

16.

Arthritis Foundation (2010) Walk with ease: your guide to walking for better health, improved fitness and less pain (Third edition). Arthritis Foundation, Atlanta

17.

Callahan LF, Shreffler JH, Altpeter M et al (2011) Evaluation of group and self-directed formats of the Arthritis Foundation's (AF) Walk With Ease (WWE) program. Arth Care Res 63(8):1098–1107

18.

Nyrop KA, Cleveland R, Callahan LF (2014) Achievement of exercise objectives and satisfaction with the walk with ease program-group and self-directed participants. Am J Health Promot 28(4):228–230

19.

Niravath P (2013) Aromatase-inhibitor-induced arthralgia: a review. Ann Oncol 24(6):1443–1449

20.

Dent SF, Gaspo R, Kissner M, Prichard KI (2011) Aromatase inhibitor therapy: toxicities and management strategies in the treatment of postmenopausal women with hormone-sensitive early breast cancer. Breast Cancer Res Treat 126:296–310

21.

Castel LD, Hartmann KE, Mayer IA et al (2013) Time course of arthralgia among women initiating aromatase inhibitor therapy and a postmenopausal comparison group in a prospective cohort. Cancer 119(13):2317–2382

22.

Eheman C, Henley J, Ballard-Barbash R, Jacobs EJ, Schymura MJ et al (2012) Annual report to the nation on the status of cancer, 1975–2008, featuring cancers associated with excess weight and lack of sufficient physical activity. Cancer 118(9):2338–2366

23.

Harrison S, Hayes SC, Newman B (2009) Level of physical activity and characteristics associated with change following breast cancer diagnosis and treatment. Psycho-Oncology 18:387–394

24.

Blanchard CM, Courneya KS, Stein K (2008) Cancer survivors' adherence to lifestyle behavior recommendations and associations with health-related quality of life: results from the American Cancer Society's SCS-II. J Clin Oncol 26:2198–2204

25.

Sabiston CM, Brunet J, Vallance JK, Meterissian S (2014) Prospective examination of objectively assessed physical activity and sedentary time after breast cancer treatment: sitting on the crest of the teachable moment. Cancer Epidemiol Biomarkers Prev

26.

Alfano CM, Day JM, Katz ML et al (2009) Exercise and dietary change after diagnosis and cancer-related symptoms in long-term survivors of breast cancer: CALGB 79804. Psychooncology 18(2):128–133

27.

Humpel N, Magee C, Jones SC (2007) The impact of a cancer diagnosis on the health behaviors of cancer survivors and their family and friends. Support Care Cancer 15(6):621–630

28.

Demark-Wahnefried W, Peterson B, McBride C, Lipkus I, Clipp E (2000) Current health behaviors and readiness to pursue life-style changes among men and women diagnosed with early stage prostate and breast carcinomas. Cancer 88(3):674–684

29.

Demark-Wahnefried W, Aziz NM, Rowland JH, Pinto BM (2005) Riding the crest of the teachable moment: promoting long-term health after the diagnosis of cancer. J Clin Oncol 23(24):5814–5830

30.

Olufade T, Gallicchio L, MacDonald R, Helzlsouer K (2015) Musculoskeletal pain and health-related quality of life among breast cancer patients treated with aromatase inhibitors. Support Care Cancer 23(2):447–455

31.

Bender JL, Hohenadel J, Wong J et al (2008) What patients with cancer want to know about pain: a qualitative study. J Pain Symptom Manag 35(2):177–187

32.

Davidson B, Vogel V, Wickerham L (2007) Oncologist-patient discussion of adjuvant hormonal therapy in breast cancer: results of a linguistic study focusing on adherence and persistence to therapy. J Support Oncol 5(3):139–143

33.

Kenyon M, Mayer DK, Owens AK (2014) Late and long-term effects of breast cancer treatment and surveillance management for the general practitioner. J Obstet Gynecol Neonatal Nurs 43(3):382–398

34.

Jenkins V, Solis-Trapala I, Langridge C, Catt S, Talbot DC, Fallowfield LJ (2011) What oncologists believe they said and what patients believe they heard: an analysis of phase I trial discussions. J Clin Oncol 29(1):61–68

35.

Yeom HE, Heidrich SM (2013) Relationships between three beliefs as barriers to symptom management and quality of life in older breast cancer survivors. Oncol Nurs Forum 40(3):E108–E118

36.

Jones LW, Courneya KS (2002) Exercise discussions during cancer treatment consultations. Cancer Pract 10(2):66–74

37.

Park J-H, Yoon YJ, Lee CW, Lee J, Oh M et al (2014) The effects of oncologists' physical activity recommendations and information packages on level of physical activity and the quality of life in cancer survivors. J Clin Oncol 32(5s):Abstract 9629

38.

Ruiz-Casado A, Lucia A (2014) The time has come for oncologists to recommend physical activity to cancer survivors. Arch Exerc Health Dis 4(1):214–215

39.

Santa Mina D, Alibhai SM, Matthew AG et al (2012) Exercise in clinical cancer care: a call to action and program development description. Curr Oncol 19(3):e136–e144

40.

Wolin KY, Schwartz AL, Matthews CE, Courneya KS, Schmitz KH (2012) Implementing the exercise guidelines for cancer survivors. J Support Oncol 10(5):171–177

41.

Irwin ML, Cartmel B, Gross C, Ercolano E, Fielin M et al (2015) Randomized controlled trial of exercise vs. usual care on aromatase-inhibitor associated arthralgias in women with breast cancer: the hormones and physical exercise (HOPE) study. J Clin Oncol 33

42.

Galantino ML, Desai K, Greene L, Demichele A, Stricker CT, Mao JJ (2012) Impact of yoga on functional outcomes in breast cancer survivors with aromatase inhibitor-associated arthralgias. Integr Cancer Ther 11(4):313–320

43.

DeNysschen CA, Burton H, Ademuyiwa F, Levine E, Tetewsky S, O'Connor T (2014) Exercise intervention in breast cancer patients with aromatase inhibitor-associated arthralgia: a pilot study. Eur J Cancer Care 23(4):493–501

44.

Cantarero-Villanueva I, Fernandez-Lao C, Caro-Moran E, Morillas-Ruiz J, Galiano-Castillo N et al (2013) Aquatic exercise in a chest-high pool for hormone therapy-induced arthralgia in breast cancer survivors: a pragmatic controlled trial. Clin Rehab 27(2):123–132

45.

Galantino ML, Callens ML, Cardena GJ, Piela NL, Mao JJ (2013) Tai chi for well-being of breast cancer survivors with aromatase inhibitor-associated arthralgias: a feasibility study. Altern Ther Health Med 19(6):38–44
Ethics declarations
The study protocol was approved by the Lineberger Comprehensive Cancer Center Protocol Review Committee and the Institutional Review Board of the University of North Carolina at Chapel Hill.
Conflict of interest
This research is supported by the National Cancer Institute of the National Institutes of Health under award number R21CA169492 and a pilot grant from the UNC Institute on Aging. The authors do not have a financial relationship with either organization. All authors have participated in writing, reviewing, and/or editing the manuscript. The principal investigator has full control of all primary data and agrees to allow the journal of Supportive Care in Cancer to review our data if requested. We thank the Arthritis Foundation, UNC Thurston Arthritis Research Center, and the North Carolina Cancer Hospital oncology physicians and clinical staff for their interest and support throughout the study, as well as the breast cancer survivors who participated in this study.
Additional information
Anne Wilson and Arielle Schechter are patient advisors to the study.
About this article
Cite this article
Nyrop, K.A., Callahan, L.F., Rini, C. et al. Aromatase inhibitor associated arthralgia: the importance of oncology provider-patient communication about side effects and potential management through physical activity. Support Care Cancer 24, 2643–2650 (2016). https://doi.org/10.1007/s00520-015-3065-2
Received:

Accepted:

Published:

Issue Date:
Keywords
Physical activity

Aromatase inhibitor

Pain

Adaptation