Abstract
Purpose
The purpose of this study was to compare the impact of music therapy (MT) versus music medicine (MM) interventions on psychological outcomes and pain in cancer patients and to enhance understanding of patients' experiences of these two types of music interventions.
Methods
This study employed a mixed methods intervention design in which qualitative data were embedded within a randomized cross-over trial. Thirty-one adult cancer patients participated in two sessions that involved interactive music making with a music therapist (MT) and two sessions in which they listened to pre-recorded music without the presence of a therapist (MM). Before and after each session, participants reported on their mood, anxiety, relaxation, and pain by means of visual analogue and numeric rating scales. Thirty participants completed an exit interview.
Results
The quantitative data suggest that both interventions were equally effective in enhancing target outcomes. However, 77.4 % of participants expressed a preference for MT sessions. The qualitative data indicate that music improves symptom management, embodies hope for survival, and helps connect to a pre-illness self, but may also access memories of loss and trauma. MT sessions helped participants tap into inner resources such as playfulness and creativity. Interactive music making also allowed for emotional expression. Some participants preferred the familiarity and predictability of listening to pre-recorded music.
Conclusions
The findings of this study advocate for the use of music in cancer care. Treatment benefits may depend on patient characteristics such as outlook on life and readiness to explore emotions related to the cancer experience.
This is a preview of subscription content, log in to check access.
Access options
Buy single article
Instant unlimited access to the full article PDF.
US$ 39.95
Price includes VAT for USA
Subscribe to journal
Immediate online access to all issues from 2019. Subscription will auto renew annually.
US$ 199
This is the net price. Taxes to be calculated in checkout.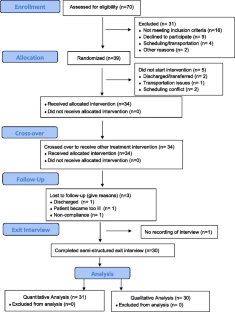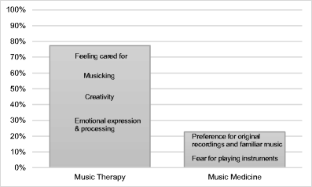 References
1.

Bufalini A (2009) Role of interactive music in oncological pediatric patients undergoing painful procedures. Minerva Pediatr 61(4):379–389

2.

Smith M, Casey L, Johnson D, Gwede C, Riggin O (2001) Music as a therapeutic intervention for anxiety in patients receiving radiation therapy. Oncol Nurs Forum 28(5):855–862

3.

Clark M, Isaacks-Downton G, Wells N, Redlin-Frazier S, Eck C, Hepworth J, Chakravarthy B (2006) Use of preferred music to reduce emotional distress and symptom activity during radiation therapy. J Music Ther 43(3):247–265

4.

Harper E (2001) Reducing treatment-related anxiety in cancer patients: comparison of psychological interventions Southern Methodist University, Texas, USA

5.

Cassileth B, Vickers A, Magill L (2003) Music therapy for mood disturbance during hospitalization for autologous stem cell transplantation: a randomized controlled trial. Cancer 98(12):2723–2729

6.

Beck S (1991) The therapeutic use of music for cancer-related pain. Oncol Nurs Forum 18(8):1327–1337

7.

Bradt J, Dileo C, Grocke D, Magill L (2011) Music interventions for improving psychological and physical outcomes in cancer patients. Cochrane Database of Syst Rev (8). doi:10.1002/14651858.CD006911.pub2

8.

Dileo C (1999) A classification model for music and medicine. In: Dileo C (ed) Applications of Music in Medicine. National Association of Music Therapy, pp 1–6

9.

Gold C, Erkkilä J, Bonde L, Trondalen G, Maratos A, Crawford M (2011) Music therapy or music medicine? Psychother Psychosom 80:304

10.

Gillen E, Biley F, Allen D (2008) Effects of music listening on adult patients' pre-procedural state anxiety in hospital. Int J Evid-Based Health 6(1):24–49

11.

Beaulieu-Boire G, Bourque S, Chagnon F, Chouinard L, Gallo-Payet N, Lesur O (2013) Music and biological stress dampening in mechanically-ventilated patients at the intensive care unit ward: a prospective interventional randomized crossover trial. J Crit Care 28(4):442–450

12.

Blood AJ, Zatorre R (2001) Intensely pleasurable responses to music correlate with activity in brain regions implicated with reward and emotion. Proc Natl Acad Sci 98:11818–11823

13.

Bradt J, Burns DS, Creswell JW (2013) Mixed methods research in music therapy. J Music Ther 52(2):123–148

14.

Creswell JW (2015) A concise introduction to mixed methods research. Sage, Thousand Oaks

15.

Creswell JW, Plano Clark V (2011) Designing and conducting mixed methods research. Sage, Los Angeles

16.

Dworkin RH, Turk DC, Farrar JT, Haythornthwaite JA, Jensen MP, Katz NP, Kerns RD, Stucki G, Allen RR, Bellamy N, Carr DB, Chandler J, Cowan P, Dionne R, Galer BS, Hertz S, Jadad AR, Kramer LD, Manning DC, Martin S, McCormick CG, McDermott MP, McGrath P, Quessy S, Rappaport BA, Robbins W, Robinson JP, Rothman M, Royal MA, Simon L, Stauffer JW, Stein W, Tollett J, Wernicke J, Witter J, IMMPACT (2005) Core outcome measures for chronic pain clinical trials: IMMPACT recommendations. Pain 113(1–2):9–19

17.

Harris P, Taylor R, Thielke R, Payne J, Gonzalez N, Conde J (2009) Research electronic data capture (REDCap)—a metadata-driven methodology and workflow process for providing translational research informatics support. J Biomed Inform 42(2):377–381

18.

MAXQDA (1989–2014) Version 11. VERBI Software - Consult - Sozialforschung GmbH, Berlin, Germany

19.

Braun V, Clarke V (2006) Using thematic analysis in psychology. Qual Res Psych 3(2):77–101

20.

O'Callaghan C, McDermott F, Michael N, Daveson B, Hudson P, Zalcberg J (2014) "A quiet still voice that just touches": music's relevance for adults living with life-threatening cancer diagnoses. Support Care Cancer 22:1037–1047

21.

Batt-Rawden B, DeNora T, Ruud E (2005) Music listening and empowerment in health promotion: a study of the role and significance of music in everyday life of the long-term ill. Nordic J Music Ther 14(2):120–136. doi:10.1080/08098130509478134

22.

DeNora T (2000) Music in everyday life. Cambridge University Press, Cambridge

23.

Mathieson C, Stam H (1995) Renegotiating identity: cancer narratives. Sociol Health Illn 17(3):283–306

24.

Rolvsjord R (2010) Resource-oriented music therapy. Barcelona Publishers, Gilsum

25.

Heiderscheit A, Chlan L, Donley K (2011) Instituting a music listening intervention for critically ill patients receiving mechanical ventilation: exemplars from two patient cases. Music Med 3(4):239–246

26.

Daykin N, McClean S, Bunt L (2007) Creativity, identity and healing: participants' accounts of music therapy in cancer care. Health: Interdiscip J Soc Study Health Illn Med 11(3):349–370

27.

Williams S (2003) Medicine and the body. Sage Publications, London
Acknowledgments
Research funding for this project was provided by the Drexel College of Medicine Cancer Program. We would like to thank Dr. John W. Creswell for his feedback on this manuscript and Dr. Michael D. Fetters for his input regarding the joint displays of quantitative and qualitative data.
Conflict of interest
The authors report no conflict of interest. The authors have full control of all primary data and agree to allow the journal to review their data if requested.
About this article
Cite this article
Bradt, J., Potvin, N., Kesslick, A. et al. The impact of music therapy versus music medicine on psychological outcomes and pain in cancer patients: a mixed methods study. Support Care Cancer 23, 1261–1271 (2015). https://doi.org/10.1007/s00520-014-2478-7
Received:

Accepted:

Published:

Issue Date:
Keywords
Music therapy

Cancer

Symptom management

Mixed methods research