This is a preview of subscription content, log in to check access.
Access options
Buy single article
Instant unlimited access to the full article PDF.
US$ 39.95
Price includes VAT for USA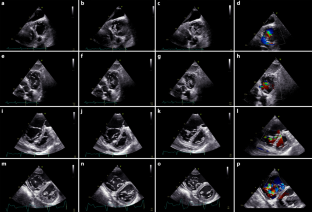 References
1.

Prihadi EA, van der Bijl P, Gursoy E, Abou R, Mara Vollema E, Hahn RT, et al. Development of significant tricuspid regurgitation over time and prognostic implications: new insights into natural history. Eur Heart J. 2018;39(39):3574–81.

2.

Topilsky Y, Maltais S, Medina Inojosa J, Oguz D, Michelena H, Maalouf J, et al. Burden of tricuspid regurgitation in patients diagnosed in the community setting. JACC Cardiovasc Imaging. 2019;12(3):433–42.

3.

Lee JW, Song JM, Park JP, Kang DH, Song JK. Long-term prognosis of isolated significant tricuspid regurgitation. Circ J. 2010;74(2):375–80.

4.

Nath J, Foster E, Heidenreich PA. Impact of tricuspid regurgitation on long-term survival. J Am Coll Cardiol. 2004;43(3):405–9.

5.

Kelly BJ, Ho Luxford JM, Butler CG, Huang CC, Wilusz K, Ejiofor JI, et al. Severity of tricuspid regurgitation is associated with long-term mortality. J Thorac Cardiovasc Surg. 2018;155(3):1032–1038.e2.

6.

Nickenig G, Kowalski M, Hausleiter J, Braun D, Schofer J, Yzeiraj E, et al. Transcatheter treatment of severe tricuspid regurgitation with the edge-to-edge mitraclip technique. Circulation. 2017;135(19):1802–14.

7.

Bartko PE, Arfsten H, Frey MK, Heitzinger G, Pavo N, Cho A, et al. Natural history of functional tricuspid regurgitation: implications of quantitative doppler assessment. JACC Cardiovasc Imaging. 2019;12(3):389–97.

8.

Hahn RT, Zamorano JL. The need for a new tricuspid regurgitation grading scheme. Eur Heart J Cardiovasc Imaging. 2017;18(12):1342–3.

9.

Hausleiter J, Braun D, Orban M, Latib A, Lurz P, Boekstegers P, et al. Patient selection, echocardiographic screening and treatment strategies for interventional tricuspid repair using the edge-to-edge repair technique. EuroIntervention. 2018;14(6):645–53.

10.

Mediratta A, Addetia K, Yamat M, Moss JD, Nayak HM, Burke MC, et al. 3D echocardiographic location of implantable device leads and mechanism of associated tricuspid regurgitation. JACC Cardiovasc Imaging. 2014;7(4):337–47.

11.

Hahn RT, Nabauer M, Zuber M, Nazif TM, Hausleiter J, Taramasso M, et al. Intraprocedural imaging of transcatheter tricuspid valve interventions. JACC Cardiovasc Imaging. 2019;12(3):532–53.

12.

Mitchell C, Rahko PS, Blauwet LA, Canaday B, Finstuen JA, Foster MC, et al. Guidelines for performing a comprehensive transthoracic echocardiographic examination in adults: recommendations from the American society of echocardiography. J Am Soc Echocardiogr. 2019;32(1):1–64.

13.

Schneider M, Pistritto AM, Gerges C, Gerges M, Binder C, Lang I, et al. Multi-view approach for the diagnosis of pulmonary hypertension using transthoracic echocardiography. Int J Cardiovasc Imaging. 2018;34(5):695–700.

14.

Rudski LG, Lai WW, Afilalo J, Hua L, Handschumacher MD, Chandrasekaran K, et al. Guidelines for the echocardiographic assessment of the right heart in adults: a report from the American society of echocardiography endorsed by the European association of echocardiography, a registered branch of the European society of cardiology, and the Canadian society of echocardiography. J Am Soc Echocardiogr. 2010;23(7):685–713. quiz 86–8.

15.

Muraru D, Badano LP, Sarais C, Soldà E, Iliceto S. Evaluation of tricuspid valve morphology and function by transthoracic three-dimensional echocardiography. Curr Cardiol Rep. 2011;13(3):242–9.

16.

Muraru D, Hahn RT, Soliman OI, Faletra FF, Basso C, Badano LP. 3‑dimensional echocardiography in imaging the tricuspid valve. JACC Cardiovasc Imaging. 2019;12(3):500–15.

17.

Oh J, Seward J, Tajik A. Subcostal position. The echo manual. Philadelphia, PA: Lippincott Williams & Wilkins; 2006. pp. 14–8.

18.

Stankovic I, Daraban AM, Jasaityte R, Neskovic AN, Claus P, Voigt JU. Incremental value of the en face view of the tricuspid valve by two-dimensional and three-dimensional echocardiography for accurate identification of tricuspid valve leaflets. J Am Soc Echocardiogr. 2014;27(4):376–84.
Ethics declarations
Conflict of interest
M. Schneider and T. Binder declare that they have no competing interests.
Additional information
Publisher's Note
Springer Nature remains neutral with regard to jurisdictional claims in published maps and institutional affiliations.
Both authors have read the final draft of the manuscript and approved submission.
Caption Electronic Supplementary Material
Video file with a subcostal sweep starting in the four-chamber view and ending in the proposed subcostal en-face-view
About this article
Cite this article
Schneider, M., Binder, T. Added value of transthoracic 2D echocardiographic en face view of the tricuspid valve. Wien Klin Wochenschr (2020) doi:10.1007/s00508-019-01601-z
Received:

Accepted:

Published: