Abstract
The pollen specificity of the Arabidopsis arabinogalactan protein (AGP) genes AGP6 and AGP11 suggests that they are integral to pollen biogenesis, and their high percent of sequence similarity may indicate a potential for overlapping function. Arabidopsis agp6 agp11 double null mutants have been studied in our laboratory, and in the present work, we characterize the germination and growth of its pollen. When compared to wild type, mutant agp6 agp11 pollen displayed reduced germination and elongation, both in vivo and in vitro, and precocious germination inside the anthers, provided that sufficient moisture was available. This characteristic was not observed in wild type plants, even in water content conditions which for the mutant were sufficient for pollen germination. Therefore, an additional distinctive phenotypic trait of arabinogalactan proteins AGP6 and AGP11 may be to avert untimely germination of pollen. Such AGPs may control germination through water uptake, suggesting an important biological function of this gene family in pollen.
This is a preview of subscription content, log in to check access.
Access options
Buy single article
Instant unlimited access to the full article PDF.
US$ 39.95
Price includes VAT for USA
Subscribe to journal
Immediate online access to all issues from 2019. Subscription will auto renew annually.
US$ 99
This is the net price. Taxes to be calculated in checkout.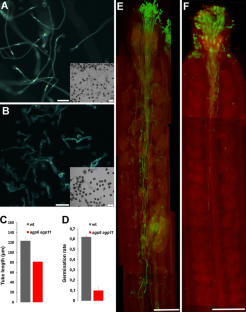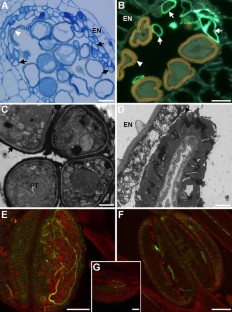 References
Cheung AY, Wang H, Wu HM (1995) A floral transmitting tissue-specific glycoprotein attracts pollen tubes and stimulates their growth. Cell 82:383–393

Coimbra S, Almeida J, Junqueira V, Costa M, Pereira LG (2007) Arabinogalactan proteins as molecular markers in Arabidopsis thaliana sexual reproduction. J Exp Bot 58:4027–4035

Coimbra S, Jones B, Pereira LG (2008) Arabinogalactan proteins (AGPs) related to pollen tube guidance into the embryo sac in Arabidopsis. Pl Signal Behav 3:455–456

Coimbra S, Costa M, Jones B, Mendes MA, Pereira LG (2009) Pollen grain development is compromised in Arabidopsis agp6 agp11 null mutants. J Exp Bot 60:3133–3142

Crowe JA, Hoekstra FA, Crowe LM (1989) Membrane phase transitions are responsible for imbibitional change in dry pollen. Proc Natl Acad Sci (USA) 86:520–523

Gaspar Y, Johnson KL, McKenna JA, Bacic A, Schultz CJ (2001) The complex structures of arabinogalactan-proteins and the journey towards understanding function. Plant Mol Biol 47:61–176

Hulskamp M, Kopczak S, Horejsr TF, Kihl BK, Pruitt RE (1995) Identification of genes required for pollen-stigma recognition in Arabidopsis thaliana. Plant J 815:703–714

Johnson S, McCormick S (2001) Pollen germinates precociously in the anthers of raring-to-go, an Arabidopsis thaliana gametophytic mutant. Plant Physiol 126:685–695

Kuromori T, Hirayama T, Kiyosue Y, Takabe H, Mizukado S, Sakurai T, Akiyama K, Kamiya A, Ito T, Shinozaki K (2004) A collection of 11800 single-copy Ds transposon insertion lines in Arabidopsis. Plant J 32:897–905

Lee CB, Swatek KN, McClure B (2008) Pollen proteins bind to the C-terminal domain of Nicotiana alata pistil arabinogalactan proteins. J Biol Chem 283:26965–26973

Levitin B, Richter D, Markovich I, Moriyah Z (2008) Arabinogalactan proteins 6 and 11 are required for stamen and pollen function in Arabidopsis. Plant J 56:351–363

Lind JL, Bacic A, Clarke AE, Anderson MA (1994) A style-specific hydroxyproline-rich glycoprotein with properties of both extensins and arabinogalactan proteins. Plant J 6:491–502

Lord EM, Russell SD (2002) The mechanisms of pollination and fertilization in plants. Annu Rev Cell Dev Biol 18:81–105

Michard E, Alves F, Feijó JA (2008) The role of ion fluxes in polarized cell growth and morphogenesis: the pollen tube as an experimental paradigm. Int J Dev Biol 53:1609–1622

Murashige T, Skoog F (1962) A revised medium for rapid growth and bioassays with tobacco tissue cultures. Physiol Plantarum 15:473–497

Pereira LG, Coimbra S, Oliveira H, Monteiro L, Sottomayor M (2006) Expression of arabinogalactan protein genes in pollen tubes of Arabidopsis thaliana. Planta 223:374–380

Preuss D, Lemieux B, Yen G, Davis RW (1993) A conditional sterile mutation eliminates surface components from Arabidopsis pollen and disrupts cell signalling during fertilization. Genes Dev 7:974–985

Roy S, Jauh GY, Hepler PK, Lord EM (1998) Effects of Yariv phenylglycoside on cell wall assembly in the lily pollen tube. Planta 204:450–458

Showalter AM (2001) Arabinogalactan-proteins: structure, expression and function. Cell Mol Life Sci 58:1399–1417

Sommer A, Geist B, Da Ines O, Gehwolf R, Schäffner AR, Obermeyer G (2008) Ectopic expression of Arabidopsis thaliana plasma membrane intrinsic protein 2 aquaporins in lily pollen increases the plasma membrane water permeability of grain but not of tube protoplasts. New Phytol 180:787–797

Sumie I, Akiko K, Junichi U, Ikuo N, Kiyotaka O (2001) The defective in anther DEHISCENCE1 gene encodes a novel phospholipase A1 catalyzing the initial step of jasmonic acid biosynthesis, which synchronizes pollen maturation, anther dehiscence, and flower opening in Arabidopsis. Plant Cell 10:2191–2210

Taylor LP, Hepler PK (1997) Pollen germination and tube growth. Annu Rev Plant Physiol Plant Mol Biol 48:461–491

Wolters-Arts M, Lush WM, Mariani C (1998) Lipids are required for directional pollen-tube growth. Nature 392:818–821
Acknowledgments
This work was funded by FCT (Fundação para a Ciência e Tecnologia, Portugal) within the project PTDC/AGR-GPL/67971/2006. Confocal microscopy was done in the advanced light microscopy unit of IBMC (Institute for Molecular and Cell Biology).
Additional information
Communicated by Hugh Dickinson.
Electronic supplementary material
Below is the link to the electronic supplementary material.
Animated tilt series of confocal fluorescence images showing precociously germinated pollen in the anther of an agp6 agp11 mutant plant grown in 85% relative humidity chamber. Callose in pollen tubes is labeled with decolorized aniline blue
About this article
Cite this article
Coimbra, S., Costa, M., Mendes, M.A. et al. Early germination of Arabidopsis pollen in a double null mutant for the arabinogalactan protein genes AGP6 and AGP11 . Sex Plant Reprod 23, 199–205 (2010). https://doi.org/10.1007/s00497-010-0136-x
Received:

Accepted:

Published:

Issue Date:
Keywords
agp6
agp11
Arabidopsis

Arabinogalactan proteins

Pollen tube