Abstract
We investigated documents and diaries from the ninth to the fourteenth centuries to supplement the phenological data series of the flowering of Japanese cherry (Prunus jamasakura) in Kyoto, Japan, to improve and fill gaps in temperature estimates based on previously reported phenological data. We then reconstructed a nearly continuous series of March mean temperatures based on 224 years of cherry flowering data, including 51 years of previously unused data, to clarify springtime climate changes. We also attempted to estimate cherry full-flowering dates from phenological records of other deciduous species, adding further data for 6 years in the tenth and eleventh centuries by using the flowering phenology of Japanese wisteria (Wisteria floribunda). The reconstructed tenth century March mean temperatures were around 7°C, indicating warmer conditions than at present. Temperatures then fell until the 1180s, recovered gradually until the 1310s, and then declined again in the mid-fourteenth century.
This is a preview of subscription content, log in to check access.
Access options
Buy single article
Instant access to the full article PDF.
US$ 39.95
Price includes VAT for USA
Subscribe to journal
Immediate online access to all issues from 2019. Subscription will auto renew annually.
US$ 99
This is the net price. Taxes to be calculated in checkout.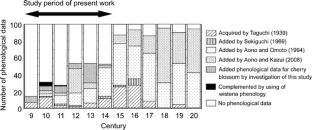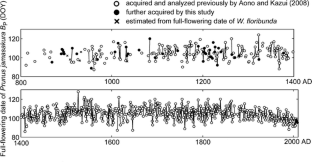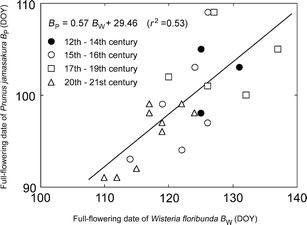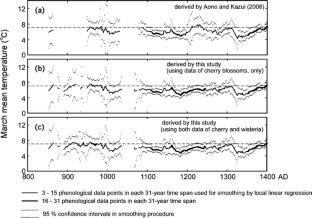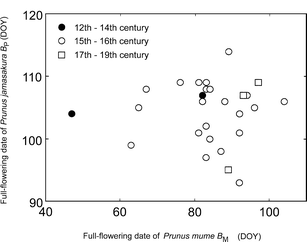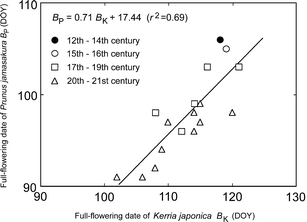 References
Agnihotri R, Dutta K, Bhushan R, Somayajulu BLK (2002) Evidence for solar forcing on the Indian monsoon during the last millennium. Earth Planet Sci Lett 198:521–527

Ahas R (1999) Long-term phyto-, ornitho- and ichthyophenological time series analysis in Estonia. Int J Biometeorol 42:119–123

Aono Y, Kazui K (2008) Phenological data series of cherry tree flowering in Kyoto, Japan, and its application to reconstruction of springtime temperatures since the 9th century. Int J Climatol 28:905–914

Aono Y, Moriya C (2003) A generalized model to estimate flowering for cherry tree (Prunus yedoensis) considering both processes of endodormancy completion and development (in Japanese with English abstract). J Agric Meteorol 59:165–177

Aono Y, Omoto Y (1990) Estimation of blooming date for Prunus yedoensis using DTS combined with chill-unit accumulations (in Japanese with English abstract). J Agric Meteorol 45:243–249

Aono Y, Omoto Y (1992) Estimation of blooming dates of Rhododendron kaempferi. Wisteria floribunda and Hydrangea macrophylla (in Japanese with English abstract). J Agric Meteorol 47:233–240

Aono Y, Omoto Y (1993) Variation in the March mean temperature deduced from cherry blossom in Kyoto since the 14th century. J Agric Meteorol 48:635–638

Aono Y, Omoto Y (1994) Estimation of temperature at Kyoto since 11th century using flowering data of cherry tree in old documents (in Japanese with English abstract). J Agric Meteorol 49:263–272

Aono Y, Sato K (1996) Estimation of flowering date for Japanese apricot tree (Prunus mume) in western Japan considering both processes of rest break and development (in Japanese with English abstract). J Agric Meteorol 52:125–134

Arakawa H (1956) Climatic changes as revealed by the blooming dates of the cherry blossoms at Kyoto. J Meteorol 13:599–600

Chuine I, Yiou P, Viovy N, Seguin B, Daux V, Le Roy Ladurie E (2004) Grape ripening as a past climate indicator. Nature 432:289–290

Defila C, Clot B (2001) Phytophenological trends in Switzerland. Int J Biometeorol 45:203–207

Fengming C, Tiegang L, Lihua Z, Jun Y (2008) A Holocene paleotemperature record based on radiolaria from the northern Okinawa Trough (East China Sea). Quatr Int 183:115–122

Fujimoto S (2007) Analysis of prediction methods for budburst days on the phenological observation in 29 broad-leaved tree species for 10 years (in Japanese with English abstract). J Jpn For Soc 89:253–261

Goi M (1982) Studies on the flower formation and forcing of some ornamental trees and shrubs native to East Asia (in Japanese with English summary). Mem Fac Agric Kagawa Univ 38:1–120

Honjo H, Fukui R, Sugiura T, Aono Y (2006) The DTS accumulation model for predicting the flowering date of Japanese pear tree in Japan. Acta Hortic (ISHS) 707:151–158

Kitagawa H, Matsumoto E (1995) Climatic implications of δ13C variations in a Japanese cedar (Cryptomeria japonica) during the last two millennia. Geophys Res Lett 22:2155–2158

Konno T, Sugihara S (1986) Temperature index for characterizing biological activity in soil and its application to decomposition of soil organic matter (in Japanese with English summary). Bull Natl Inst Agro-environ Sci 1:51–68

Liu Z, Henderson ACG, Huang Y (2006) Alkenone-based reconstruction of late-Holocene surface temperature and salinity changes in Lake Qinghai, China. Geophys Res Lett 33: doi:10.1029/2006GL026151

Omoto Y, Hamotani K (1979) A proposed method of eliminating urban effects from climatological data obtained at stations in big cities (in Japanese with English summary). J Agric Meteorol 35:93–96

Rutishauser T, Luterbacher J, Jeanneret F, Pfister C, Wanner H (2007) A phenology-based reconstruction of interannual changes in past spring season. J Geophys Res 112:G0416. doi:10.1029/2006JG000382

Sekiguchi T (1969) The historical dates of Japanese cherry festival since the 8th century and her climate changes (in Japanese). Tokyo Geogr Papers 13:175–190

Sinha A, Cannariato KG, Stott LD, Cheng H, Edwards RL, Yadava MG, Ramesh R, Singh IB (2007) A 900-year (600 to 1500 A.D.) record of the Indian summer monsoon precipitation from the core monsoon zone of India. Geophys Res Lett 34: doi:10.1029/2007GL030431

Sparks TH, Carey PD (1995) The responses of species to climate over two centuries. An analysis of the Marsham phenological record, 1736–1947. J Ecol 83:321–329

Taguchi T (1939) Climatic change in historical time in Japan (2) (in Japanese). J Mar Meteorol Soc 19:217–227
About this article
Cite this article
Aono, Y., Saito, S. Clarifying springtime temperature reconstructions of the medieval period by gap-filling the cherry blossom phenological data series at Kyoto, Japan. Int J Biometeorol 54, 211–219 (2010). https://doi.org/10.1007/s00484-009-0272-x
Received:

Revised:

Accepted:

Published:

Issue Date:
Keywords
Climatic reconstruction

Kyoto

Phenology

Cherry blossom

Wisteria flower