Abstract
Post-harvest needle abscission is a major challenge for Christmas tree and greenery industries. It was hypothesized that ethylene triggers abscission in balsam fir. Three experiments were conducted to test this hypothesis. In experiment 1, 70 balsam fir branches were collected, placed in water, and ethylene evolution was observed over time. In experiment 2, a 2 × 5 factorial experiment was designed to determine the effect of exogenous ethylene and an ethylene receptor blocker, 1-methylcyclopropene (1-MCP), on needle abscission. In experiment 3, a 2 × 6 factorial experiment was designed to determine the effect of exogenous ethylene and an ethylene inhibitor, aminoethoxyvinylglycine (AVG), on needle abscission. It was found that ethylene evolution was the highest 1–2 days prior to needle abscission, which was consistent in untreated branches and branches exposed to exogenous ethylene. Exposure to exogenous ethylene significantly decreased needle retention by 63%. When ethylene receptors were blocked by 1-MCP, needle retention increased by 147% despite the presence of ethylene and increased by 73% in the absence of ethylene when compared to the respective controls. When endogenous ethylene synthesis was inhibited by AVG, there was no improvement in needle retention in the presence of ethylene, but there was a 113% increase in needle retention in the absence of exogenous ethylene. Ethylene is strongly implicated as the signal triggering abscission in root-detached balsam fir.
Access options
Buy single article
Instant access to the full article PDF.
USD 39.95
Price includes VAT (USA)
Tax calculation will be finalised during checkout.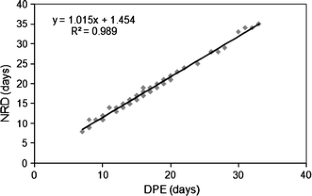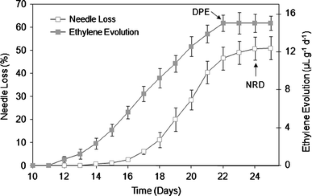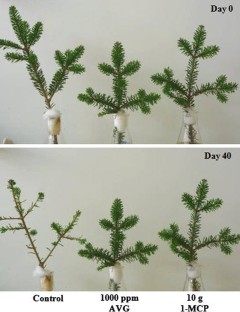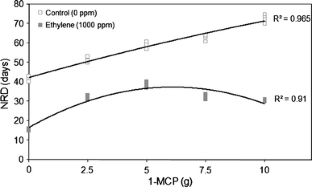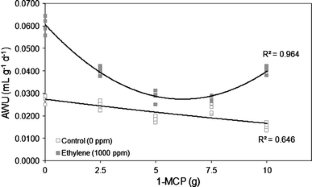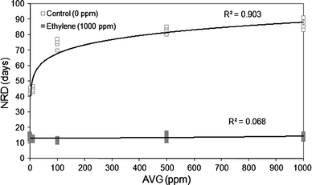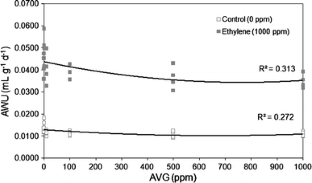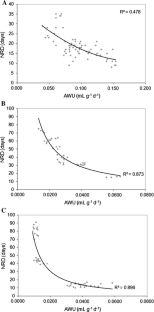 References
Aharoni N, Lieberman M, Sisler HD (1979) Patterns of ethylene production in senescing leaves. Plant Physiol 64:796–800

Albers HH, Davis AK (1997) The wonderful world of Christmas trees. Mid-Prairie Books, Parkersburg

Azuma T, Hatanaka T, Uchida N, Yasuda T (2003) Enhancement of transpiration by ethylene is responsible for absence of internodal elongation in floating rice at low humidity. J Plant Physiol 160:1125–1128

Beyer ME (1973) Abscission: support for a role of ethylene modification of auxin transport. Plant Physiol 52:1–5

Beyer ME, Morgan WP (1971) Abcission: the role of ethylene modification of auxin transport. Plant Physiol 48:208–212

Bleecker AB, Kende H (2000) Ethylene: a gaseous signal molecule in plants. Ann Rev Cell Dev Biol 16:1–18

Boller T, Herner RC, Kende H (1979) Assay for an enzymatic formation of an ethylene precursor, 1-aminocyclopropane1-carboxylic acid. Planta 145:293–303

Chastagner GA, Riley KL (2003) Postharvest quality of noble and Nordmann fir Christmas trees. HortScience 38:419–421

CTCNS (2009) Christmas tree council of Nova Scotia. http://www.ctcns.com. Accessed 23 June 2009

Daly J, Kourelis B (2001) Synthesis methods, complexes, and delivery methods for the safe and convenient storage, transport, and application of compounds for inhibiting ethylene response in plants. US Patent 6313098

Fuhrer J (1985) Ethylene production and premature senescence of needles from fir trees (Abies alba). Forest Pathol 15:227–236

Gepstein S, Thimann KV (1981) The role of ethylene in the senescence of oat leaves. Plant Physiol 68:349–354

Hunt JD, Poulsen WG (1965) Buying artificial or natural Christmas trees. J For 63:852–854

Levitt LK, Stein DB, Rubinstein B (1987) Promotion of stomatal opening by indoleacetic acid and ethrel in epidermal strips of Vicia faba L. Plant Physiol 85:318–321

Lipe JA, Morgan PW (1973) Ethylene, a regulator of young fruit abscission. Am Soc Plant Biol 51:949–953

MacDonald, Lada RR (2008) Cold acclimation can benefit only the clones with poor needle retention duration (NRD) in balsam fir. HortScience 43:1273

MacDonald MT, Lada RR, Martynenko AI, Dorais M, Pepin S, Desjardins Y (2009) Ethylene modulates needle abscission in root-detached balsam fir. HortScience 44:1142

Merritt F, Kemper A, Tallman G (2001) Inhibitors of ethylene synthesis inhibit auxin-induced stomatal opening in epidermis detached from leaves of Vicia faba L. Plant Cell Physiol 42:223–230

Mitcham-Butler EJ, Hinesley LE, Pharr DM (1987a) Effects of harvest date, storage temperature, and moisture status on postharvest needle retention on Fraser fir. J Environ Hort 6:1–4

Mitcham-Butler EJ, Hinesley LE, Pharr DM (1987b) Soluble carbohydrate concentration of Fraser fir foliage and its relationship to postharvest needle retention. J Amer Soc Hort Sci 112:672–676

Morgan PW, He CJ, Drew MC (1992) Intact leaves exhibit a climacteric-like rise in ethylene production before abscission. Plant Physiol 100:1587–1590

Munoz SS (2006) The fight before Christmas: real trees vs. fakes. http://www.post-gazette.com/pg/06355/747933-28.stm. Accessed 29 Sept 2009

Porat R, Shlomo E, Serek M, Sisler EC (1995) 1-Methylcyclopropene inhibits ethylene action in cut phlox flowers. Postharv Biol Technol 6:313–319

Read MS, Staby GL (2008) A brief history of 1-methylcyclopropene. Hort Sci 43:83–85

Serek M, Sisler EC, Reid MS (1994) A volatile ethylene inhibitor improves the postharvest life of potted roses. J Am Soc Hort Sci 119:511–512

Serek M, Sisler EC, Tirosh T, Mayak S (1995) 1-Methylcyclopropene prevents bud, flower and leaf abscission of Geraldton waxflower. HortScience 30:1310

Sexton R, Roberts JA (1982) Cell biology of abscission. Ann Rev Plant Physiol 33:133–162

Sexton R, Lewis LN, Trewavas AJ, Kelly P (1985) Ethylene and abscission. In: Roberts JA, Tucker GA (eds) Ethylene and plant development. Butterworths, London, pp 173–196

Sisler EC, Serek M (1997) Inhibitors of ethylene responses in plants at the receptor level: recent developments. Physiol Plant 100:577–582

Sisler EC, Dupille E, Serek M (1996) Effect of 1-methylcyclopropene and methylenecyclopropane on ethylene binding and ethylene action on cut carnations. Plant Growth Regul 18:79–86

Tanaka Y, Sano T, Tamaoki M, Nakajima N, Kondo N, Hasezawa S (2005) Ethylene inhibits abscisic acid-induced stomatal closure in Arabidopsis. Plant Physiol 138:2337–2343

Taylor JE, Tucker GA, Lasslett Y, Smith CJS, Arnold CM, Watson CF, Schuch W, Grierson D, Roberts JA (1990) Polygalacturonase expression during leaf abscission of normal and transgenic tomato plants. Planta 183:133–138

Tucker ML, Sexton R, del Campillo E, Lewis LN (1988) Bean abscission cellulase. Plant Physiol 88:1257–1262

Van Doorn WG (2002) Effect of ethylene on flower abscission: a survey. Ann Bot 89:689–693

Wilksch W, Schmitt V, Wild A (1998) Ethylene-biosynthesis in conifers: investigations on the emission of ethylene and the content of ACC and MACC in Norway spruce (Picea abies) and silver fir (Abies alba). Chemosphere 36:883–888

Wright M, Osborne D (1974) Abscission in Phaseolus vulgaris. The positional differentiation and ethylene induced expansion growth of specialized cells. Planta 120:163–170

Yu Y, Adams DO, Yang SF (1979) 1-Aminocyclopropanecarboxylic acid synthase, a key enzyme in ethylene biosynthesis. Arch Biochem Biophys 198:280–286
Acknowledgments
We thank the Nova Scotia Department of Natural Resources for allowing us the use of their Tree Breeding Center in Debert and the generous provision of their genotype identification key. We thank the Natural Science and Engineering Research Council for PGS-D fellowship to Mason MacDonald and NSERC–CRD Grant (CRDPJ 364061-07) to Dr. Lada. We also thank the Christmas Tree Council of Nova Scotia for additional research funding.
About this article
Cite this article
MacDonald, M.T., Lada, R.R., Martynenko, A.I. et al. Ethylene triggers needle abscission in root-detached balsam fir. Trees 24, 879–886 (2010). https://doi.org/10.1007/s00468-010-0457-2
Received:

Revised:

Accepted:

Published:

Issue Date:
Keywords
1-MCP

1-Methylcyclopropene

Abies balsamea

Aminoethoxyvinylglycine

AVG

Needle retention

Senescence

Water use