Nephrotic syndrome in a dish: recent developments in modeling in vitro
Abstract
Nephrotic syndrome is a heterogeneous disease, and one of the most frequent glomerular disorders among children. Depending on the etiology, it may result in end-stage renal disease and the need for renal replacement therapy. A dysfunctional glomerular filtration barrier, comprising of endothelial cells, the glomerular basement membrane and podocytes, characterizes nephrotic syndrome. Podocytes are often the primary target cells in the pathogenesis, in which not only the podocyte function but also their crosstalk with other glomerular cell types can be disturbed due to a myriad of factors. The pathophysiology of nephrotic syndrome is highly complex and studying molecular mechanisms in vitro requires state-of-the-art cell-based models resembling the in vivo situation and preferably a fully functional glomerular filtration barrier. Current advances in stem cell biology and microfluidic platforms have heralded a new era of three-dimensional (3D) cultures that might have the potential to recapitulate the glomerular filtration barrier in vitro. Here, we highlight the molecular basis of nephrotic syndrome and discuss requirements to accurately study nephrotic syndrome in vitro, including an overview of specific podocyte markers, cutting-edge stem cell organoids, and the implementation of microfluidic platforms. The development of (patho) physiologically relevant glomerular models will accelerate the identification of molecular targets involved in nephrotic syndrome and may be the harbinger of a new era of therapeutic avenues.
Keywords
Kidney 
Nephrotic syndrome 
Glomerular filtration barrier 
Podocytes 
Stem cells 
Organoids 
Introduction
Nephrotic syndrome (NS) is one of the most common causes of glomerular disease in childhood with an estimated incidence of 1–7 per 100,000 children [1, 2]. NS is characterized by the triad of proteinuria (> 40 mg/m2/h), hypoalbuminemia (< 2.5 g/dL), and edema [2]. Different etiologies may lead to NS. Congenital NS is a rare and severe form of NS, which occurs due to genetic mutations and secondary to congenital infections. Acquired NS is mostly idiopathic (iNS), but can also be acquired secondary to infections, drugs, or neoplasia [2]. Depending on its etiology, NS may resolve over time or result in a gradual loss of kidney function, finally leading to the need for dialysis or a kidney transplant.
From a molecular point of view, NS is the result of an altered glomerular filtration barrier, which is a trilayered structure consisting of fenestrated (glycocalyx-covered) endothelium, the glomerular basement membrane (GBM), and polarized visceral epithelial cells known as podocytes (Fig. 
1
). Podocytes are epithelial cells with interdigitating foot processes that are connected by cell-cell junctions known as slit diaphragms. Podocytes possess an extensive actin cytoskeleton, which aids the glomerular capillary wall to withstand the high hydrostatic pressure required for glomerular filtration [
3
]. In Supplementary Table
S1
, key proteins involved in maintaining a well-organized podocyte cytoskeleton are listed along with their physiological characteristics.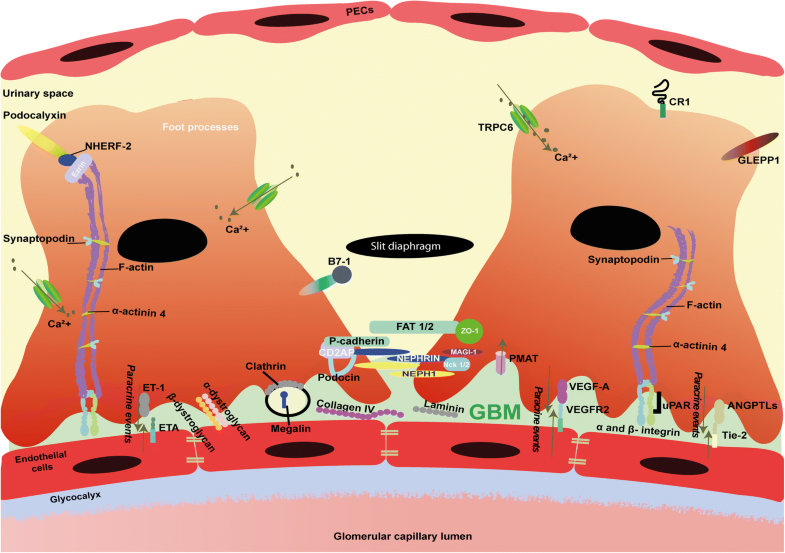 Podocyte damage is considered a hallmark event in the pathogenesis of NS. As these cells are endowed with a limited capacity to regenerate, loss of podocytes or podocyte damage is hard to restore. In Supplementary Table S1, injury markers used to detect podocyte damage are mentioned. For example, desmin is de novo expressed during podocyte injury and thus reflects a typical injury marker [4]. Concomitantly, damage to podocytes is characterized by podocyte foot process effacement and structural changes to the slit diaphragms as well as the actin cytoskeleton [2]. Regardless of the fact that podocytes are considered the main player in NS pathophysiology, it is important to stress that NS should be considered as a disorder of the entire glomerulus. Hence, degradation of the glycocalyx, injury to glomerular endothelial cells, or alterations in the GBM can also cause protein leakage and contribute to disease [5].
Understanding the pathophysiological processes involved in NS is a prerequisite to develop targeted therapies. As such, in vivo and in vitro models are important tools to unravel molecular mechanisms involved in NS and can eventually be used to screen for pharmacological compounds. In vivo models to study congenital and acquired NS have greatly expanded our knowledge on NS pathophysiology [6, 7]. As a result of whole exome sequencing, a myriad of unknown genetic variants are detected in congenital NS patients nowadays. Unfortunately, the sheer number of variants is too numerous to model all in vivo. Moreover, species differences may hamper the translation from mice to men. In addition, the paradigm shift in animal reduction, refinement, and replacement urges the need for appropriate in vitro models to mimic NS in a dish. Hence, accurate and personalized in vitro models are highly needed in the NS field. In vitro podocyte cultures have proven to be an indispensable tool to assess functionality of these cells [8, 9]. Although current in vitro models have yielded valuable insight into molecular mechanisms of podocytes in health and disease, these models fail to fully recapitulate the complex biology of podocytes for several reasons. First, current podocyte in vitro models contain only one cell type, second, the podocytes are grown in a two-dimensional (2D) setting and third, the podocytes in culture are not exposed to a blood stream and thus not exposed to intracapillary pressure and glomerular filtration. With the rapid evolvements in the field of stem cell biology and bioengineering, novel advanced platforms to study the complex pathology of NS in vitro can be expected to revolutionize the renal field within the near future. Therefore, the aim of this review is to address recent developments regarding the pathophysiology of NS and discuss current and novel in vitro cell models to study NS.
Current models to study NS pathophysiology in vitro
To date, the pathogenic events leading to an altered glomerular filtration barrier in NS are still largely unknown; thus, so far, the involvement of genetic mutations, T- and B-lymphocytes, circulating (permeability) factors (CPFs), and paracrine events between podocytes and endothelial cells have been suggested [2]. The complexity of NS makes it challenging to study its pathophysiology accurately, which is further hampered by the poor recapitulation of the glomerular filtration barrier by the frequently used in vitro models. Here, we will discuss current knowledge on NS pathophysiology and in vitro models that have been used so far to study the molecular mechanism of disease.
Criteria for accurate in vitro models to study NS
Recent advances in the stem cell biology and bioengineering field have created opportunities for the development of potential platforms to study NS. Here, we will focus on the cutting-edge stem cell models and microfluidic culture systems that are revolutionizing the podocyte field.
Modeling NS using stem cells
Generating renal cells using human stem cells offers a promising approach to study podocytopathies. Amniotic fluid stem cells as well as kidney progenitor cells from neonatal urine have the potential to differentiate towards podocyte-like cells, though these sources are relatively scarce [
54
]. The recent progress of reprogramming any somatic cell type (e.g., human dermal fibroblasts) into pluripotent stem cells has opened a new dimension to develop, in principal, any desired cell type, including renal tissue. Using a directed differentiation protocol, embryonic kidney development is mimicked in a culture dish, from primitive streak, towards intermediate mesoderm followed by ureteric bud and metanephric mesenchyme induction. The latter combination is essential for bidirectional signal transduction that facilitates developmental processes, including the organotypic branched architecture of the kidney. To date, several protocols exist that generate diverse subsets of renal (progenitor) cells (Fig. 
2
). Using either 2D or 3D culture approaches, and varying the choice and/or timing of growth factors, result in the induction of one renal cell type (e.g., podocyte-like cells) [
15
,
21
,
55
,
56
] or in self-organizing kidney organoids consisting of segmented nephrons [
22
,
23
,
57
,
58
,
59
]. These protocols are extensively reviewed by Soo et al. [
60
]. In brief, a combination of Wnt signaling agonist CHIR, fibroblast growth factors 2 and 9, bone morphogenic protein 2 or 4, as well as retinoic acid, vascular endothelial growth factor, and activin A are most commonly used as growth factors. The organoid differentiation protocols are executed in 2D using well plates, in 3D suspension cultures using low adhesion plates, or in 3D adherence cultures using the air-liquid interface of Transwell® filter inserts. While current protocols result in kidney organoids resembling first trimester kidney development and nephron progenitors [
24
,
61
,
62
], a robust protocol to generate a fully mature kidney-in-a-dish has not yet been established. In particular, glomerular microcirculation, peritubular vascularization, and flow throughout the entire organoid are lacking and hinder glomerular and tubular maturation in vitro. To push maturation, organoids were transplanted subcapsular in mouse kidneys, and massive graft vascularization was shown [
59
,
63
,
64
]. As a result, a fenestrated glomerular endothelium, a glomerular filtration barrier including GBM protein deposition and polarized podocytes, was observed. Moreover, this approach resulted in the successful analysis of congenital NS patient-derived organoids, and gene correction nicely restored nephrin expression in the podocyte slit diaphragm [
12
]. These data emphasize the importance of a functional microvasculature and accompanied hemodynamics to boost glomerular filtration barrier formation and kidney organoid maturation. The crosstalk between the glomerular endothelium and podocytes via the GBM is a known hallmark for developing and maintaining a filtration barrier function [
65
]. All taken together, 3D differentiation protocols resulting in self-organizing nephrons that contain subsets of renal epithelial and endothelial cells will more closely resemble the glomerular filtration barrier. Hence, organoids containing self-organizing nephrons could be a more relevant model to study NS, as compared to less complex 2D differentiation protocols that solely generate podocyte-like cells.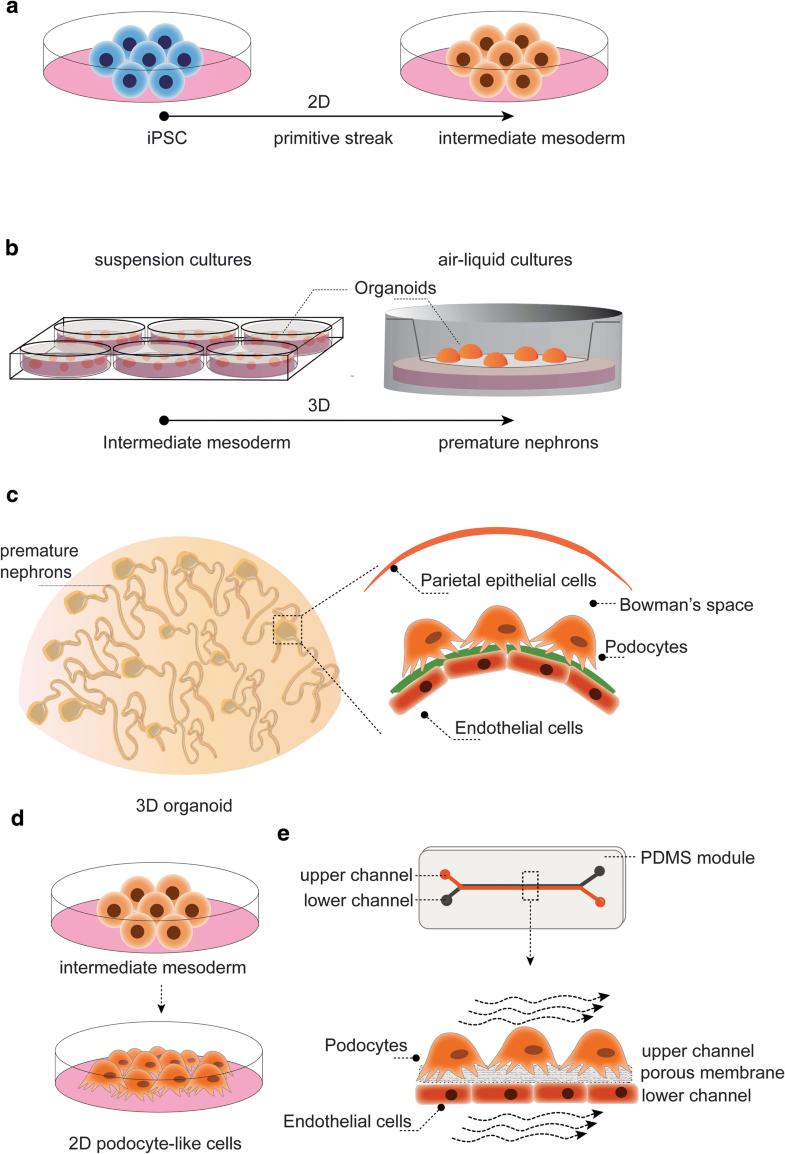 Although kidney organoid transplantation into murine models advances maturation, experiments are laborious, technically challenging, and expensive. While the use of kidney organoids for disease modeling or drug testing would potentially reduce animal testing, as urged by animal welfare committees as well as the social community, organoid transplantation would still require the use of animals.
Generating mature kidney organoids in vitro would be the preferred direction and it needs to be determined how far we can get. Hence, researchers are seeking cutting-edge approaches to stimulate maturation and develop robust screening platforms [22, 23, 57]. High-throughput analysis using 96- or 384-wells plate formats not only allows for the study of dose-dependent effects of, for example, growth factors on organoid differentiation, but also provides an ideal tool to systematically study drug responses and toxicity, as well as disease modeling [22, 57]. Recently, bulk organoid cultures have been generated using bioreactors [58]. This approach uses a simple 14-day method with few handling steps and results in embryonic kidney structures. A prolonged culture time results in dedifferentiation as determined by fibrotic markers [58]. Though this method potentiates the development of large amounts of kidney tissue, the differentiation capacity is not yet optimal. Borestrom et al. developed an advanced 3D differentiation protocol: organoids are submerged in medium using specific culture plates [57], rather than "standard" air-liquid Transwell® cultures [24]. This allows for the monitoring of maturation of progenitors and podocytes in a kidney-specific reporter model. Using a gene-editing system (CRISPR/Cas9), the kidney lineage markers SIX2 and NPHS1 were tagged with fluorescents. Monitoring the signal intensity of these two markers in live cells over time is a valuable indicator of nephron commitment (SIX2) and podocyte health (NPHS1) during maturation. The present protocol resulted in the formation of podocyte foot processes and early slit diaphragms in close proximity to endothelial and tubular cells [57]. Moreover, the data suggests infiltrating blood vessel-like structures (positive for the endothelial marker CD31) into glomerular structures [57]. Yet, an intact and functional glomerular filtration barrier still needs to be shown.
Glomerulus-on-a-chip
Organoid vascularization is key in providing sufficient nutrients throughout the tissue and will push maturation, but also shear stress and hemodynamics are known factors that stimulate differentiation. Although some progress in terms of maturation has been made by slightly adapting timing, growth factors or culture platforms, the implementation of flow by microfluidic systems could further advance this field. In the past decade, significant progress has been made in generating microfluidic organs-on-a-chip that basically consist of cells cultured on a 2D surface or in 3D tubular structures accompanied by controlled fluid flow throughout the system, either luminal, basal or both. Proof-of-concept studies have showed the successful engineering of a glomerulus-on-a-chip [55, 66, 67] (Fig. 2). To recapitulate the podocyte-endothelial interface, the poly(dimethylsiloxane) (PDMS) chip consists of two microchannels; the top channel containing podocytes and the bottom channel containing glomerular endothelial cells separated by a porous extracellular matrix-coated membrane (made of, e.g., polycarbonate, PDMS). Musah et al. differentiated iPS cells in the chip using flow and cyclic mechanical strain. Interestingly, markers like nephrin expression and VEGF-A secretion were induced as compared to static cultures and no strain. Moreover, a functional glomerular filtration barrier was shown by albumin retention in the vascular channel, which could not be detected when proximal tubule cells were cultured in the top channel. Finally, drug-induced podocyte injury could be successfully mimicked [55]. It is noteworthy that 2D iPSC-podocyte differentiation did not result in the expected nuclear expression pattern of WT-1 and that the transcriptome profile of the iPS-podocytes was only compared with immortalized podocytes rather than using freshly isolated podocytes [15, 55]. The first steps towards hypertensive as well as diabetic nephropathy modeling in a glomerulus-on-a-chip have been initiated and show detrimental effects on, e.g., cytoskeleton rearrangements and protein expression levels [66, 67]. In these studies, either murine immortalized cells or human primary glomerular tissue were used. As both models poorly resemble podocyte (patho) physiology, data should be interpreted with care. The glomerulus-on-a-chip allows mimicking the microenvironmental cues required to model podocyte health and disease. Although the use of chips can be technically challenging and current protocols provide room for improvement, introducing shear stress and mechanical strains using microfluidic systems might push maturation in iPSC-derived kidney tissue.
Concluding remarks
Studying molecular mechanisms involved in NS requires cutting-edge cell-based models to mimic the complex glomerular filtration barrier in vitro. Recent advances in stem cell biology and microfluidic platforms might overcome the lack of accurate models. Three-dimensional kidney organoids that recapitulate the glomerular filtration barrier could become a valuable tool to unravel NS-associated molecular mechanisms and identify therapeutic avenues. Advances to aid organoid vascularization and maturation, ultimately including a fluid inlet and urinary exit, will be a prerequisite to develop accurate platforms for studying both congenital and idiopathic NS.
Notes
Acknowledgments
SV, LPH, and MFS are supported by the Dutch Kidney Foundation (consortium grant CP1603). BS and JJ are supported by the Netherlands Organisation for Scientific Research (ZonMW Vidi grant).
Compliance with ethical standards
Conflict of interest
The authors declare that they have no conflict of interest.
Copyright information
© The Author(s) 2019
Open Access This article is distributed under the terms of the Creative Commons Attribution 4.0 International License (http://creativecommons.org/licenses/by/4.0/), which permits unrestricted use, distribution, and reproduction in any medium, provided you give appropriate credit to the original author(s) and the source, provide a link to the Creative Commons license, and indicate if changes were made.