Abstract
Background
The relationship between muscle strength and chronic kidney disease (CKD) in children is unknown. This study aims to quantify the association between grip strength (GS) and kidney function and to explore factors associated with grip strength in children and adolescents with CKD.
Methods
We included 411 children (699 GS assessments) of the Chronic Kidney Disease in Children (CKiD) study. They were matched by age, sex, and height to a healthy control from the National Health and Nutrition Examination Survey to quantify the relationship between GS and CKD. Linear mixed models were used to identify factors associated with GS among CKD patients.
Results
Median GS z-score was − 0.72 (IQR − 1.39, 0.11) among CKD patients with CKD stages 2 through 5 having significantly lower GS than CKD stage 1. Compared with healthy controls, CKiD participants had a decreased GS z-score (− 0.53 SD lower, 95% CI − 0.67 to − 0.39) independent of race/ethnicity and body mass index. Factors associated with reduced GS included longer duration of CKD, pre-pubertal status, delayed puberty, neuropsychiatric comorbidities, need of feeding support, need for alkali therapy, and hemoglobin level. Decreased GS was also associated with both a lower frequency and intensity of physical activity.
Conclusions
CKD is associated with impaired muscle strength in children independent of growth retardation and BMI. Exposure to CKD for a prolonged time is associated with impaired muscle strength. Potential mediators of the impact of CKD on muscle strength include growth retardation, acidosis, poor nutritional status, and low physical activity. Additional studies are needed to assess the efficacy of interventions targeted at these risk factors.
This is a preview of subscription content, log in to check access.
Access options
Buy single article
Instant unlimited access to the full article PDF.
US$ 39.95
Price includes VAT for USA
Subscribe to journal
Immediate online access to all issues from 2019. Subscription will auto renew annually.
US$ 199
This is the net price. Taxes to be calculated in checkout.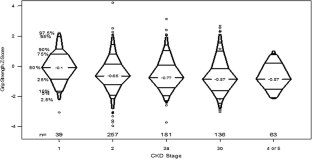 References
1.

Kramer A, Stel VS, Tizard J, Verrina E, Rönnholm K, Pálsson R, Maxwell H, Jager KJ (2009) Characteristics and survival of young adults who started renal replacement therapy during childhood. Nephrol Dial Transplant Off Publ Eur Dial Transpl Assoc - Eur Ren Assoc 24:926–933

2.

Wang XH, Mitch WE (2014) Mechanisms of muscle wasting in chronic kidney disease. Nat Rev Nephrol 10:504–516

3.

Martinson M, Ikizler TA, Morrell G, Wei G, Almeida N, Marcus RL, Filipowicz R, Greene TH, Beddhu S (2014) Associations of body size and body composition with functional ability and quality of life in hemodialysis patients. Clin J Am Soc Nephrol 9:1082–1090

4.

Beddhu S, Pappas LM, Ramkumar N, Samore M (2003) Effects of body size and body composition on survival in hemodialysis patients. J Am Soc Nephrol 14:2366–2372

5.

de Souza VA, Oliveira D, Barbosa SR, do A Corrêa JO, FAB C, Mansur HN, da S Fernandes NM, Bastos MG (2017) Sarcopenia in patients with chronic kidney disease not yet on dialysis: analysis of the prevalence and associated factors. PLoS One 12:e0176230

6.

Zhou Y, Hellberg M, Svensson P, Höglund P, Clyne N (2018) Sarcopenia and relationships between muscle mass, measured glomerular filtration rate and physical function in patients with chronic kidney disease stages 3-5. Nephrol Dial Transplant Off Publ Eur Dial Transpl Assoc - Eur Ren Assoc 33:342–348

7.

Abraham AG, Mak RH, Mitsnefes M, White C, Moxey-Mims M, Warady B, Furth SL (2014) Protein energy wasting in children with chronic kidney disease. Pediatr Nephrol Berl Ger 29:1231–1238

8.

Marcus RL, LaStayo PC, Ikizler TA, Wei G, Giri A, Chen X, Morrell G, Painter P, Beddhu S (2015) Low physical function in maintenance hemodialysis patients is independent of muscle mass and comorbidity. J Ren Nutr Off J Counc Ren Nutr Natl Kidney Found 25:371–375

9.

Wilkinson TJ, Gould DW, Nixon DGD, Watson EL, Smith AC (2018) Quality over quantity? Association of skeletal muscle myosteatosis and myofibrosis on physical function in chronic kidney disease. Nephrol Dial Transplant 34(8):1344–1353

10.

Wind AE, Takken T, Helders PJM, Engelbert RHH (2010) Is grip strength a predictor for total muscle strength in healthy children, adolescents, and young adults? Eur J Pediatr 169:281–287

11.

Tenbrock K, Kruppa S, Mokov E, Querfeld U, Michalk D, Schoenau E (2000) Analysis of muscle strength and bone structure in children with renal disease. Pediatr Nephrol Berl Ger 14:669–672

12.

Alayli G, Ozkaya O, Bek K, Calmaşur A, Diren B, Bek Y, Cantürk F (2008) Physical function, muscle strength and muscle mass in children on peritoneal dialysis. Pediatr Nephrol Berl Ger 23:639–644

13.

Schwartz GJ, Schneider MF, Maier PS, Moxey-Mims M, Dharnidharka VR, Warady BA, Furth SL, Muñoz A (2012) Improved equations estimating GFR in children with chronic kidney disease using an immunonephelometric determination of cystatin C. Kidney Int 82:445–453

14.

Centers for Disease Control and Prevention (CDC). National Center for Health Statistics (NCHS).: National Health and Nutrition Examination Survey Data. Hyattsville, MD: U.S. Department of Health and Human Services, Centers for Disease Control and Prevention [Internet]. 2013 Available from: https://wwwn.cdc.gov/nchs/nhanes/search/datapage.aspx?Component=Examination&CycleBeginYear=2013

15.

Isoyama N, Qureshi AR, Avesani CM, Lindholm B, Bàràny P, Heimbürger O, Cederholm T, Stenvinkel P, Carrero JJ (2014) Comparative associations of muscle mass and muscle strength with mortality in dialysis patients. Clin J Am Soc Nephrol 9:1720–1728

16.

Johansen KL, Dalrymple LS, Delgado C, Chertow GM, Segal MR, Chiang J, Grimes B, Kaysen GA (2017) Factors associated with frailty and its trajectory among patients on hemodialysis. Clin J Am Soc Nephrol 12:1100–1108

17.

Alfaadhel TA, Soroka SD, Kiberd BA, Landry D, Moorhouse P, Tennankore KK (2015) Frailty and mortality in dialysis: evaluation of a clinical frailty scale. Clin J Am Soc Nephrol 10:832–840

18.

Lurz E, Quammie C, Englesbe M, Alonso EM, Lin HC, Hsu EK, Furuya KN, Gupta NA, Venkat VL, Daniel JF, Leonis MA, Miloh T, Telega GW, Yap J, Menendez J, Book LS, Himes RW, Sundaram SS, Parekh R, Sonnenday C, Bucuvalas J, Ng VL, Kamath BM (2018) Frailty in children with liver disease: a prospective multicenter study. J Pediatr 194:109–115.e4

19.

Sgambat K, Matheson MB, Hooper SR, Warady B, Furth S, Moudgil A (2019) Prevalence and outcomes of fragility: a frailty-inflammation phenotype in children with chronic kidney disease. Pediatr Nephrol Berl Ger 34:2563

20.

Clark SL, Denburg MR, Furth SL (2016) Physical activity and screen time in adolescents in the chronic kidney disease in children (CKiD) cohort. Pediatr Nephrol Berl Ger 31:801–808

21.

Painter P, Krasnoff J, Mathias R (2007) Exercise capacity and physical fitness in pediatric dialysis and kidney transplant patients. Pediatr Nephrol Berl Ger 22:1030–1039

22.

Cheema B, Abas H, Smith B, O'Sullivan A, Chan M, Patwardhan A, Kelly J, Gillin A, Pang G, Lloyd B, Singh MF (2007) Progressive exercise for anabolism in kidney disease (PEAK): a randomized, controlled trial of resistance training during hemodialysis. J Am Soc Nephrol 18:1594–1601

23.

Chen JLT, Godfrey S, Ng TT, Moorthi R, Liangos O, Ruthazer R, Jaber BL, Levey AS, Castaneda-Sceppa C (2010) Effect of intra-dialytic, low-intensity strength training on functional capacity in adult haemodialysis patients: a randomized pilot trial. Nephrol Dial Transplant Off Publ Eur Dial Transpl Assoc - Eur Ren Assoc 25:1936–1943

24.

DePaul V, Moreland J, Eager T, Clase CM (2002) The effectiveness of aerobic and muscle strength training in patients receiving hemodialysis and EPO: a randomized controlled trial. Am J Kidney Dis Off J Natl Kidney Found 40:1219–1229

25.

Johansen KL, Painter PL, Sakkas GK, Gordon P, Doyle J, Shubert T (2006) Effects of resistance exercise training and nandrolone decanoate on body composition and muscle function among patients who receive hemodialysis: a randomized, controlled trial. J Am Soc Nephrol 17:2307–2314

26.

Molsted S, Bjørkman ASD, Lundstrøm LH (2019) Effects of strength training to patients undergoing dialysis: a systematic review. Dan Med J 66(1)

27.

Peungsuwan P, Parasin P, Siritaratiwat W, Prasertnu J, Yamauchi J (2017) Effects of combined exercise training on functional performance in children with cerebral palsy: a randomized-controlled study. Pediatr Phys Ther Off Publ Sect Pediatr Am Phys Ther Assoc 29:39–46

28.

Broadney MM, Belcher BR, Berrigan DA, Brychta RJ, Tigner IL, Shareef F, Papachristopoulou A, Hattenbach JD, Davis EK, Brady SM, Bernstein SB, Courville AB, Drinkard BE, Smith KP, Rosing DR, Wolters PL, Chen KY, Yanovski JA (2018) Effects of interrupting sedentary behavior with short bouts of moderate physical activity on glucose tolerance in children with overweight and obesity: a randomized crossover trial. Diabetes Care 41:2220–2228

29.

Abramowitz MK, Paredes W, Zhang K, Brightwell CR, Newsom JN, Kwon H-J, Custodio M, Buttar RS, Farooq H, Zaidi B, Pai R, Pessin JE, Hawkins M, Fry CS (2018) Skeletal muscle fibrosis is associated with decreased muscle inflammation and weakness in patients with chronic kidney disease. Am J Physiol Ren Physiol 315:F1658–F1669

30.

Amparo FC, Cordeiro AC, Carrero JJ, Cuppari L, Lindholm B, Amodeo C, Kamimura MA (2013) Malnutrition-inflammation score is associated with handgrip strength in nondialysis-dependent chronic kidney disease patients. J Ren Nutr Off J Counc Ren Nutr Natl Kidney Found 23:283–287

31.

Deisenroth A, Söntgerath R, Schuster AJ, von Busch C, Huber G, Eckert K, Kulozik AE, Wiskemann J (2016) Muscle strength and quality of life in patients with childhood cancer at early phase of primary treatment. Pediatr Hematol Oncol 33:393–407

32.

Varni JW, Burwinkle TM, Seid M, Skarr D (2003) The PedsQL 4.0 as a pediatric population health measure: feasibility, reliability, and validity. Ambul Pediatr Off J Ambul Pediatr Assoc 3:329–341
Acknowledgments
Data in this manuscript were collected by the Chronic Kidney Disease in Children (CKiD) prospective cohort study with clinical coordinating centers (principal investigators) at Children's Mercy Hospital and the University of Missouri - Kansas City (Bradley Warady, MD) and Children's Hospital of Philadelphia (Susan Furth, MD, PhD), Central Biochemistry Laboratory (George Schwartz, MD) at the University of Rochester Medical Center, and data coordinating center (Alvaro Muñoz, PhD and Derek Ng, PhD) at the Johns Hopkins Bloomberg School of Public Health. The CKiD study is supported by grants from the National Institute of Diabetes and Digestive and Kidney Diseases, with additional funding from the Eunice Kennedy Shriver National Institute of Child Health and Human Development, and the National Heart, Lung, and Blood Institute (U01-DK-66143, U01-DK-66174, U24-DK-082194, U24-DK-66116). The CKiD website is located at https://statepi.jhsph.edu/ckid.
Funding information
This study was supported by a grant from the French Society of Pediatrics-Evian Société Danone Eaux France and the Barry Warshaw Fund for Pediatric Nephrology Fellows at Emory University and the Children's Healthcare of Atlanta and Emory University's Pediatric Biomarkers Core.
Ethics declarations
The CKiD study (NCT00327860) was approved by an external study monitoring board appointed by the National Institute of Diabetes and Digestive and Kidney Diseases and by the institutional review board of each participating center, including Children's National Health System. Informed consent of all individual participants included in the study was obtained by each center, and the study was conducted in accordance with the Declaration of Helsinki.
Conflict of interest
The authors declare that they have no conflict of interest.
Additional information
Publisher's note
Springer Nature remains neutral with regard to jurisdictional claims in published maps and institutional affiliations.
About this article
Cite this article
Hogan, J., Schneider, M.F., Pai, R. et al. Grip strength in children with chronic kidney disease. Pediatr Nephrol (2020). https://doi.org/10.1007/s00467-019-04461-x
Received:

Revised:

Accepted:

Published:
Keywords
Children

Chronic kidney disease

Muscle strength

Outcomes

Quality of life