Abstract
Background
Patients with refractory nephrotic syndrome (NS) are at high risk of medication-induced glucose metabolism disorders, because of their long-term use of diabetogenic medications, particularly glucocorticoids and calcineurin inhibitors (CNIs). However, there have been no comprehensive evaluations of glucose metabolism disorders in pediatric patients with refractory NS. Moreover, glucocorticoids and CNIs could not be discontinued in these patients until the effectiveness of rituximab on refractory NS was shown, and therefore, there has been limited opportunity to evaluate glucose metabolism disorders after discontinuation of these medications.
Methods
Consecutive pediatric patients who started rituximab treatment for refractory NS were enrolled. Their glucose metabolism conditions were evaluated using the oral glucose tolerance tests (OGTT) and HbA1c levels at the initiation of rituximab treatment. Patients with glucose metabolism disorders at the first evaluation were reevaluated after approximately 2 years.
Results
Overall, 57% (20/35) of study patients had glucose metabolism disorders, and 40% (8/20) of these patients were detected only by their 2-h OGTT blood glucose levels and not by their fasting blood glucose or HbA1c levels. Non-obese/non-overweight patients had significantly more glucose metabolism disorders than obese/overweight patients (p = 0.019). In addition, glucose metabolism disorders in 71% (10/14) of patients persisted after the discontinuation of glucocorticoids and CNIs.
Conclusions
Whether the patient is obese/overweight or not, patients with refractory NS are at high risk of developing glucose metabolism disorders, even in childhood. Non-obese/non-overweight patients who are at high risk of diabetes need extra vigilance.
This is a preview of subscription content, log in to check access.
Access options
Buy single article
Instant unlimited access to the full article PDF.
US$ 39.95
Price includes VAT for USA
Subscribe to journal
Immediate online access to all issues from 2019. Subscription will auto renew annually.
US$ 199
This is the net price. Taxes to be calculated in checkout.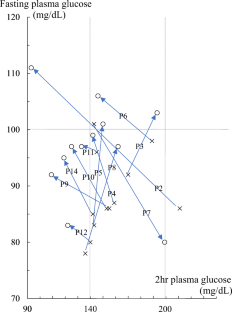 References
1.

Kikunaga K, Ishikura K, Terano C, Sato M, Komaki F, Hamasaki Y, Sasaki S, Iijima K, Yoshikawa N, Nakanishi K, Nakazato H, Matsuyama T, Ando T, Ito S, Honda M (2017) High incidence of idiopathic nephrotic syndrome in East Asian children: a nationwide survey in Japan (JP-SHINE study). Clin Exp Nephrol 21:651–657

2.

Iijima K, Sako M, Nozu K (2017) Rituximab for nephrotic syndrome in children. Clin Exp Nephrol 21:193–202

3.

Repaske DR (2016) Medication-induced diabetes mellitus. Pediatr Diabetes 17:392–397

4.

Williams DE, Cadwell BL, Cheng YJ, Cowie CC, Gregg EW, Geiss LS, Engelgau MM, Narayan KM, Imperatore G (2005) Prevalence of impaired fasting glucose and its relationship with cardiovascular disease risk factors in US adolescents, 1999-2000. Pediatrics 116:1122–1126

5.

Liu D, Ahmet A, Ward L, Krishnamoorthy P, Mandelcorn ED, Leigh R, Brown JP, Cohen A, Kim H (2013) A practical guide to the monitoring and management of the complications of systemic corticosteroid therapy. Allergy, Asthma Clin Immunol 9:30

6.

Takahashi T, Okamoto T, Sato Y, Yamazaki T, Hayashi A, Aoyagi H, Ueno M, Kobayashi N, Uetake K, Nakanishi M, Ariga T (2019) Periodically repeated rituximab administrations in children with refractory nephrotic syndrome: 2-year multicenter observational study. Pediatr Nephrol 34:87–96

7.

El-Husseini A, El-Basuony F, Mahmoud I, Sheashaa H, Sabry A, Hassan R, Taha N, Hassan N, Sayed-Ahmad N, Sobh M (2005) Long-term effects of cyclosporine in children with idiopathic nephrotic syndrome: a single-centre experience. Nephrol Dial Transplant 20:2433–2438

8.

Skrzypczyk P, Panczyk-Tomaszewska M, Roszkowska-Blaim M, Wawer Z, Bienias B, Zajgzkowska M, Kilis-Pstrusinska K, Jakubowska A, Szczepaniak M, Pawlak-Bratkowska M, Tkaczyk M (2014) Long-term outcomes in idiopathic nephrotic syndrome: from childhood to adulthood. Clin Nephrol 81:166–173

9.

Ruth EM, Kemper MJ, Leumann EP, Laube GF, Neuhaus TJ (2005) Children with steroid-sensitive nephrotic syndrome come of age: long-term outcome. J Pediatr 147:202–207

10.

Kemper MJ, Kuwertz-Broeking E, Bulla M, Mueller-Wiefel DE, Neuhaus TJ (2004) Recurrence of severe steroid dependency in cyclosporin A-treated childhood idiopathic nephrotic syndrome. Nephrol Dial Transplant 19:1136–1141

11.

Fakhouri F, Bocquet N, Taupin P, Presne C, Gagnadoux MF, Landais P, Lesavre P, Chauveau D, Knebelmann B, Broyer M, Grunfeld JP, Niaudet P (2003) Steroid-sensitive nephrotic syndrome: from childhood to adulthood. Am J Kidney Dis 41:550–557

12.

International Study of Kidney Disease in Children (1978) Nephrotic syndrome in children: Prediction of histopathology from clinical and laboratory characteristics at time of diagnosis. Kidney Int 13:159–165

13.

Kato N, Takimoto H, Sudo N (2011) The cubic functions for spline smoothed L, S and M values for BMI reference data of Japanese children. Clin Pediatr Endocrinol 20:47–49

14.

Alberti KG, Zimmet PZ (1998) Definition, diagnosis and classification of diabetes mellitus and its complications. Part 1: diagnosis and classification of diabetes mellitus provisional report of a WHO consultation. Diabet Med 15:539–553

15.

American Diabetes A (2019) 2. Classification and diagnosis of Diabetes: standards of medical Care in Diabetes-2019. Diabetes Care 42:S13–S28

16.

Craig ME, Jefferies C, Dabelea D, Balde N, Seth A, Donaghue KC (2014) Definition, epidemiology, and classification of diabetes in children and adolescents. Pediatr Diabetes 15:4–17

17.

Keskin M, Kurtoglu S, Kendirci M, Atabek ME, Yazici C (2005) Homeostasis model assessment is more reliable than the fasting glucose/insulin ratio and quantitative insulin sensitivity check index for assessing insulin resistance among obese children and adolescents. Pediatrics 115:e500–e503

18.

Chikani UN, Ibekwe MU, Oguonu T, Mungai L, Bisi-Onyemaechi AI, Ugege OM, Ogbonna IF, de Beaufort C (2017) Steroid-induced impairment of glucose tolerance: prevalence among pediatric patients on long-term steroid use in Nigeria. Pediatr Diabetes 18:942–946

19.

Uzu T, Harada T, Sakaguchi M, Kanasaki M, Isshiki K, Araki S, Sugiomoto T, Koya D, Haneda M, Kashiwagi A, Yamauchi A (2007) Glucocorticoid-induced diabetes mellitus: prevalence and risk factors in primary renal diseases. Nephron Clin Pract 105:c54–c57

20.

Garro R, Warshaw B, Felner E (2015) New-onset diabetes after kidney transplant in children. Pediatr Nephrol 30:405–416

21.

Prokai A, Fekete A, Pasti K, Rusai K, Banki NF, Reusz G, Szabo AJ (2012) The importance of different immunosuppressive regimens in the development of posttransplant diabetes mellitus. Pediatr Diabetes 13:81–91

22.

Greenspan LC, Gitelman SE, Leung MA, Glidden DV, Mathias RS (2002) Increased incidence in post-transplant diabetes mellitus in children: a case-control analysis. Pediatr Nephrol 17:1–5

23.

Baillargeon J, Langevin A-M, Mullins J, Ferry RJ, DeAngulo G, Thomas PJ, Estrada J, Pitney A, Pollock BH (2005) Transient hyperglycemia in Hispanic children with acute lymphoblastic leukemia. Pediatr Blood Cancer 45:960–963

24.

Lowas SR, Marks D, Malempati S (2009) Prevalence of transient hyperglycemia during induction chemotherapy for pediatric acute lymphoblastic leukemia. Pediatr Blood Cancer 52:814–818

25.

Tillmann FP, Quack I, Schenk A, Grabensee B, Rump LC, Hetzel GR (2012) Prevalence and risk factors of pre-diabetes after renal transplantation: a single-centre cohort study in 200 consecutive patients. Nephrol Dial Transplant 27:3330–3337

26.

Ek AE, Rössner SM, Hagman E, Marcus C (2015) High prevalence of prediabetes in a Swedish cohort of severely obese children. Pediatr Diabetes 16:117–128

27.

Brufani C, Ciampalini P, Grossi A, Fiori R, Fintini D, Tozzi A, Cappa M, Barbetti F (2010) Glucose tolerance status in 510 children and adolescents attending an obesity clinic in Central Italy. Pediatr Diabetes 11:47–54

28.

Rodriguez-Moran M, Guerrero-Romero F (2001) The parental phenotype of diabetes, but not of essential hypertension, is linked to the development of metabolic syndrome in Mexican individuals. Acta Diabetol 38:87–91

29.

Urakami T (2018) Pediatric type 2 Diabetes in Japan: similarities and differences from type 2 diabetes in other pediatric populations. Curr Diab Rep 18:29

30.

Urakami T (2018) Clinical characteristics in Japanese children with nonobese type 2 diabetes. Ann Pediatr Endocrinol Metab 23:113–118

31.

Gerich JE (2003) Contributions of insulin-resistance and insulin-secretory defects to the pathogenesis of type 2 diabetes mellitus. Mayo Clin Proc 78:447–456

32.

Weiss R (2007) Impaired glucose tolerance and risk factors for progression to type 2 diabetes in youth. Pediatr Diabetes 8(Suppl 9):70–75

33.

Rosenbaum M, Nonas C, Horlick M, Fennoy I, Vargas I, Schachner H, Kringas P, Stanton K, Weil R (2004) Beta-cell function and insulin sensitivity in early adolescence: association with body fatness and family history of type 2 diabetes mellitus. J Clin Endocrinol Metab 89:5469–5476

34.

Amed S, Dean H, Sellers EA, Panagiotopoulos C, Shah BR, Booth GL, Laubscher TA, Dannenbaum D, Hadjiyannakis S, Hamilton JK (2011) Risk factors for medication-induced diabetes and type 2 diabetes. J Pediatr 159:291–296

35.

Al-Uzri A, Stablein DM, AC R (2001) Posttransplant diabetes mellitus in pediatric renal transplant recipients: a report of the North American Pediatric Renal Transplant Cooperative Study (NAPRTCS). Transplantation 72:1020–1024

36.

Shishido S, Sato H, Asanuma H, Shindo M, Hataya H, Ishikura K, Hamasaki Y, Goto M, Ikeda M, Honda M (2006) Unexpectedly high prevalence of pretransplant abnormal glucose tolerance in pediatric kidney transplant recipients. Pediatr Transplant 10:67–73

37.

Rodriguez-Moran M, Guerrero-Romero F, Aradillas-Garcia C, Violante R, Simental-Mendia LE, Monreal-Escalante E, Mendoza Ede L (2010) Obesity and family history of diabetes as risk factors of impaired fasting glucose: implications for the early detection of prediabetes. Pediatr Diabetes 11:331–336

38.

Perez A, Jansen-Chaparro S, Saigi I, Bernal-Lopez MR, Minambres I, Gomez-Huelgas R (2014) Glucocorticoid-induced hyperglycemia. J Diabetes 6:9–20

39.

Burt MG, Willenberg VM, Petersons CJ, Smith MD, Ahern MJ, Stranks SN (2012) Screening for diabetes in patients with inflammatory rheumatological disease administered long-term prednisolone: a cross-sectional study. Rheumatology (Oxford) 51:1112–1119

40.

Chakkera HA, Kudva Y, Kaplan B (2017) Calcineurin inhibitors: pharmacologic mechanisms impacting both insulin resistance and insulin secretion leading to glucose dysregulation and diabetes mellitus. Clin Pharmacol Ther 101:114–120

41.

Dittrich K, Knerr I, Rascher W, Dotsch J (2006) Transient insulin-dependent diabetes mellitus in children with steroid-dependent idiopathic nephrotic syndrome during tacrolimus treatment. Pediatr Nephrol 21:958–961

42.

Boots JM, van Duijnhoven EM, Christiaans MH, Wolffenbuttel BH, van Hooff JP (2002) Glucose metabolism in renal transplant recipients on tacrolimus: the effect of steroid withdrawal and tacrolimus trough level reduction. J Am Soc Nephrol 13:221–227

43.

Filler G, Neuschulz I, Vollmer I, Amendt P, Hocher B (2000) Tacrolimus reversibly reduces insulin secretion in paediatric renal transplant recipients. Nephrol Dial Transplant 15:867–871

44.

Libman IM, Barinas-Mitchell E, Bartucci A, Robertson R, Arslanian S (2008) Reproducibility of the oral glucose tolerance test in overweight children. J Clin Endocrinol Metab 93:4231–4237
Acknowledgments
We are grateful to all the patients and their families who gave their time to participate.
Funding information
This work was financially supported by The Naomichi Yamada Memorial Research Foundation for Pediatric Disease (YAMAME) (T.T.).
Ethics declarations
Conflict of interest
The authors declare that they have no conflict of interest.
Ethical approval
All procedures were performed in accordance with the ethical standards of the institutional research committee and with the 1964 Helsinki declaration and its later amendments. This study was approved by the Research Ethics Committee of Hokkaido University Hospital.
Informed consent
Informed consent was obtained from all patients and their parents before study participation began.
Additional information
Publisher's note
Springer Nature remains neutral with regard to jurisdictional claims in published maps and institutional affiliations.
About this article
Cite this article
Takahashi, T., Okamoto, T., Sato, Y. et al. Glucose metabolism disorders in children with refractory nephrotic syndrome. Pediatr Nephrol (2020). https://doi.org/10.1007/s00467-019-04360-1
Received:

Revised:

Accepted:

Published:
Keywords
Glucose metabolism disorders

Oral glucose tolerance test

Nephrotic syndrome

Glucocorticoids

Calcineurin inhibitors