Abstract
Acute hemorrhagic edema of infancy (AHEI) is a cutaneous leukocytoclastic vasculitis that affects children under 2 years of age and is clinically characterized by fever, extensive tender edema and large purpuric lesions that involve mainly the face, ears and limbs. AHEI typically exhibits an acute onset, with a short benign course followed by spontaneous and complete recovery. Visceral involvement is usually absent, and laboratory studies reveal no specific abnormalities. The pathogenic mechanisms underlying the development of AHEI remain unknown. We describe a patient with AHEI exhibiting transient renal involvement and hypocomplementemia. A 19-month-old Japanese boy was admitted to our hospital with a 2-day history of fever and purpura affecting his face, right ear and legs, and a 1-day history of painful edema of the right side of his face and his right lower leg. Laboratory studies revealed microscopic hematuria, proteinuria and hypocomplementemia affecting C4, C1q and CH50. A clinical diagnosis of AHEI was made, and the patient made a rapid and completely recovery without any specific therapy. We suggest that activation of the classical pathway of complement might be one of the pathogenic mechanisms underlying the development of AHEI.
This is a preview of subscription content, log in to check access.
Access options
Buy single article
Instant unlimited access to the full article PDF.
US$ 39.95
Price includes VAT for USA
Subscribe to journal
Immediate online access to all issues from 2019. Subscription will auto renew annually.
US$ 199
This is the net price. Taxes to be calculated in checkout.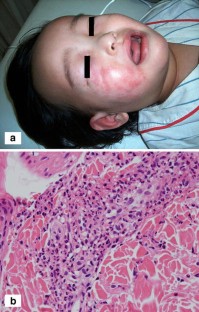 References
1.

Snow IM (1913) Purpura, urticaria and angioneurotic edema of the hands and feet in a nursing baby. JAMA 61:18–19

2.

Ince E, Mumcu Y, Suskan E, Yalcinkaya F, Tümer N, Cin S (1995) Infantile acute hemorrhagic edema: a variant of leukocytoclastic vasculitis. Pediatr Dermatol 12:224–227

3.

Dubin BA, Bronson DM, Eng AM (1990) Acute hemorrhagic edema of childhood: an unusual variant of leukocytoclastic vasculitis. J Am Acad Dermatol 23:347–350

4.

Saraclar Y, Tinaztepe K, Andalioglu G, Tuncer A (1990) Acute hemorrhagic edema of infancy (AHEI)—a variant of Henoch–Schönlein purpura or a distinct clinical entity? J Allergy Clin Immunol 86:473–483

5.

Lantner RR, Ros SP (1996) Acute hemorrhagic edema of infancy. Pediatr Emerg Care 12:111–112

6.

Amitai Y, Gillis D, Wasserman D, Kochman RH (1993) Henoch–Schönlein purpura in infants. Pediatrics 92:865–867

7.

Shetty AK, Desselle BC, Ey JL, Correa H, Galen WK, Gedalia A (2000) Infantile Henoch–Schönlein purpura. Arch Fam Med 9:553–556

8.

Goraya JS, Kaur S (2002) Acute infantile hemorrhagic edema and Henoch–Schönlein purpura: is IgA the missing link? J Am Acad Dermatol 47:801

9.

Legrain V, Lejean S, Taïeb A, Guillard JM, Battin J, Maleville J (1991) Infantile acute hemorrhagic edema of the skin: study of ten cases. J Am Acad Dermatol 24:17–22

10.

Caksen H, Odabaş D, Kösen M, Arslan S, Öner AF, Ataş B, Akçay G, Ceylan N (2002) Report of eight infants with acute infantile hemorrhagic edema and review of the literature. J Dermatol 29:290–295

11.

McDougall CM, Ismail SK, Ormerod A (2005) Acute haemorrhagic oedema of infancy. Arch Dis Child 90:316

12.

Millard T, Harris A, MacDonald D (1999) Acute infantile hemorrhagic oedema. J Am Acad Dermatol 41:837–839

13.

Smitt JHS, Vermeer MH, Faber WR (2002) Acute hemorrhagic edema of infancy. Clin Dermatol 20:2–3

14.

Sulyok E (2004) Acute proliferative glomerulonephritis. In: Avner ED, Harmon WE, Niaudet P (eds) Pediatric nephrology, 5th edn. Lippincott Williams and Wilkins, Philadelphia, pp 601–613

15.

Offidani A, Cellini A, Bossi G (2001) Acute hemorrhagic oedema of the skin in infancy. Eur J Dermatol 11:63–64

16.

Barnhill RJ, Busam KJ, Nousari CH, Xu X, Barksdale SK (2005) Vascular disease, In: Lever's histopathology of the skin, 9th edn. Lippincott Williams and Wilkins, Philadelphia, pp 215–242
About this article
Cite this article
Watanabe, T., Sato, Y. Renal involvement and hypocomplementemia in a patient with acute hemorrhagic edema of infancy. Pediatr Nephrol 22, 1979–1981 (2007). https://doi.org/10.1007/s00467-007-0599-7
Received:

Revised:

Accepted:

Published:

Issue Date:
Keywords
Vasculitis

Leukocytoclastic vasculitis

Henoch–Schönlein purpura

Kidney disease