Abstract
Posterior reversible leukoencephalopathy syndrome (PRES) clinically presents with seizures, severe headaches, and mental and visual changes. Our goal was to describe the clinical features, triggering factors, neuro-imaging findings, and electroencephalogram (EEG) findings in a pediatric cohort with renal disease. We retrospectively analyzed the records of 18 children with the diagnosis of PRES between January 2001 and June 2006 at the University of Miami/Holtz Children's Hospital, USA. There were 22 PRES episodes. The most common clinical presentation was generalized tonic–clonic seizures in 59% (13/22). The most common identified trigger of PRES was hypertensive crisis in 59% (13/22). Almost half of the children had no evidence of on-going uncontrolled hypertension; 44% (8/18) had normal funduscopic examination findings, and 50% (9/18) had no or mild left ventricular hypertrophy. Two of the 18 patients had recurrent PRES episodes, three episodes each. Diffuse slowing was the most common finding on the EEGs. Atypical magnetic resonance imaging (MRI) findings were more prevalent in the imaged cases (62% vs 25%, P < 0.05). All the computerized tomography (CT) scans were normal, despite the positive MRI findings in four cases when both types of imaging was used. All the episodes had total clinical resolution. In conclusion, despite the diverse initial trigger, acute hypertension seems to be the common pathogenic pathway for pediatric PRES. MRI seems superior to CT, with better sensitivity due to its high resolution and diffusion-weighted imaging. The lesions do not necessarily have to be in the posterior white matter and may not be totally reversible.
This is a preview of subscription content, log in to check access.
Access options
Buy single article
Instant unlimited access to the full article PDF.
US$ 39.95
Price includes VAT for USA
Subscribe to journal
Immediate online access to all issues from 2019. Subscription will auto renew annually.
US$ 199
This is the net price. Taxes to be calculated in checkout.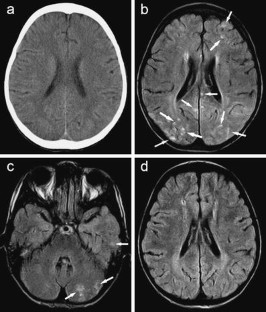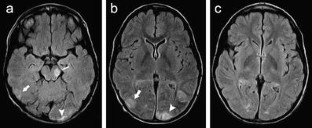 References
1.

Hinchey J, Chaves C, Appignani B, Breen J, Pao L, Wang A, Pessin M, Lamy C, Mas J, Caplan L (1996) A reversible leukoencephalopathy syndrome. N Engl J Med 334:494–500

2.

Kwon S, Koo J, Lee S (2001) Clinical spectrum of reversible posterior leukoencephalopathy syndrome. Pediatr Neurol 24:361–364

3.

Prasad N, Gulati S, Gupta RK, Kumar R, Sharma K, Sharma RK (2003) Is reversible posterior leukoencephalopathy with severe hypertension completely reversible in all patients? Pediatr Nephrol 18:1161–1166

4.

Min L, Zwerling J, Ocava LC, Chen IH, Putterman C (2006) Reversible posterior leukoencephalopathy in connective tissue diseases. Semin Arthritis Rheum 35:388–395

5.

Henderson JN, Noetzel MJ, McKinstry RC, White DA, Armstrong M, DeBaun MR (2003) Reversible posterior leukoencephalopathy syndrome and silent cerebral infarcts are associated with severe acute chest syndrome in children with sickle cell disease. Blood 101:415–419

6.

Lamy C, Oppenheim C, Meder JF, Mas JL (2004) Neuroimaging in posterior reversible encephalopathy syndrome. J Neuroimaging 14:89–96

7.

Bianco F (2005) Reversible posterior leukoencephalopathy syndrome: a changing concept. Neuroradiology 47:703–704

8.

Covarrubias DJ, Luetmer PH, Campeau NG (2002) Posterior reversible encephalopathy syndrome: prognostic utility of quantitative diffusion-weighted MR images. Am J Neuroradiol 23:1038–1048

9.

National High Blood Pressure Education Program Working Group on High Blood Pressure in Children and Adolescents (2004) The Fourth Report on the diagnosis, evaluation, and treatment of high blood pressure in children and adolescents. Pediatrics 114:555–576

10.

Fischer M, Maister B, Jacobs R (1985) Hypertensive encephalopathy: diffuse reversible white matter CT abnormalities. Ann Neurol 18:268–270

11.

Hauser RA, Lacey DM, Knight MR (1988) Hypertensive encephalopathy: magnetic resonance imaging demonstration of reversible cortical and white matter lesions. Arch Neurol 45:1078–1083

12.

Schwartz RB, Jones KM, Kalina P (1992) Hypertensive encephalopathy: findings on CT, MR imaging and SPECT imaging in 14 cases. AJR Am J Roentgenol 159:379–383

13.

Weingarten K, Barbut D, Filippi C, Zimmerman RD (1994) Acute hypertensive encephalopathy: findings on spin-echo and gradient-echo MR imaging. AJR Am J Roentgenol 162:665–670

14.

Rotundo A, Nevins TE, Lipton M (1982) Progressive encephalopathy in children with chronic renal insufficiency in infancy. Kidney Int 21:486–491

15.

Geary DF, Haka-Ikse K (1989) Neurodevelopmental progress of young children with chronic renal disease. Pediatrics 84:68–73

16.

Byrom FB (1954) The pathogenesis of hypertensive encephalopathy and its relation to the malignant phase of hypertension: experimental evidence from the hypertensive rat. Lancet 2:201–211

17.

Dinsdale HB, Robertson DM, Chiang TY, Mukherjee SK (1971–1972) Hypertensive cerebral microinfarction and cerebrovascular reactivity. Eur Neurol 6:29–33

18.

Dinsdale HB, Robertson DM, Haas RA (1974) Cerebral blood flow in acute hypertension. Arch Neurol 31:80–87

19.

Johansson BB (1983) The blood–brain barrier and cerebral blood flow in acute hypertension. Acta Med Scand Suppl 678:107–112

20.

Schaefer PW, Buonanno FS, Gonzalez RG, Schwamm LH (1997) Diffusion-weighted imaging discriminated between cytotoxic and vasogenic edema in a patient with eclampsia. Stroke 28:1082–1085

21.

Beausang Linder M, Bill A (1981) Cerebral circulation in acute arterial hypertension: protective effects of sympathetic nervous activity. Acta Physiol Scand 111:193–199

22.

Eichler FS, Wang P, Wityk RJ (2002) Diffuse metabolic abnormalities in reversible posterior leukoencephalopathy syndrome. AJNR Am J Neuroradiol 23:833–837

23.

Shellhaas RA, Smith SE, O'Tool E, Licht DJ, Ichord RN (2006) Mimics of childhood stroke: characteristics of a prospective cohort. Pediatrics 118:704–709

24.

Thaipisttikul I, Phanthumchinda K (2005) Recurrent reversible posterior leukoencephalopathy in a patient with systemic lupus erythematosus. J Neurol 252:230–231

25.

Ugurel MS, Hayakawa M (2005) Implications of post-gadolinium MRI results in 13 cases with posterior reversible encephalopathy syndrome. Eur J Radiol 53:441–449

26.

Ay H, Buonanno FS, Schaefer PW, Le DA, Wang B, Gonzalez RG, Koroshetz WJ (1998) Posterior leukoencephalopathy without severe hypertension: utility of diffusion-weighted MRI. Neurology 51:1369–1376

27.

Ishikura K, Ikeda M, Hamasaki Y, Hataya H, Shishido S, Asanuma H, Nishimura G, Hiramoto R, Honda M (2006) Posterior reversible encephalopathy syndrome in children: its high prevalence and more extensive imaging findings. Am J Kidney Dis 48:231–238

28.

Pande AR, Ando K, Ishikura R, Nagami Y, Takada Y, Wada A, Watanabe Y, Miki Y, Uchino A, Nakao N (2006) Clinicoradiological factors influencing the reversibility of posterior reversible encephalopathy syndrome: a multicenter study. Radiat Med 24:659–668

29.

Chou MC, Lai PH, Yeh LR, Li JY, Yuan MK, Liang HL, Chen C, Pan HB, Lo YK, Yang CF (2004) Posterior reversible encephalopathy syndrome: magnetic resonance imaging and diffusion-weighted imaging in 12 cases. Kaohsiung J Med Sci 20:381–388
About this article
Cite this article
Onder, A.M., Lopez, R., Teomete, U. et al. Posterior reversible encephalopathy syndrome in the pediatric renal population. Pediatr Nephrol 22, 1921–1929 (2007). https://doi.org/10.1007/s00467-007-0578-z
Received:

Revised:

Accepted:

Published:

Issue Date:
Keywords
PRES

Leukoencephalopathy

Seizure

Headache

Blindness

Children

Renal failure