Abstract
Medical treatment of cystinuria is often disappointing. Patients undergo frequent surgery, which is often followed by early relapse. The aim of our study was to evaluate the efficacy of medical treatment of cystinuria, to prevent formation or to reduce the numbers and dimensions of renal stones. Twenty cystinuric patients were treated with a combined approach, including cystine-binding drugs. Free and bound urine cystine levels were measured every 4 months. Drug dosage was adjusted to maintain free urine cystine level below 100 μmol/mmol creatinine. Eighteen patients completed the study; detection of new stones was reduced from 0.28 per year to 0.03 per year, and, in six patients, the numbers and dimensions of pre-existing renal stones were reduced. Surgery was required in one subject, and no relapse was observed 12 months afterwards. The dosage required to achieve target levels was closely correlated with patient body weight: older children required a lower dose. Medical management of cystinuria is feasible. The treatment must be personalised in children, as the amount of drug required is strictly dependent on body size.
This is a preview of subscription content, log in to check access.
Access options
Buy single article
Instant unlimited access to the full article PDF.
US$ 39.95
Price includes VAT for USA
Subscribe to journal
Immediate online access to all issues from 2019. Subscription will auto renew annually.
US$ 199
This is the net price. Taxes to be calculated in checkout.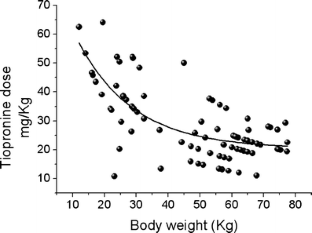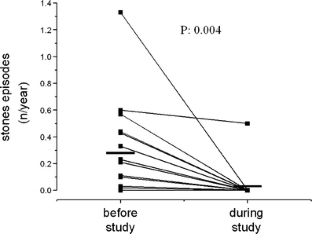 Reference
1.

Palacin M, Goodyer P, Nunes V, Gasparini P (2002) Cystinuria. In: Scriver CR, Beaudet AL, Sly WS, Valle D, Childs B, Kinzler KW, Vogelstein B (eds) The metabolic and molecular bases of inherited disease, 8th edn. McGraw-Hill, New York, pp 4909–4932

2.

Purohit RS, Stoller ML (2004) Stone clustering of patients with cystine urinary stone formation. Urology 63:630–634

3.

Pietrow PK, Auge BK, Weizer AZ, Delvecchio FC, Silverstein AD, Mathias B, Albala DM, Preminger GM (2003) Durability of the medical management of cystinuria. J Urol 169:68–70

4.

Pastore A, Massoud R, Motti C, Lo Russo A, Fucci G, Cortese C, Federici G (1998) Fully automated assay for total homocysteine, cysteine, cysteinylglycine, glutathione, cysteamine, and 2-mercaptopropionylglycine in plasma and urine. Clin Chem 44:825–832

5.

Dello Strologo L, Pras E, Pontesilli C, Beccia E, Ricci-Barbini V, Ricci-Barbini V, de Sanctis L, Ponzone A, Gallucci M, Bisceglia L, Zelante L, Jimenez-Vidal M, Font M, Zorzano A, Rousaud F, Nunes V, Gasparini P, Palacin M, Rizzoni G (2002) Comparison between SLC3A1 and SLC7A9 cystinuria patients and carriers: a need for a new classification. J Am Soc Nephrol 13:2547–2553

6.

Chow GK, Streem SB (1998) Contemporary urological intervention for cystinuric patients: immediate and long-term impact and implications. J Urol 160:341–344

7.

Barbey F, Joly D, Rieu P, Mejean A, Daudon M, Jungers P (2000) Medical treatment of cystinuria: critical reappraisal of long-term results. J Urol 163:1419–1423

8.

Daudon M, Cohen-Solal F, Barbey F, Gagnadoux MF, Knebelmann B, Jungers P (2003) Cystine crystal volume determination: a useful tool in the management of cystinuric patients. Urol Res 31:207–211
Acknowledgement
This research was supported by a European grant: project no. 502852, European Genomics Initiative on Disorders of Plasma Membrane Amino Acid Transporters; coordinator: Manuel Palacin.
About this article
Cite this article
Dello Strologo, L., Laurenzi, C., Legato, A. et al. Cystinuria in children and young adults: success of monitoring free-cystine urine levels. Pediatr Nephrol 22, 1869–1873 (2007). https://doi.org/10.1007/s00467-007-0575-2
Received:

Revised:

Accepted:

Published:

Issue Date:
Keywords
Cystinuria

Medical treatment

Cystine-binding drugs

Children

Renal stones