Abstract
This report concerns a 9-year-old boy who was diagnosed with atypical type II membranoproliferative glomerulonephritis and later proved to have juvenile acute nonproliferative glomerulitis (JANG). To the best of our knowledge, this is the first report on the long-term clinical and pathological follow-up of JANG.
This is a preview of subscription content, log in to check access.
Access options
Buy single article
Instant unlimited access to the full article PDF.
US$ 39.95
Price includes VAT for USA
Subscribe to journal
Immediate online access to all issues from 2019. Subscription will auto renew annually.
US$ 199
This is the net price. Taxes to be calculated in checkout.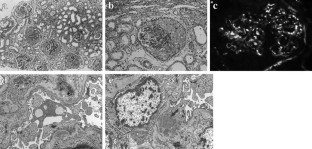 References
1.

Hebert LA, Cosio FG, Neff JC (1991) Diagnostic significance of hypocomplementemia. Kidney Int 39:811–821

2.

Matsell DG, Roy S 3rd, Tamerius JD, Morrow PR, Kolb WP, Wyatt RJ (1991) Plasma terminal complement complexes in acute poststreptococcal glomerulonephritis. Am J Kidney Dis 17:311–316

3.

Fujita T, Nozu K, Iijima K, Kamioka I, Yoshiya K, Tanaka R, Hamahira K, Nakanishi K, Yoshikawa N, Matsuo M (2006) Long-term follow-up of atypical membranoproliferative glomerulonephritis: are steroids indicated? Pediatr Nephrol 21:194–200

4.

West CD, McAdams AJ, Witte DP (2000) Acute non-proliferative glomerulitis: a cause of renal failure unique to children. Pediatr Nephrol 14:786–793

5.

Welch TR, McAdams AJ, Berry A (1988) Rapidly progressive IgA nephropathy. Am J Dis Child 142:789–793

6.

Habib R, Gubler MC, Loirat C, Maiz HB, Levy M (1975) Dense deposit disease: a variant of membranoproliferative glomerulonephritis. Kidney Int 7:204–215

7.

Kashtan CE, Burke B, Burch G, Gustav Fisker S, Kim Y (1990) Dense intramembranous deposit disease: a clinical comparison of histological subtypes. Clin Nephrol 33:1–6

8.

Pickering MC, Cook HT, Warren J, Bygrave AE, Moss J, Walport MJ, Botto M (2002) Uncontroled C3 activation causes membranoproliferative glomerulonephritis in mice deficient in complement factor H. Nat Genet 31:424–428

9.

West CD, McAdams AJ (1999) The alternative pathway C3 convertase and glomerular deposits. Pediatr Nephrol 13:448–453

10.

West CD, McAdams AJ (1995) Paramesangial glomerular deposits in membranoproliferative glomerulonephritis type II correlate with hypocomplementemia. Am J Kidney Dis 25:853–861
About this article
Cite this article
Fujita, T., Nozu, K., Iijima, K. et al. Long-term follow-up of juvenile acute nonproliferative glomerulitis (JANG). Pediatr Nephrol 22, 1957–1961 (2007). https://doi.org/10.1007/s00467-007-0555-6
Received:

Revised:

Accepted:

Published:

Issue Date:
Keywords
Juvenile acute nonproliferative glomerulitis (JANG)

Rapidly progressive crescentic glomerulonephritis

Dense deposit disease (DDD)