Abstract
We describe a child presenting with oligoclonal plasma IgM (1.2 g%) and nephrotic syndrome with focal segmental glomerulosclerosis. Oligoclonality was demonstrated by the analysis of the complementary determining region 3 (CDR 3) on immunoglobulin heavy chains and by two dimensional electrophoresis and Western blot analysis that showed the bulk of isoforms having a cationic μU chain compared with the normal homologue (pI 7.5 vs 6.5). Urinary light chains were absent, and bone marrow aspirate was normal. Usual therapies for nephrotic syndrome with steroids and cyclosporin were useless. At the age of 9 years the patient was treated with plasmapheresis plus cyclophosphamide (2 mg/kg per day for 60 days), which temporarily reduced plasma IgM, and proteinuria was normal for 3 years. After this period, due to new recurrence of nephrotic syndrome, the patient received a cycle with anti-CD20 antibodies (500 mg/m2 every week for a month) associated with a cycle of plasmapheresis that normalized proteinuria again, and, after 3 years, the proteinuria is still in remission. This is the first case of nephrotic syndrome associated with oligoclonal plasma IgM and mesangial IgM deposits. Both cyclophosphamide and anti-CD20 antibodies associated with plasmapheresis induced, at different stages, stable and protracted remission of proteinuria without evident side effects. Long term efficacy and safety of the association are still to be determined.
This is a preview of subscription content, log in to check access.
Access options
Buy single article
Instant unlimited access to the full article PDF.
US$ 39.95
Price includes VAT for USA
Subscribe to journal
Immediate online access to all issues from 2019. Subscription will auto renew annually.
US$ 199
This is the net price. Taxes to be calculated in checkout.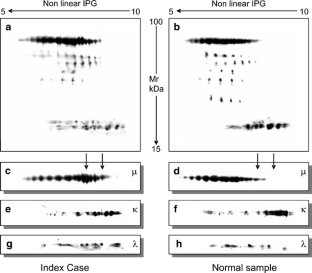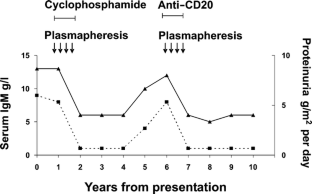 Abbreviations
MesIgM:

mesangial proliferative glomerulonephritis with IgM deposition

FSGS:

focal segmental glomerulosclerosis
References
1.

Cohen AH, Border WA, Glassock RJ (1978) Nephrotic syndrome with glomerular mesangial IgM deposits. Lab Invest 38:610–619

2.

Border WA (1988) Distinguishing minimal-change disease from mesangial disorders. Kidney Int 34:419–434

3.

Gonzalo A, Mampaso F, Gallego N, Quereda C, Fierro C, Ortuno J (1985) Clinical significance of IgM mesangial deposits in the nephrotic syndrome. Nephron 41:246–249

4.

McAdams AJ, Valentini RP, Welch TR (1997) The nonspecificity of focal segmental glomerulosclerosis. The defining characteristics of primary focal glomerulosclerosis, mesangial proliferation, and minimal change. Medicine (Baltimore) 76:42–52

5.

Korbet SM (1998) Primary focal segmental glomerulosclerosis. J Am Soc Nephrol 9:1333–1340

6.

International Study of Kidney Disease in Children (1974) Prospective, controlled trial of cyclophosphamide therapy in children with nephrotic syndrome. Report of the International study of Kidney Disease in Children. Lancet 2:423–427

7.

International Study of Kidney Disease in Children (1981) Primary nephrotic syndrome in children: clinical significance of histopathologic variants of minimal change and of diffuse mesangial hypercellularity. A Report of the International Study of Kidney Disease in Children. Kidney Int 20:765–771

8.

Au WY, Chan KW, Lui SL, Lam CC, Kwong YL (1999) Focal segmental glomerulosclerosis and mesangial sclerosis associated with myeloproliferative disorders. Am J Kidney Dis 34:889–893

9.

Bosly A, Keating MJ, Stasi R, Bradstock K (2002) Rituximab in B-cell disorders other than non-Hodgkin's lymphoma. Anticancer Drugs 13 [Suppl 2]:S25–S33

10.

Benz K, Dotsch J, Rascher W, Stachel D (2004) Change of the course of steroid-dependent nephrotic syndrome after rituximab therapy. Pediatr Nephrol 19:794–797

11.

Nozu K, Iijima K, Fujisawa M, Nakagawa A, Yoshikawa N, Matsuo M (2005) Rituximab treatment for posttransplant lymphoproliferative disorder (PTLD) induces complete remission of recurrent nephrotic syndrome. Pediatr Nephrol 20:1660–1663

12.

Francois H, Daugas E, Bensman A, Ronco P (2007) Unexpected efficacy of rituximab in multirelapsing minimal change nephrotic syndrome in the adult: first case report and pathophysiological considerations. Am J Kidney Dis 49:158–161

13.

Pescovitz MD, Book BK, Sidner RA (2006) Resolution of recurrent focal segmental glomerulosclerosis proteinuria after rituximab treatment. N Engl J Med 354:1961–1963

14.

Marks SD, McGraw M (2007) Does rituximab treat recurrent focal segmental glomerulosclerosis post-renal transplantation? Pediatr Nephrol 22:158–160

15.

Cunard R, Kelly CJ (2002) T cells and minimal change disease. J Am Soc Nephrol 13:1409–1411

16.

Rennke HG, Venkatachalam MA (1979) Glomerular permeability of macromolecules. Effect of molecular configuration on the fractional clearance of uncharged dextran and neutral horseradish peroxidase in the rat. J Clin Invest 63:713–717

17.

Clyne DH, Pesce AJ, Thompson RE (1979) Nephrotoxicity of Bence Jones proteins in the rat: importance of protein isoelectric point. Kidney Int 16:345–352

18.

Smolens P, Barnes JL, Stein JH (1986) Effect of chronic administration of different Bence Jones proteins on rat kidney. Kidney Int 30:874–882
Acknowledgements
This work was done with the financial support of the Italian Ministry of Health and with a grant from Fondazione Mara Wilma e Bianca Querci "Nuove evoluzioni sulla multifattorialità della sindrome nefrosica" and the Renal Child Foundation.
About this article
Cite this article
Ghiggeri, G.M., Musante, L., Candiano, G. et al. Protracted remission of proteinuria after combined therapy with plasmapheresis and anti-CD20 antibodies/cyclophosphamide in a child with oligoclonal IgM and glomerulosclerosis. Pediatr Nephrol 22, 1953–1956 (2007). https://doi.org/10.1007/s00467-007-0550-y
Received:

Revised:

Accepted:

Published:

Issue Date:
Keywords
Nephrotic syndrome

Mesangial proliferative glomerulonephritis

Focal glomerulosclerosis

Cationic IgM