Abstract
Background
We aimed to improve the tumor localization system using radiofrequency identification (RFID) technology used during laparoscopic surgery for gastric and colorectal cancer. To this end, we developed a detection algorithm and designed improvement for the RFID clip.
Methods
To evaluate the proposed system, a swine-based animal study was conducted, followed by experiments on porcine stomachs and colons using the EASIE-R simulator. The success rates of endoscopic clipping, detection time, and detection accuracy, which is the distance between the detection point and RFID tag, were measured.
Results
Results of the in vivo swine animal study showed success in all three clippings and detections of the RFID clips. Results of the 60 RFID endoclip attempts using the EASIE-R simulator showed a total clipping success rate of 85.0% (n = 51/60; stomach, 83.3%, n = 25/30; colon, 86.7%, n = 26/30). The median detection times were 29.2 s for the stomach and 25.5 s for the colon. The median detection accuracy was 4.0 mm for the stomach and 4.5 mm for the colon.
Conclusions
We confirmed that the proposed RFID-based system showed improvements over the system of a previous study. This RFID-based system is effective at localizing gastric and colorectal tumors.
This is a preview of subscription content, log in to check access.
Access options
Buy single article
Instant unlimited access to the full article PDF.
US$ 39.95
Price includes VAT for USA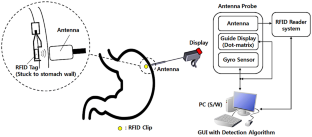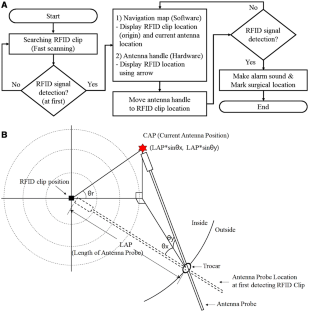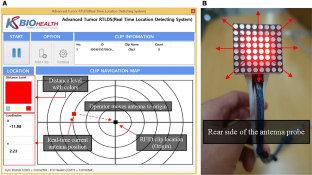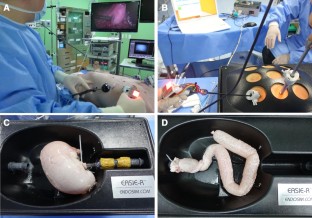 References
1.

International Association for Research on Cancer. IARC Global Cancer Observatory [Internet]. Available at: https://gco.iarc.fr/today/home; Accessed 3 Nov 2019

2.

Ferlay J, Soerjomataram I, Dikshit R, Eser S, Mathers C, Rebelo M, Parkin DM, Forman D, Bray F, (2015) Cancer incidence and mortality worldwide: sources, methods and major patterns in GLOBOCAN 2012. Int J Cancer 136:E359–E386

3.

Katai H, Ishikawa T, Akazawa K Isobe Y, Miyashiro I, Oda I, Tsujitani S, Ono H, Tanabe S, Fukagawa T, Nunobe S, Kakeji Y, Nashimoto A, Registration Committee of the Japanese Gastric Cancer Association (2017) Five-year survival analysis of surgically resected gastric cancer cases in Japan: a retrospective analysis of more than 100,000 patients from the nationwide registry of the Japanese Gastric Cancer Association (2001–2007). Gastric Cancer 21:144–154

4.

The Information Committee of Korean Gastric Cancer Association (2016) Korean Gastric Cancer Association Nationwide Survey on Gastric Cancer in 2014. J Gastric Cancer 16:131–140

5.

Kim W, Kim HH, Han SU Kim MC, Hyung WJ, Ryu SW, Cho GS, Kim CY, Yang HK, Park DJ, Song KY, Lee SI, Ryu SY, Lee JH, Lee HJ; Korean Laparo-endoscopic Gastrointestinal Surgery Study (KLASS) Group (2016) Decreased morbidity of laparoscopic distal gastrectomy compared with open distal gastrectomy for stage I gastric cancer. Ann Surg 263:28–35

6.

Yano H, Monden T, Kinuta M, Nakano Y, Tono T, Matsui S, Iwazawa T, Kanoh T, Katsushima S (2001) The usefulness of laparoscopy-assisted gastrectomy in comparison with that of open distal gastrectomy for early gastric cancer. Gastric Cancer 4:93–97

7.

Nishimura S, Oki E, Tsutsumi S, Tsuda Y, Sugiyama M, Nakashima Y, Sonoda H, Ohgaki K, Saeki H, Maehara Y (2016) Clinical significance of totally laparoscopic distal gastrectomy: a comparison of short-term outcomes relative to open and laparoscopic-assisted distal gastrectomy. Surg Laparosc Endosc Percutan Tech 26:372–376

8.

Song KY, Park CH, Kang HC, Kim JJ, Park SM, Jun KH, Chin HM, Hur H (2008) Is totally laparoscopic gastrectomy less invasive than laparoscopy-assisted gastrectomy? Prospective, multicenter study. J Gastrointest Surg 12:1015–1021

9.

Chen K, Pan Y, Zhai ST, Yu WH, Pan JH, Zhu YP, Chen QL, Wang XF (2017) Totally laparoscopic versus open total gastrectomy for gastric cancer. Medicine 96:e8061

10.

Esen E, Aytac E, Ağcaoğlu O, Zenger S, Balik E, Baca B, Hamzaoğlu İ, Karahasanoğlu T, Buğra D (2018) Totally robotic versus totally laparoscopic surgery for rectal cancer. Surg Laparosc Endosc Percutan Tech 28:245–249

11.

Kawakatsu S, Ohashi M, Hiki N, Nunobe S, Nagino M, Sano T (2017) Use of endoscopy to determine the resection margin during laparoscopic gastrectomy for cancer. Br J Surg 104:1829–1836

12.

Park DJ, Lee H, Kim SG, Jung HC, Song IS, Lee KU, Choe KJ, Yang HK (2005) Intraoperative gastroscopy for gastric surgery. Surg Endosc 19:1358–1361

13.

Xuan Y, Hur H, Byun CS, Han SU, Cho YK (2013) Efficacy of intraoperative gastroscopy for tumor localization in totally laparoscopic distal gastrectomy for cancer in the middle third of the stomach. Surg Endosc 27:4364–4370

14.

Matsui H, Okamoto Y, Nabeshima K, Kondoh Y, Ogoshi K, Makuuchi H (2009) Endoscopy-assisted gastric resection: a safe and reliable procedure for tumor clearance during laparoscopic high distal or proximal gastrectomy. Surg Endosc 23:1146–1149

15.

Luigiano C, Ferrara F, Morace C, Mangiavillano B, Fabbri C, Cennamo V, Bassi M, Virgilio C, Consolo P (2012) Endoscopic tattooing of gastrointestinal and pancreatic lesions. Adv Ther 29:864–873

16.

Reynolds IS, Majeed MH, Soric I, Whelan M, Deasy J, McNamara DA (2016) Endoscopic tattooing to aid tumour localisation in colon cancer: the need for standardization. Ir J Med Sci 186:75–80

17.

Choi Y, Kim KG, Kim JK, Nam KW, Kim HH, Sohn DK (2011) A novel endoscopic fluorescent clip for the localization of gastrointestinal tumors. Surg Endosc 25:2372–2377

18.

Takeyama H, Hata T, Nishimura J, Nonaka R, Uemura M, Haraguchi N, Takemasa I, Mizushima T, Yamamoto H, Doki Y, Mori M (2014) A novel endoscopic fluorescent clip visible with near-infrared imaging during laparoscopic surgery in a porcine model. Surg Endosc 28:1984–1990

19.

Wada Y, Miyoshi N, Ohue M, Yasui M, Fujino S, Tomokuni A, Sugimura K, Akita H, Moon JH, Takahashi H, Kobayashi S, Omori T, Miyata H, Fujiwara Y, Yano M, Sakon M (2016) Endoscopic marking clip with an IC tag and receiving antenna to detect localization during laparoscopic surgery. Surg Endosc 31:3056–3060

20.

Choi WJ, Moon JH, Min JS, Song YK, Lee SA, Ahn JW, Lee SH, Jung HC (2017) Real-time detection system for tumor localization during minimally invasive surgery for gastric and colon cancer removal: In vivo feasibility study in a swine model. J Surg Oncol 117:699–706

21.

Kojima F, Sato T, Tsunoda S, Takahata H, Hamaji M, Komatsu T, Okada M, Sugiura T, Oshiro O, Sakai Y, Date H, Nakamura T, (2014) Development of a novel marking system for laparoscopic gastrectomy using endoclips with radio frequency identification tags: feasibility study in a canine model. Surg Endosc 28:2752–2759

22.

Joo HY, Lee BE, Choi CI, Kim DH, Kim GH, Jeon TY, Kim DH, Ahn S (2018) Tumor localization using radio-frequency identification clip marker: experimental results of an ex vivo porcine model. Surg Endosc 2018 [Preprint]. doi: 10.1007/s00464–018–6423–6

23.

Reicher JJ, Reicher MA, Thomas M, Petcavich R, Petcavich R (2013) Radiofrequency identification tags for preoperative tumor localization: proof of concept. AJR Am J Roentgenol 191:1359–1365

24.

Yutaka Y, Sato T, Zhang J, Matsushita K, Aiba H, Muranishi Y, Sakaguchi Y, Komatsu T. Kojima F, Nakamura T, Date H, (2016) Localizing small lung lesions in video-assisted thoracoscopic surgery via radiofrequency identification marking. Surg Endosc 31:3353–3362

25.

Kojima F, Sato T, Takahata H, Okada M, Sugiura T, Oshiro O, Date H, Nakamura T (2014) A novel surgical marking system for small peripheral lung nodules based on radio frequency identification technology: Feasibility study in a canine model. J Thorac Cardiovasc Surg 147:1384–1389

26.

Lee SH, Gromski MA, Derevianko A, Jones DB, Pleskow DK, Sawhney M, Chuttani R, Matthes K (2010) Efficacy of a prototype endoscope with two deflecting working channels for endoscopic submucosal dissection: a prospective, comparative, ex vivo study. Gastrointest Endosc 72:155–160

27.

Eun JY, Jung Y, Lee TH, Cho YS, Rhee HS, Jung YK, Han JH, Kim DS, Chung IK, Park SH, Kim SJ (2017) The efficacy of a novel tissue grasper-clips technique for large perforations of the sigmoid colon in an experimental animal model (Video). Dig Dis Sci 62:913–921
Acknowledgements
This work was supported by the Technology Innovation Program (Grant No. 10060137), funded by the Ministry of Trade, Industry, and Energy in the Republic of Korea.
Ethics declarations
Disclosures
Kang Moo Lee, Jae Seok Min, Won Jung Choi, Jin Woo Ahn, Song Woo Yoon, and Young-Jin Kim have no conflicts of interest or financial ties to disclose.
Additional information
Publisher's Note
Springer Nature remains neutral with regard to jurisdictional claims in published maps and institutional affiliations.
Electronic supplementary material
Below is the link to the electronic supplementary material.
Supplementary file1 (MP4 22603 kb)
About this article
Cite this article
Lee, K.M., Min, J.S., Choi, W.J. et al. An advanced RFID-based system to localize gastric and colon cancers during laparoscopic surgery. Surg Endosc (2020). https://doi.org/10.1007/s00464-020-07371-4
Received:

Accepted:

Published:
Keywords
Radiofrequency identification (RFID)

Tumor localization

Gastric cancer

Colorectal cancer

Laparoscopic surgery